8-Year-Old Surprised With Early Admittance, College Scholarship After Motivational Video Goes Viral
Jordin Phipps has a spot in the University of North Texas' class of 2030.
September 30, 2016, 2:28 PM
— -- A third grade student in Texas was surprised with a $10,000 scholarship and early admittance to a Texas university after a video of her saying her daily motivational mantra caught the eyes of university administrators.
Jordin Phipps, 8, of Garland, Texas, was filmed by her mom earlier this month repeating the motivational phrase she and her classmates say daily at Watson Technology Center in Garland.
"I am smart. I am a leader. Failure is not an option for me," Jordin says in the video. "Success is only moments away."
Jordin, who was dressed in a University of North Texas T-shirt in the video, also says, "I have the attitude of a North Texas Eagle."
Jordin's mom, Nichole Smith, a University of North Texas alumna, shared the video on the university's Facebook page and received a call from school officials this week.
"They contacted me on Wednesday and said they wanted to present her with a scholarship," Smith, a special education teacher, told ABC News.
University of North Texas officials traveled from the school's Denton campus to Jordin's elementary school Thursday to surprise her at a school assembly.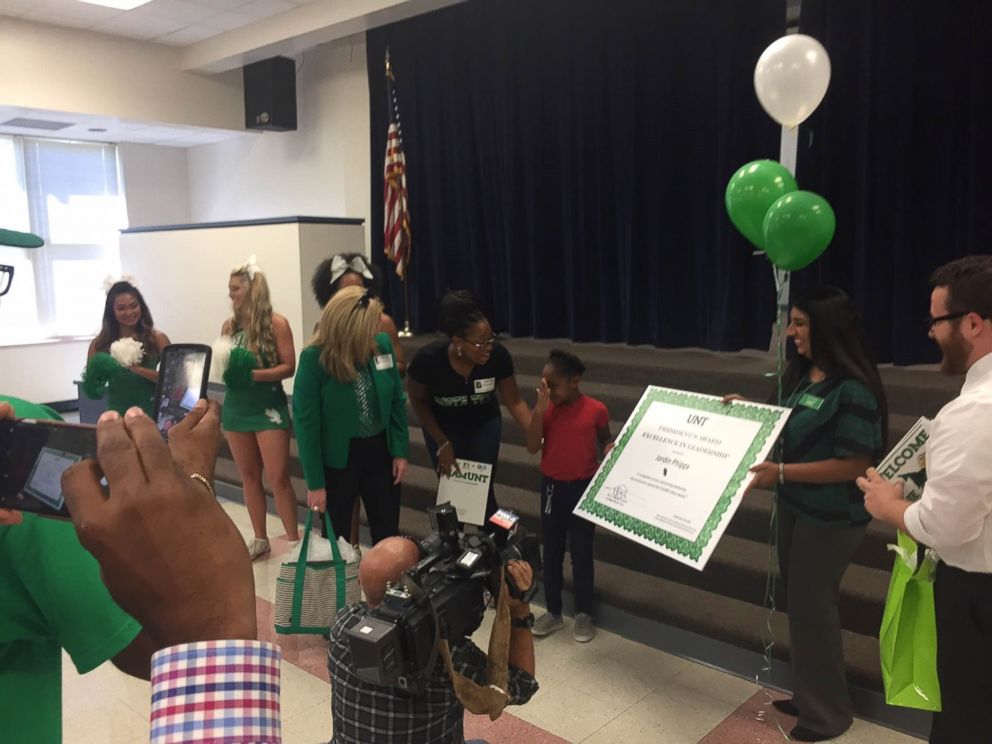 Jordin was told by the university's director of admissions that she had won the Presidential Excellence Scholarship for Leadership – a $10,000 prize usually given to high school seniors and transfer students. She's also guaranteed a spot in the school's Class of 2030.
"Her enthusiasm was felt far across our campus," said Rebecca Lothringer, UNT's director of admissions. "Our president was the one who reached out and said, 'I want to do something for Jordin and her family.'"
Jordin is the youngest student to be accepted to the 38,000-student state university, according to Lothringer.
Smith said that despite Jordin's motivational mantra, she is actually a shy child. The attention from University of North Texas is something Smith hopes will inspire her daughter.
"I think that was a way for God to open a door and show her that she can do anything," Smith said. "All she could say after was, 'I liked it. I liked it.'"
"And she said, 'My mommy went there and I'm going to go,'" Smith said of Jordin, who wants to be teacher, just like her mom.