Two black men were handcuffed and paraded out the door of a Philadelphia Starbucks for allegedly refusing to leave when asked by staffers and police in an incident captured in a video that went viral and prompted the chief executive officer of the coffee company to say the "reprehensible outcome" should have never happened.
The video, posted by Melissa DePino, took place at around 4:30 p.m. on Thursday inside of a Starbucks on Spruce Street near South 18th Street.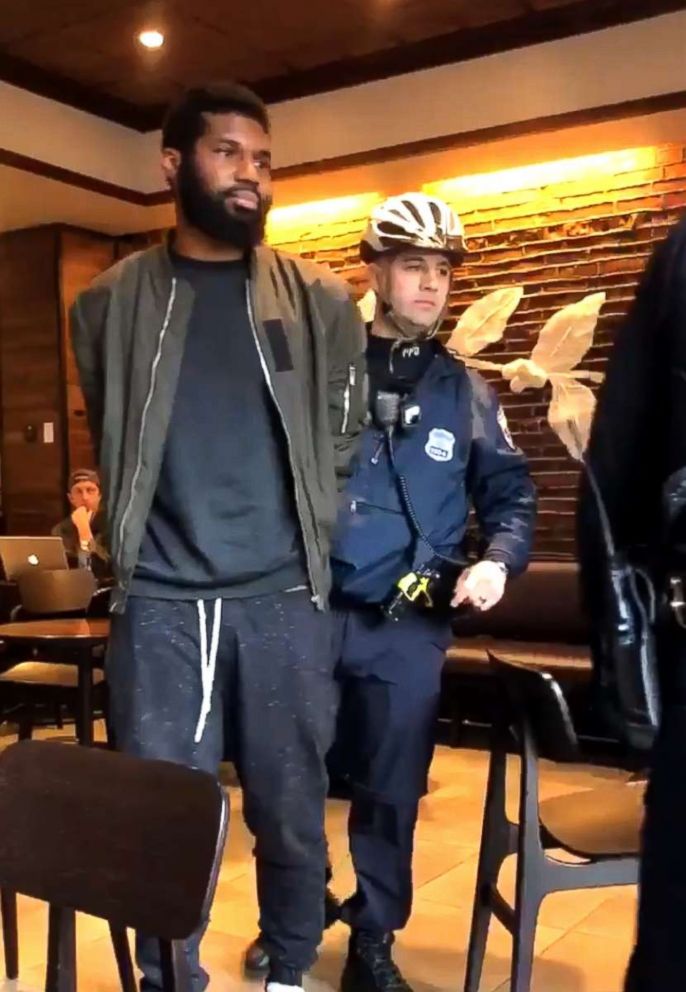 DePino's footage immediately went viral on Twitter, racking up more than 9 million views.
Starbuck's CEO Kevin Johnson released a statement apologizing to the two men on behalf of the company and saying he hopes to meet with them to "offer a face-to-face apology."
"The video shot by customers is very hard to watch and the actions in it are not representative of our Starbucks mission and values," Johnson said in his statement released late Saturday. "Creating an environment that is both safe and welcoming for everyone is paramount for every store. Regretfully, our practices and training led to a bad outcome -- the basis for the call to the Philadelphia police department was wrong. Our store manager never intended for these men to be arrested and this should never have escalated as it did."
In an interview with ABC News, Melissa DePino, a 50-year-old writer and mother of two, said a Starbucks barista shouted from behind the counter at the two men to make a purchase or leave.
"They were sitting quietly minding their own business, and waiting for their friend to come," she said.
DePino said she was so appalled by the incident, she plans to not go anymore to Starbucks.
"Plenty of other local places to go," she said.
The incident caught on video also brought criticism from the mayor of Philadelphia, which has the nickname, City of Brotherly Love.
Mayor Jim Kenney tweeted: "I'm very concerned by the incident at Starbucks. I know Starbucks is reviewing it and we will be too. @PhillyPolice is conducting an internal investigation."
On Saturday evening, the mayor put out another statement saying he was "heartbroken" to witness what "appears to exemplify what racial discrimination looks like in 2018."
"For many, Starbucks is not just a place to buy a cup of coffee, but a place to meet up with friends or family members, or to get some work done," he said in the statement.
Kenney also said that he had asked the Philadelphia Commission on Human Relations to "examine the firm's policies and procedures" and would be reaching out to Starbucks to "to begin a discussion about this."
He went on to add there would be "a thorough review" of police policies with regard to "complaints like this."
The same day Philadelphia Police Commissioner Richard Ross Jr. posted a detailed account of the incident, in which he defended his officers' actions.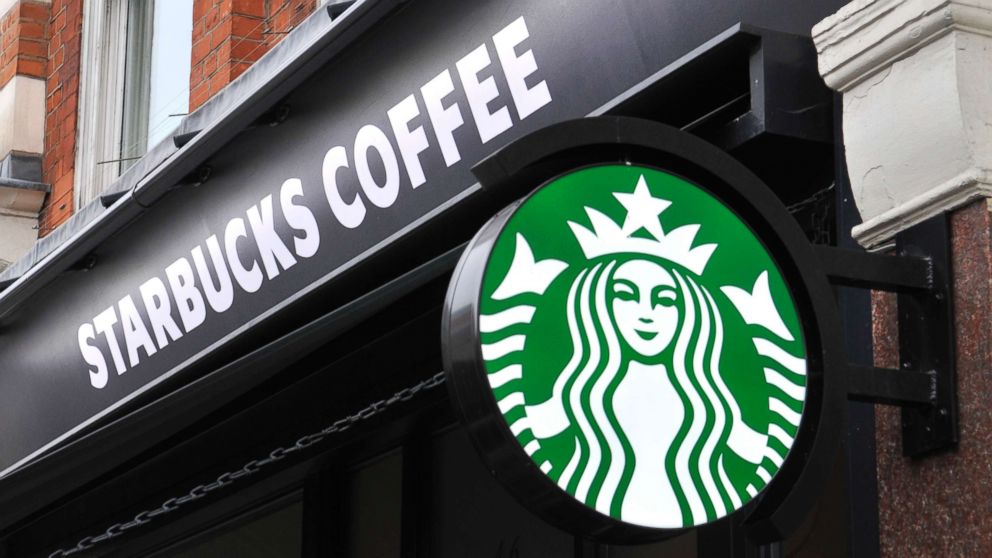 In an almost seven-minute clip, the commissioner said a trespassing and disturbance matter led to Starbucks employees calling 911.
He assured the public that he has reviewed the facts and defended the cops, saying they "did absolutely nothing wrong."
"I can tell you candidly these officers did a service they were called to do," he said.
In DePino's tweet and attached video, she used the Starbucks "@Starbucks" handle to put the company on notice that the two men who "hadn't ordered anything" while waiting for a friend to arrive were arrested "for doing nothing."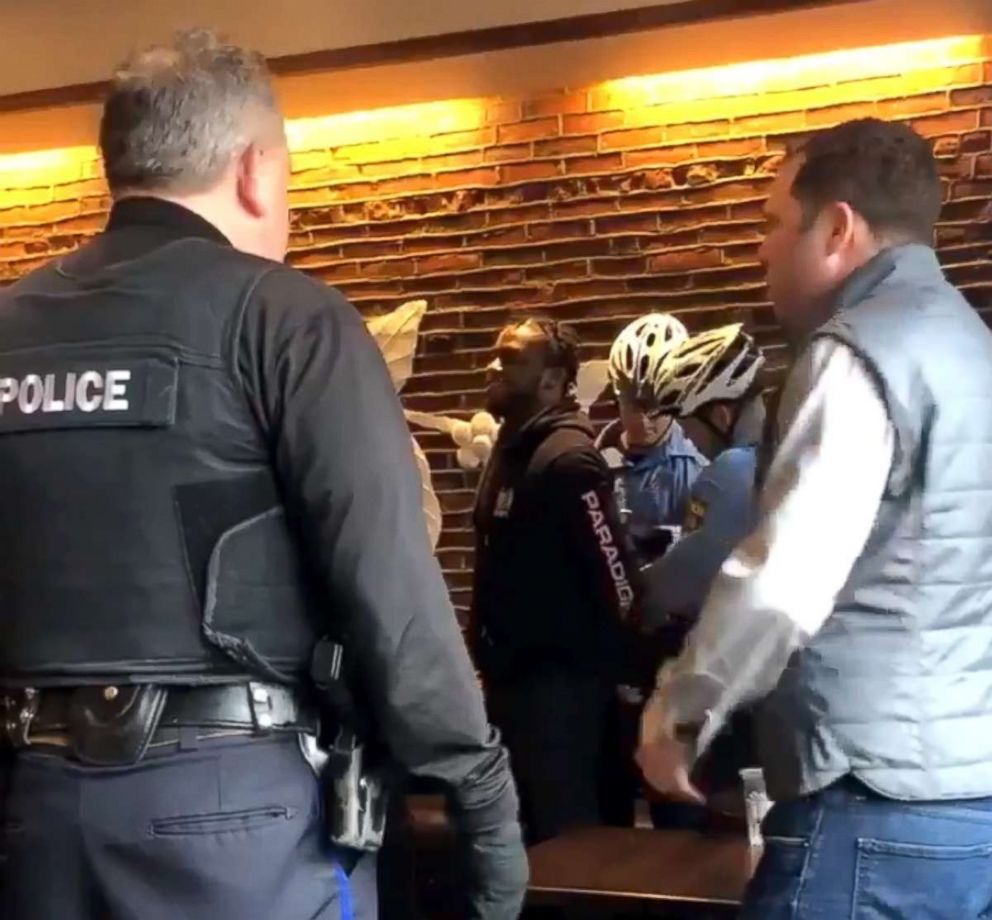 The video shows several police officers in bicycle helmets, and what appears to be a uniformed supervisor inside the coffee shop.
In the video, both men appear calm and cooperative as they are led outside by the police officers.
The first is a 20-something, bearded black man wearing navy sweatpants, white sneakers and an unzipped grey jacket.
His friend is then seen getting cuffed behind his back and wearing a dark sweatshirt and dark jeans.
"They didn't do anything, I saw the entire thing," said one white man, who started to question the arresting officers. "What did they do wrong?"
Clearly outraged, DePino wrote the treatment of the two men was racially unjust.
"All the other white ppl are wondering why it's never happened to us when we do the same thing," she wrote in the tweet.
Starbucks initially responded on Twitter, first saying it was reviewing the incident to see what "led to this unfortunate result" and later posting an apology.
"We apologize to the two individuals and our customers for what took place at our Philadelphia store on Thursday," the tweet states.
The company said it was "disappointed this led to an arrest" and that they "take these matters seriously."
Johnson, the CEO, said the company will begin to take a look at its policies to determine whether they need to be updated.
"We have immediately begun a thorough investigation of our practices," Johnson said in his statement. "In addition to our own review, we will work with outside experts and community leaders to understand and adopt best practices.
"We also will further train our partners to better know when police assistance is warranted. Additionally, we will host a company-wide meeting next week to share our learnings, discuss some immediate next steps and underscore our long-standing commitment to treating one another with respect and dignity."
After the arrests, Starbucks decided not to press charges and the Philadelphia District Attorney also declined to pursue a case against the two men, who have since reportedly retained attorneys.
Still, in his account, the police commissioner' said the officers' actions were justified.
He said two Starbucks employees called 911, reporting both a trespass and disturbance inside of the establishment.
The employees allegedly told the two men they were not permitted to use the restroom since they weren't paying customers.
"And so they asked the two males to leave and they refused to leave and the police were called," Ross said in the video posted on the department's Facebook page.
The two men were then allegedly told that the police would be called and allegedly responded, "Go ahead and call the police. We don't care," according to Ross's retelling of the police officers' account.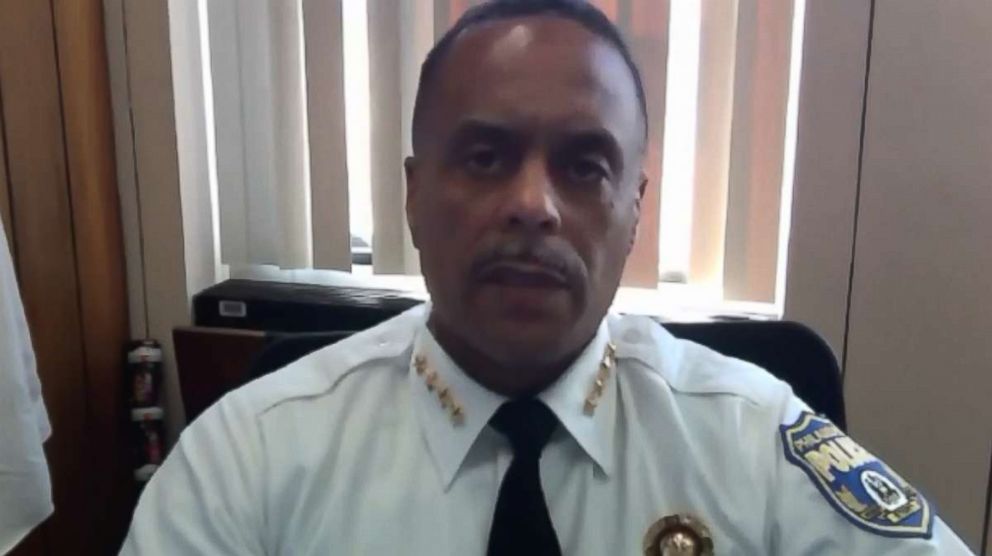 When the cops arrived at the Starbucks, Ross said, they also asked the men to leave and they again refused and one of them allegedly took a verbal jab at the cops saying, 'You don't actually know what you're doing. You're only a $45,000 a year employee," Ross stated in the video.
Ross said the men were given several chances to leave, but they kept refusing.
"On three different occasions the officers asked the two males politely to leave the location because they were being asked to leave by employees because they were trespassing," he said. "Instead the males continued to refuse as they had told the employees and they told the officers they were not leaving."
Ross said that the police remained professional and they "followed policy and they did what they are supposed to do."
The officers "got the opposite back," the commissioner said.
He also noted that it was only while the men were being processed that they were alerted that Starbucks "no longer wanted to prosecute."
The commissioner also stated that he was speaking "as an African American" beyond being the top cop and that he was "very aware of implicit bias."
He said that he has made it a priority for his department -- both rank and file as well as commanders -- to receive racially sensitive training that includes taking field trips to the National Museum of African American History and Culture and the United States Holocaust Memorial Museum in Washington, D.C.
"We do this because we want people, our officers, our recruits to understand the minute they come on board to know about the atrocities that were committed by policing around the world," Ross said.