The Barbie display inside the big Toys "R" Us store in New York City features a two-story House of Barbie with dolls in every imaginable outfit: Barbie Beach doll, Barbie Ballerina, Bride Barbie and the latest line, Barbie Fashionista.
Put them all together and she is the multibillion-dollar Barbie, the 11-and-a-half-inch-tall cash queen of dolls.
"[Girls] love anything that sparks their imagination," said Richard Dickson, general manager of Barbie Worldwide. "What are they going to be like when they grow up? They can live that fantasy in a very safe way through Barbie. Barbie allows girls to dream of a world of possibilities, from becoming a dentist to a doctor to a movie star to a rock star or a mom."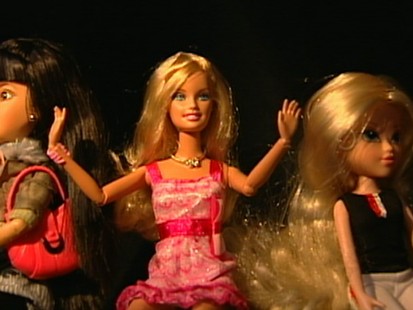 What might be difficult for them to imagine, though, is what it would be like to actually be
in the business
of designing, manufacturing and selling dolls to girls like themselves, 3 to 10 years old. Because people in the doll business aren't playing around.
El Segundo, Calif., hosts an enormous Barbie design center. In one cubicle after another, everyone works on something that's Barbie-related. "It could be a doll," said Stephanie Cota of Mattel. "It could be an accessory. It could be, you know, just her shoes. It could be just her hair. We can spend hours and hours focusing in on a belt, a necklace, a pair of glasses. All of that is really critical because at the end of the day, little girls notice every detail."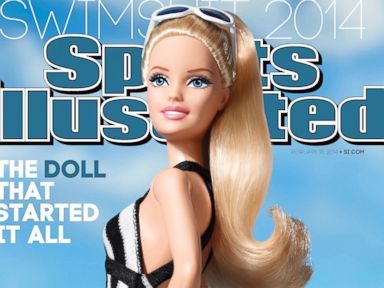 Since its introduction 50 years ago, the Mattel Corporation's Barbie doll has dominated what is now a $3 billion-a-year doll business. But with so much money to be made, some new entries have hit the scene.
A Crushing Defeat in the Doll Wars
Take Liv dolls -- four characters described as "BFFs," "best friends forever."
"It's the most realistic doll out there," said Mark Sullivan of Spin Master, the manufacturer. "She has real glass eyes."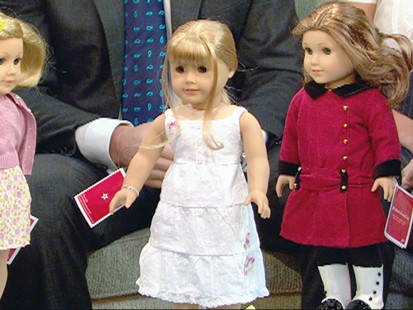 Then there's Moxie Girlz, the comeback doll for
MGA Entertainment
, which had suffered a crushing defeat in the doll wars.
"Moxie Girlz is about self-expression, energy, self-confidence," said Isaac Larian, CEO of MGA. "And it takes some moxie to go up against Barbie. ... People, when they buy a doll for $10, they think it's easy. It's not. The hair comes from Japan. The fashions are designed here and sent to China to be made. It takes 16 workers to paint one doll's face. ... Moxie Girlz go anywhere from $10 to $29."
The business of making nice-girl dolls was shaken up by the introduction of the Britney Spears doll in 1999, a plastic rendition of bare-navel sexuality. It was followed shortly afterward by the introduction of MGA's busty "Bratz" doll, which grabbed a slightly older market of girls 6 to 9 years old and hit a half-billion dollars in sales one year.
But Mattel sued for copyright infringement and, after years of litigation, won the rights to the Bratz doll, which they will take over on the first of the year. They have a reputation for playing rough.
"I think any industry that has invention at its core is going to be incredibly protective and secretive, and the toy industry is not different than those other industries," said Dickson. "...It was a giant court battle over a little girl's doll, but it was also about big business."
Most of the time the battle is fought in design studios and marketing meetings. These dolls need fashions designed and made only for them. Hand-painted eyes. And hair as real as they can make it -- hair is huge.
MGA's new Moxie Girlz have special hair made in Japan. Spin Masters' Liv dolls have replaceable wigs.
"Girls love to play with hair," said Sullivan. "Style it, change it, cut it. So with our doll Liv, you can actually cut her hair, because it's a replaceable wig; just buy another piece, style it, cut it, become your own little stylist."
No matter what configuration, Barbie is Barbie, but the competitors have to be given a name like Katie or Alexis ... and a personality. She has to be a skateboarder or aspiring rock musician, sassy or serious. She has to have a story. Little girls want to know who their doll is.
"Why should they relate to them?" said Sullivan. "You know, they may walk, they may talk, they may do whatever, but who are they as people? Because they relate to them as friends, right? So they want to know who their friends are."
The dolls come in a variety of skin shades and ethnic representations, for girls around the world. They have to be poseable, with moveable joints. The Liv doll has 14 moveable joints. Barbie has 12.
But all the dollmakers have to be flexible in other ways to compete. They've gone on the Internet with dedicated Web sites, games and stories. The Liv dolls have a virtual closet: Buy an outfit and it can appear in your doll's computer closet. They have daily diaries.
A Pre-Teen Research Group
Keeping up with what little girls like requires constant research. MGA's dolls come with comment cards the CEO takes home every night for bedtime reading.
"A 6-year-old writes [in reply to the question] 'What is your favorite feature?'" said Larian, "'Her clothes.' 'How can we improve this product?' 'She's pretty. Have more accessories for the doll.'"
Mattel invites girls over to play in a room with a two-way mirror. ABC News put together a little research group of our own to show girls the latest dolls. Participating were a 6-year-old, a 7-year-old and an 8-year-old.
"The only thing I don't like about the Moxie Girlz is they sort of have exaggerated features," said one girl. "Like big eyes."
"I pick this one," said another girl. "Liv girl."
"Katie, yeah," said the first, "'cuz I like her because she skateboards. That's cool for a doll. They usually have fashion and hairstyle and dressmaking."
We learned that figuring out what little girls like is best left to professionals.
"You know, I think today, what seems to appeal is something that's more wholesome; something that moms and girls can agree is appealing and not have to have it be cool because your mom doesn't like it," said Sullivan. "I think one of the things we heard when talking to girls is [that] with them, seeing their parents go through harder times, the rebellion is a little bit less."
The upstart Liv dolls and Moxie Girlz are each expected to earn $35-40 million this year -- a good start, but when you look in that New York store, they don't have nearly the shelf space of Barbie.
And what happens at the start of the year, when the Bratz girls come under the Mattel label? Will Barbie always be the girl everyone else wants to be?
One thing's certain: These girls will never be friends.