It comes as no surprise that Jose Canseco has come out swinging again. The former slugger who blew the lid off steroid use in Major League Baseball with his explosive book three years ago is aiming for the rafters again.
Although "Juiced" spent seven weeks on The New York Times Best Seller List, baseball did not respond well to Canseco's brutal account and seemed unprepared to admit that some of its most celebrated players may have been using performance-enhancing drugs.
"It was a pretty, pretty clear message to me that I was a pariah, I was dangerous," Canseco told "Nightline" co-anchor Martin Bashir in an exclusive interview. "I was poisonous to the game of baseball."
It seems unlikely that reaction to his new book is going to be much different, but Canseco refuses to be silenced. "I think the public needs to know the truth," he said.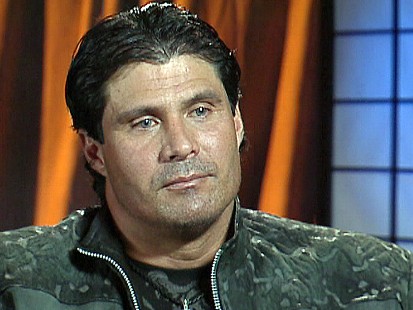 Canseco's second book, titled "Vindicated: Big Names, Big Liars and the Battle to Save Baseball," names more names and makes more claims. When asked if his motives have anything to do with money, he said "absolutely not."
"My motive, and I will make it clear and look you in the eyes, is to attack MLB. That's my motive."
In the book, Canseco goes after the biggest name in baseball today: Alex Rodriguez, saying that in the late 1990s he introduced Rodriguez to a trainer who could provide steroids.
Canseco admits that he never injected Rodriguez or gave him steroids, and doesn't know for sure whether that trainer -- whom he refuses to identify -- or anyone else gave Rodriguez steroids. Nevertheless, he said he believes that Rodriguez was a user, writing in the book that "I'm confident it was the 'roids. I believed it then and I believe it now. I've been down this road too many times with too many guys. I know the way it works.
"I cannot bet my life on it, because I was not involved, that Alex Rodriguez ever used steroids," Canseco told Bashir. "But in my opinion, I suspect he has, yes."
Hitting on His Wife
Canseco admits that there's no love lost between the two of them. He also claims that back in the late 1990s Rodriguez began hitting on his then-wife.
"First time he saw Jessica, we were in the gym -- I had a 5,000-square-foot gym in Florida -- he looks at her, he looks at me and says, 'That is the most beautiful woman I've ever seen.' I found out after that that he was calling her up; her and I were having problems."
When asked if that's why he decided to include Rodriguez in the book, Canseco replied, "partially yes and partially no."
"What I'm really saying to you is, are you mentioning Alex Rodriguez not because he's a known steroid user but because you hate him?" Bashir asked.
"There's a lot of reasons why," Canseco replied. "Alex portrays himself to be something that he's not. Like almost every other player, we were friends back then.… Basically they have all ousted me, won't talk to me, won't deal with me."
When asked about Conseco's ex-wife, Rodriguez told Newsday that "I have absolutely no comment." Wednesday, when asked further questions, Rodriguez had little more to offer. "Guys, anything with baseball I would love to talk about," Rodriguez said. "Absolutely nothing else on that matter."
Rodriguez has categorically and consistently denied ever using performance enhancement drugs, to which Canseco said, "So did Rafael Palmeiro, so did Mark McGwire, so did Sammy Sosa, and so on down the line. What does that prove?"
'It's Hard to Believe McNamee'
In 2006, MLB commissioned former Sen. George Mitchell to conduct an inquiry into the extent of steroid abuse in baseball.
In the report, one name stood head and shoulders above the rest: All-Star pitcher Roger Clemens. Canseco doesn't believe the report is accurate when it comes to Clemens, because he said the statements made by Clemens' former trainer, Brian McNamee, about Canseco aren't true.
"It's hard to believe McNamee when there are certain occasions in the Mitchell Report where McNamee mentions that I'm with Roger at a certain event or something is said that's not true. So it's hard to believe McNamee when he speaks about injecting Roger Clemens directly," Canseco told Bashir. "Maybe McNamee is under pressure to give some information that's not completely truthful. I have no idea."
Brian McNamee's lawyer told ABC News that his client had "testified truthfully under oath," but Canseco is adamant the allegations about Clemens being at his house for a party in 1998 are untrue, despite some claims that there might be a photograph of him there.
"I'd like to see it. I can't make a comment or an opinion on what I don't have or haven't seen."
If Canseco finally gives Clemens the all clear at the end of the book, flying in the face of the Mitchell Report, he's not so generous when it comes to slugger Magglio Ordonez. Canseco claimed firsthand knowledge that Ordonez used steroids back when they were teammates on the Chicago White Sox in 2001. He told Bashir he supplied Ordonez with steroids and injected him. Canseco said he arranged for and passed two lie detector tests to add weight to his claims about Ordonez.
When asked why he didn't mention Ordonez in "Juiced," Canseco said, "I thought I had enough players. I didn't want to incorporate anymore names. I thought I had plenty."
The New York Times reported that Ordonez could have avoided an appearance in Canseco's second book as well.
"Did you offer to keep his name out of the second book if he agreed to make an investment in a project of yours?" Bashir asked, referring to that report.
"No, never," Canseco said. "I never authorized anyone or spoke with Magglio or spoke with his agent directly. As a matter of fact, I left them plenty of messages to call me, they never did."
"If that's the case," Bashir asked, "why would Mr. Ordonez allow these suggestions, these allegations to be referred to the FBI?"
"I have no idea," Canseco said. "And I'm wondering why. I have no idea. And I'm sure, and I'm sure, when all is said and done, like it has so far, the truth will come."
In response to the allegations in Canseco's new book, Ordonez, now with the Detroit Tigers, said, "He had a chance in the first book to talk about me, so why wait three more years to say what he says? … There are a lot more important things to worry about."
'They Knew Exactly What Was Going On'
So, according to Canseco, Clemens has never used steroids, but Magglio Ordonez has and he suspects Alex Rodriguez has, too. He rejects the Mitchell Report as incomplete and said he alone can provide the truth when it comes to what happened inside the locker rooms of baseball. And he said that baseball's ownership knew about it as well.
"The owners usually have what we call a scout inside the clubhouse. It's more or less known as a snitch. An individual, who hangs out with the players, could be a clubhouse boy, it could be a player, it could be anyone. So yeah, they knew exactly what was going on."
In the book, Canseco said that baseball owners and the players union turned a blind eye to the clear evidence of steroid use in baseball. He includes in that group President Bush, a former owner of the Texas Rangers.
"I would think at that time … 12 years ago, I think it was, 13 years ago … he must have known something."
In July 2007, Bush told ESPN that "I've thought long and hard about that. I really don't remember any discussions or any talk around the ownership group or with the baseball guys at the Rangers about steroid use in 1993 or before. I just don't remember that at all."
Apart from writing his two books, Canseco has been trying to fill the void in his life left by his beloved baseball. He made a recent appearance on a reality TV show "The Surreal Life," which proved popular with the viewers. And he's still popular with fans. While Canseco admitted that his own drive to succeed drove him to use drugs, he said that he did so only to fulfill a promise that he made to his dying mother to be the best baseball player in the world.
When asked if his mother would be proud to know her son achieved success by using steroids, Canseco said," I don't know. … I had the best intentions but didn't take the best route. Sometimes I think about it. So that's a tough question. I don't know. And that's where I got caught up in. Now, would I ever use steroids again, knowing that all this has happened, probably not. Would I advise if I had a son, to use steroids, no. Would I advise kids to use steroids, no. But that's just the way my life turned out."