Four years after he shot to superstardom in "High School Musical," Zac Efron, 22, is working to re-fashion his image as more than a tween fantasy.
With his starring role in the new film "Charlie St. Cloud," Efron, the young man with the perfect smile, the sculpted abs, and the oh-so-styled locks, is showing off his acting chops.
In the new film, to be released July 30, Efron plays a man wracked with guilt for surviving a car crash that killed his little brother.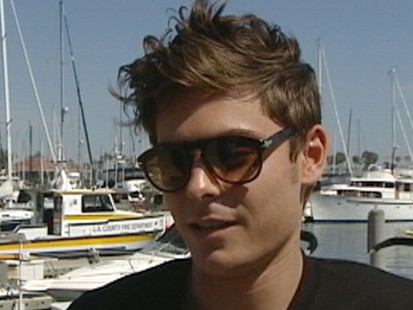 "When I read the script, I recognized that this was a brand new challenge,'' Efron told ABC's Neal Karlinsky. 'Could I do it, I don't know?' And that was exciting at the time. How do you go there, how do you reach those emotional scenes?"
And there are many tear-filled moments in the film.
The film was a strategic choice for a young actor trying to navigate Hollywood's sometimes treacherous waters.
Efron's big break came with Disney's wildly successful "High School Musical," released in 2006. (ABC News is a subsidiary of the Walt Disney Company.)
Efron played Troy, and emerged from the generation-defining juggernaut as one of the hit film's brightest stars.
He started acting at the age of 12. And like the characters on TV's "Glee," Efron says something clicked when he realized he was a "theatre geek."
"When I got on stage, I found that not only could a lot of people not do those things but they were dead afraid of it," he said. "You know, I didn't have that fear, so I remember one day I was walking around school and some guy that I used to play basketball with goes, 'Oh there goes the theatre dork,' and I was like, 'yeah that's right. Here I am, I'm the theatre dork."
His mother made the three-hour drive from the family's middle-class California home to Hollywood so he could audition and eventually land bit parts on shows like "ER" and "Summerland."
As his star rose, Efron said he has not forgotten where he came from or what is important. "That was just always important to me, I've always been able to get along with everyone," he said. "I've never been in a fist fight, I've never really crossed anyone cause I've never really felt crossed."
Zac Efron: Burgeoning Sex Symbol
He remains close with his family today. "I have to keep them close, they are the ones that keep you grounded, everyone else you never know if anyone is being wholly honest with you, you know, your family is all you have they tell it to you straight."
While Efron wants to be taken seriously as an actor, he knows his looks haven't exactly hurt him. Recently he was featured shirtless, pecs and six-pack prominent, on the cover of People Magazine.
"Every once in a while you walk into people's houses and that's on their kitchen counter and there's always this awkward moment where they realize you've seen it and... I always flip it over. It's what it is. I try not to get bogged down by it."
Still, the sight of the cover makes him blush a little bit. Perhaps he is not so comfortable, caught somewhere between squeaky-clean tween fantasy, teenage heartthrob and full-on sex symbol.
Humble enough to still get star struck, Efron identifies with Leonardo DiCaprio.
"Right now, I am all about Leo,'' he said. "I know he knows all of what I'm going through, the best time and the worst times and the crazy experiences, and the scary ones," he said. "And he's been there and he continues to thrive and get better and not do anything too mainstream. He continues to pick the material and work with interesting people and is just now starting to make some of the best movies of his career and that's inspiring... It's inspiring."
"I love the guy he's awesome."
Like his idol, Efron is careful. He's careful choosing his next move, careful to keep his nose clean with a near constant following from the paparazzi, and careful in his relationships.
He met actress Vanessa Hudgens on set during "High School Musical" and the two are still together.
"I'm lucky to have her," he said. "We've got a great thing going right now, having a lot of fun. Not going to speak too far down the road 'cause I don't know what's going to happen but right now I'm very happy. Very happy."
He's happy with his new movie too, and he said he won't pick his next role just for the paycheck. He wants to become a serious Hollywood talent. And, he said, he's willing to wait—and willing for work -- to make that happen.
ABCNews' Kimberly Brown contributed to this report.