Trump's connection to his businesses leaves more questions than answers in first 100 days
Trump's refusal to divest from his business continues to draw scrutiny.
— -- It's a story that has mostly played out behind-the-scenes in President Trump's first 100 days in office: the White House's management of the president's ongoing connections with his numerous business interests.
But outside the White House, the pressure has only increased. A march calling for the release of President Trump's tax returns drew thousands in cities across the country in early April.
A petition calling for the White House to provide information that Trump is in compliance with the emoluments clause of the Constitution drew more than one million signatures, more than any previous petition in the website's history.
And both Republican and Democratic lawmakers are now putting pressure on the White House to follow through with documentation on a pledge by a lawyer overseeing President Trump's departure from his business that any funds from foreign governments paid to the Trump Hotel would be donated straight to the U.S. Treasury.
The White House has mostly brushed aside questions regarding the potential for conflicts of interest up to this point, saying the unprecedented wealth of President Trump compared to past administrations would always naturally present more conflicts. But amid continuing concerns over transparency, Republicans are facing increased questions about their ability to hold the White House accountable while some Democrats say they see a potential avenue for impeachment.
The 'Separation' That Wasn't
Nine days before taking the Oath of Office, then President-elect Trump held a news conference to announce the formal separation from his real estate business.
Trump's lawyer Sheri Dillon said at the news conference Trump would be handing over the business to his sons Donald Trump Jr. and Eric Trump and to Alan Weisselberg, a longtime Trump business executive, through a financial trust. While Dillon stressed that "the Constitution does not require President-elect Trump to do anything here," she also said Trump would "voluntarily donate all profits from foreign government payments made to his hotels to the United States Treasury."
The announcement at the time was met without a great deal of skepticism from the general public. According to an ABC/Washington Post poll from January, 52 percent overall said Trump's plan to continue owning his businesses while placing them in a trust managed by his sons was sufficient. Forty-two percent instead said he should sell his businesses.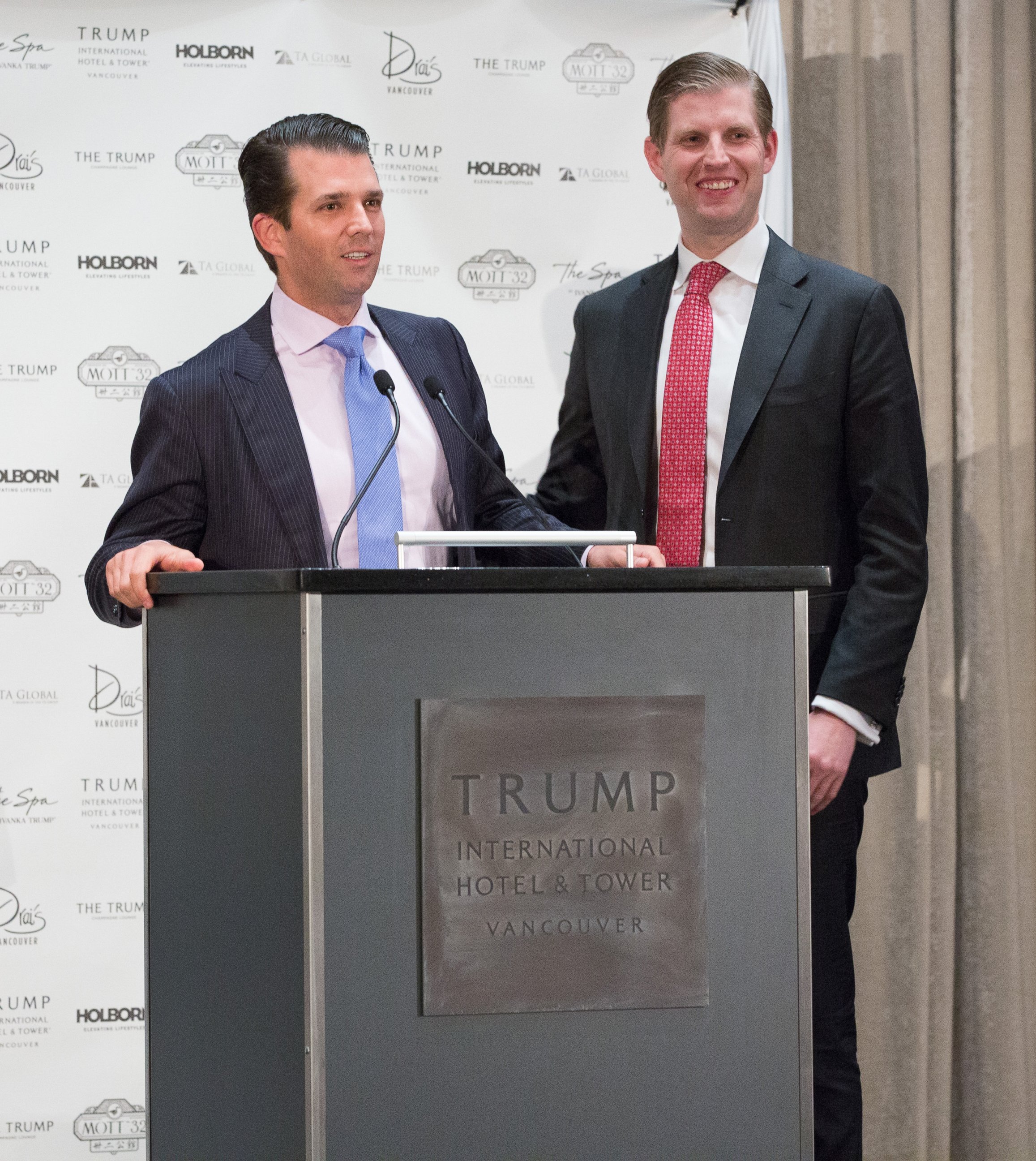 What Dillon did not mention at the time is that Trump would continue to maintain a financial stake in the trust. As the New York Times first reported in early February, Trump maintained the ability to revoke the authority of both his sons and Weisselberg's stake in the trust, and the trust would hold assets for the "exclusive benefit" of the President.
And in April it was revealed by ProPublica that Trump's connection remains even deeper than first reported, after it reviewed a buried change to the trust stipulating that the trustees "shall distribute net income or principal to Donald J. Trump at his request."
White House press secretary Sean Spicer said the report didn't uncover anything nefarious or that any changes were made to the trust that suggested a departure from President Trump's commitment to separate from his businesses.
"I'm not aware that there was ever a change in the trust," Spicer said on April 3. "And the idea that the President is withdrawing money at some point is exactly the purpose of what the trust -- why a trust is set up regardless of an individual."
A Family Affair
President Trump's family played a front-and-center role in his campaign, and that trend in many ways carried over into the White House.
In the case of the Trump sons, Donald Jr. and Eric, the connection raises potential conflict of interest questions as Trump previously vowed to cut off involvement with the Trump Organization's business operations. But that commitment drew scrutiny after Eric Trump in a late-March interview said he would keep his father updated "probably quarterly" on things such as "profitability reports and stuff like that."
But the real spotlight has focused on Trump's son-in-law Jared Kushner who holds the title of White House Senior Adviser, and first daughter Ivanka Trump, who was elevated to the role of Special Assistant to the President. Both Ivanka and the White House have acknowledged her role as "unprecedented" in nature.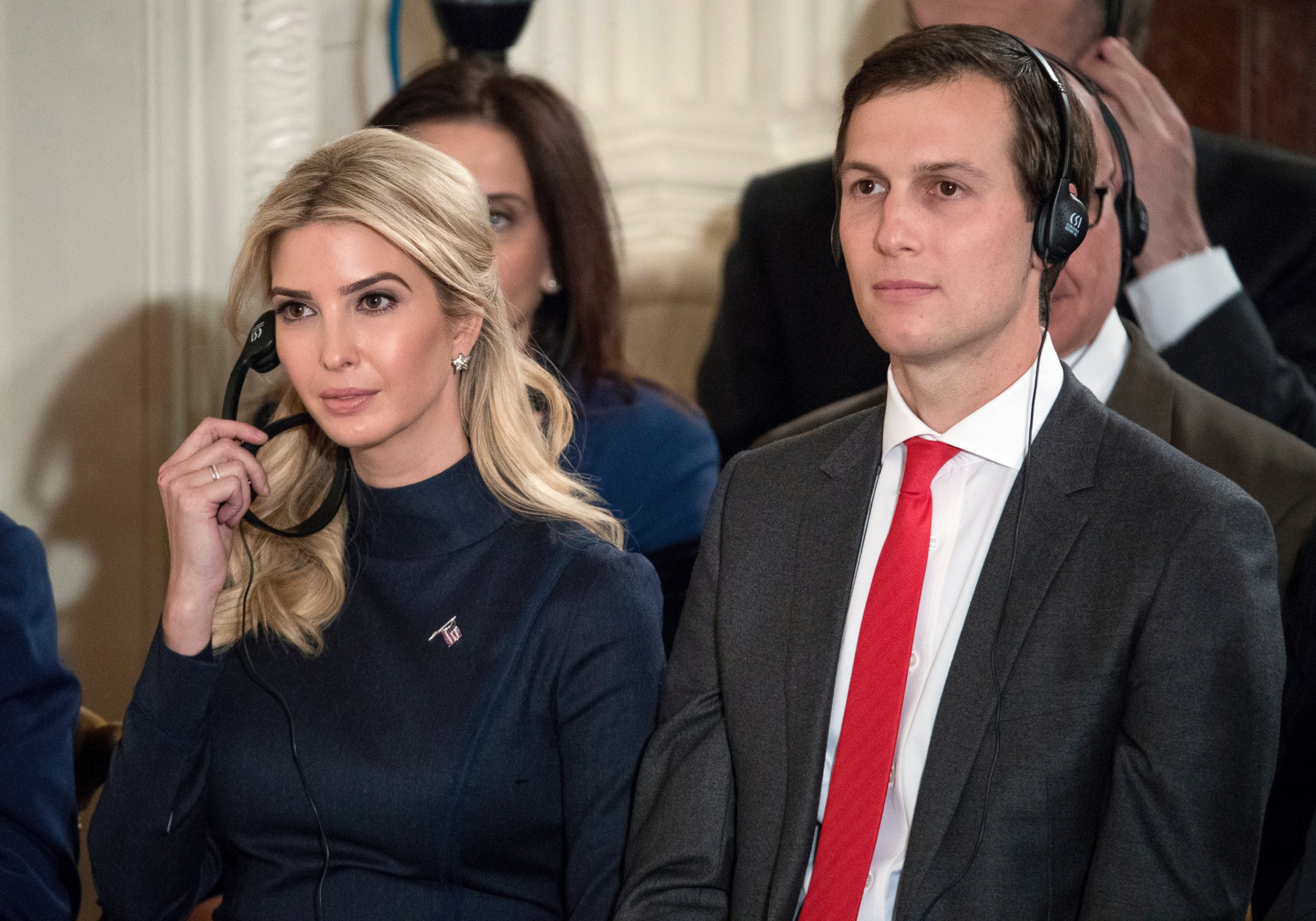 In financial disclosure forms released by the White House early April, it was revealed that both Ivanka and Jared remained as beneficiaries of a real estate and business empire worth up to $740 million, and that Ivanka continues to hold a stake in the Trump International Hotel in Washington, D.C., at the same time that the Trump Organization rents the hotel's building from the federal government.
The General Services Administration (GSA) had previously announced that President Trump's lease of the luxury hotel was in good standing, despite the lease conditions prohibiting government officials from profiting from the agreement.
Trump's first 100 days
President Donald Trump wrapped up his first 100 days in office with a campaign rally at the Pennsylvania Farm Show Complex and Expo Center in Harrisburg, Pa., April, 29, 2017. Trump assailed the press as he skipped the White House Correspondents' Dinner, becoming the first president in 36 years to miss the annual dinner since Reagan, who was recovering from being shot. The president also reiterated his campaign promises on healthcare, taxes and the border wall.
It is clear, however, that both Kushner and Mrs. Trump coordinated closely with counsel and the watchdog Office of Government Ethics (OGE) in coordinating how to legally isolate themselves from their businesses. Kushner resigned from 260 business entities, sold off 58 businesses and put most of his financial holdings into a trust overseen by his mother, while Ivanka put much of her assets in a trust and resigned from her fashion brand.
But Ivanka's decision not to divest her assets has resulted in some controversy, after China approved three trademarks for her clothing brand on the same day she met with Chinese President Xi Jinping at Mar-a-Lago.
Ms.Trump's lawyer told ABC News that Ivanka "has had no involvement" in trademark applications, and assured that she "will recuse from particular matters where she has a conflict of interest or where the White House Counsel determines her participation would present appearance or impartiality concerns."
But the White House has so far declined to provide information for any employee clarifying what kind of situation would require one to recuse themselves eliminate the potential that public office could be used for private gain.
Growing Pressure for Transparency
The very day that then President-elect Trump announced his separation from his business, he was blasted in a rare public statement by the chair of the independent watchdog OGE for what he called a "wholly inadequate" plan.
"It's important to understand that the president is now entering the world of public service," Shaub said. "We can't risk creating the perception that government leaders would use their official positions for profit."
The statement was particularly remarkable because OGE was already actively assisting the administration's appointees with navigating how to avoid potential conflicts, an especially monumental task considering the vast wealth and varied business interests of many of Trump's Cabinet members.
Since then, though, there appears to be little movement by President Trump in the face of public pressure to assure the American people that his bottom line is in no way benefiting from his presidency.
As thousands took to the streets on April 15 calling for President Trump to release his tax returns, Trump chose to lash out with a tweet.
President Trump has spent seven out of his 15 weekends as president at his exclusive estate Mar a Lago in Palm Beach, Florida, and visited a golf course a total of 19 times since taking office. He has also visited a Trump-owned property for 12 consecutive weekends. The president's repeat visits to these properties has no doubt raised their profile and along with it the incentive for members to find a way to cross paths with the president. Mar-a-Lago's own membership fee doubled to $200,000 following President Trump's victory.
As the administration has mostly denied press access to the properties, the lack of transparency led Democrats to introduce legislation dubbed the 'MAR-A-LAGO' ("Making Access Records Available to Lead American Government Openness) Act, that would require the White House to make public the visitors logs to any properties where the president conducts official business.
The White House has responded to these complaints by insisting the president should be entitled to privacy and that it has been transparent in providing information and readouts of significant meetings the president has held.
But calling for the administration to directly address potential conflicts could be gaining bipartisan steam in Congress.
As lawmakers in recent months have faced town halls across the country, Trump's potential conflicts have been one of the several leading topics. In one town hall, a crowd shouted down House Oversight Chairman Jason Chaffetz with chants of "Do your job."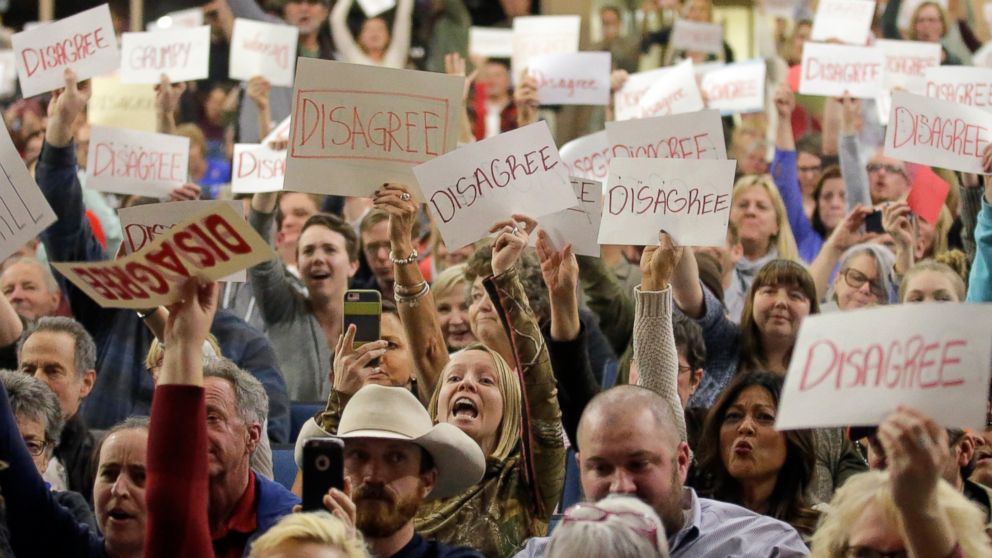 Just last week, Chaffetz and Democratic ranking member Rep. Cummings penned a letter to Sheri Dillon, the lawyer who initially announced President Trump's plan to separate from his businesses. Their principal request was evidence of the mechanisms being used by the Trump Organization to comply with its commitment to donate all money received from foreign governments to the Treasury Department.
"Additional details of the plan to donate profits derived from foreign government payments, however, are still unclear," the congressmen wrote. "Meanwhile, recent news accounts have reported that the Trump Organization may have received payments from foreign government sources since President Trump's inauguration."
The White House did not return a request for comment on this story. Administration officials say they are in compliance with the guidelines set out by Trump's lawyers previously.