Kamala Harris stars as 2020 presidential candidates pitch African American voters at Essence Fest
Five candidates will make an appeal to black women in New Orleans.
NEW ORLEANS -- Elizabeth Warren touted her support for equal pay. New York City Mayor Bill de Blasio shared his thoughts about his biracial family. Sen. Cory Booker talked about ensuring that African American female entrepreneurs have access to capital.
Some of the top rivals for the Democratic presidential nomination appeared at Essence Fest in New Orleans on Saturday. But as Democratic presidential candidates lined up for the chance to appeal directly to black women -- which candidates have increasingly seen as a critical voting block -- there was little doubt the main attraction was Kamala Harris.
Harris, the only black woman running for president, and the only black woman in the Senate, hit the stage to Tupac's "California Love," a nod to her home state, and got an enthusiastic "Skee Wee" from the large number of sorority sisters from Alpha Kappa Alpha -- a black sorority founded at Howard University, Harris's alma mater -- in attendance.
"Good morning, my beautiful sisters," Harris said, before launching into her plan to boost home ownership among African Americans.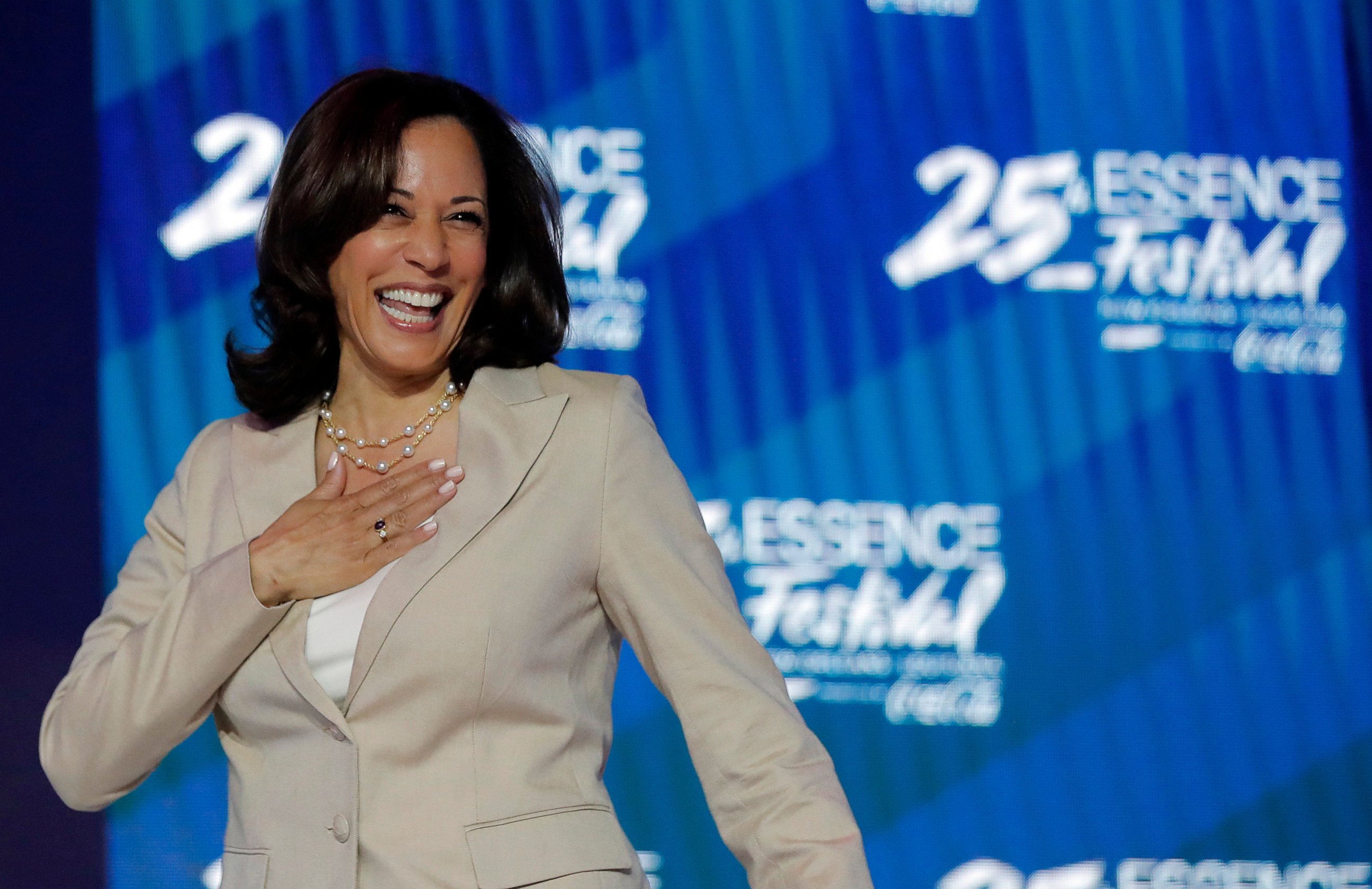 "Don't let anyone tell you who you are, let you tell them who you are," Harris said, repeating a line that she gives often on the campaign trail, and had particular resonance with the crowd in New Orleans.
Last month, Essence Magazine -- which is geared toward African American women and organized the event -- launched "Kamala's Corner," an online column by Harris that allows her to talk directly to voters. And on Wednesday, Rep. Jahana Hayes, a member of the Congressional Black Caucus, wrote an op-ed for the magazine titled, "Here's Why I'm Endorsing Kamala Harris for President."
On Saturday, the speeches from candidates mostly echoed the familiar lines from their stump speeches, and largely side-stepped some of the more hot-button issues raised both in Washington and on the campaign trail in recent months, including the question of whether reparations should be paid to African Americans and whether the federal government should take a bigger role in addressing persistent inequities in U.S. schools.
By Sunday, however, South Bend Mayor Pete Buttigieg, the only candidate to address voters at Essence Fest tackled the issue head on saying that looking at reparations was a way to tackle the issue of wealth building and access to capitol In the black community. He says when it comes to reparations many who debate the issue miss the general idea of "generational theft of wealth."
"If you think about as anybody who started a business or anybody who's ever bought borrowed a dollar knows, you think about how interest and the value of money compounds, right, you have a dollar today. Next year it's a dollar and five cents, pretty soon it's two dollars After 100 years it's a hundred dollars. Well, that's true of a dollar invested. That's also true of a dollar stolen, which means the fact that some of this generational theft of wealth, happened a long time ago, doesn't make it better. It makes it worse," Buttigieg said.
He admitted that he hasn't fully figured out how to address reparations, but says H.R. 40, the house bill to create a commission that will make recommendations regarding what should be done about reparations, should be passed and if president, he intends on signing it.
Black voters, are expected to make up approximately 12.5% of the 2020 electorate, according to the Pew Research Center.
Former Vice President Joe Biden, who is campaigning in South Carolina this weekend, currently leads the pack with 41% support among Democratic and Democratic-leaning black voters, according to the latest ABC News-Washington Post poll. Sen. Bernie Sanders, who is expected to be in Nevada this weekend, currently sits at 23% support among those voters.
Harris and Warren are making up ground with black voters, according to the poll, seeing support at 11% and 4%, respectively.
Biden, who came under fire last month after citing his cordial relationships with segregationist Democrats as examples of lawmakers working past their differences, on Saturday apologized for the first time for the remarks during a campaign stop in South Carolina.
Other candidates who appeared at Essence Fest received tepid applause and spoke to half-empty rooms.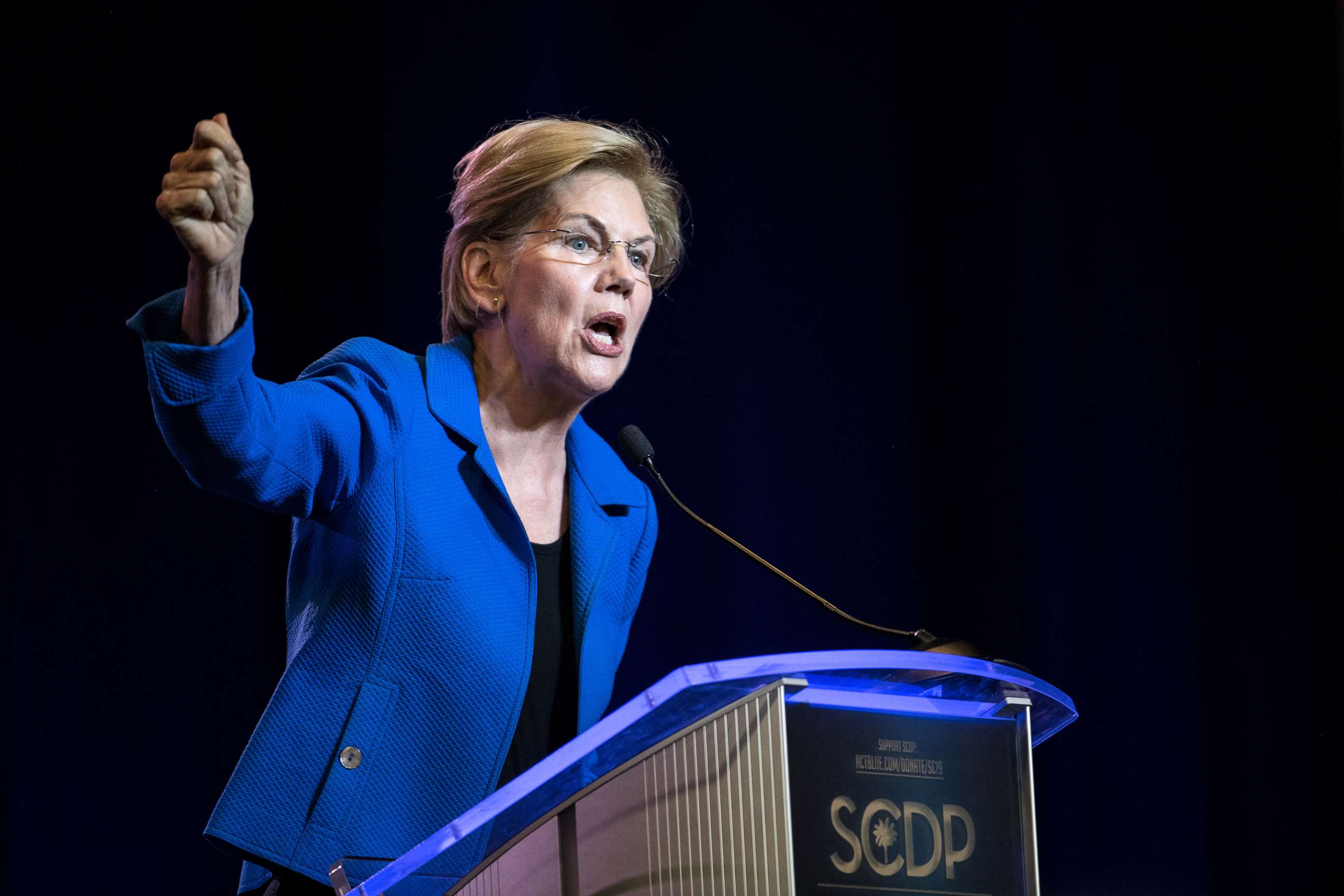 "If black women are going to be the highest voters in this country, then the agenda of African American women has to be at the center of the Democratic Party agenda," Booker said, offering the pay gap, access to capital for black businesswomen and the high rate of maternal mortality among black women as issues that should take center stage.
Just hours before taking the stage on Friday, Warren penned an op-ed titled, "Elizabeth Warren On Valuing Black Women," for Essence.
In her remarks, Warren, a second-term senator from Massachusetts, proposed an executive action focused on closing the wage gap that disadvantages women of color, which she said she would implement on "day one" if elected president. The plan would place stringent diversity and transparency requirements on companies contracted with the federal government.
In May, Harris made similar proposals to close the gender pay gap, by requiring companies to disclose salary data or risk financial penalties.
De Blasio, whose wife, Chirlane McCray, is black, talked about having frank discussions about race with their son and "preparing him for life as a young black man in America." De Blasio, who was added to the schedule at the last minute, addressed a half-filled room.
ABC News' Christen Hill contributed to this report.