Nearly 2 million people crowded the National Mall today to be a part of history; Donna Brazile, one of the lucky few to get a front-row seat, also got a piece of history.
After the swearing-in of President Barack Obama, when just about everyone was gone, Brazile -- an ABC News political commentator -- was able to nab a possession belonging to the new president.
"Barack Obama had this fleece," she told ABC News anchor Charles Gibson. "You know, we were all given this blue fleece and someone took it. When it was over with, I went over to the president's chair and I took it.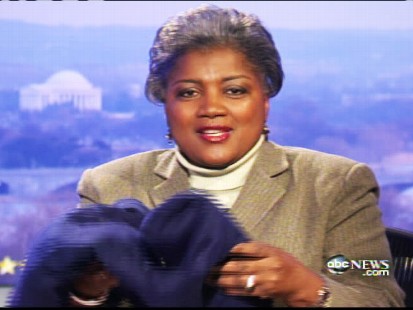 "It's somewhere around here," she said. "If he wants it back, I'll give it back, but I have that. This is the blanket that was at his chair in case he got cold. He left it, I took it. I was looking for George W. Bush's blanket, but someone took that and Dick Cheney took a couple blankets, so this is Barack Obama's blanket."
Sitting on the second step of the platform on the inaugural stage at the Capitol, close enough for Obama to come greet her, Brazile had one of the very best views of the pageantry at the historic inauguration.
After the program concluded, the images fresh in her mind, Brazile explained to an audience of millions watching ABC's live coverage of the inauguration how the close seat got her access to some of the VIPs and special guests attending the inauguration.
She said it was an incredibly moving experience for the black political operative who grew up in an impoverished household in the segregated South.
The inauguration of the first black president, and the majesty and spirit of the moment is something that Brazile said she will forever cherish.
"This was a tremendous day, it was an emotional day. And yet, I think it will take us perhaps days, months, years for us to really understand just how powerful this moment was for the country and the world," she told Gibson.
So what did Brazile see on stage, in the exclusive seating area reserved for dignitaries, ticket holders and VIPs?
Donna Brazile Captures the Big Moment
"I saw everything," a positively giddy Brazile said. "I took pictures, so I have over 400 photographs of just about every dignitary in the world."
She did a little hobnobbing, too.
"I shook a lot of hands, Jimmy Carter, (Sens.) Joe Lieberman, Orin Hatch, Hillary Clinton," she said. "I have great pictures."
She was even able to capture pictures of the big moment -- Obama being sworn in by the chief justice of the United States.
"I cannot wait to show my family and others my wonderful pictures," she said. "Barack Obama, when he was standing there, you know, when he was reciting the oath of office."
The most impressive person Brazile saw on stage was -- perhaps not surprisingly -- none other than President Obama himself.
"The president said hello, he smiled, and (Vice President) Joe Biden was just excited," she said.
Soaking up the beauty of the event, Brazile said the close seats got her a good look at first lady Michelle Obama's sparkling Isabel Toledo ensemble.
"I saw Michelle's outfit," she recalled with an admiring smile. "And by the way, I'm going on a diet because I'm going to wear that next year. That was amazing."
Brazile told Gibson she was struck by Aretha Franklin's stirring rendition of "My Country, Tis of Thee," moved when the Rev. Rick Warren invoked what Dr. Martin Luther King would think of the day's festivities, and brought to tears when Rep. John Lewis of Georgia -- a legend of the civil rights movement -- became misty-eyed during the ceremony.
She also noted that the exclusive seats got her a glimpse of Supreme Court Justice Clarence Thomas, the only black person on the panel, who, she said, was overcome by emotion.
"I have a picture, I believe, of Clarence Thomas wiping tears from his eyes," said Brazile.
She then cracked, "or he was yawning."
That joke, a not-so-subtle swipe at Thomas, who, because of his conservative views, many African Americans think has turned his back on the black community.
But the inauguration of the country's first black president brought tears to the eyes of many African Americans, especially those like Thomas and Brazile, who came of age during the time of Jim Crow and segregation.