Swiss diplomats representing U.S. interests in Tehran will meet with the Iranian foreign ministry today to try to free three young Americans who have been detained by Iran.
Joshua Fattal, an environmental worker from Oregon, freelance journalist Shane Bower of Minnesota and Californian Sarah Shourd, who writes and teaches in the Middle East, have been held as prisoners in Iran since Friday.
The three tourists were detained after straying into Iran while hiking in the mountains in the Iraqi border town of Ahmed Awah, a popular resort area famous for its pistachio trees and picturesque waterfalls. The border between Iran and Iraq is not clearly marked.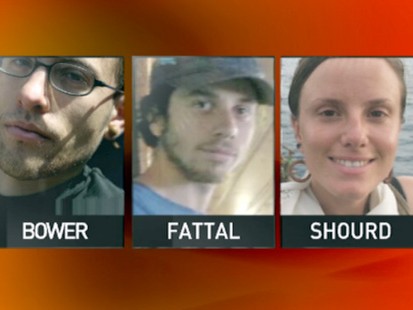 Americans have been repeatedly warned by the U.S. government not to travel to Iraq. Even though U.S. troops have withdrawn from major cities, violent attacks and bombings remain prevalent throughout the country.
Secretary of State Hillary Clinton told reporters today that the United States still did not have official confirmation that the Americans are being held and have asked the Swiss to help find out.
"Obviously we are concerned and call on Iranian government to help us determine the whereabouts of the three missing Americans," she said.
A U.S. State Department official said that Iran was "not forthcoming" when the Swiss inquired about the Americans on Sunday.
The Swiss ambassador is going to the Iranian Foreign Ministry today to confirm the Americans are being held and to request consular access, the official said.
According to Iran's state TV, the three were arrested for "illegal entry into Iran from Iraq's Kurdistan region." Iranian authorities said the hikers ignored warnings from Iranian guards.
"The Iranians said they have arrested them because they entered their land without legal permission," said Qubad Talabani, the Kurdish regional government's envoy to Washington.
A fourth American, linguistics student and English teacher Shon Meckfessel from Seattle, also hiked with the group for part of the time. Meckfessel, now at the U.S. Embassy in Baghdad, said he received a cell phone call from his friends saying, "We're surrounded."
Fattal, who loved to travel, wanted to know more about his family's roots in the region. His father, Jacob Fattal, was born in Iraq.
"Currently, we are only concerned about the well-being of Joshua and the other two people," Jacob Fattal told ABC News. "We hope they come home as soon as possible."
Tense U.S.-Iran Relationship
The arrests are prompting comparisons to the two American journalists captured by North Korea earlier this year after walking across the border from China. It also comes on the heels of the detention of American journalist Roxanna Saberi earlier this year. Saberi was accused of spying but was later released.
As with Saberi's case, this incident highlights the troublesome relationship between Iran and the United States. The two countries haven't had any diplomatic ties in the last 30 years and while President Obama has said his administration is open to talks with his counterpart, Iranian President Mahmoud Ahmadinejad, the relationship has yet to progress.
Last month, Iran's outspoken leader pointed the finger at the West and the U.S. government for fomenting unrest following its contested election, which created a series of violent protests and clashes. Iran has also accused the United States of fostering unrest in Iranian Kurdistan, just across the border from northern Iraq.
The fate of the three Americans may have been complicated by a report by the Iranian Fars News Agency quoting an Iraqi police commander, Anwar Haji Omar, as saying that the captured Americans are CIA agents.
A State Department official called the spying suggestion "ridiculous."
"How the Iranians treat them is going to be a message to President Obama and the U.S.," said Elliot Abrams, a senior fellow at the Council on Foreign Relations. "If they start talking about spying and start talking about needing to investigate and this thing runs into days and then weeks, that's a very serious message that they don't want better relations with us."
Some experts say like Saberi, the three hikers could be portrayed as spies and used as bargaining chips in Tehran's tense relations with the United States.
"I think there's a decent chance that Iran will portray these three as spies. And leave it up to the United States or to these three individuals to prove they are innocent," said Michael O'Hanlon, a national security expert with the Brookings Institution. "And given what we know about the CIA's interest in this part of the world, some people will believe Iran."
The White House has yet to issue a statement about the detained Americans. As U.S. troops withdraw from Iraq, questions are arising as to what role that country will play in getting the Americans released, as their fate remains unknown.
ABC News' Huma Khan, Kirit Radia, Jim Sciutto and Ki Mae Heussner contributed to this report.