It was a warm welcome for the president in the chilly white north.
Cheering crowds and 17 members of the Royal Canadian Mounted Police greeted President Obama as he arrived in Ottawa, Canada, on his first international trip since entering the White House.
The response was so positive he once accidentally almost referred to Ottawa as Iowa, the state where his presidential career took off 13 months ago. Canadian newspapers sang his praises, crowds lined the streets as the president made his way to Parliament Hill and locals screamed, "I love you," as Obama shopped for souvenirs at downtown Ottawa's Byward Market.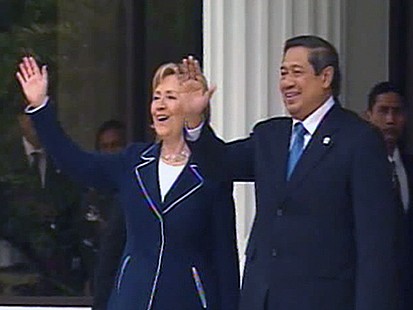 But at the Parliament House, where the president met with Prime Minister Stephen Harper, it was a more serious scene.
The leaders focused on three chief areas: the war in Afghanistan; energy and the environment; and trade and the economy. They agreed to cooperate on all of them.
"I came to Canada on my first trip as president to underscore the closeness and importance of the relationship between our two nations, and to re-affirm the commitment of the United States to work with friends and partners to meet the common challenges of our time," Obama said. "As neighbors, we are so closely linked that sometimes we may have a tendency to take our relationship for granted, but the very success of our friendship throughout history demands that we renew and deepen our cooperation here in the 21st century."
Harper echoed a similar sentiment.
"His election to the presidency launches a new chapter in the rich history of Canada-U.S. relations," the prime minister said. "It is a relationship between allies, partners, neighbors and the closest of friends, a relationship built on our shared values: freedom, democracy and equality of opportunity epitomized by the president himself."
More Conciliatory Tone
Obama's tone was markedly different than that at the Democratic primary in Ohio, where he said he "will make sure that we renegotiate" the North American Free Trade Agreement (NAFTA) and threatened to withdraw from the trilateral trade agreement with Canada and Mexico unless environmental and labor laws were renegotiated. Then-Sen. Obama was in heavy competition with his rival Hillary Clinton to secure the union vote.
"We should use the hammer of a potential opt-out as leverage to ensure that we actually get labor and environmental standards that are enforced," he said in February 2008.
But he adopted more conciliatory language today. The president said he would like to see the side agreements with environmental and labor protections included into the full agreement.
"I think what I said was that now is a time where we've got to be very careful about any signals of protectionism, because as the economy of the world contracts, I think there's going to be a strong impulse, on the part of constituencies in all countries, to see if they can engage in beggar-thy-neighbor policies," he said in a joint news conference with Harper.
"And I think it is important, whether we're talking about our relationships with Canada or our relationships with Mexico, that all countries concerned are thinking about how workers are being treated and all countries concerned are thinking about environmental issues ... just raised earlier."
In an interview with the Canadian Broadcasting Corp. earlier this week, the president said recession is not a time for renegotiation.
"I think there are a lot of sensitivities right now because of the huge decline in world trade," he said. "But what I've also said is that Canada is one of our most important trading partners, we rely on them heavily, there's $1.5 billion worth of trade going back and forth every day between the two countries and that it is not in anybody's interest to see that trade diminish."
Obama and Harper announced a "clean energy dialogue" to collaborate on science and technologies to reduce greenhouse gases. They also pledged to cooperate more on environmental protection and energy security and to work together in Afghanistan, where the president recently authorized the deployment of 17,000 additional troops to fight the insurgency.
The president also, once again, reiterated the importance of the "most sweeping economic recovery plan" he signed this week. And on the concern about the "Buy America" provision in the package, the president assured the prime minister: "I want to grow trade and not contract it. And I don't think that there was anything in the recovery package that is adverse to that goal."
The president's trip was not all work. He found some time to go souvenir shopping and was even gifted with an "Obamatail," a special version of a deep-fried Canadian pastry called BeaverTail created last month in the new U.S. president's honor.