Sen. Edward Kennedy today joined thousands of influential Americans buried in Arlington National Cemetery, which has become known as the final resting place for the nation's greatest.
"The ideals of democracy are displayed in the deeds and sacrifices of the men and women interred in Arlington National Cemetery," said George Dodge, a historian and author of the book "Arlington National Cemetery."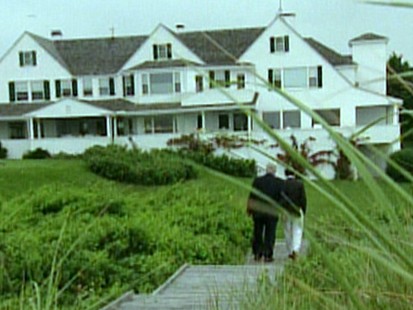 "Sen. Kennedy belongs there," said Dodge.
Kennedy, who will be buried 100 feet away from his older brothers President John F. Kennedy and Robert Kennedy, was flanked by a Joint Casket Team, which consists of members from all armed-service branches, an Army Firing Party and an Army Bugler who will play "Taps."
"There is nothing like a service at Arlington National Cemetery," said Dodge.
The 300,000 bodies buried at Arlington include two U.S. presidents (Kennedy and President William Howard Taft), five five-star military generals and admirals, 12 Supreme Court justices, veterans from all of the nation's wars and nearly 3,800 former slaves.
It is the resting place of a long list of famed Americans, including former heavyweight champion boxer Joe Louis, World War II hero and actor Audie Murphy and astronaut Lt. Col. Virgil "Gus" Grissom, one of the original NASA astronauts who was killed in a 1967 fire aboard his Apollo spacecraft.
Kennedy's body arrived via hearse, not a caisson -- the wheeled, horse-drawn carrier reserved for the highest ranking military officials and presidents.
The traditional ceremony for a member of Congress includes pallbearers carrying a flag-draped casket to the grave site, with a military rifle squad firing volleys of salute.
Kennedy spent Thursday and Friday lying in repose in the John F. Kennedy Library and Museum. The term lying in repose is when the body of an individual is housed for public viewing prior to its burial.
Lying in state, in which the body is placed in the rotunda in the capital in Washington, D.C., for public mourning, is reserved for presidents, president-elects, former presidents or individuals designated by the president.
Kennedy Burial Gave Arlington National Cemetery Prominence
Long before the President John F. Kennedy and Robert F. Kennedy were buried in Arlington, the cemetery was known for something quite different, according to Dodge.
"The cemetery began during the American Civil War as a place where soldiers whose families couldn't afford to have them brought home were buried," said Dodge. "But now it's the most renowned cemetery in the country."
Arlington House, the 19th-century mansion on the cemetery's grounds, was initially intended as a living memorial to George Washington and was was owned and constructed by the first president's adopted grandson, George Washington Parke Custis. Custis' only child, a daughter, married Robert E. Lee, who later served as a custodian of the property and lived there briefly before commanding the Confederate Army of Northern Virginia in the Civil War.
Arlington National Cemetery opened on May 13, 1864, but it wasn't until more than two decades later in 1888 when Philip Henry Sheridan, a Union General in the Civil War, was buried that the gravesite began to gain stature.
More and more high-ranking military servicemen and women were buried in Arlington, as well as President William Howard Taft in 1930, over the next several decades, helping the cemetery gain national prominence.
But the ceremonious November 1963 burial of President Kennedy catapulted Arlington National to fame.
"When President Kennedy died, for many people it was the first time they had ever seen Arlington because the burial was televised," said James Peters, a professor at the University of Kansas and author of "Arlington National Cemetery: Shrine to America's Heroes." "Suddenly people were aware of the cemetery and it changed everything."
Prior to President Kennedy's burial, Arlington attracted approximately 2 million visitors a year. In the year following, more than 8 million people visited the cemetery, according to Peters.
Due to an overwhelming number of requests for burials -- the cemetery buries an average of 27 people a day and was getting more than 100 requests per day after the president's burial -- Arlington officials changed the eligibility requirements.
Today, a person must have received an honorable discharge after 20 years of service in the military in order to be buried. Other ways to earn a spot in the coveted graveyard include being awarded several military honors, such as a purple heart, or being a former member of the armed services who also served an elective office in the U.S. government, such as Sen. Kennedy.
Sen. Kennedy was eligible for burial in Arlington National Cemetery because of two combined factors: He was honorably discharged after serving as a private first class in the U.S. Army in 1953 and was elected to a U.S. Government post.
The Saturday burial is quite unusual in the cemetery, which usually only operates on weekdays.
Military Elite Rest in Arlington
The majority of people buried in Arlington are political and military elite. The Kennedys are interred among four chief justices of the United States, including William Rehnquist, and eight associate justices of the U.S. Supreme Court, including Thurgood Marshall and Oliver Wendell Holmes Jr.
The Kennedy brothers' burial plot is one of the two most oft-visited memorials in the cemetery -- the Tomb of the Unknowns is the other popular destination -- but the brothers' headstones are completely different.
President Kennedy, who was first buried in a different gravesite with a simple cross and white picket fence, was moved to permanent site in 1967 that is adorned with an eternal flame. The hillside behind his grave was built up to prevent onlookers from straying from the paved path.
Robert F. Kennedy's grave, yards from President Kennedy's, is decorated with a single cross.
Due to the underground utilities required to support his brother's memorial, it was no small feat to find Sen. Kennedy a nearby plot. Planning for the burial began several weeks ago, at the urging of the Kennedy staff, according to a cemetery employee.
While it will be up the Kennedy family to determine what sort of headstone is placed at Sen. Kennedy's gravesite, private memorials still must be approved by cemetery officials.
According to John Metzler, the superintendent at Arlington National Cemetery, Sen. Kennedy's gravesite will be marked by Sunday morning with a "very modest" walkway leading to it. It will feature a wooden cross and a footstone until a "more substantial" memorial can be placed.
Areas where the other 300,000 people are buried -- for example the location reserved for Iraq war veterans -- are required to have regulation headstones that are white granite with tapered tops.
"It makes sense that he will be buried next to his brothers," said Peters. "It's a great tribute; they'll be together forever."