The funeral mass of Sen. Edward M. Kennedy today brought together a remarkable cross section of America's political leadership.
Amid a steady rain in the Roxbury section of Boston, limousines lined the streets outside the Basilica of Our Lady of Perpetual Help and filled the church with dignitaries, politicians, celebrities and dozens of Kennedy family members.
Former Presidents George W. Bush, Bill Clinton and Jimmy Carter, along with Vice President Joe Biden, who spoke at the memorial service Friday evening at the JFK Library in Boston, were present. Former Vice President Al Gore was in attendance, as well as many members of the Obama Cabinet.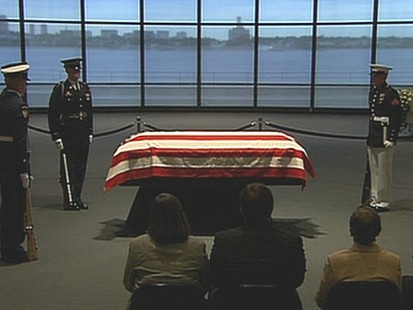 The
eulogy
was delivered by President Barack Obama.
To see the funeral mass program, click HERE.
Funeral remarks were given by the senator's sons, Ted Kennedy Jr. and Rep Patrick Kennedy, D-R.I. Readings were delivered by the senator's daughter Kara, stepson G. Curran Raclin Jr. and stepdaughter Caroline Raclin. Prayers were offered by a group of the youngest Kennedys, some of his grandchildren and nieces and nephews.
Performing at the funeral mass were world-famous cellist Yo-Yo Ma and Spanish tenor Placido Domingo, among others.
Several priests were involved in conducting the service. Cardinal O'Malley, the archbishop of Boston, closed the mass.
The pallbearers were all family members, including his children and stepchildren. Also serving as pallbearers are the eldest children of each branch of the Kennedy family: Caroline Kennedy, daughter of the late President John F. Kennedy; Christopher Lawford, son of Kennedy's sister Patricia; Bobby Shriver, son Eunice Kennedy Shriver; Kathleen Kennedy Townsend, daughter of the late Sen. Robert F. Kennedy; Stephen Smith, eldest son of the only remaining sibling of the senator, Jean; and Ed Michael Reggie, Kennedy's brother-in-law.
Ted Kennedy Honored by Friends, Political Foes
Many of the 29 honorary pallbearers were Kennedy friends, political colleagues and former staffers, including Sen. Chris Dodd, D-Conn., Sen. John Kerry, D-Mass., Rep. Ed Markey, D-Mass., Supreme Court Justice Stephen Breyer, who worked for Kennedy in the Senate, and White House counsel Greg Craig.
Politicians were not the only well-known faces in attendance in the church today; also present were the actors Jack Nicholson and Lauren Bacall, singers Tony Bennett and Brian Stokes Mitchell, and basketball legend Bill Russell.