Sen. Barack Obama, D-Ill., struggled Thursday in two separate news conferences to explain his plan to withdraw U.S. troops from Iraq. Obama said in the first press conference that he will "continue to refine" his plan to withdraw all U.S. combat troops from Iraq in 16 months when he travels to the war-torn country later this month to meet with American military commanders.
"I've always said that the pace of withdrawal would be dictated by the safety and security of our troops and the need to maintain stability. That assessment has not changed," said Obama. "And when I go to Iraq and have a chance to talk to some of the commanders on the ground, I'm sure I'll have more information and will continue to refine my policies."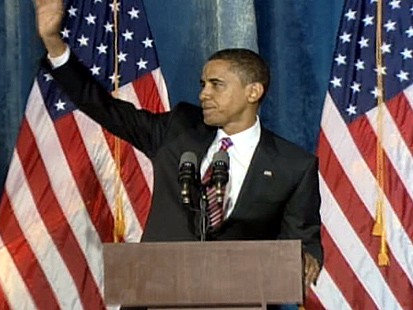 Obama's openness to adjust his 16-month withdrawal plan was somewhat at odds with the stance he took during a recent ABC News debate. At the time, Obama seemed to stand by his campaign manager's unambiguous pledge to have troops out of Iraq in 16 months "at the most."
Obama campaign manager David Plouffe told reporters on March 7 that Obama has been "crystal clear with the American people that if and when he is elected president, we will be out of Iraq in -- as he said, the time frame would be about 16 months at the most where you withdraw troops. There should be no confusion about that with absolute clarity."
At the April 16 debate in Philadelphia, ABC News' Charlie Gibson asked Obama about his campaign manager's unambiguous pledge.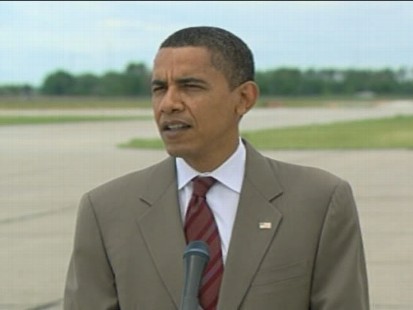 Obama seemed to stand by Plouffe's words, saying, "The commander-in-chief sets the mission, Charlie."
The Illinois Democrat later gave himself some wiggle room "with respect to tactics."
"[I]f they come to me and want to adjust tactics," said Obama, referring to U.S. commanders in Iraq, "then I will certainly take their recommendations into consideration."
Obama's comments on refining his Iraq policies are also at odds with the Iraq plan that he currently has on his campaign Web site.
Under a "Bringing Our Troops Home" header, Obama's Web site says: "Obama will immediately begin to remove our troops from Iraq. He will remove one to two combat brigades each month, and have all of our combat brigades out of Iraq within 16 months."
When asked at his hastily arranged second press conference about the Web site's claim, Obama said, "I have to say that there is nothing that that Web site says that contradicts what I've said here. I will bring this war to a close; I think it is important for us to do so strategically."
Obama insisted that his position on Iraq had not changed and said that suggestions to the contrary had come from the McCain campaign.
"I guess I'm just puzzled," said Obama, when asked how he would explain his change of policy to Americans. "I think what's happened is that the McCain campaign primed the pump with the press to suggest that somehow we were changing our policy when we hadn't and that just hasn't been the case. I've given no indication of a change in policy. I haven't suggested that we're moving in a different direction."
"I intend to end this war," said Obama in his second press conference. "That position has not changed. I have not equivocated on that position. I am not searching for maneuvering room with respect to that position."
He also stressed, however, that he has always promised that the withdrawal would be "careful."
"I have always reserved the right to do what's best for America's national interest," said Obama. "I would be a poor commander-in-chief if I didn't take facts on the ground into account."
Obama's promise to withdraw U.S. combat troops from Iraq comes with an important caveat. He has long pledged to leave an undefined number of troops behind in Iraq or elsewhere in the region to carry out targeted strikes on al-Qaeda. He also envisions a residual U.S. force conducting training of Iraqi troops and protecting the U.S. embassy.
Obama's Thursday comments come as military experts are saying that it would be difficult, if not impossible, for the U.S. to withdraw equipment out of Iraq at the pace the presumptive Democratic nominee has proposed.
The tension between Obama's plan to "continue to refine" his withdrawal plan and the more unambiguous statements his campaign has made in the past drew a sharp rebuke on Thursday from the Republican National Committee.
"There appears to be no issue that Barack Obama is not willing to reverse himself on for the sake of political expedience," said RNC spokesman Alex Conant. "Obama's Iraq problem undermines the central premise of his candidacy and shows him to be a typical politician."
Obama's stepped-up emphasis on examining the condition on the ground before withdrawing U.S. troops from Iraq led a spokesman to Sen. John McCain, R-Ariz., to allege that the presumptive Democratic nominee has adopted the position of his Republican rival.
"Today, Barack Obama reversed that position, proving once again that his words do not matter," said McCain spokesman Brian Rogers. "He has now adopted John McCain's position that we cannot risk the progress we have made in Iraq by beginning to withdraw our troops immediately without concern for conditions on the ground."
"If he had visited Iraq sooner or actually had a one-on-one meeting with General Petraeus, he would have changed his position long ago," said Rogers.
Contrary to the Rogers claim, McCain's position still differs from Obama in that the Arizona senator has not joined his Democratic rival in wanting to write a target date for U.S. troop withdrawal into U.S. law.
Obama's two Thursday press conferences were held in Fargo, N.D.