Looking Ahead at Possible Senate Confirmation Flashpoints
Some confirmation hearings may go more smoothly than others.
January 10, 2017, 7:17 AM
— -- Donald Trump has been building out his Cabinet since he won the election in November, and for the most part, the nominees have largely stayed silent with the exception of brief statements once their names were announced.
Now the Cabinet hopefuls will face questions from corresponding Senate committees during their confirmation hearings, eight of which are slated to take place this week.
While some of the nominees are less controversial, there are at least five candidates whose hearings could cause fireworks.
Here is a primer on some of the possible flashpoints: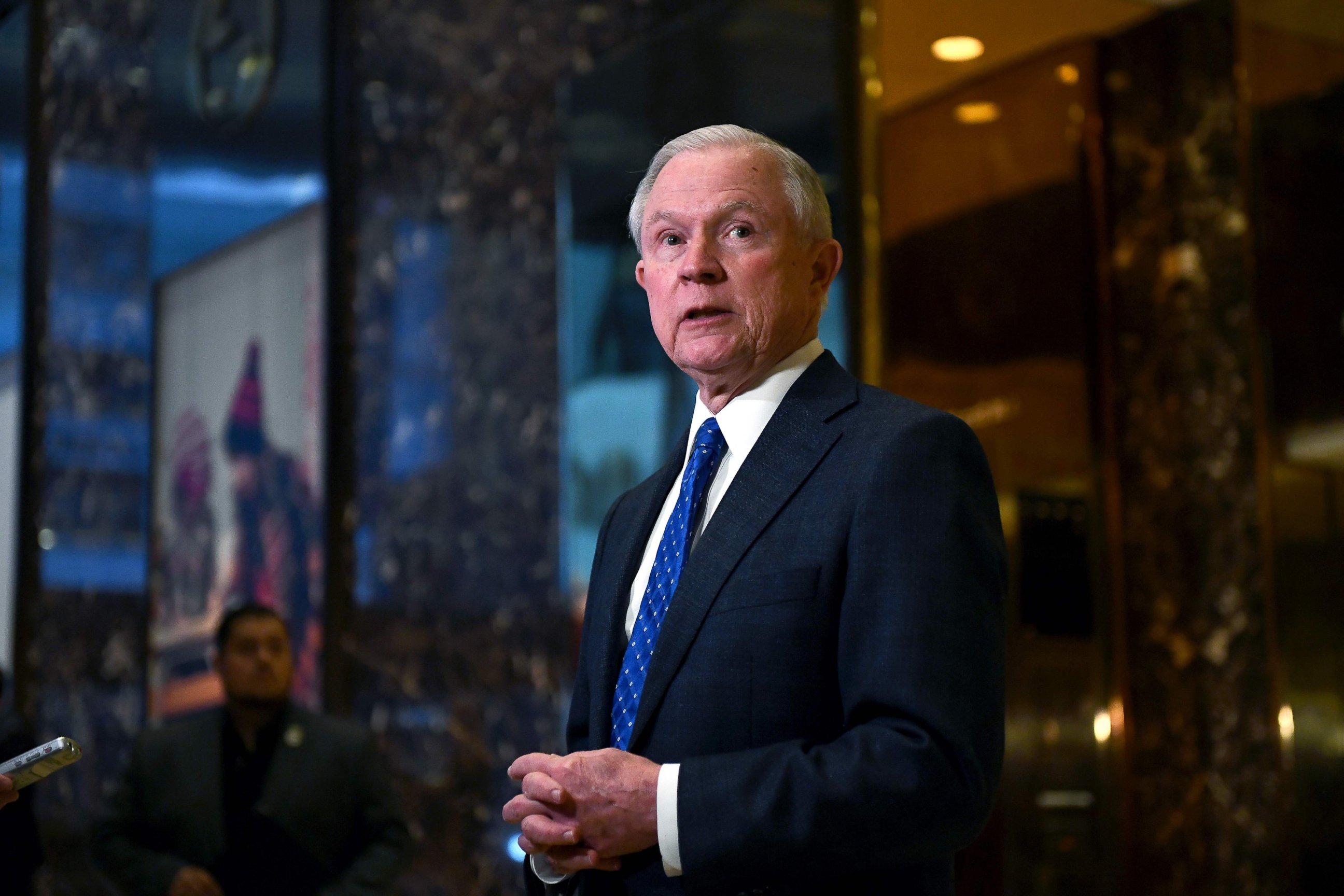 One of the most controversial confirmations could be the one to kick off the whole process.
Sen. Jeff Sessions, R-Alabama, is Trump's pick for attorney general, and his selection has already prompted protests.
NAACP president Cornell William Brooks was arrested after staging a sit-in at Sessions' Alabama office last week. Brooks cited Sessions' silence on numerous laws that he believes are targeted efforts to restrict the voting rights of minority communities in states like Alabama, North Carolina and throughout the South.
"You have a nominee for attorney general who has demonstrated a disregard for voter suppression," Brooks said. "He supports the myth of voter fraud. That is unacceptable."
Brooks is far from the only one upset, with a group of 1,140 faculty members from law schools across the country penning a letter opposing Sessions' selection. The letter took aim at controversy surrounding Sessions' 1986 confirmation hearing for a federal judgeship, as Sessions was rejected by the Senate Judiciary Committee at that time "due to statements Sessions had made that reflected prejudice against African-Americans," the letter states.
Sessions said under oath during the hearing that the allegations against him were false and that he was not biased. Former FBI director Louis Freeh, who was appointed to his position by then-President Bill Clinton, has long been supportive of Trump and just last month sent a letter to the Judiciary Committee insisting Sessions has no racial bias.
The legal director of the American Civil Liberties Union, David Cole, is testifying at Sessions' hearing. The nonpartisan group released a statement today announcing Cole's scheduled testimony, saying that it does not typically participate in such hearings, "however, the organization is taking the extraordinary step of testifying in this hearing because Sen. Sessions' record raises significant, serious questions about his hostility to civil rights and civil liberties."
Another possible flashpoint for Sessions comes from comments he has made about drug use and the legalization of marijuana. At a Senate hearing last April, Sessions said that "good people don't smoke marijuana" and it is "not the kind of thing that ought to be legalized."
In response, Adam Eidinger, the leader of a marijuana legalization activist group DCMJ, told ABC News that supporters plan to wait in line "for three days" to make sure that they get seats in the audience for Sessions' confirmation hearing, which is scheduled to take place over Tuesday and Wednesday.
"It's going to smell like marijuana in that hearing because we smell like marijuana because we're going to smoke legally before it," he said.
Sessions will likely be asked about how he will classify terrorism suspects under the law and how the Justice Department will work to counter radicalization in the U.S.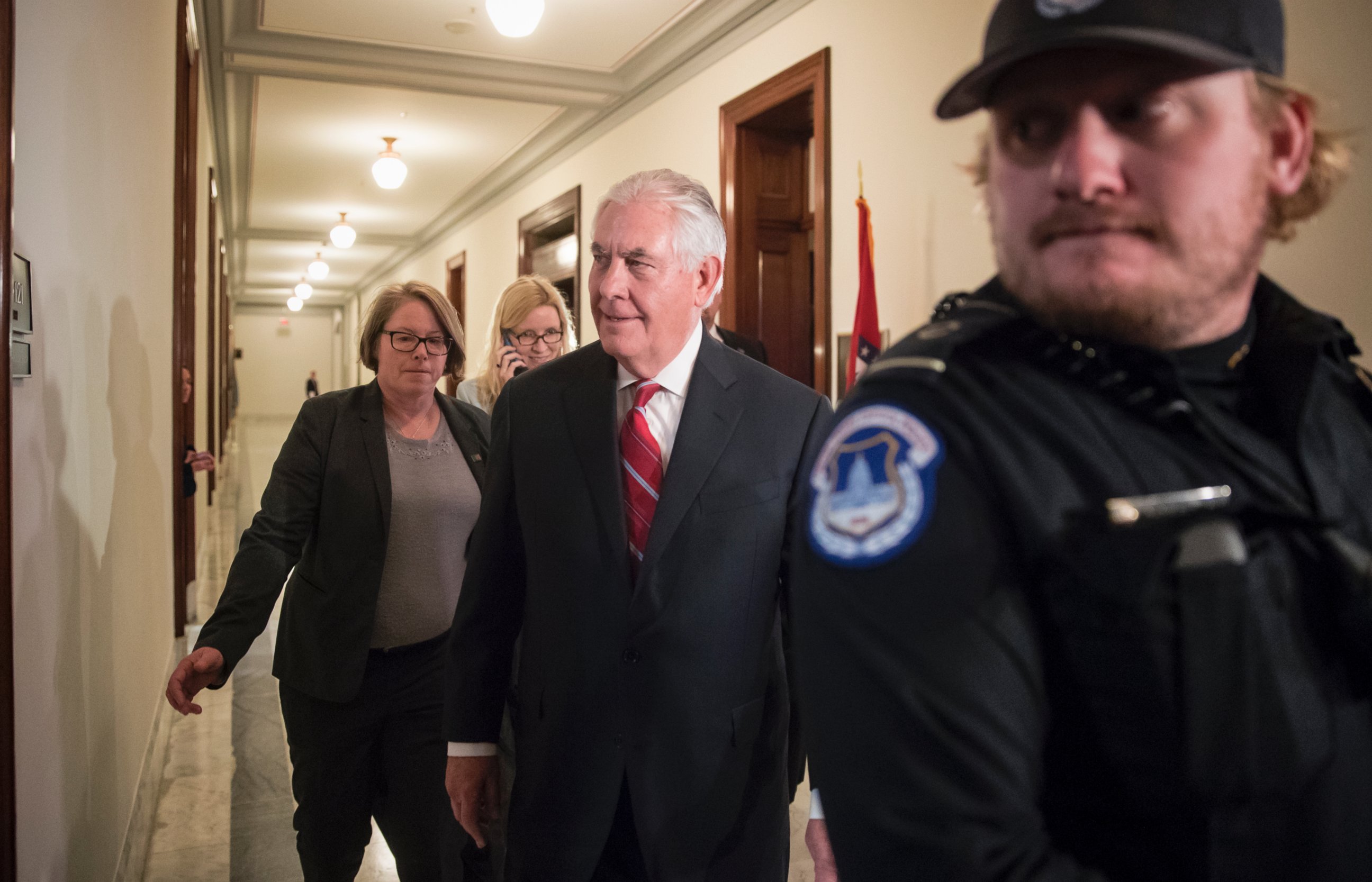 One of the most heated moments from the confirmation hearings will likely come when Rex Tillerson is questioned over his close ties to Russia.
Tillerson, who worked at ExxonMobil for more than 40 years and had served as the company's CEO since 2006 before stepping down at the end of last year, has done business in Russia since the 1990s. That relationship reached its peak in 2011 when ExxonMobil made a deal with Russian oil company Rosneft, the majority of which was owned by the Russian government.
In 2013, Tillerson received the Order of Friendship from Russian president Vladimir Putin, and the nature of their friendship will come under scrutiny during the hearings, especially since the U.S. Intelligence Community released a declassified report last week acknowledging that Putin "ordered" a cyber campaign to influence the U.S. presidential election with "a clear preference for President-elect Trump."
Since his nomination was announced, Tillerson has been taking steps to extricate himself from his various business interests.
Unlike his future boss, if confirmed Tillerson will be subject to a federal conflicts of interest law (18 U.S. Code § 208), which prohibits most federal officials from participating in government matters in which they or their family have a financial interest. The president and vice president are exempt from this rule.
The Associated Press reports that Tillerson will get a $180 million retirement package from ExxonMobil.
Given the depth and scope of his business interests, particularly in oil-focused activities that could have ties with other countries and foreign governments with whom he would be working as secretary of state, it is virtually assured that he will be asked about his various business dealings.
Ben Carson, Secretary of Housing and Urban Development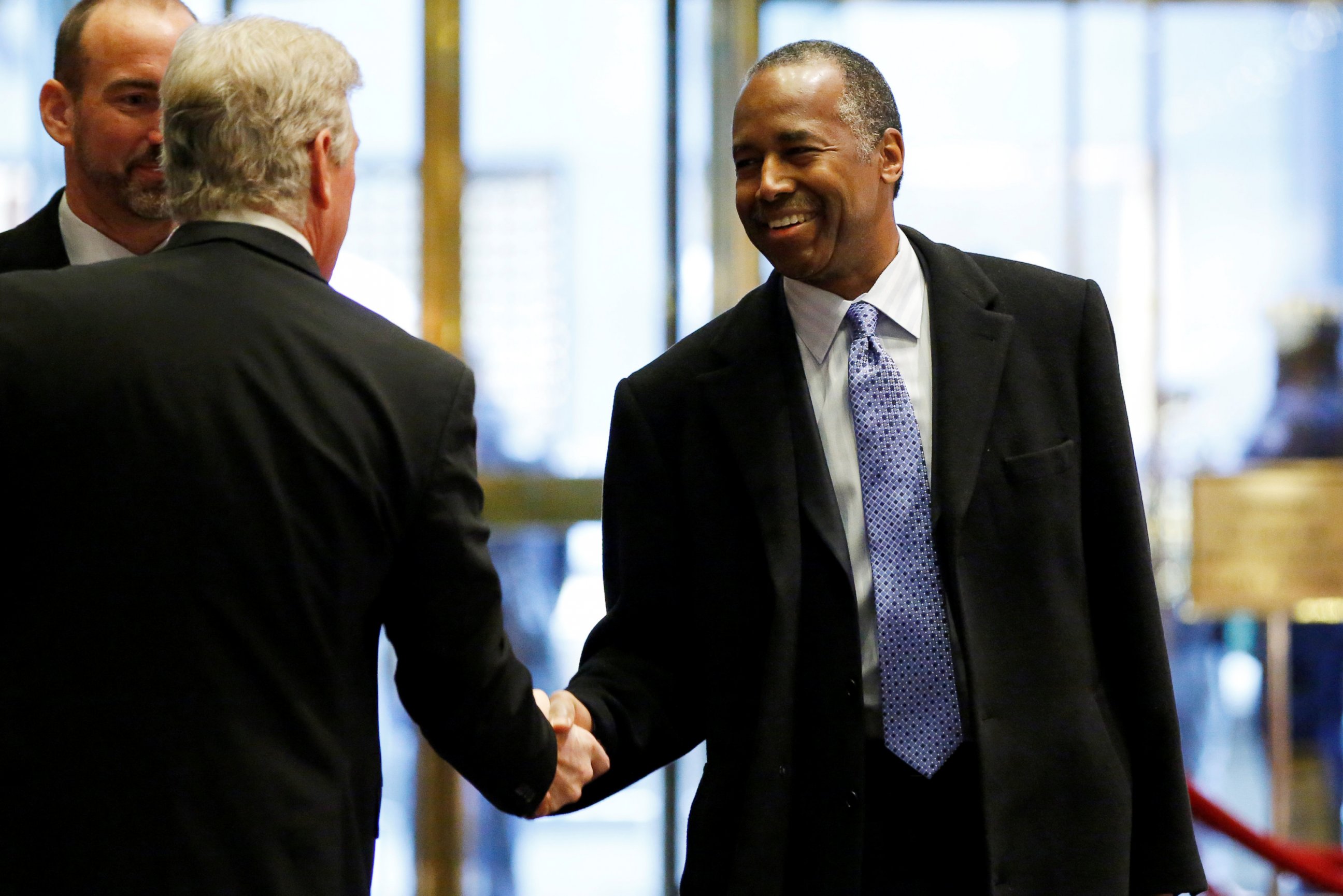 The former neurosurgeon-turned-former presidential candidate made headlines when he backed his former foe, Trump.
Dr. Ben Carson is one of the few early supporters of Trump to receive a Cabinet nomination, and questions are being raised about his qualifications.
Even Armstrong Williams, one of Carson's closest aides, publicly questioned his fitness for the role.
"Dr. Carson feels he has no government experience, he's never run a federal agency. The last thing he would want to do was take a position that could cripple the presidency," Williams told The Hill on Nov. 15, weeks before Carson was announced as Trump's pick for HUD secretary on Dec. 5.
Williams later told NPR on the day that Carson was announced as Trump's pick that Carson has personal experience that he will bring to the job that helps make him prepared for that position.
"His life growing up in subsidized housing, growing up in poor communities, understanding what happens, that you can go into the communities and build houses all you want," Williams said when asked what has prepared Carson to lead the agency.
James Mattis, Secretary of Defense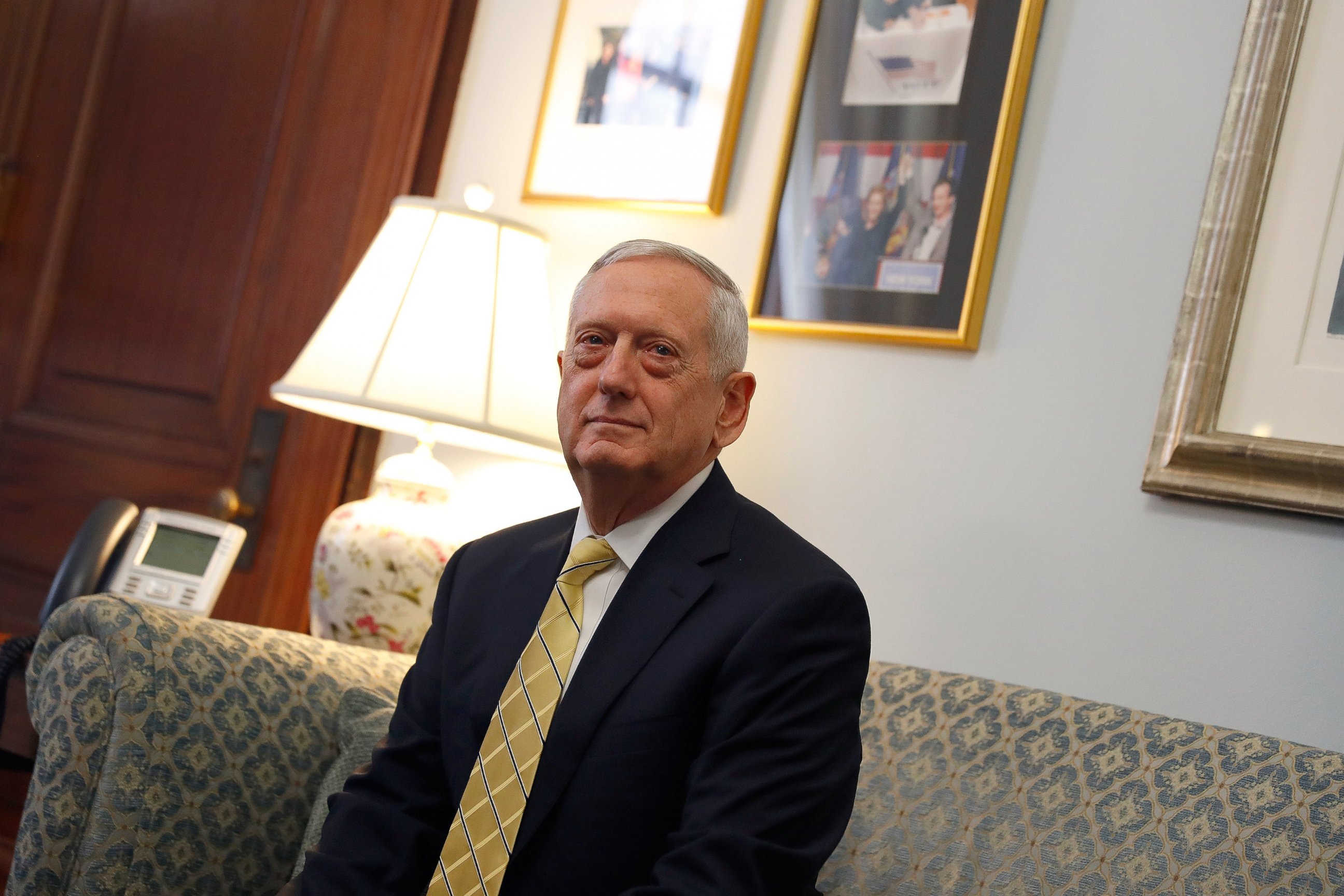 The nomination of retired Marine Gen. James "Mad Dog" Mattis comes counter to one of the existing rules of appointments, as he has not been out of uniform long enough to serve in a Cabinet position.
According to the existing rules, members of the military who go on to serve in the administration are supposed to have at least seven years in between the two posts. Mattis only retired from his position as the commander of U.S. Central Command in 2013.
A waiver would be required to override that rule, and Sen. John McCain, R-Arizona, who is the chairman of the Senate Armed Services Committee, has said that waivers have been issued in the past.
Beyond the bureaucratic loophole, Mattis will likely be questioned over the U.S. role in Afghanistan and Iraq, as he led Marine forces in both of those regions at the start of American operations in each country.
He has also been openly critical of the Obama administration's nuclear deal with Iran, so the fate of that deal also seems like a possible area of questioning.
Wilbur Ross, Secretary of Commerce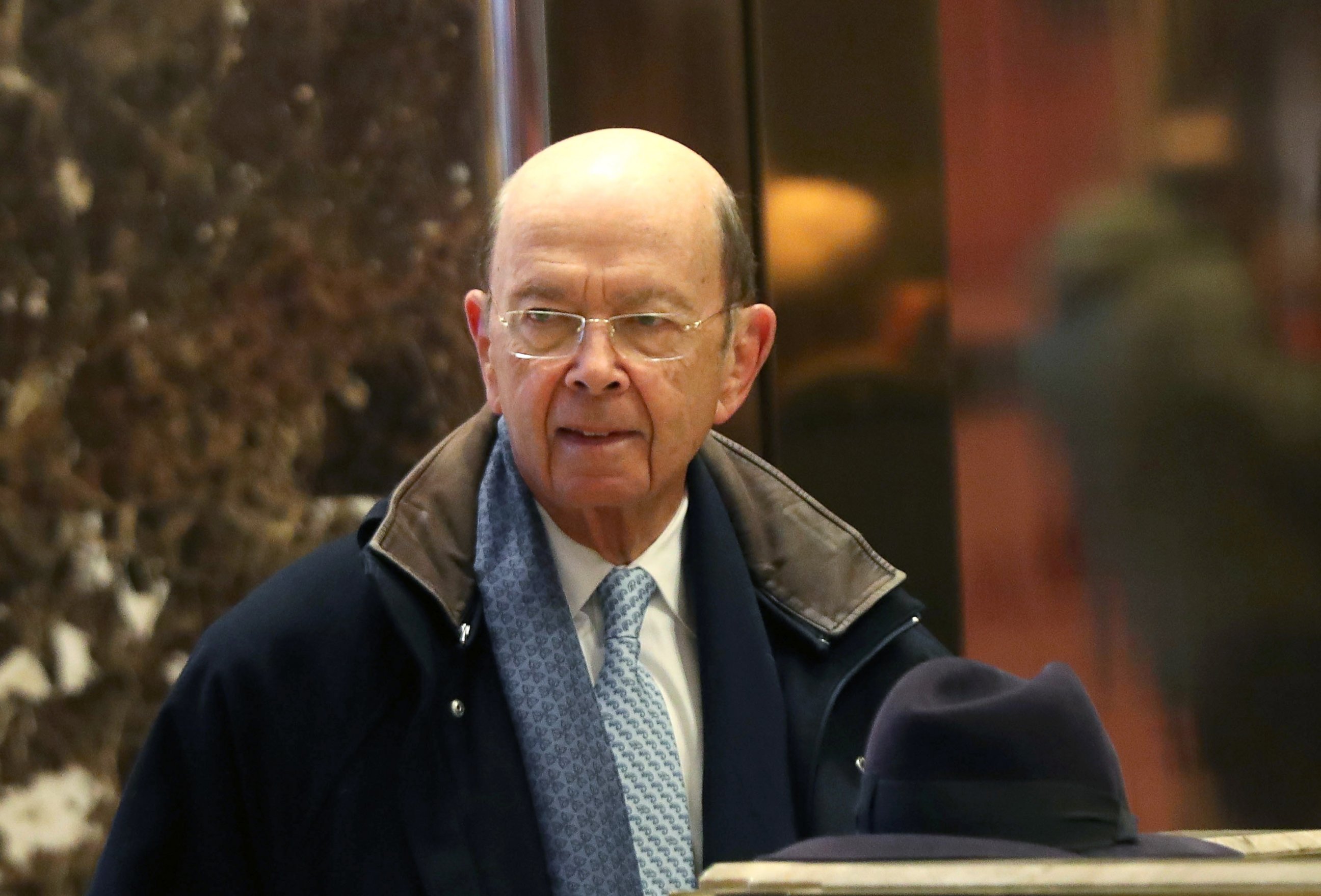 The wealth of Trump's Cabinet picks is clearest with the nomination of Wilbur Ross, a billionaire investor.
Aside from Trump himself, Ross is the only Cabinet pick who is listed on the Forbes 400, the magazine's 2016 edition of its list of the wealthiest Americans. Ross is worth an estimated $2.5 billion.
Ross has been hailed as a hero by some for saving failing industries but critics have likened the business practice to being a "vulture investor," though Ross himself disdains the term, according to a 2004 New York magazine profile, which also noted that he prefers the description "a phoenix that rebuilds itself from the ashes."
ABC News' Mike Levine, Alex Mallin, John Verovek and Lauren Pearle contributed to this report.