— -- Today, Alabama Republicans will vote in a primary runoff for the Senate seat previously occupied by Attorney General Jeff Sessions.
A first round of voting failed to yield a majority for a single candidate. Now, the top two candidates are competing for the GOP nomination in a race that has gained national prominence and become what some are calling a proxy war between the populist and establishment wings of the Republican Party.
Here's a look at what to know about the Alabama primary runoff:
Why the Senate seat is open
The seat was previously held by Alabama native Jeff Sessions, who served as senator for 20 years before his nomination by President Trump to serve as attorney general.
Following Sessions' confirmation in February, then-Alabama Gov. Robert Bentley appointed the state's attorney general, Luther Strange, to temporarily fill Sessions' Senate seat until the general election. Bentley later resigned after allegations that he used state resources as governor to hide an affair with one of his top aides. Lt. Gov. Kay Ivey replaced Bentley as governor following the resignation, and called for a special election in April.
A history of support for Republicans
Sessions was first elected in 1997, and since then, the state has been represented by two Republican senators. In his last election, in 2014, Sessions was unchallenged and won the general election with more than 97 percent of the vote. The senior senator from Alabama, Richard Shelby, was elected for the first time in 1987 and is not up for reelection until 2022.
In the 2016 presidential election, Trump won Alabama with 62 percent of the vote.
Who is running
Among the nine Republicans who originally ran for the vacant seat, two emerged at front-runners and were sent to the runoff: now-incumbent Sen. Luther Strange and former judge Roy Moore.
Luther Strange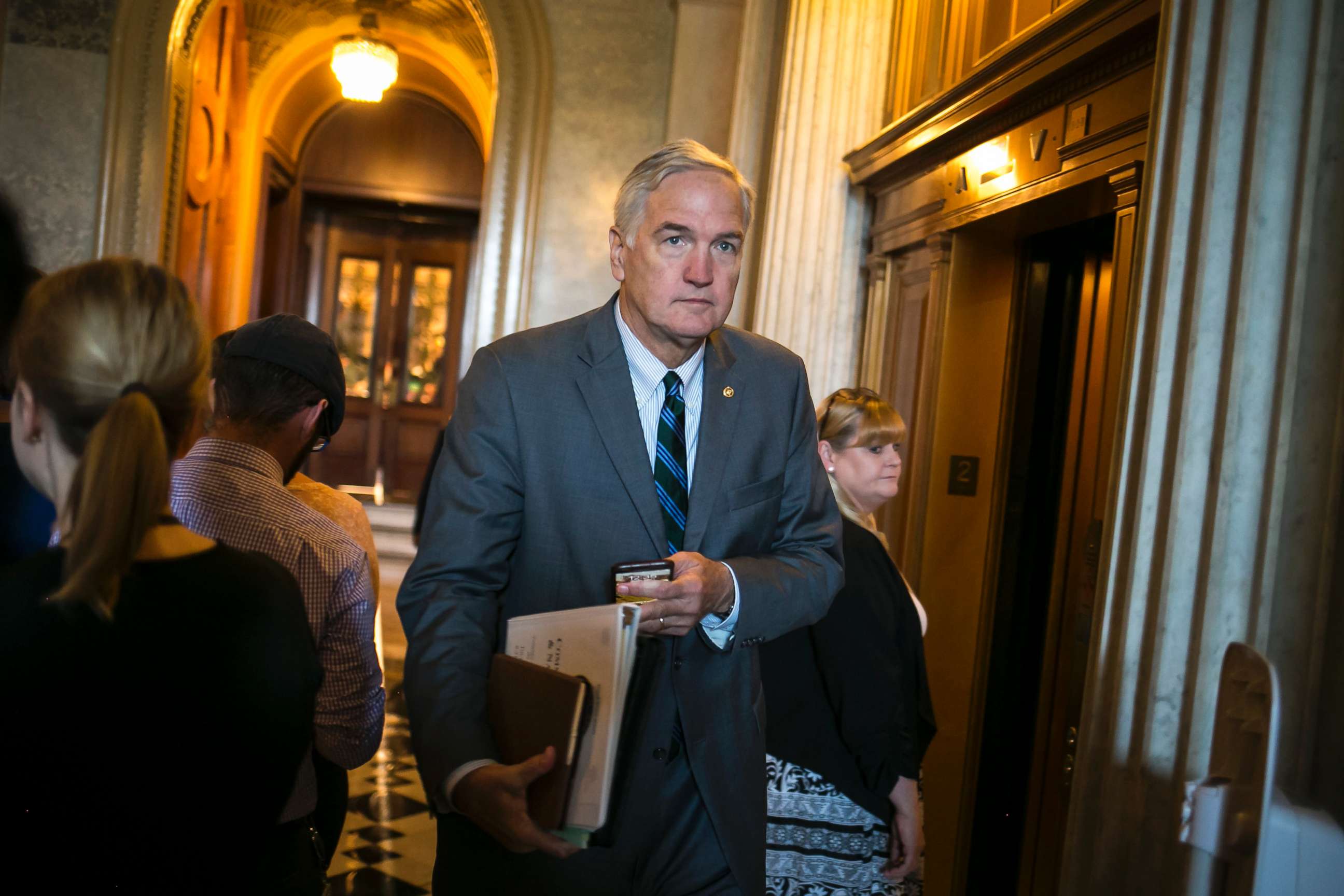 Strange officially stated his candidacy for Sessions' seat on Dec. 6, just 18 days after Trump announced he would be picking Sessions for attorney general. He was appointed in February to temporarily fill the seat left by Sessions. Previously, Strange served as the attorney general for Alabama. He ran for lieutenant governor in 2006 and won the Republican primary, but lost the general election.
In August, Strange was endorsed by Trump, who tweeted that Strange "has done a great job representing the people of the Great State of Alabama. He has my complete and total endorsement!"
Since then, Trump has periodically tweeted his support and encouragement for Strange. He appeared with him Friday at a campaign rally in Huntsville.
Strange has come under fire from his rival for the substantial advertising support he has received from the Senate Leadership Fund, a super PAC that has been known to support Senate Majority Leader Mitch McConnell. Politico reported that Steven Law, the PAC's president, said, "While he doesn't direct what we do, McConnell has made it very clear that Luther's race is his number one political priority right now."
According to Politico, the fund had spent $3.5 million on the race as of late July, including an ad tying then-rival Rep. Mo Brooks to House Minority Leader Nancy Pelosi, D-Calif.
During the GOP debate, held last Thursday without a moderator, Strange was also attacked for how he became a United States senator. When he was tapped by Bentley for the Senate seat, Strange was the very man leading the investigation into the Alabama governor's misconduct, which raised questions about the appropriateness of the appointment.
Roy Moore
Roy Moore previously served as the chief justice for the Alabama Supreme Court, but was suspended in November 2003 for refusing federal court orders to take down a Ten Commandments monument from the Alabama Judicial Building.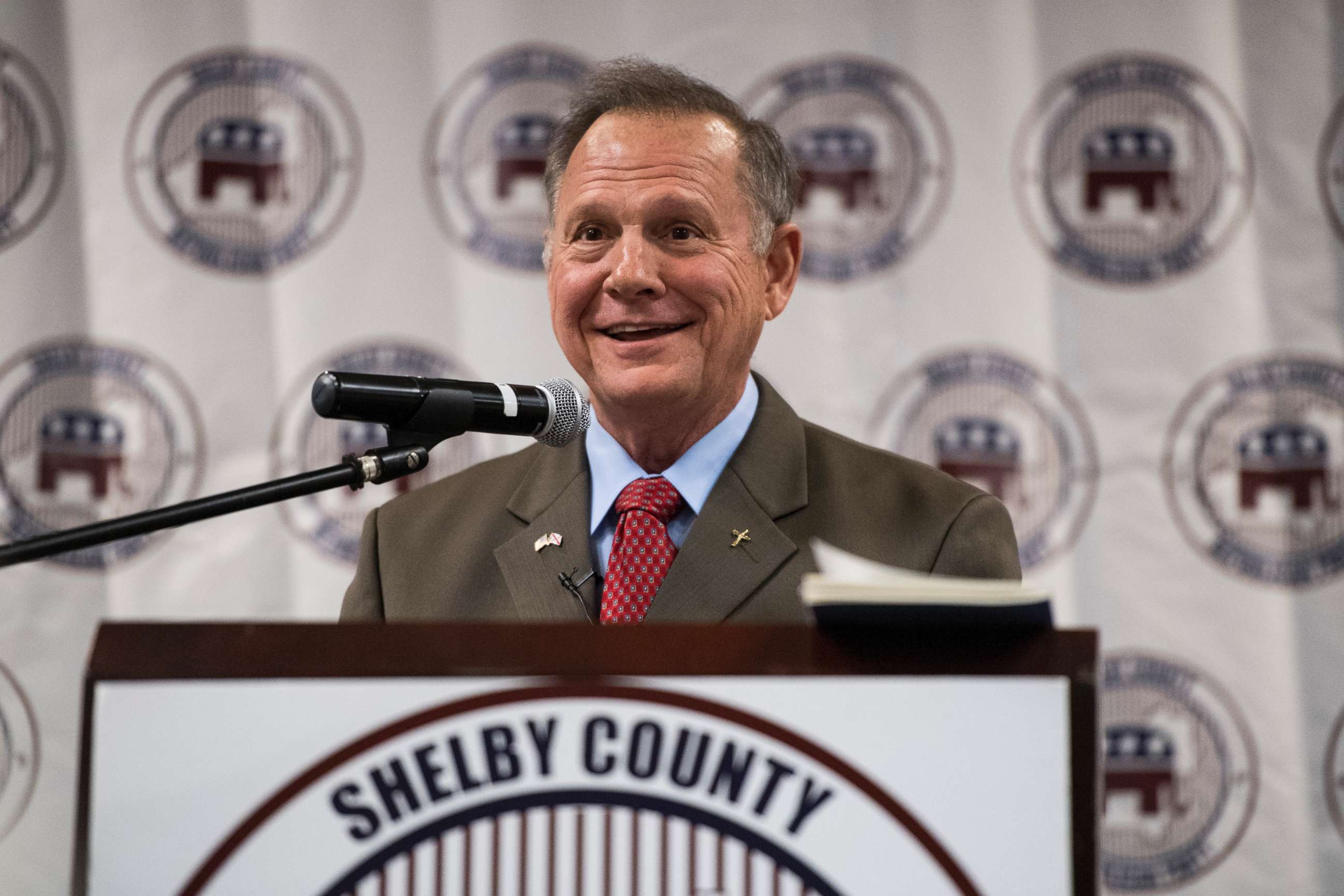 He was reelected to the position in 2013 but was again removed in May 2016 for ordering other judges not to issue same-sex marriage licenses, although the state's ban on the matter had been overturned. He announced his Senate bid in late April.
Moore was endorsed by actor Chuck Norris, who said, "Judge Roy Moore is the real deal. The Washington establishment knows they won't be able to count on him, but Alabama voters can...That's why the Washington establishment is spending millions trying to defeat Judge Moore."
Moore's other notable endorsements include several Trump supporters such as former Alaska Gov. Sarah Palin, former White House strategist Steve Bannon and Duck Dynasty's Phil Robertson.
Moore has released advertisements highly critical of Republicans in Washington including McConnell, Sens. Jeff Flake, R-Ariz., and Lindsey Graham, R-S.C., and Speaker of the House Paul Ryan, R-Wis.
"Send them all a message," one ad says, calling out the majority leader's "D.C. slime machine."
Recently, Moore has come under fire for appearing to refer to Native Americans and Asians as "reds" and "yellows" in a campaign speech.
Last night at a campaign rally, Moore pulled a gun out of his pocket as he said that, counter to his competitors' claims, he is a supporter of the Second Amendment.
Why this race matters
At a time when the president's support within his own party wavers, the Alabama special election could reflect how much influence Trump has had in the first year of his presidency.
Political science experts say the outcome could be symbolic of voters' current view on Trump.
Cynthia Bowling, chair of the political science department at Auburn University, told ABC News this summer that "if there is ever going to be an election that would signify a movement away from Trump, it would be an election where Trump's ratings are really low," and in a solid Republican state, like Alabama.
According to Richard Fording, a professor of political science at the University of Alabama, this election "will continue to be influenced by Trump" and that "it will flat out be a referendum on his performance as president."
The race has further significance for Republicans; a loss could potentially shift Republicans' tenuous authority in the Senate. The GOP currently holds 52 seats in the Senate, while Democrats hold 48 and two independents caucus with the Democrats.
An upset win in the December 12 general election for Democrat and former U.S. Attorney Doug Jones, who won his party's primary in August, would be a significant gain for Democrats and make it even more difficult for Republicans to pass tightly contested legislation, such as on health care reform.
ABC News' John Verhovek contributed to this report.