House Republicans are wasting no time on their pledge to again try to bring articles of impeachment against Homeland Security Secretary Alejandro Mayorkas over Mayorkas' handling of immigration and the border.
Rep. Pat Fallon, R-Texas, initially filed a resolution on Jan. 3, the first day of the new Congress, to impeach Mayorkas. Fallon then reintroduced the resolution late Monday, once the new chamber rules were adopted.
Republican leadership has not yet commented on whether they'll take any further action on the resolution. Introducing articles of impeachment is the first step of what can be a lengthy process, including an investigation by the House Judiciary Committee, and does not mean Mayorkas will ultimately be impeached -- or formally accused -- by the House.
If he were impeached, he would then be tried by the Senate.
Fallon claims Mayorkas has failed to maintain "operational control over the border," "willfully provided perjurious, false, and misleading testimony to Congress" and "knowingly slandered his own hardworking Border Patrol agents and mislead the general public."
In a statement to ABC News, DHS spokesperson Marsha Espinosa said: "Secretary Mayorkas is proud to advance the noble mission of this Department, support its extraordinary workforce, and serve the American people."
"The Department will continue our work to enforce our laws and secure our border, while building a safe, orderly, and humane immigration system," Espinosa said. "Members of Congress can do better than point the finger at someone else; they should come to the table and work on solutions for our broken system and outdated laws, which they have not updated in over 40 years."
A DHS official reiterated that the secretary has no plans to resign and that they believe the impeachment articles have no factual grounds.
Mayorkas has repeatedly defended his handling of the border. "I've got a lot of work to do," Mayorkas told George Stephanopoulos on ABC's "This Week" on Sunday. "I'm proud to do it alongside 250,000 incredibly dedicated and talented individuals in the Department of Homeland Security, and I'm going to continue to do my work."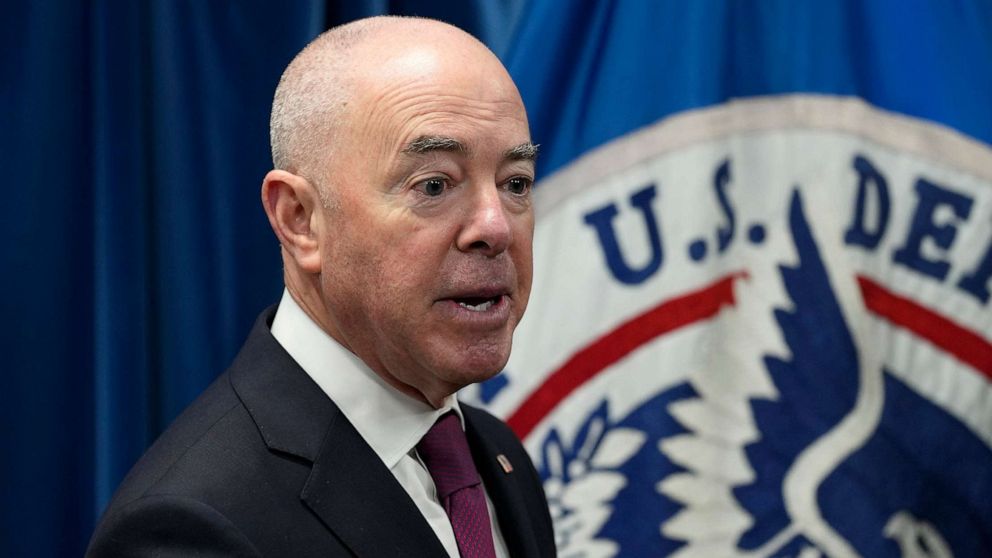 House Speaker Kevin McCarthy, R-Calif., previously called on Mayorkas to resign or risk an impeachment inquiry, which is one of the steps ahead of a full House vote on whether to impeach him.
At a news conference at the border in November post-midterms, McCarthy said the incoming GOP House majority would open investigations that could lead to impeachment proceedings.
"If Secretary Mayorkas does not resign, House Republicans will investigate every order, every action and every failure to determine whether we can begin an impeachment inquiry," McCarthy told reporters in El Paso, Texas.
At the time, he said he wanted Mayorkas' resignation by Jan. 3 or investigations would begin on day one.
"Enough is enough," he said.
"Alejandro Mayorkas must resign," Rep. Kat Cammack, R-Fla., who joined McCarthy at the border said. "And if he doesn't, we will make him."
This isn't the first time Mayorkas has faced an impeachment threat.
Rep. Andy Biggs, R-Ariz., filed articles of impeachment against him in August 2021 but the measure went nowhere in the Democratic-controlled Congress.
In fiscal year 2022, the border saw its highest number of migrants encountered ever, according to data from U.S. Customs and Border Protection.
Mayorkas told Stephanopoulos on "This Week" that he has no intention of resigning and is ready for congressional investigations.