— -- Attorney General Jeff Sessions has been pushing FBI Director Chris Wray to replace his deputy, Andrew McCabe, and install new leadership within the FBI, according to two sources familiar with the matter.
The attorney general's push comes as many Republicans, including President Donald Trump, continue to hammer McCabe and others at the FBI for what they allege is political bias in their law enforcement work.
"The president has enormous respect for the thousands of rank-and-file FBI agents who make up the world's most professional and talented law enforcement agency," a White House spokesman said in a statement. "He believes politically motivated senior leaders … have tainted the agency's reputation for unbiased pursuit of justice."
But Wray has made clear that – as long as he's in the top job at the FBI – he is going to make personnel decisions on his own time, the sources told ABC News. And according to Axios, which first reported the pressure from Sessions, Wray even threatened to resign if McCabe was removed.
Wray became director in August, after Trump fired James Comey, an ally of McCabe's who rose through the FBI ranks to become Comey's deputy.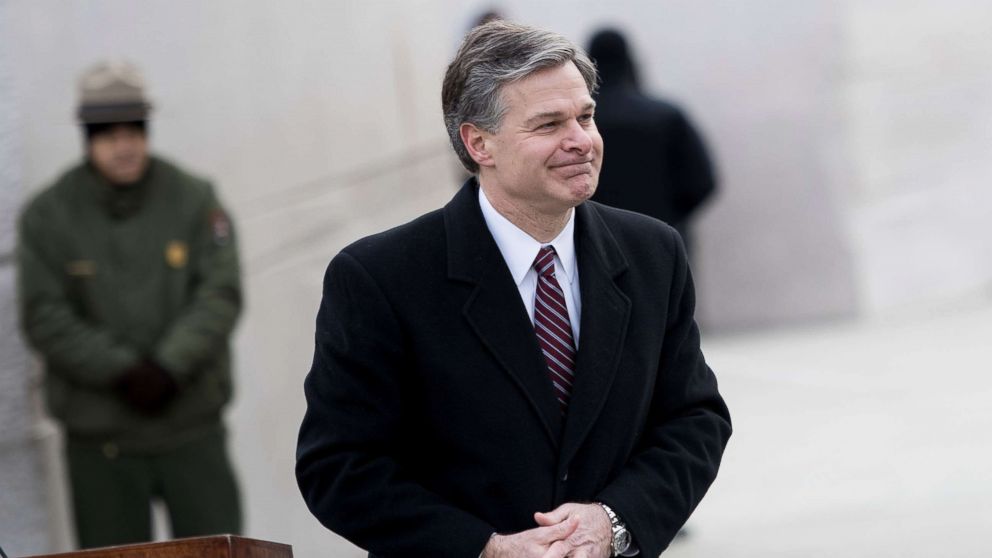 Comey had come under fire for his handling of the investigation into Hillary Clinton's use of a private email server, which ultimately exonerated Clinton of criminal wrongdoing. More recently, McCabe has been under fire himself for alleged conflicts of interest because his wife ran for state-wide office as a Democrat in 2015 while the Clinton email probe was underway.
However, emails and correspondence released by the FBI show McCabe recused himself from any public corruption cases ties to Virginia. According to the FBI documents, McCabe had no oversight of the Clinton matter until he became deputy director in February 2016, three months after his wife lost her election bid.
Last month, Trump singled out McCabe in a tweet, writing, "How can FBI Deputy Director Andrew McCabe, the man in charge, along with leakin' James Comey, of the Phony Hillary Clinton investigation (including her 33,000 illegally deleted emails) be given $700,000 for wife's campaign by Clinton Puppets during investigation?"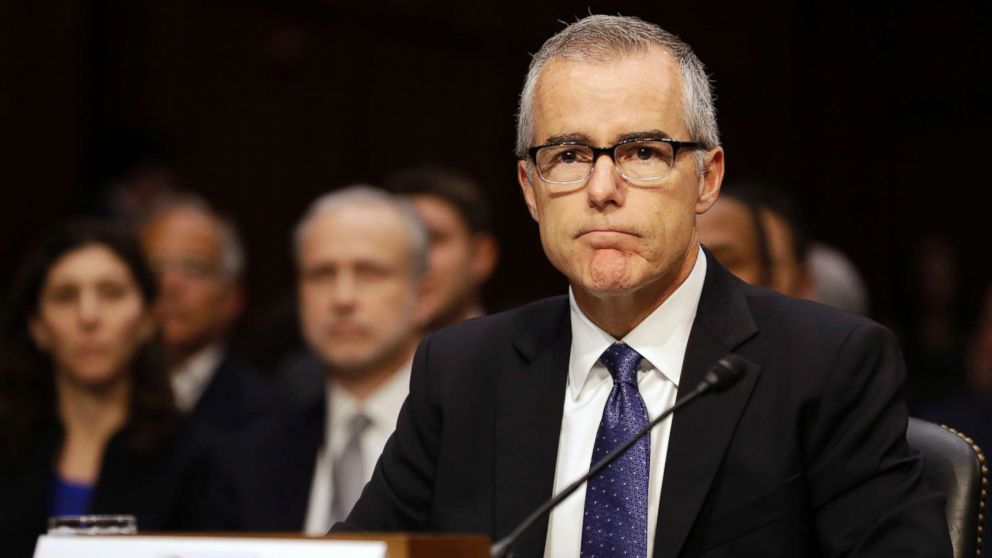 Meanwhile, the FBI is under intense pressure as Republicans use a cache of text messages between two FBI employees to push allegations of political bias within the FBI and the sprawling probe by special counsel Robert Mueller, who is looking at whether Trump associates tried to help Russia influence last year's presidential election and whether White House officials may have sought to obstruct the investigation.
Senior FBI agent Peter Strzok and FBI attorney Lisa Page had been part of Mueller's team when, last summer, the Justice Department's inspector general, looking into an array of FBI actions tied to last year's election, discovered the FBI officials' text messages and notified senior department officials. Mueller immediately removed Strzok, and by then Page had already left the team.
Last month, the Justice Department released about 375 of the messages from last year, including repeated references to Trump as an "idiot." Then on Monday, the department disclosed that five months' worth of messages are missing.
"The Inspector General discovered the FBI's system failed to retain text messages for approximately 5 months between December 14, 2016 to May 17, 2017," Sessions said in a statement. "We will leave no stone unturned to confirm with certainty why these text messages are not now available to be produced and will use every technology available to determine whether the missing messages are recoverable from another source."
In a tweet this morning, Trump called it "one of the biggest stories in a long time."
Last month, Deputy Attorney General Rod Rosenstein dismissed suggestions that Mueller or his probe were tainted, insisting there is nobody "better qualified for this job" and noting "political affiliation" is not the same as political "bias."
"I've discussed this with Director Mueller and ... we recognize we have employees with political opinions. It's our responsibility to make sure those opinions do not influence their actions," Rosenstein told a House panel. "He is running that office appropriately, recognizing that people have political views but ensuring that those views are not in any way a factor in how they conduct themselves in office."
Former FBI officials agree, with one agency veteran saying that those going after FBI officials "seem to have forgotten we are a free country, that you can have your own opinions and still uphold the Rule of Law."
"You should be able to support the candidates of your choice in an election without being called corrupt, or disloyal (to the Republic), or biased in your ability to live up to your oath to support and defend the Constitution," Frank Montoya, who spent more than two decades with the FBI, recently told ABC News in an email. "In the Russia investigation—just like in the Clinton investigation that preceded it—investigators and prosecutors know that what they think or who they voted for doesn't matter. What does is upholding the law. Period."
As for Wray, the White House spokesman said, "The president appointed Chris Wray because he is a man of true character and integrity, and the right choice to clean up the misconduct at the highest levels of the F.B.I. and give the rank and file confidence in their leadership."
ABC News' John Santucci contributed to this report.