Bernie Sanders Campaigns for Hillary Clinton, Blasts Trump as 'Pathological Liar'
Sanders bashed Trump at event in Lebanon, NH.
September 5, 2016, 3:57 PM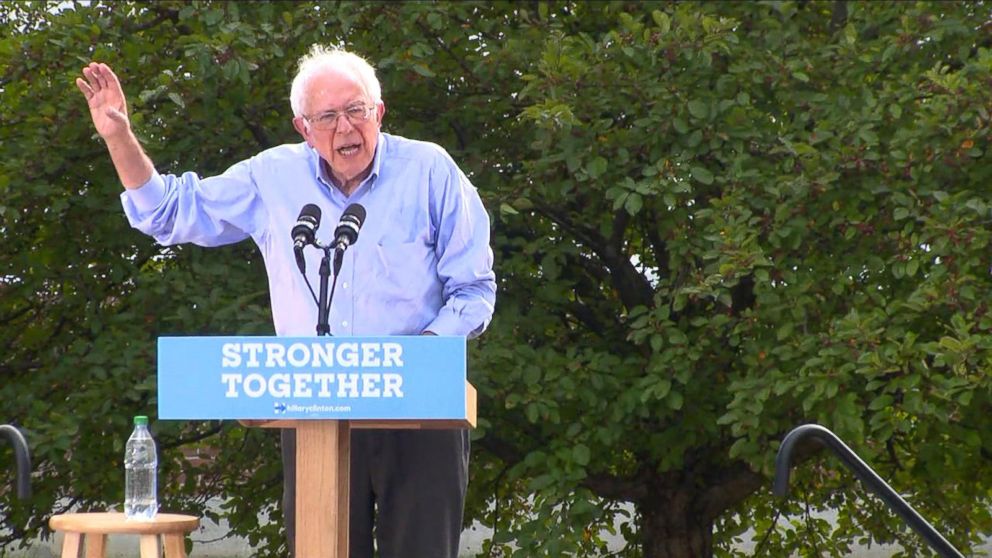 — -- After almost two months since he endorsed Hillary Clinton in New Hampshire, Bernie Sanders came back to the Granite State today in what was his first solo campaign event for the Democratic nominee.
In Lebanon, NH, this afternoon, standing between two "Stronger Together" signs, Sanders praised Clinton's policies and positions, touting the former secretary of state as the "superior candidate." He then turned to Donald Trump, slamming the Republican nominee as a "pathological liar" with a campaign based upon "bigotry."
"No candidate is perfect," Sanders told the crowd of about 400 people, but he said, "We have to ask ourselves a very simple question – what are the issues and what are the positions of the candidates on those issues."
"If you look at the campaign on that basis, the answer is 100 percent clear ... Hillary Clinton is the superior candidate hands down," he said.
Of Trump, Sanders said, "The essence of his campaign is bigotry."
"It is trying to divide this country up. It is telling us that we are supposed to hate Muslims, we are supposed to hate Mexicans, if we are men we are supposed to hate women, we are supposed to hate anyone who is different than we are," he said.
"The truth is, if you look at Donald Trump's record, what you find is this guy is a pathological liar," Sanders said. "I'm not talking about a little lie there, or stretching the truth there. I am talking about him coming up with things in his head that do not exist. There are psychological definitions there."
"I intend as a United States Senator, between now and Election Day, to do everything I can to make sure Donald Trump does not become the next President of the United States," he said.
Trump has previously said he is the "least racist" person.