— -- Bernie Sanders went trick-or-treating with three of his grandchildren in a neighborhood in Lebanon, New Hampshire, Saturday following his campaign events in the area. All dressed up and ready to go in their Halloween costumes, the children had joined their grandfather earlier in the day, waving to supporters onstage during a town hall meeting.
Their father is Bernie Sanders's eldest son, Levi Sanders. Levi and his wife Raine Riggs adopted all three from China and the family now lives in Claremont, New Hampshire.
Sunnee, 12, was dressed as the White Witch from "The Lion, the Witch and the Wardrobe." Ryleigh, 10, wore a blue and tan "Sonic the Hedgehog" costume that included pointed ears. Her mother said Sonic was her favorite. Their son, Grayson, 9, had on a full-body, fuzzy "Abominable Snowman" costume with a big floppy head.
"I should say I made it, but I didn't. I bought it online," Riggs told ABC News, laughing.
Sanders made little commotion while trick-or-treating with his family. He traveled with a few members of his staff. When approached by eager fans, he posed for photographs and shook hands, but he did not go out of his way to introduce himself or talk to people in this early voting state. Even when it was clear that some of the homeowners were admirers of his, Sanders kept his interactions with them brief.
"Hi, how are you," Sanders asked Bob Follensbee as he approached Follensbee's door with his grandchildren.
"Do I know you?" Follensbee asked.
"Yea, Senator Bernie Sanders," Sanders responded, shaking his hand. Follensbee shrieked with excitement.
"I thought it was you!" he said and he called for his brother Roy to come see the Vermont Senator. "I hope you win… thank you for stopping."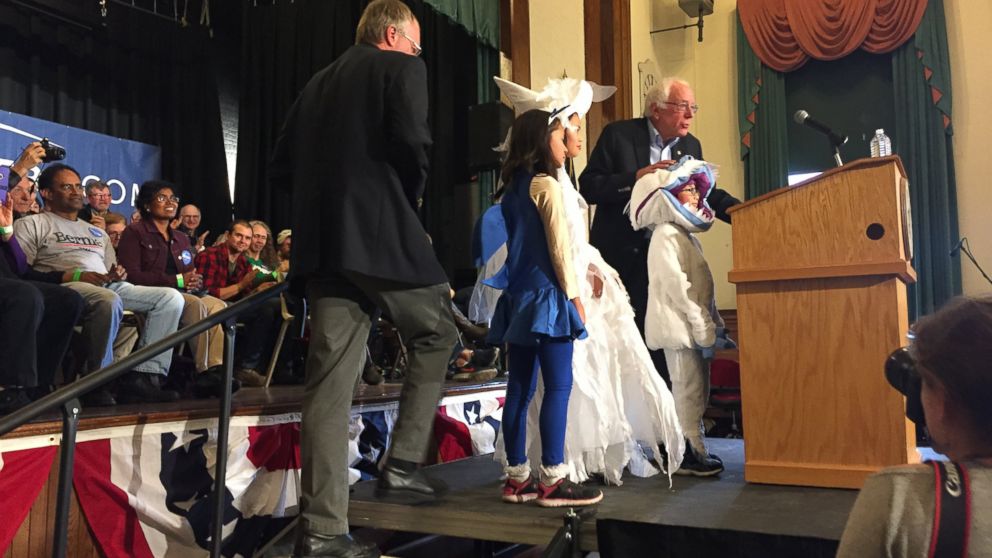 Follensbee's brother Roy has lived in the house since 1955. The two of them said that Bernie Sanders was the first presidential candidate they recognized who knocked on their door.
Sanders mostly walked hand-in-hand with his grandchildren. He talked quietly to Sunnee about her math class and teachers. At one house he chose a Nestle Crunch chocolate bar from the candy bowl.
At another house, Mary Ann Mastro ran inside to grab her stuffed "Bernie" Teddy bear when the Senator unexpectedly knocked.
Mastro, a fan of Bernie Sanders, was given the bear as a birthday present from her daughter-in-law, who she called after the surprise visit from the presidential candidate.
"This is the 'Bernie' bear," she told Sanders as he laughed, showing him the toy. "Now I've got the real thing. I am so honored."
Sanders was astonished too. "It is an experience of a lifetime to go knocking on a Halloween door and see a 'Bernie' bear. Clearly something that is not going to happen every day," he told reporters. "What else can I expect in this campaign?"
The Halloween adventure ended with Sanders asking his grandchildren if they wanted to join him for dinner or keep trick-or-treating. The choice was obvious to the little ones, who quickly voted for more candy.
"You don't want nutritious, healthy, substantive food?" he asked.
"No," Grayson said with a smile, and off they went.