— -- A new -- and familiar -- name has joined the list of candidates running in New Hampshire's 1st Congressional District race: Levi Sanders, the son of 2016 presidential candidate Bernie Sanders.
Levi Sanders made the announcement Monday evening after it emerged late last week he was debating entering the race.
"After much thought and consultation with my family, friends, and the people of New Hampshire, I am excited to announce today that I am running for Congress in New Hampshire's 1st District," Sanders said in a statement. "This is a unique opportunity to listen to the hard working men and women of New Hampshire about the issues that matter to them."
Incumbent Democrat Rep. Carol Shea-Porter is retiring, leaving seven Democrats, three Republicans and one Libertarian seeking her seat.
Sanders is the eighth Democrat in one of the most competitive races in the nation.
He cited many of the same issues his father has tackled in announcing his run, including a Medicare for All health care system, which "guarantees health care to every man, woman and child without out of pocket expense," an educational system that allows everyone to go to college, and a commitment to addressing the state's opioid crisis.
Sanders also addressed the hottest national debate at the moment, saying, "It is unacceptable that we haven't found the political courage to pass sensible gun legislation."
Sanders was a senior adviser on his father's presidential campaign. And considering how well Bernie Sanders did in in New Hampshire in the 2016 election, one political analyst said voters there might like the idea of having someone with the Sanders name representing their district in Washington.
Dean Spiliotes, a political blogger for NHPoliticalCapital.com and a scholar at Southern New Hampshire University, told ABC News he believes Sanders would likely be running on the "family political brand."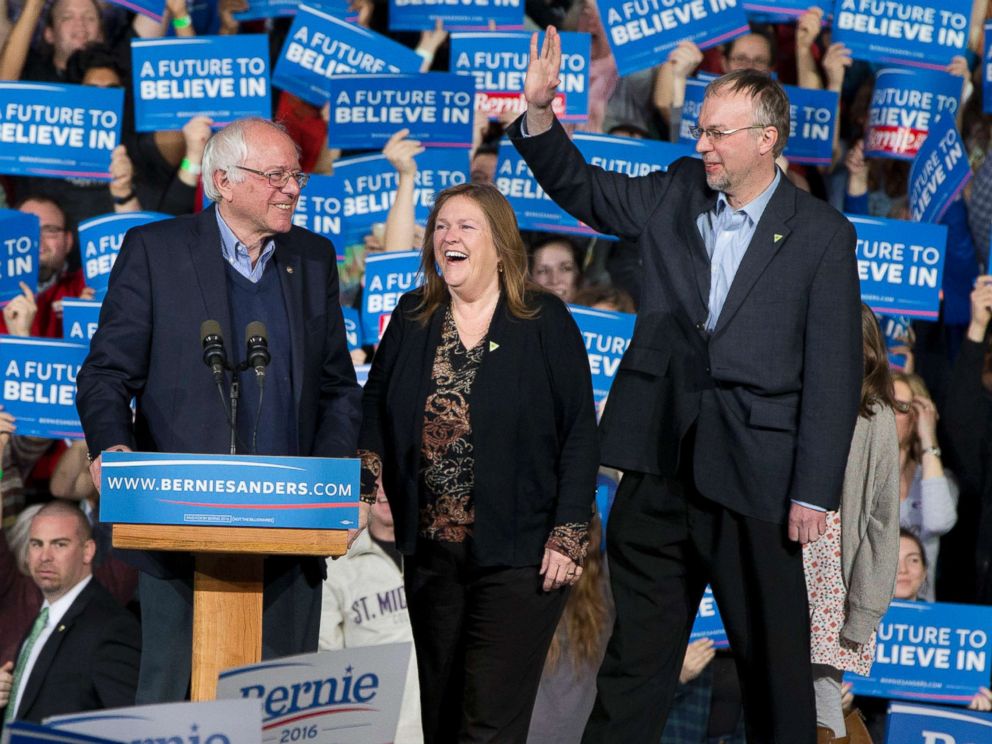 Sanders faces some daunting challenges, despite his famous name, Spiliotes says.
To start with, Sanders doesn't live in the 1st District, and Spiliotes says he would have to have a good explanation for why he'd be running in a district where he doesn't reside. In Sanders' home district, the incumbent is seeking re-election.
And while his name might give him an advantage, Spiliotes says Sanders not being a high-profile political figure in his own right in New Hampshire could hurt him.
Another challenge: many of Bernie Sanders' political consultants are currently working for the campaign of another Democratic candidate -- state Rep. Mark MacKenzie. When ABC News asked one of Sanders' top aides during the 2016 race, who is based in New Hampshire and helped the Vermont senator win handily there, what he thought of Levi Sanders running, he responded with a giant thumbs-down emoji.
Given that, Spiliotes tells ABC News it would be interesting to see how support for Bernie Sanders might shake out between Levi Sanders and MacKenzie.
Sanders could also run into trouble going up against two other popular Democrats, Chris Pappas and Maura Sullivan.
Pappas is well-known in New Hampshire and "is plugged into the party apparatus in the state," Spiliotes said.
And Sullivan, who served as a top official in President Barack Obama's Veterans Administration following a career in the Marines, had impressive fundraising numbers in the last quarter of 2017, he said.
A spokesperson for Sullivan declined to comment to ABC News, while Pappas and MacKenzie have yet to respond.