Biden has appointed 105 federal judges, outpacing Trump, Obama and Bush
Democrats want to change the demographic makeup of the courts.
The Senate on Tuesday confirmed the 100th judicial appointment by President Joe Biden and as of Thursday the chamber had confirmed 105 of his nominees, exceeding the pace set by predecessors George W. Bush, Barack Obama and Donald Trump.
Since the Trump administration, confirming judges has been a major focus of the Senate's Democratic majority -- who can now move even more quickly with an outright majority on the Judiciary Committee -- and Biden's choices will alter the demographic and professional makeup of the judiciary branch.
He and Democrats have celebrated this, saying it increases representation. Conservatives take a different view, arguing personal backgrounds shouldn't be emphasized in judges because it risks tainting how their decisions are viewed.
Biden's appointees include the Supreme Court's first Black woman justice, Ketanji Brown Jackson, as well as 23 people of color to U.S. circuit -- or appellate -- courts, including 17 women of color, Democrats said earlier this week.
More than three-quarters of Biden's confirmed nominees are women and more than two-thirds of them are non-white, according to Senate Democrats, who also tout how Biden's choices for the judiciary stretch beyond prosecutors to include public defenders, civil rights attorneys and more.
Before the Biden administration, nine Black female judges total had been confirmed to a U.S. circuit court and no president had ever successfully appointed more than three, Senate Democrats said. As of February 2022, 70 of the 3,843 federal judges in U.S. history had ever been Black women, according to data cited by the Pew Research Center.
DeAndrea Benjamin, confirmed on Tuesday to the U.S. 4th Circuit Court of Appeals, is the 12th Black woman to be confirmed to a federal appellate court under Biden.
Judge Gina Méndez-Miró became the 100th confirmation, on Tuesday, and joined the U.S. District Court for the District of Puerto Rico. Democrats said Méndez-Miró is the first openly LGBTQ judge on the court, and her confirmation flips the makeup of active judges on the court to a majority of Democratic appointees.
In U.S. district courts, analogous to federal trial courts, the Senate has confirmed more than 60 judges under Biden, more than 50 of whom have been women and more than 10 of whom have been men of color, Democrats said.
How Biden's pace of judges compares
While Biden is currently pacing ahead of his three immediate predecessors -- and tied with Reagan for the fastest first-year confirmations in four decades -- he is not on track to outpace President Trump's overall rate.
Trump confirmed 234 federal judges by the end of his term. And both he and former President Obama appointed multiple Supreme Court justices -- Trump, three; Obama, two -- though Obama also sought to appoint a third justice but was blocked by Senate Republicans in the final year of his term, drawing outcry from Democrats.
According to the Heritage Foundation, which tracks presidential judiciary appointments, Bush had 103 judges confirmed at this point in his administration, Obama had 67 and Trump had 88. Before them, President Bill Clinton had 128 by this point.
"Comparisons can be tricky since the factors that affect the confirmation pace can vary greatly from period to period," said Thomas Jipping, a senior legal fellow at the conservative Heritage Foundation's Edwin Meese III Center for Legal and Judicial Studies.
Jipping pointed to the "number and location of current vacancies, competing legislative priorities, the pace of nominations being sent to the Senate, etc."
"Since vacancies have been much lower under Biden than under Trump, the fact that Biden's appointment pace is faster means that his nominations team, and Senate Democrats on and off the Judiciary Committee, have been prioritizing judicial appointments," Jipping told ABC News.
He said that, so far and "since 1981, presidents appoint an average of just under four judges per month and Biden is just over that average."
Because Democrats expanded their Senate majority to 51 seats in the 2022 midterms, they also now hold an outright majority on the Judiciary Committee rather than an even split with Republicans, which will make it easier for them to vote on and approve nominees.
Changing the makeup of the courts
Biden and leading Democratic lawmakers have described their goal for judicial appointments in terms of representation as well as qualifications.
Senate Majority Whip Dick Durbin, the chair of the Senate Judiciary Committee, said in a statement on Tuesday that "our effort to bring balance to the courts has been one of this Senate's truly great successes. ... We will continue to build on our success and help ensure the confirmation of highly qualified, demographically and professionally diverse judges."
Biden echoed that when announcing he was nominating Jackson as a justice: "For too long, our government, our courts haven't looked like America."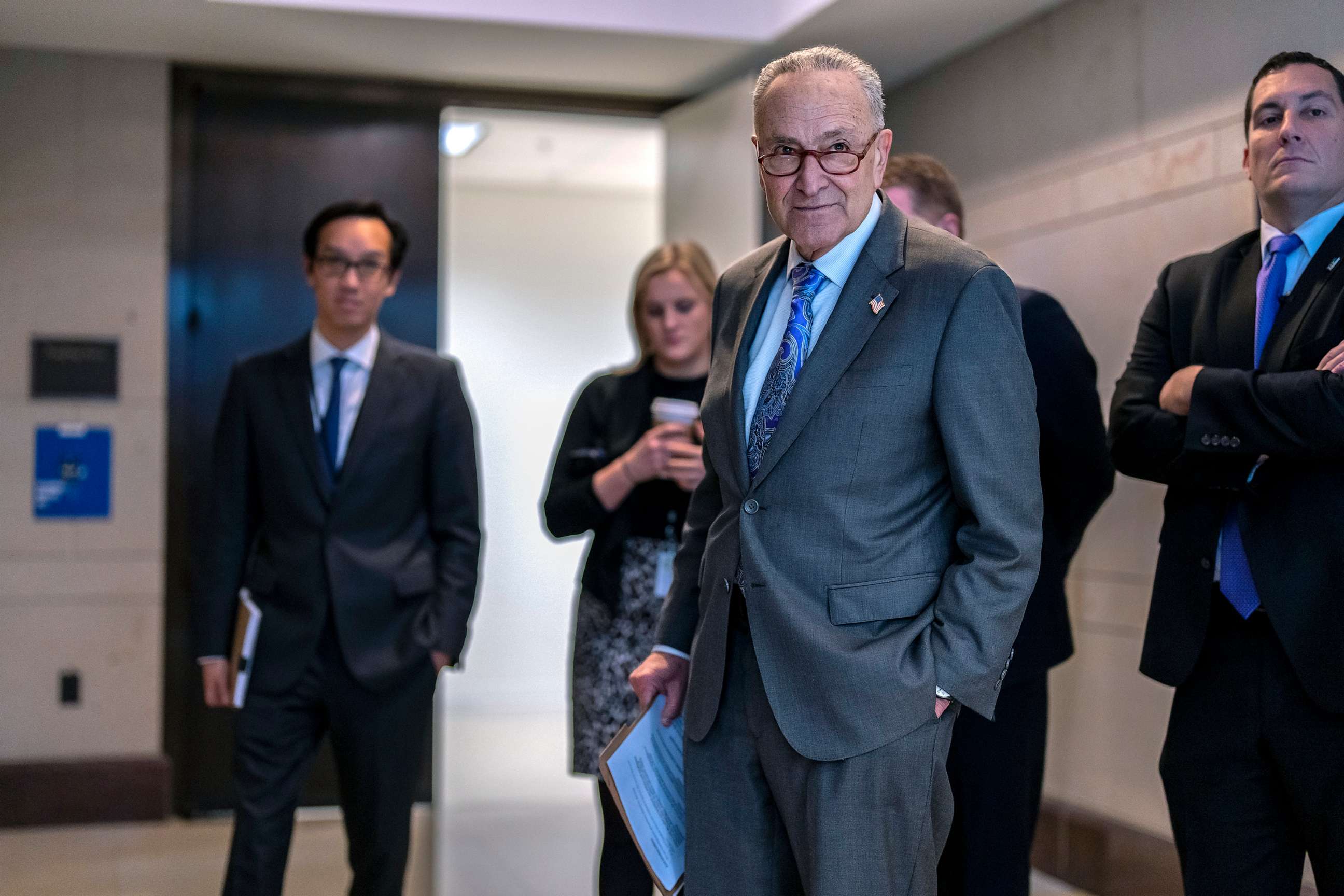 Schumer told ABC News in a statement after the 100th confirmation that "when Americans can look at our courts and see people who look like them and come from their backgrounds and share similar experiences, the better off our judicial system is."
Jipping, with the Heritage Foundation, disagreed with this argument, contending that it distorts the goal of good jurists.
"The Biden administration is pushing people to think of the judiciary as a 'representative' branch of government, which is the opposite of the impartial, independent judiciary that has been so important and distinctive in America," he said. "It encourages people to believe that cases are decided by judges and their personal views rather than the law. It politicizes people's expectations."
"The most important factor in appointing judges should be the kind of judge a nominee will be, how he or she understands the power and proper role of the judiciary, not the race or sexual orientation," he said.
Clarification: An earlier version of this story incorrectly described Ketanji Brown Jackson as the first Black Supreme Court justice. She is the first Black woman on the high court.