President Joe Biden on Friday awarded the Medal of Honor to a Black Army Special Forces hero from the Vietnam War who has waited close to 60 years to receive the nation's top award for valor after the Army said the paperwork couldn't be found.
Then a 26-year-old captain, Paris Davis, now 83, led a company tearing through a larger enemy force, pushing the attack despite being shot, absorbing shrapnel and another bullet to get wounded comrades to safety, refusing to join them on the evacuation helicopter, choosing rather to stay and continue destroying the remaining adversaries.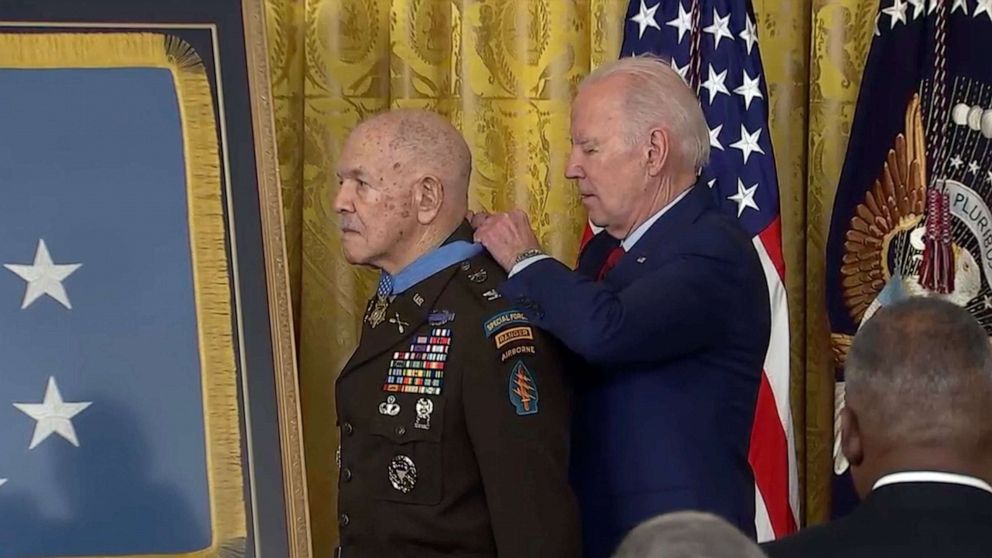 At a White House ceremony, Biden called Davis "an incredible man."
Picking up the story, he continued, "And although the men who were with him on that June day immediately nominated Captain Davis to receive the Medal of Honor, somehow the paper -- the paperwork was never processed, not just once, but twice. But, you know what Captain Davis said after learning that he would finally receive the Medal of Honor? Quote, 'America was behind me.'"
A colonel by the time he retired from the Army, Davis' first name "Paris" is inspired by the mythological figure featured in Homer's epic war poem "The Iliad."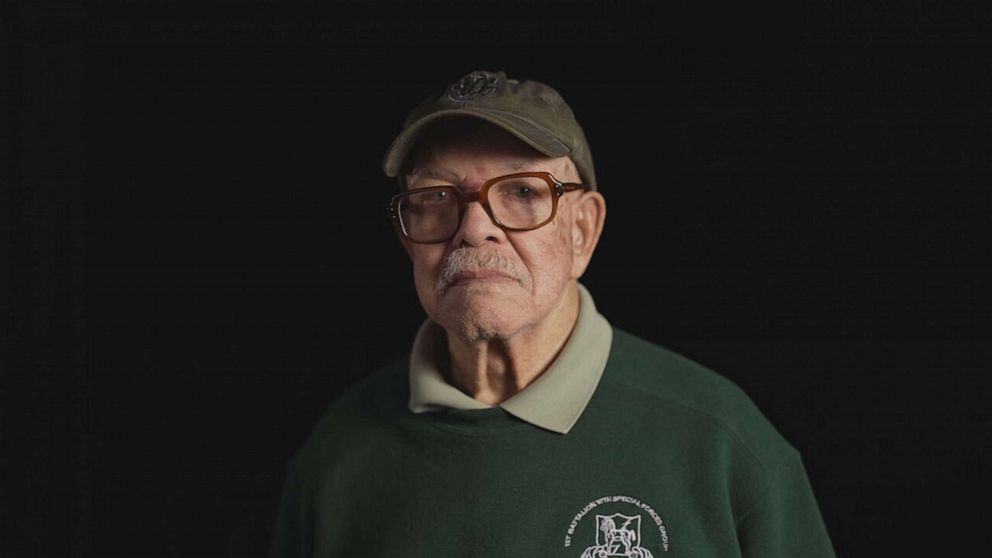 In 1965, already having served in Korea and Vietnam, Davis was told by his company commander he was destined for the treacherous Binh Dinh province.
"He said that it was overrun by the Viet Cong. He thought through my training and the way that I handled myself that I could handle being in a situation where there were more enemies than there were friends," Davis told ABC News during an interview Thursday.
In the summer, Davis led three other Green Berets and what the Army calls "an inexperienced company of the 883rd South Vietnamese Regional Force" on an audacious raid against a North Vietnamese base.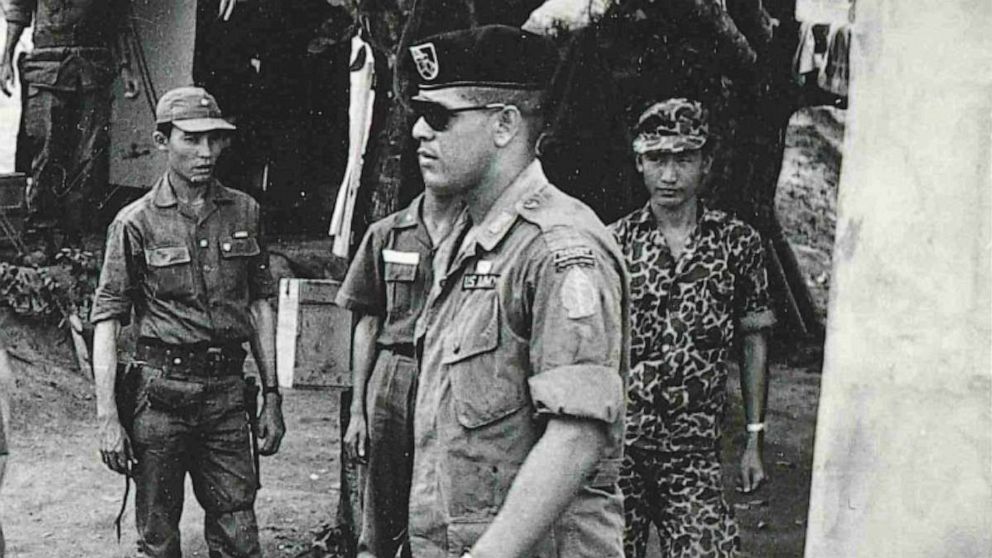 Davis personally captured two enemy combatants.
"We caught the guards that were sleeping," Davis said. "They gave us some information -- exactly where the preponderance of the troops were."
According to the Army, "he learned [from the captives] that a vastly larger enemy force was operating in the area."
Not that Davis was surprised, he said.
"We knew that we were going to run into a hornet's nest," he recalled.
Davis took this not as a warning to withdraw, but as an opportunity to attack. On the night of June 17, he readied his men for a surprise raid, and at dawn led them through what would stretch into a grinding 19-hour battle.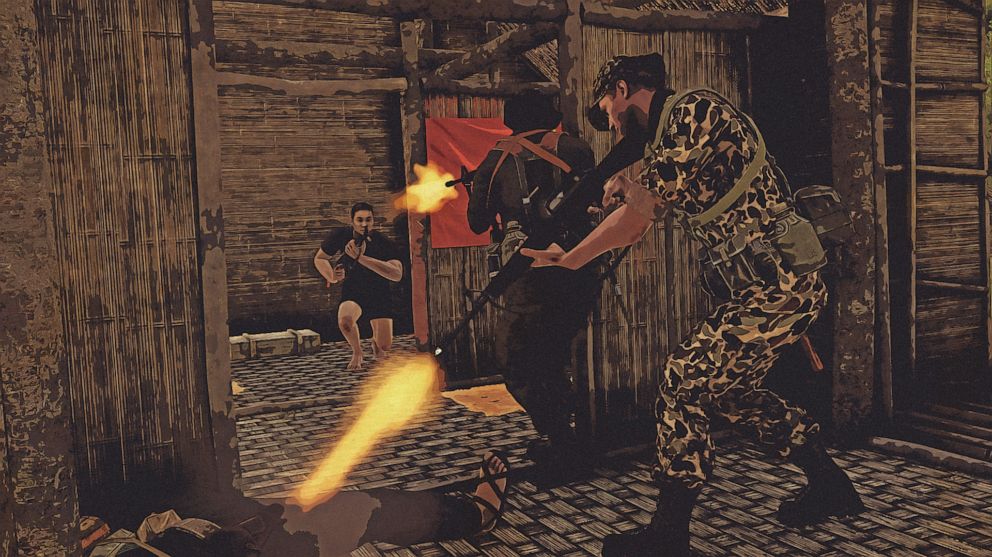 "Davis was wounded leading the initial assault, but continued moving forward, personally engaging the enemy in hand-to-hand combat and killing several enemy soldiers," the Army said in a release.
When the noncompliant enemy rallied with a counteroffensive, a bleeding Davis led a small team onward, destroying gun emplacements and earning more captives, the Army said.
He then consolidated his men to pull back and, while calling for artillery and aircraft attacks against the defenders, was hit by automatic weapons fire.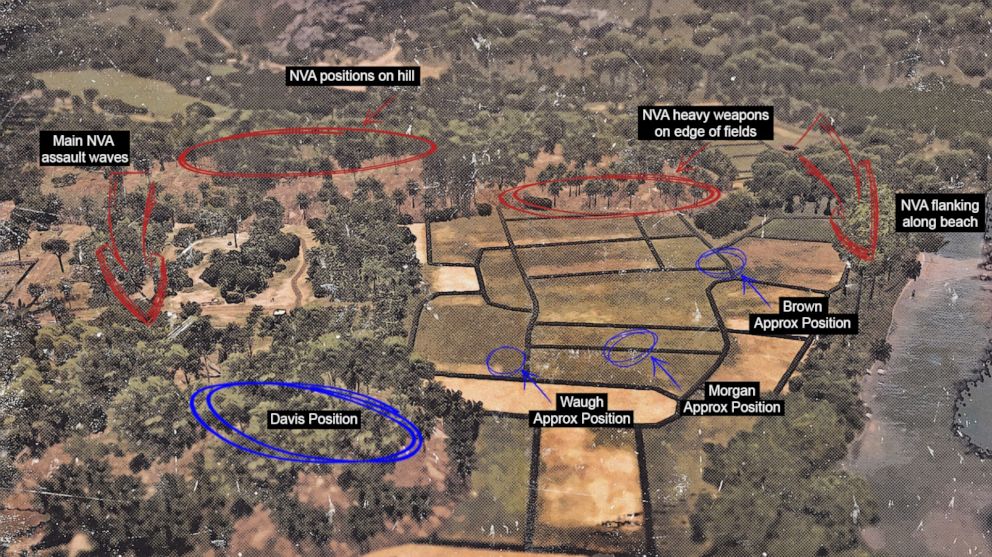 Davis was wounded again when an enemy soldier "engaged him at close range with his rifle," the Army said. Davis tackled the enemy and "defeated" him -- as the Army euphemistically puts it -- with his bare hands.
Now injured several times over, Davis saw two American comrades seriously hurt, but across enemy lanes of fire.
"Davis made it to the first soldier under a hail of enemy fire and was shot once again. Despite his grievous wounds and with no regard for his own safety, Davis saved the soldier and returned him to the company's perimeter. Davis again broke cover, braving enemy fire, to retrieve the second soldier. Crawling nearly 150 yards and wounded by enemy grenade fragments, he rescued the soldier and returned him to the company perimeter," according to the Army.
At one point during the battle, Davis said he recalled a general observing the fight from a helicopter ordering him to leave before one of the wounded soldiers was flown out. He refused.
"He said, 'You know you're disobeying an order?' And I said, 'Yes, sir, I understand that. But I'm not leaving,'" Davis told ABC News.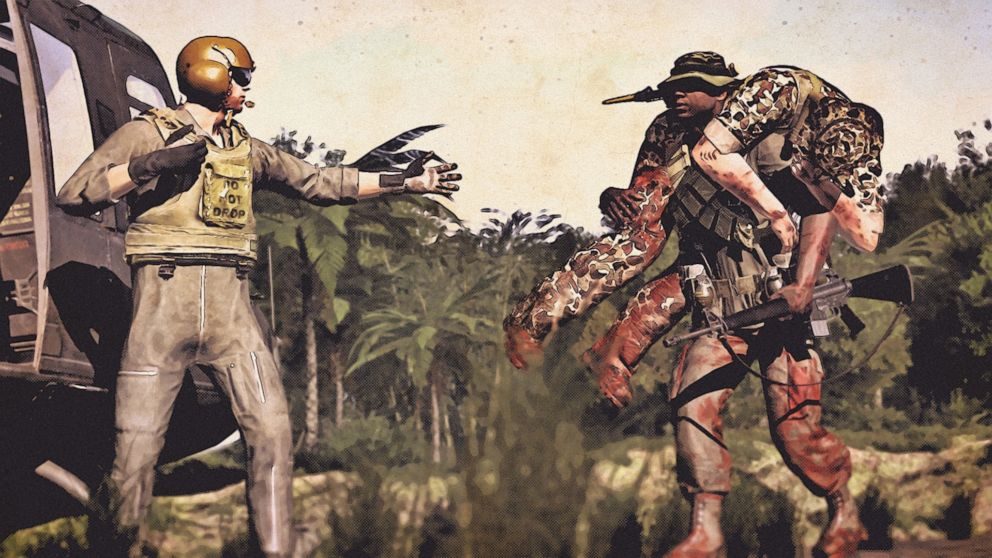 Davis described a war of words with the senior officer.
"The general said ... 'If I was down there, I'd probably kick your ass.' And I said, 'You know what, general, there's a lot of room down here.' And that was the end of the conversation. He never landed, and I never kicked his ass," Davis said.
ABC News asked Davis what would have happened had he obeyed.
"If we had obeyed that order, there would have been soldiers that would have been just mutilated, because there [were] no other friendly forces available," he said.
The Army credits Davis for having saved three men from enemy capture: Robert Brown, John Reinberg and Billy Waugh.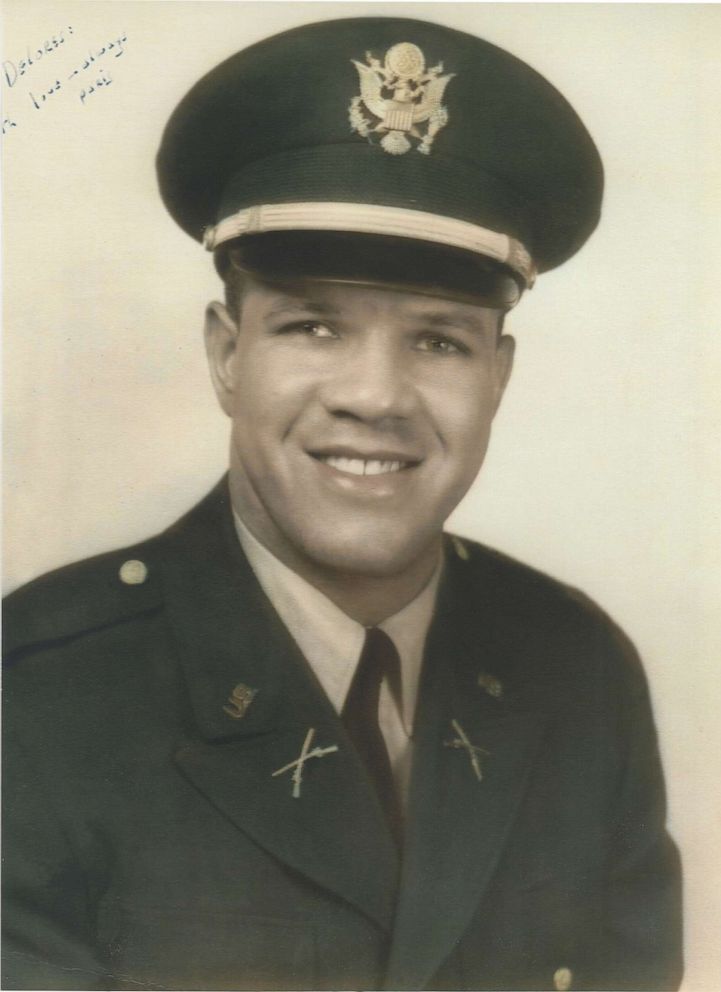 For his actions, he was awarded the nation's third-highest military decoration, the Silver Star. But according to Davis, requests for his award to be upgraded to a Medal of Honor were inexplicably lost by the Army twice over the years.
Davis has speculated his race could have played a factor.
"I wish I could say that this story of Paris' sacrifice on that day in 1965, was fully recognized and rewarded immediately," Biden said. "But sadly, we know they weren't. At the time Captain Davis returned from war, the country is still battling segregation. He returned from Vietnam to experience some of his fellow soldiers crossing to the other side of the street when they saw him in America."
Army officials said they cannot determine whether any records were lost, or under what circumstances.
"Due to lack of records, we cannot say for sure, but we are pleased that the president will soon bestow this overdue honor to Col. Paris Davis and his family," Army spokeswoman Madison Bonzo told ABC News on Wednesday.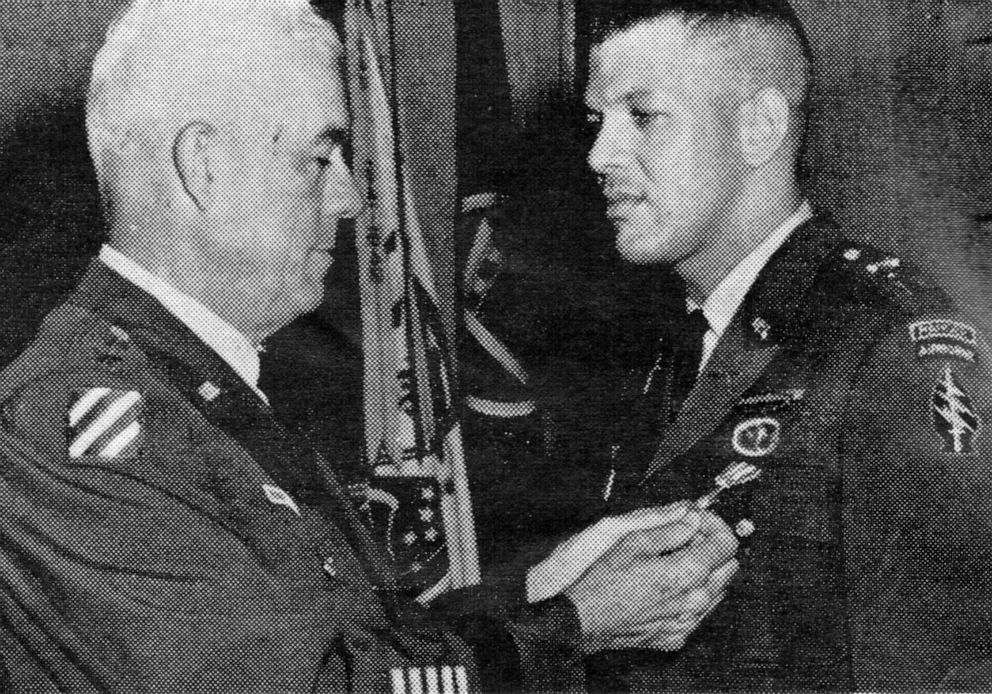 Davis credits a group of friends and comrades for refusing to let the Army forget his case.
Davis, with his first name inspired by the ancients, alluded to Greek tragedy when explaining the resolution to his decades-long case.
"The soldiers that you served with, the soldiers you were in the war with, become that Greek chorus. They pick up the voice of saying 'We aren't gonna let this rest, we are going to keep after it until we get it done.' And that's the saving grace I'm so thankful for," he said.