Biden and McCarthy meeting on debt ceiling, weeks away from deadline to avoid crisis
It's the first time the president and speaker are sitting down since February.
President Joe Biden will meet Tuesday afternoon with congressional leaders at the White House -- as a fast-approaching deadline looms to either increase the nation's borrowing limit or risk an unprecedented and potentially devastating debt default that would ripple across the global economy.
Tuesday's meeting will be the first time since February that Biden has sat down with House Speaker Kevin McCarthy to discuss the debt and spending.
The intervening months have been filled with back and forth, with Biden leading Democrats in pushing for a raise to the debt ceiling "without conditions."
McCarthy and other Republicans, meanwhile, continue to say they will only agree to raise the borrowing cap if Biden also agrees to some federal spending cuts and budget changes.
Both sides have repeatedly insisted they don't want to see a default, but comments from Democrats and Republicans as recently as this week show how far apart they publicly remain on reaching an agreement.
Treasury Secretary Janet Yellen warned Sunday on ABC's "This Week" that the federal government could run out of money to pay all of its bills by June 1, though uncertainty remains about the exact "X-date" when default would begin.
"Whether it's defaulting on interest payments that are due on the debt or payments due for Social Security recipients or to Medicare providers, we would simply not have enough cash to meet all of our obligations," Yellen said. "And it's widely agreed that financial and economic chaos would ensue."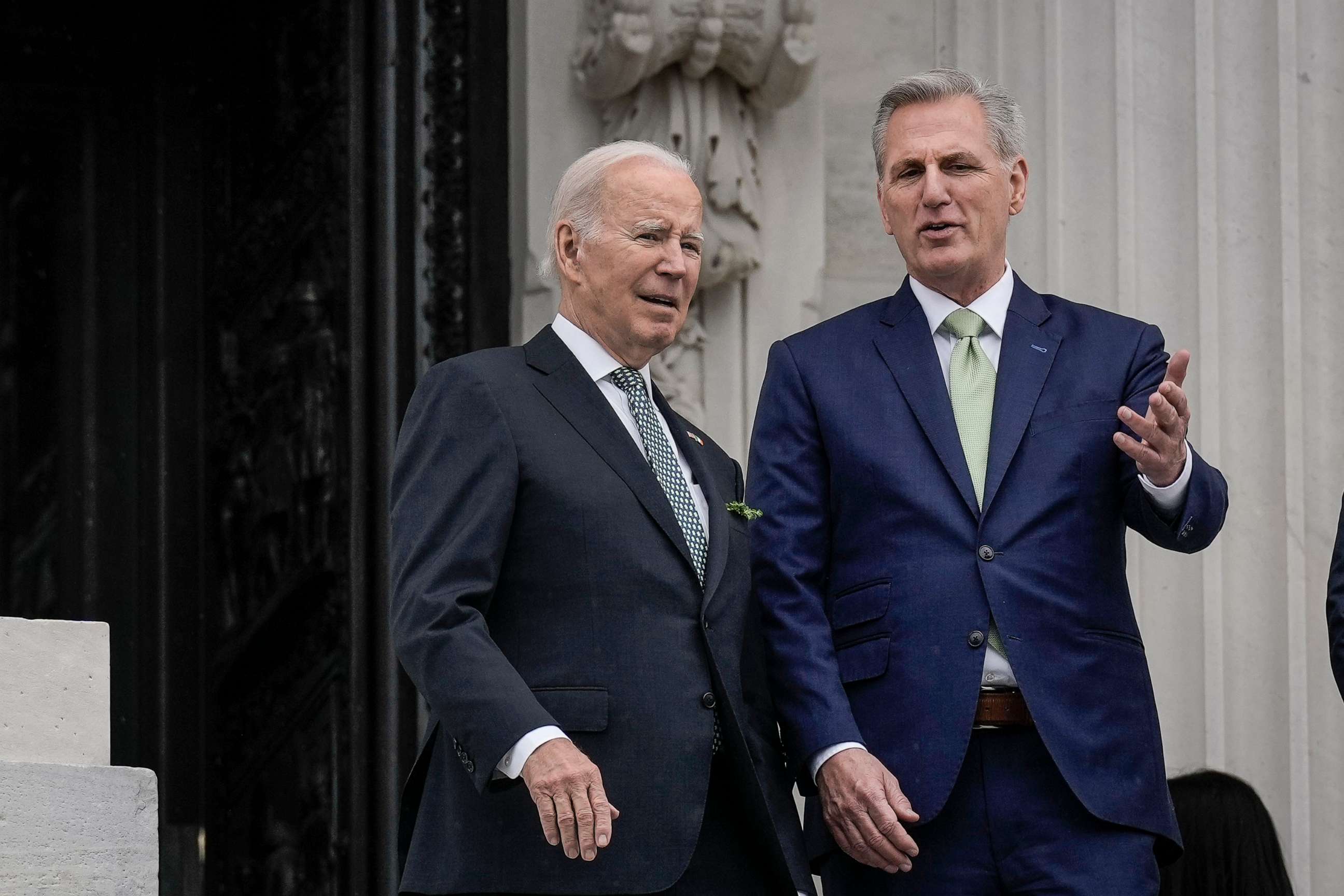 Why Biden is meeting with lawmakers about the debt ceiling
The U.S. can pay most but not all of its bills with the tax and other revenue it takes in, and it must borrow the rest of the money. But Congress enforces a limit on how much debt the government can incur and when that ceiling -- currently set at about $31.4 trillion -- is reached, lawmakers must increase it before the government can borrow more funds.
The U.S. hit its debt limit in January and has been employing "extraordinary measures" since then to keep its bills paid, the treasury secretary has said.
On May 1, Yellen sent a letter to McCarthy and other top lawmakers urging action.
"We have learned from past debt limit impasses that waiting until the last minute to suspend or increase the debt limit can cause serious harm to business and consumer confidence, raise short-term borrowing costs for taxpayers, and negatively impact the credit rating of the United States," she wrote.
Later on May 1, the White House invited McCarthy, House Minority Leader Hakeem Jeffries, Senate Majority Leader Chuck Schumer and Senate Minority Leader Mitch McConnell to a meeting at the White House.
What Democrats want: A 'clean' hike
Last week, the president spoke bluntly of how he viewed the GOP strategy.
"Let's get it straight: They're trying to hold the debt hostage to [get] us to agree to some draconian cuts, magnificently difficult and damaging cuts," Biden said on Friday.
Schumer also criticized Republicans in a floor speech on May 1: "If the hard right continues running the show in the House, the dangers of a first-ever default are growing day by day. The only real solution is for both parties to past a clean bill ... with no brinksmanship, no hostage-taking."
On Monday during a White House briefing, press secretary Karine Jean-Pierre said the president planned to make "very clear" with the congressional leaders on Tuesday that their "constitutional duty" is to raise the debt limit.
"We should not have House Republicans manufacturing a crisis on something that has been done 78 times since 1960," she said.
"Congress must avoid default without conditions -- without conditions -- as they did three times before in the last administration," she said.
Biden resisted earlier Republican pressure to negotiate by challenging conservatives to publicly present their specific budget plan. The president released his own in early March, with House Republicans then unveiling their debt limit bill in mid-April.
"I'm happy to meet with McCarthy, but not on whether or not the debt limit gets extended," Biden said in late April. "That's not negotiable."
Congressional Democrats have also indicated they are open to talks about spending and the budget -- possibly even simultaneously with work on a separate debt ceiling bill.
"We, of course, are open to having a discussion about what type of investments, what type of spending, what type of revenues are appropriate in order to protect the health, safety and economic well-being of the American people," Jeffries said on NBC's "Meet the Press" on Sunday. "That is a process available to us right now."
What Republicans want: Spending cuts
On April 26, House Republicans narrowly passed their bill to effectively raise the debt limit by $1.5 trillion while reducing funding for federal agencies to 2022 fiscal year levels and limiting growth in government spending to 1% per year.
Afterward, McCarthy addressed Biden at a news conference: "We're the only ones to pass a plan. So, I think it's up to you now. Whether the economy goes in any trouble, it's you, because the Republicans raised the debt limit."
"We've done our job," he said.
The GOP proposal would also reverse much of Biden's signature climate, education and tax agenda.
"The House bill that they put out was their first parameter," Sen. James Lankford, R-Okla., said on ABC's "This Week" on Sunday when pressed by anchor George Stephanopoulos about the spending cuts the GOP wants. "It is the beginning of a negotiation."
Lankford said then that the "most stunning part about this" was the lack of ongoing talks between the White House and Republicans.
"President Biden has been sleepwalking towards this crisis," McConnell said in a floor speech on May 2.
"We have divided government. The American people gave Republicans the House, Democrats have the presidency," McConnell said then. "The president and the speaker need to reach an agreement to get us past this impasse."
Senate Republicans have stayed in lockstep with their House colleagues. Mike Lee of Utah this weekend led a letter addressed to Schumer and signed by 43 total Republican senators that stated their staunch opposition to backing any debt limit increase without "substantive spending and budget reforms." They also threatened to filibuster any bill brought to the floor that doesn't include their requests.
Americans are closely divided on whom they'd blame if the federal government defaults on its debts, with 39% saying in a recent ABC News/Washington Post poll that they'd mainly point the finger at Republicans in Congress, while virtually as many, 36%, said they'd mainly blame Biden.
Sixteen percent said that they'd blame both sides equally.
Democrats this weekend did not entirely rule out two possible ways to prevent a debt default: either a short-term hike or the president trying to invoke the 14th Amendment, which states that the public debt "shall not be questioned."
When asked by MSNBC's Stephanie Ruhle on Friday if he would consider using the amendment, Biden said he had "not gotten there yet."
ABC News' Alexandra Hutzler, Trish Turner, Molly Nagle and Lauren Peller contributed to this report.