Bill Clinton's History of Verbal Campaign Missteps
Comes after the called Obamacare "crazy."
— -- Former President Bill Clinton may be known as one of the best retail politicians in American politics, but there have been a number of instances where his off-the-cuff remarks have gotten him in trouble.
The latest instance -- when he said that small businesses "were getting killed" by Obamacare -- is not the first time that one of his statements has caused trouble for his wife's campaign, both this year and in the 2008 race.
The 2008 Race
One of the most memorable missteps came in that earlier race during a stop in south Carolina when he compared then-Sen. Barack Obama's primary victory in the state to that of Rev. Jesse Jackson, prompting outcry from African-American voters. Clinton later said the Obama camp "played the race card on me" by having his remarks "twisted for political purposes."
"Everyone in politics is familiar with that one," Larry Sabato, the director of the University of Virginia's Center for Politics, said of the incident when talking to ABC News in April 2015, as it became more clear that Clinton would be back out on the 2016 trail.
"Clinton's animus to Obama wasn't even thinly disguised. It took Obama and Clinton a long time to patch things up," Sabato said.
Calling Obama's stance on the War in Iraq and his candidacy in general "the biggest fairy tale I've ever seen" definitely didn't help either.
The Clintons and Obamas eventually mended fences, with the former president praising Obama's first term with a landmark speech at the 2012 Democratic National Convention.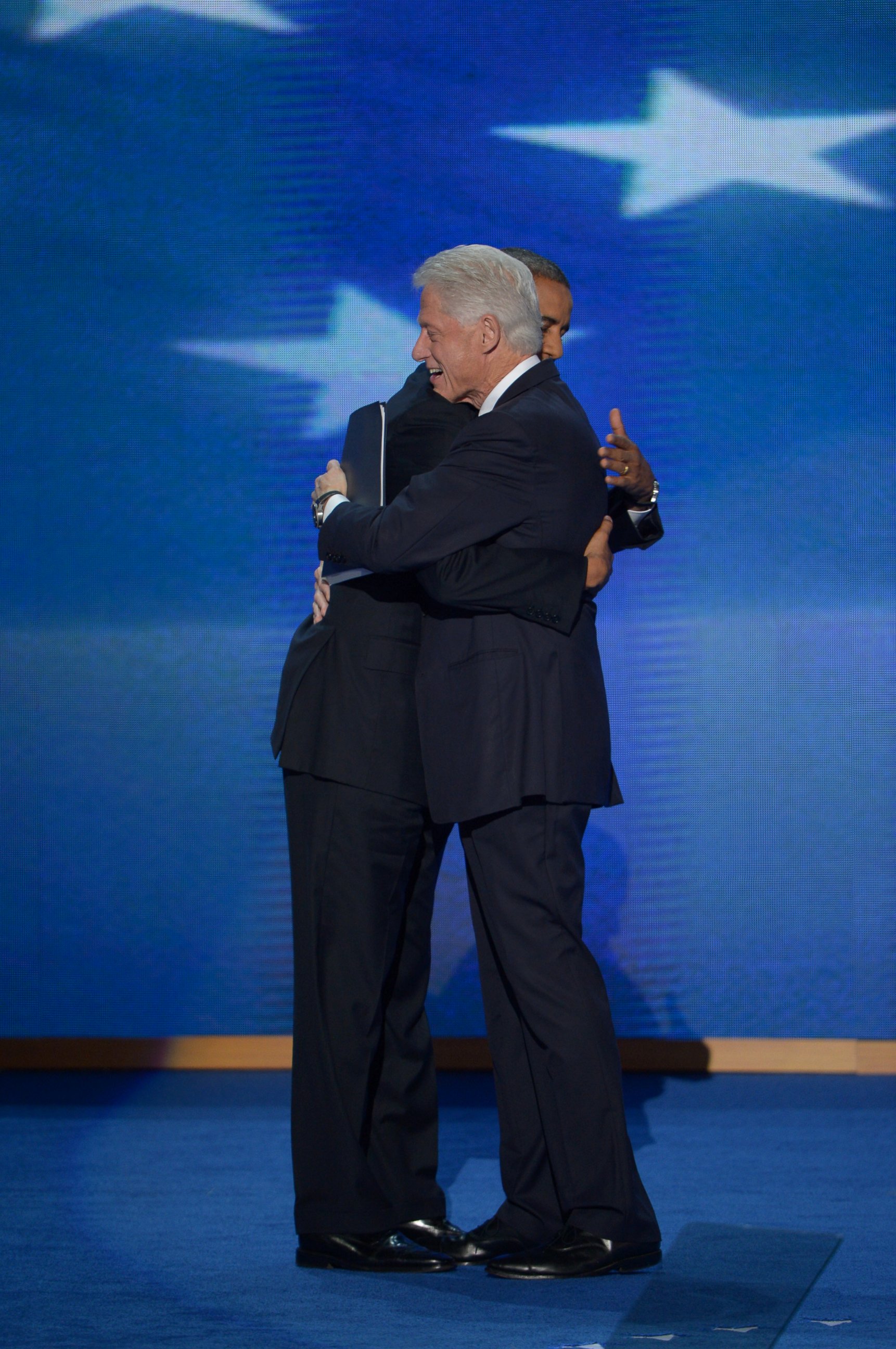 The 2016 Race
Fast forward to the 2016 race, and there have been several instances where Bill Clinton appeared to criticize Obama again, however.
One of the clearest examples from the trail this year came in March, when he seemed to write off Obama's administration as his wife did just the opposite on the campaign trail.
"But if you believe we can all rise together, if you believe we've finally come to the point where we can put the awful legacy of the last eight years behind us and the seven years before that where we were practicing trickle-down economics with no regulation in Washington, which is what caused the crash, then you should vote for her," Clinton said at an event in Spokane, Wash.
"Because she's the only person who basically has good ideas, will tell you how she's going to pay for them, can be commander-in-chief, and is a proven change maker with Republicans and Democrats and Independents alike."
And just one month before that, while trying to describe his wife as a "change-maker," he effectively said that Obama wasn't one.
In a discussion about Wall Street, Bill Clinton said "it's rigged because you don't have a president who's a change-maker, who has a Congress who will work with him. But the president has done a better job than he has gotten credit for."
Since the latest incident about Obamacare earlier this week, Clinton and his team have tried to walk back the comments.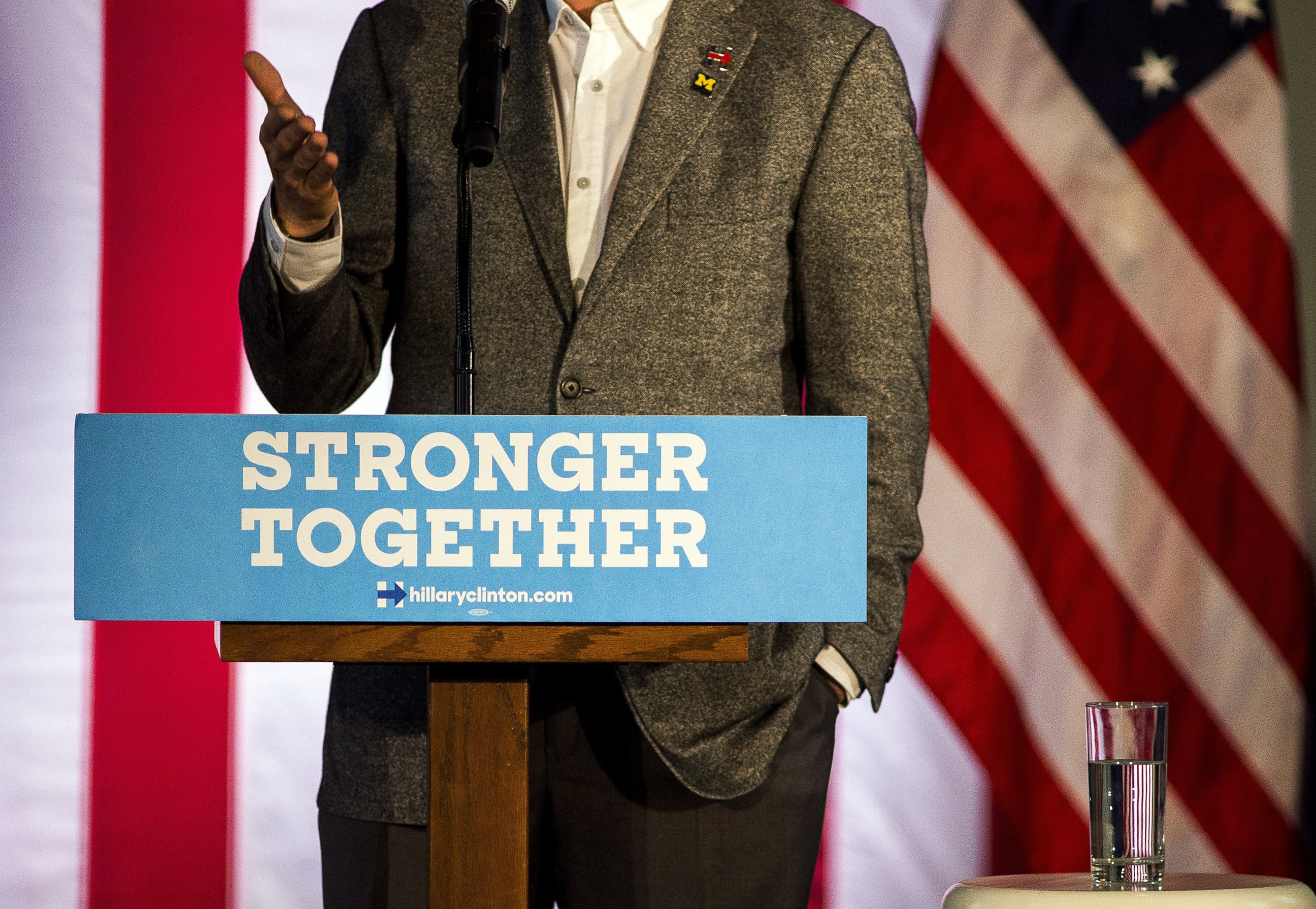 At a campaign rally in Flint, Mich., on Monday, Bill Clinton discussed how insurance premiums have risen under the Affordable Care Act.
"You've got this crazy system where all of a sudden 25 million more people have health care and then the people are out there busting it sometimes 60 hours a week wind up with their premiums doubled and their coverage cut in half," he said Monday. "It's the craziest thing in the world."
Since then, his press secretary, Angel Urena, told ABC News that the former president's comments are being taken out of context and that he was referring to out-of-pocket costs associated with "Obamacare" that affect small-business owners.
"President Clinton spoke about the importance of the Affordable Care Act and the good it has done to expand coverage for millions of Americans. And while he was slightly short-handed, it's clear to everyone, including President Obama, that improvements are needed," said Urena. "That's why Secretary Clinton has proposed measures including tax relief to cover excessive out-of-pocket costs, a public option and Medicare buy-in for those over 55. She'll build on the progress we've made by increasing competition, choice, affordability and the number of Americans with insurance."