As Blinken departs for Beijing, US officials 'clear-eyed' about China
The upcoming trip was postponed for months after the spy balloon incident.
U.S. officials are emphasizing the importance of face-to-face diplomacy as the nation's top diplomat prepares to embark on the first visit to China by a sitting secretary of state in nearly five years -- but insisting they are "clear-eyed" about the long odds of improving the strained relationship amid continued acts of aggression by Beijing.
The Biden administration emphasized the need for "intense diplomacy" with China despite the country's military carrying out dangerous provocations earlier this month in the Taiwan Strait, according to U.S. officials.
"Intense competition requires intense diplomacy to ensure that competition does not veer into confrontation or conflict and that's what we intend for this visit," State Department spokesperson Matthew Miller said on Wednesday.
Timing of the trip
Last week, White House spokesperson John Kirby condemned a close call in the Taiwan Strait that occurred days prior when a Chinese warship crossed just about 150 yards across an American destroyer's bow, a move the Pentagon described an "unsafe maritime interaction."
Secretary of State Antony Blinken's initially planned to journey to Beijing in February, but his travel was scrapped by the Biden administration at the last minute after a Chinese spy balloon was spotted hovering over sensitive sites in the U.S.
After repeatedly saying Blinken's visit would be rescheduled "when the time is right," the White House isn't clearly explaining why it's moving forward with the trip now.
ABC News' Mary Bruce asked White House press secretary Karine Jean-Pierre "Why is this now the right time?" during a briefing on Wednesday.
"We believe that we are in the right footing, especially in the work that the president has done the last two years. When you look at the economy, when you look at the competition, and look at what we have been able to do. And so we want to continue to have those open lines of conversation. And this is about diplomacy, which is why the secretary of state is heading is heading to China on Saturday," Jean-Pierre answered.
President Joe Biden confirmed Thursday that he had spoken with Blinken ahead of his trip, but he would not say what he hopes the secretary can achieve during the visit.
Months after the spy balloon incident, China's efforts to surveil the U.S. are still a hot button issue. Earlier this week, Blinken addressed Beijing's recently exposed intelligence-collection activities in Cuba and claimed diplomacy had slowed the country's efforts to expand its military power.
Although the relationship remains fraught and senior State Department officials don't anticipate a turnaround in the near future, they say there are still benefits to direct diplomatic engagement.
"We're not going to Beijing with the intent of having some sort of breakthrough or transformation in the way that we deal with one another," Assistant Secretary of State for East Asian and Pacific Affairs Daniel Kritenbrink said. "We're coming to Beijing with a realistic, confident approach and a sincere desire to manage our competition in the most responsible way possible."
Blinken's agenda
Just hours before his departure, Blinken laid out his priorities for the trip, emphasizing that the administration's most crucial aim in its approach to China is ensuring the often-adversarial relationship doesn't spiral out of control.
"Intense competition requires sustained diplomacy to ensure that competition does not veer into confrontation or conflict. And again, that is what the world expects of both the United States and China," Blinken said at a Friday press conference.
Blinken said that he has three clear goals for his visit: keeping lines of communication with China open to avoid potential conflict, promoting American interests and exploring potential areas of cooperation.
A particular area of focus for Blinken will be revitalizing channels between the two countries' armed forces. Although diplomatic ties have warmed somewhat in recent weeks, dialogue between high-level military officials has been practically nonexistent.
Asked whether he would raise the cases of three Americans classified as wrongfully detained by China -- Kai Li, Mark Swidan, and David Lin -- Blinken said he would.
"Yes, I will be raising the detainees," Blinken answered. "This has been an ongoing conversation with the PRC, and something that for me is always at the top of my list--that is looking out for the security and well-being of Americans around the world."
That facet of the relationship was further strained last month when China rebuffed an invitation to meet with Defense Secretary Lloyd Austin and a summit in Singapore.
"We are going to continue to advocate for appropriate military-to-military contact and dialogues. We think that is an essential feature for maintaining communication. And these lines of communication can be critical during a crisis," said Deputy Assistant to the President and Coordinator for Indo-Pacific Affairs Kurt Campbell.
Campbell added that the U.S. has "advocated for these discussions consistently" but said "China has resisted some of those efforts."
Officials also said that China's fentanyl production and trafficking activities would be on Blinken's agenda, as well as the American citizens wrongfully detained in China.
Despite intense preparations that have been underway for weeks, Blinken's schedule for the trip remains largely in flux, with the State Department confirming only that he is expected to meet with senior Chinese officials.
That will likely include China's Foreign Minister Qin Gang, and Wang Yi -- China's top diplomat who met with Blinken in Germany after the spy balloon incident. U.S. officials later described that interaction as remarkably contentious.
Whether Blinken will meet with China's President Xi Jinping during the upcoming trip is still not clear.
The future of U.S.-Chinese relations
Blinken's visit to Beijing could also pave the way for future engagement between the highest levels of leadership. Biden and Xi met in Indonesia last November, and there is speculation they could hold another in-person discussion later this year.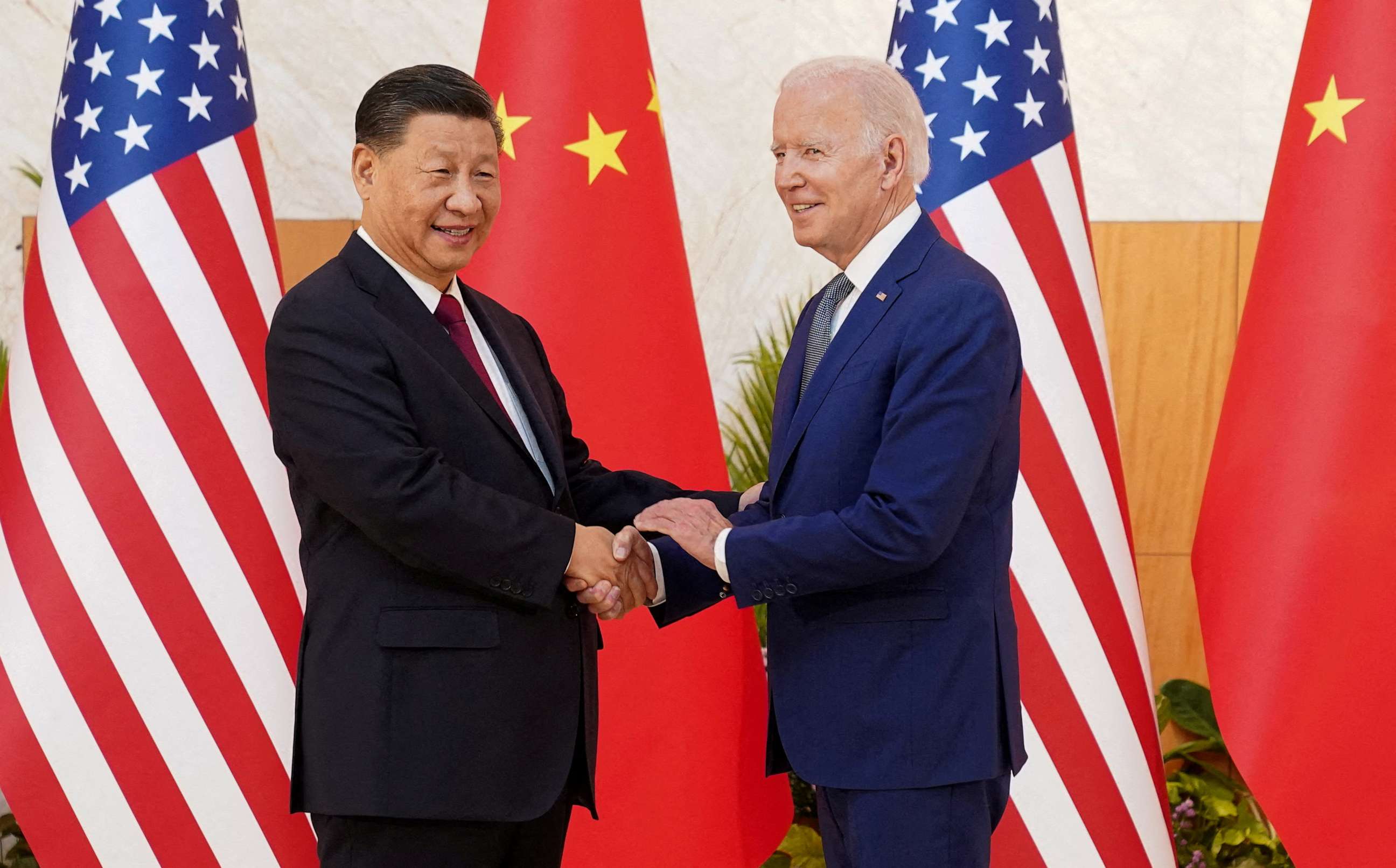 The Chinese Foreign Ministry has attempted to set a firm tone in the runup to Blinken's visit. In a readout of a call between the Secretary of State and Foreign Minister Gang, the ministry warned Washington to "stop interfering in China's internal affairs."
But the U.S. sees what China classifies as "internal affairs" as pivotal international issues -- specifically, maintaining peace in Taiwan and the South China Sea as China makes preparations to invade the island nation. U.S. intelligence has indicated Chinese President Xi Jinping is instructing his military to "be ready by 2027" to invade Taiwan.
Officials said Blinken would raise both matters during his visit and promised he would continue to "push back" on China's "provocations" in the region.
"I think cross-strait issues and issues related to Taiwan have always been among the most important and challenging and sensitive issues between the United States and China," Campbell said.
"And I think you can anticipate, as has been the case in every bilateral meeting I've been in with the Chinese, that there'll be a candid exchange on the cross-strait situation," he added.
ABC News' Justin Gomez contributed to this report.