Bob Dole Returns to Save Kansas for Jittery GOP
The 91-year-old heads back to Kansas now that an old friend needs him most.
September 19, 2014, 10:35 AM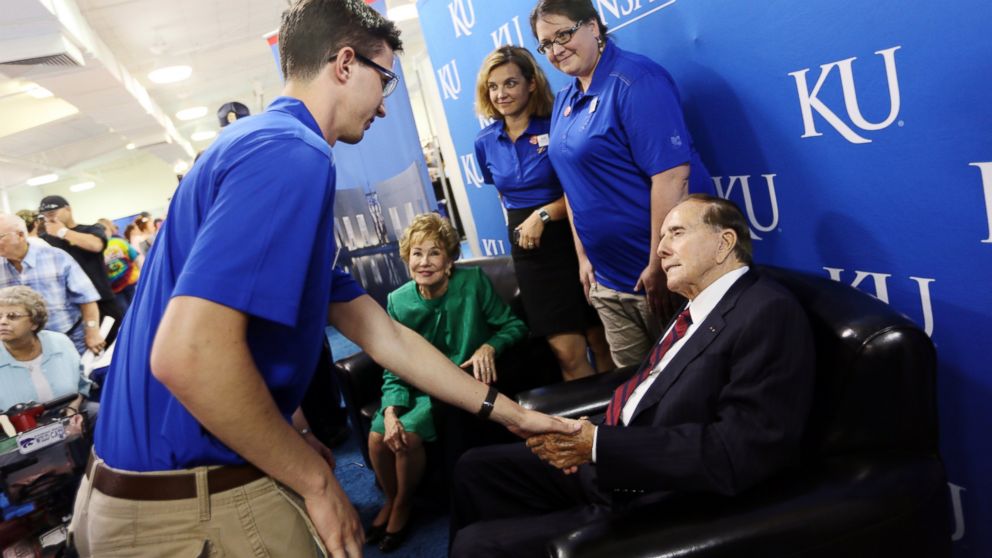 — -- It has been a rough two-and-a-half weeks for Kansas Sen. Pat Roberts, a three-term Republican facing his toughest fight for re-election since arriving in Washington in 1981.
Roberts, who survived a Republican primary challenge, now finds himself unexpectedly locked in an even more competitive general election fight.
But even as he pushes back against criticism that he has been in Washington too long, Roberts is doubling down on his longevity. He's set to get a helping hand from a golden name in Kansas politics: Bob Dole.
"The battleground for control of the Senate is now Kansas," Dole, 91, told ABC News. "I think Roberts is going to win."
Sen. Pat Roberts Beats Back Primary Challenge from Obama Cousin
Court Ruling Won't End Kansas Senate Dispute
Kansas Court: Remove Democrat From Senate Ballot
Dole, once a staple of the state and national political scene who served as Senate majority leader and lost to Bill Clinton in a 1996 presidential run, will be campaigning for both Roberts and Gov. Sam Brownback going into the midterm elections.
Dole set the record as the longest-serving Republican leader in Congress before he retired in 1996, and is wrapping up a "thank-you" tour that he said will have brought him to every one of Kansas' 105 counties by the end of October.
Dole, who's special counsel at the law firm of Alston & Bird in Washington, D.C., said he will also be shooting a commercial for Roberts, and will meet him on the campaign trail starting with an event in Dodge City Monday.
Roberts, 78, has recently had to shake off criticism of his time spent in Washington and residency in Alexandria, Virginia.
In his first debate with Independent candidate Greg Orman, Roberts dismissed that he was losing ties with Kansas, saying, "I'm from Dodge City and I'm damn proud of it."
Businessman Orman, 45, has emerged in the race as a serious threat in a state that has sent only Republicans to the U.S. Senate since 1938.
He has attacked Roberts for moving further to the right, especially in the wake of a tough primary fight Roberts faced in August against a Tea Party opponent.
Dole defended Roberts, saying he thinks Roberts is "flexible" in his political views.
"I think he has been a little more conservative because of his primary," Dole said. "I've worked with Pat a lot, and I think he's demonstrated that he is moderate and largely in line with Kansas voters."
Dole isn't the only former presidential candidate to have added his voice to the Roberts campaign. Mitt Romney recorded a robocall that made its way around the state last week.
But if Republicans seem extra nervous, it's because losing Roberts' seat could mean the difference between the GOP taking back control of the Senate, if Orman chooses to caucus with Democrats.
And a Supreme Court decision Thursday didn't do much to put their worries to rest.
An Uphill Battle
The Democratic candidate, Chad Taylor, announced his withdrawal from the race Sept. 3, but Kansas Secretary of State Kris Kobach came forward one day later saying Taylor hadn't made the appropriate case for his name to be removed.
The case came to the state's Supreme Court, which unanimously ruled in favor of Taylor. Kobach said he would give the state's Democratic Party a week to name a new candidate and would not be sending overseas ballots like the state originally scheduled for Friday, according to The Associated Press. If they refuse, Kobach said he would review legal options.
Without a Democrat on the ballot to potentially split the vote, some Republicans fear Roberts could be facing an uphill battle. Republicans have since resorted to painting Orman as a donkey in sheep's clothing.