Bono hangs out with George W. Bush at his Texas ranch
"He has a huge heart and a selfless soul," Bush said of the musician.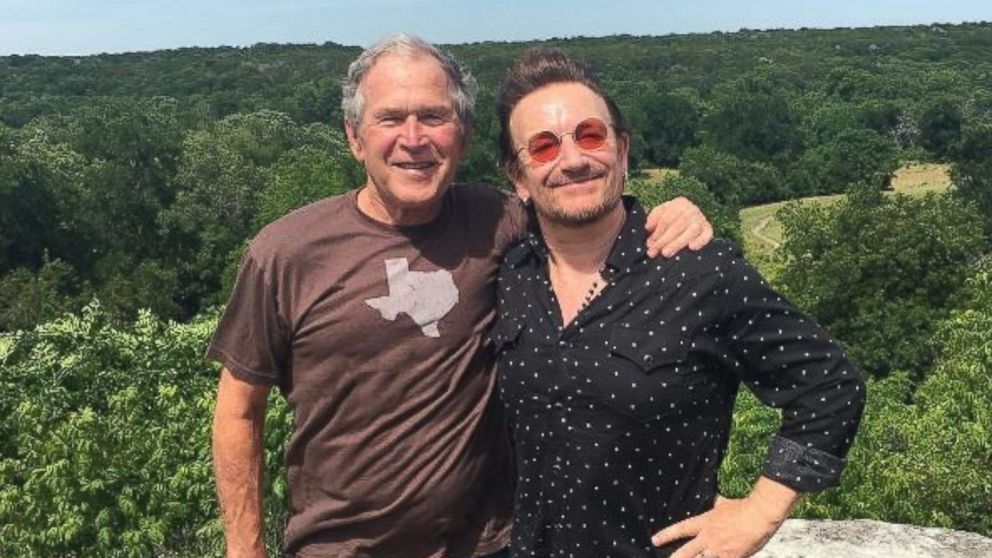 — -- Lead U2 singer Bono made a pit stop Friday at former President George W. Bush's ranch in Crawford, Texas, a few hours before his band's sold-out concert in nearby Richardson.
"Bono is the real deal," Bush wrote on Instagram, along with a photo of himself with Bono at the Prairie Chapel Ranch. "He has a huge heart and a selfless soul, not to mention a decent voice. @laurawbush and I are grateful he came to the ranch to talk about the work of @thebushcenter, @onecampaign, @PEPFAR, and our shared commitment to saving lives in Africa."
Both men have been active in efforts to end the AIDS epidemic in Africa. Bush created PEPFAR, the U.S. President's Emergency Plan for AIDS Relief, while Bono co-founded ONE, a global campaign and advocacy organization that rallies around AIDS awareness and anti-poverty initiatives.
"More than 11 million people are alive today thanks to this man's creation of PEPFAR, the U.S. AIDS program that has been saving lives and preventing new HIV infections for over 10 years, with strong support from political leaders right, left, and center," Bono wrote on ONE's Instagram account, alongside the photo of the two men. "That progress is all at risk now with President Trump's budget cuts, which will mean needless infections and lives lost. – Bono."
Bush wrote an op-ed in the Washington Post last month urging lawmakers to keep PEPFAR fully-funded because approximately "12 million lives have been saved ... Nearly 15 years later, the program has achieved remarkable results in the fight against disease."