Comey made announcement on Clinton email probe days before election to give himself 'cover': Trump spokesperson
"The guy knew exactly what he was doing," White House spokeswoman said.
James Comey's acknowledgement that he may have subconsciously expected Hillary Clinton to win the presidency when he disclosed days before the 2016 election the reopening of a probe of her emails shows that the then-FBI chief was driven by political motivation and self-interest, a White House spokesperson said.
"The guy knew exactly what he was doing," White House spokesperson Sarah Sanders told ABC News Chief Anchor George Stephanopoulos on "This Week" on Sunday. "He thought that Hillary Clinton would win, and he thought that this would give him some cover. He made these decisions based on the political landscape and not the facts of the case," White House spokesperson Sarah Sanders told ABC News Chief Anchor George Stephanopoulos on "This Week" on Sunday.
Sanders was responding to a video excerpt from Comey's exclusive interview with Stephanopoulos that will air tonight at 10 p.m. ET.
In the excerpt aired on "This Week," Stephanopoulos asks Comey whether his choice to reveal that he was reopening the investigation into Clinton's emails days before the election may have been influenced by his belief that Clinton would become president.
Comey, then the FBI director, sent a letter to Congress announcing the reopening of the email probe on Oct. 28, 2016, 11 days before the Nov. 8 election.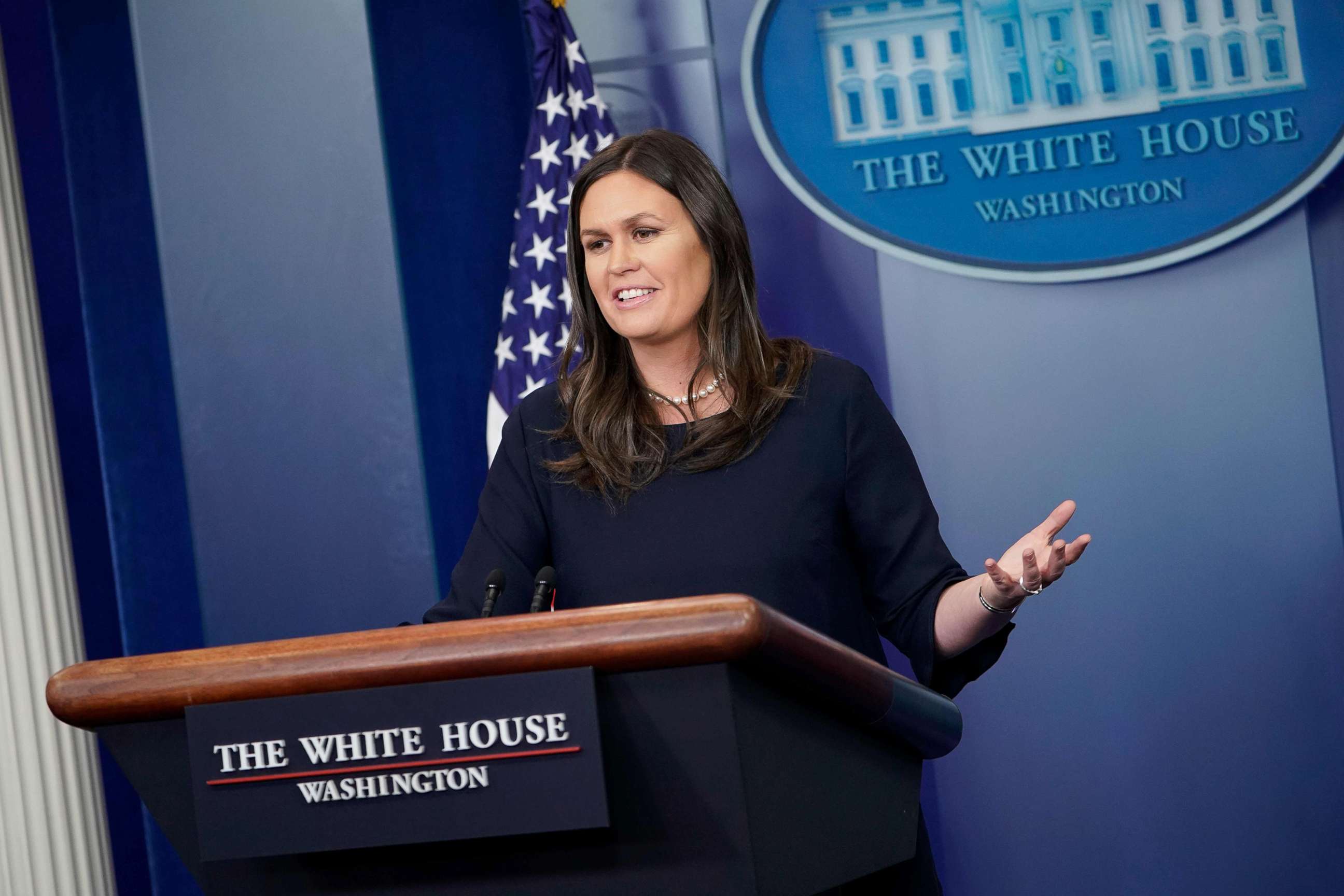 "At some level, wasn't the decision to reveal influenced by your assumption that Hillary Clinton was going to win and your concern that she wins this comes out several weeks later and then that's taken by her opponents as a sign that she's an illegitimate president?" Stephanopoulos asked Comey in the interview.
"I don't remember consciously thinking about that, but it must have been because I was operating in a world where Hillary Clinton was going to beat Donald Trump, and so I'm sure that it was a factor," Comey said. "I don't remember spelling it out, but it had to have been, that she's going to be elected president and if I hide this from the American people, she'll be illegitimate the moment she's elected, the moment this comes out."
Clinton has said she thinks Comey's announcement about the email probe so close to the election killed her chances of winning.
Sanders on "This Week" slammed Comey, saying he has been "inconsistent constantly."
"He said that he opened the Hillary Clinton investigation on its merits," the White House press secretary said. "Now we're finding out certainly that it had something to do with the political landscape."
Prior to Sanders' appearance "This Week," Trump fired off a series of tweets, calling Comey "slippery" and a "slimeball" and alleging that his handling of the Clinton email probe was influenced by the Democrat's lead in the polls.
Unbelievably, James Comey states that Polls, where Crooked Hillary was leading, were a factor in the handling (stupidly) of the Clinton Email probe. In other words, he was making decisions based on the fact that he thought she was going to win, and he wanted a job. Slimeball!

— Donald J. Trump (@realDonaldTrump)

April 15, 2018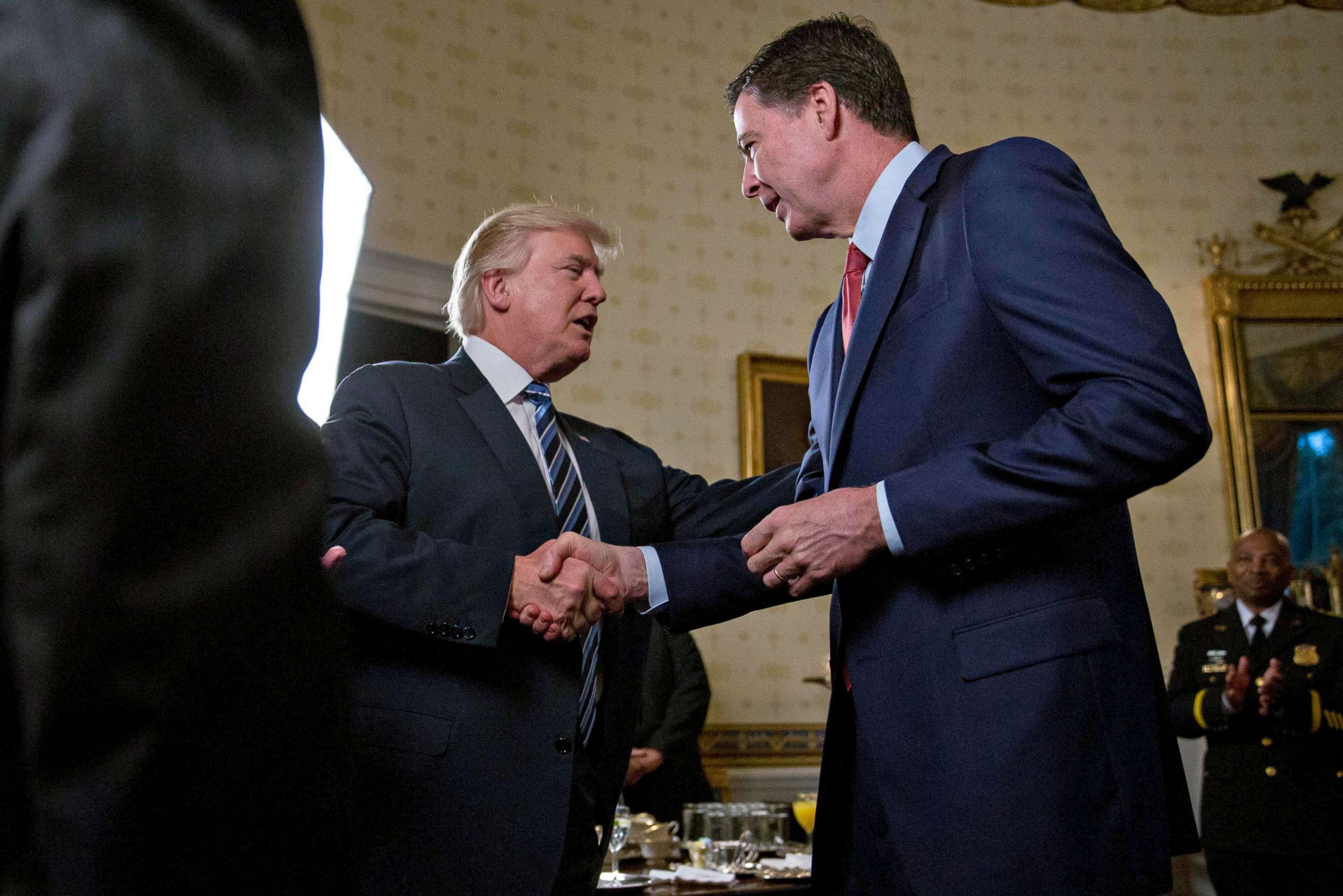 The president also suggested that the former FBI head could go to jail for various actions.
The big questions in Comey's badly reviewed book aren't answered like, how come he gave up Classified Information (jail), why did he lie to Congress (jail), why did the DNC refuse to give Server to the FBI (why didn't they TAKE it), why the phony memos, McCabe's $700,000 & more?

— Donald J. Trump (@realDonaldTrump)

April 15, 2018
Asked by Stephanopoulos about this suggestion by Trump, Sanders said she doesn't know of any plan for to ask the Justice Department to investigate Comey.
Comey's new book, "A Higher Loyalty: Truth Lies and Leadership," will be released Tuesday.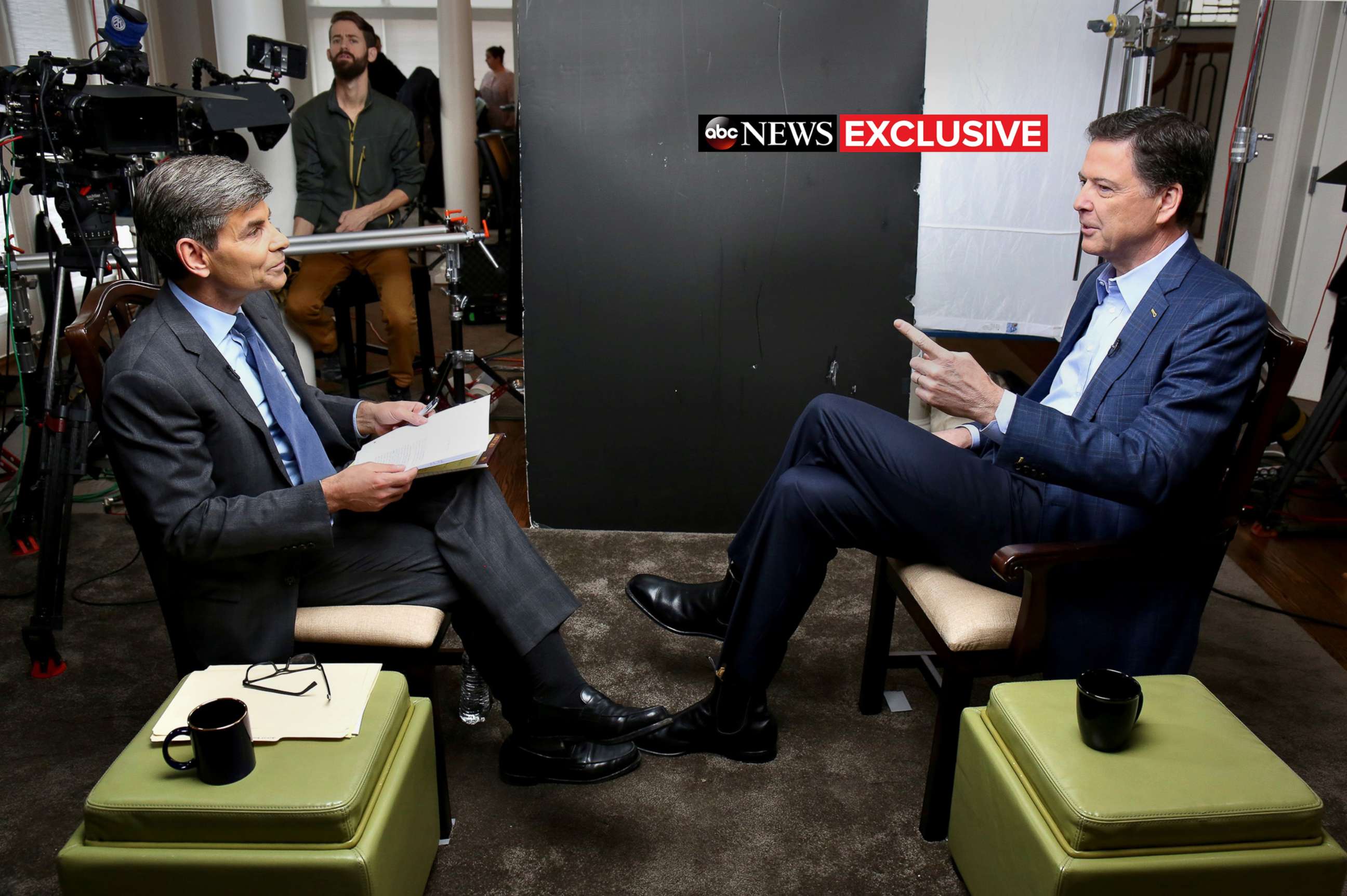 In a press briefing Friday, Sanders was critical of ongoing press coverage of the book. She said the media should focus on important national issues, and she referred directly to the Stephanopoulos interview.
"Congress has asked Jim Comey to come and testify multiple times, of which he's denied being able to do," Sanders said. "Yet he found time to sit down with George Stephanopoulos for five hours."