More than 14 hours after 100,000 Americans were reported to have died from the novel coronavirus, President Donald Trump on Thursday acknowledged the death toll, calling it a "very sad milestone."
In a tweet Thursday morning, Trump said he extends his "heartfelt sympathy & love for everything that these great people stood for & represent."
This comes after the president for months downplayed the coronavirus, comparing it to the flu, and suggested throughout the month of April that the country wouldn't reach 100,000 deaths.
At the same time, in what critics say is a part of an effort to distract from the bad news -- and to highlight his claims that states moving to mail-in voting amid the pandemic will lead to fraud -- Trump signed an executive order Thursday on social media that could make it easier for companies like Twitter, Facebook and Google to be held liable and face lawsuits for the content posted on their platforms, after Twitter fact-checked two of the president's tweets on mail-in ballots.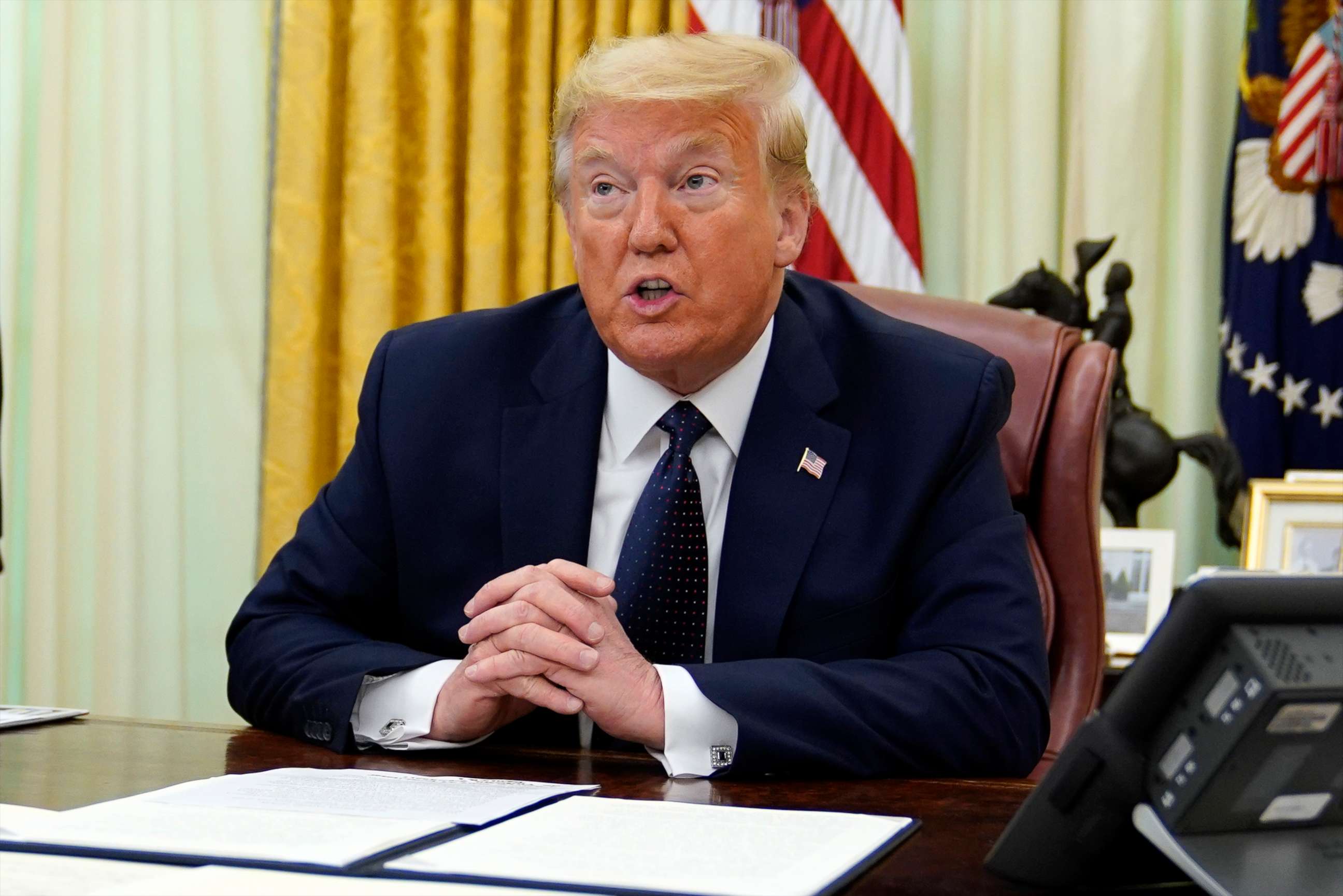 Tune into ABC at 1 p.m. ET and ABC News Live at 4 p.m. ET every weekday for special coverage of the novel coronavirus with the full ABC News team, including the latest news, context and analysis.
Here are Thursday's most significant developments in Washington:
Trump acknowledged the death toll surpassing 100,000, calls it a "very sad milestone"
House vote expected to change parts of the Paycheck Protection Program
Trump signed an executive order limiting the scope of a law protecting social media and tech companies
Pelosi calls Trump's executive order "silly" and "a distraction"
White House press secretary Kayleigh McEnany held a briefing at 2 p.m.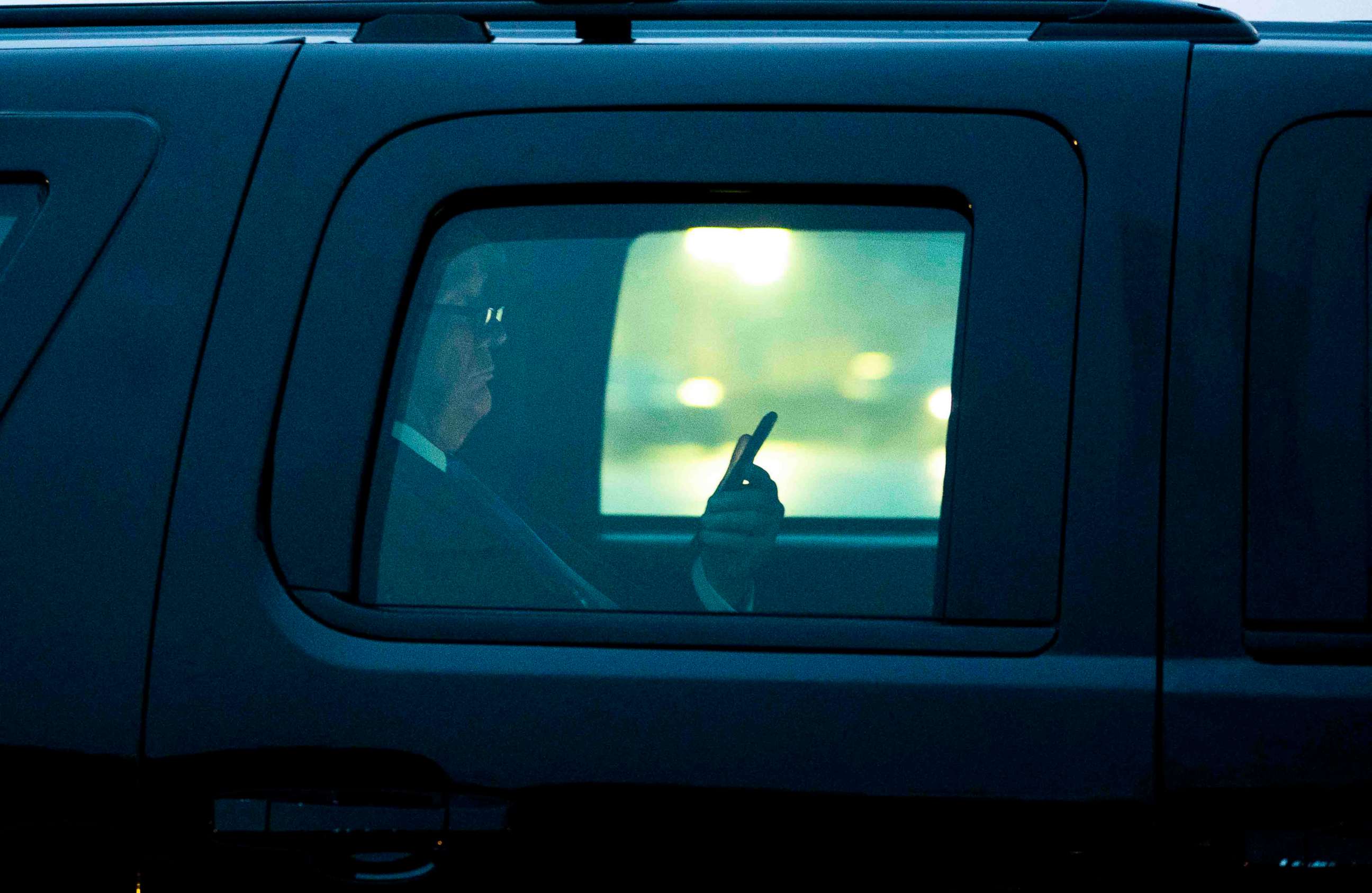 Alleging political bias, Trump signs executive order targeting social media companies
President Donald Trump on Thursday signed an executive order aimed at tech companies, targeting Section 230 of the Communications Decency Act, which gives companies like Twitter, Google and Facebook immunity from lawsuits based on the content its users post.
Calling the order a "big deal," Trump said he was taking the action to "defend free speech from one of the gravest dangers it has faced in American history," after Twitter called two of his tweets "potentially misleading" earlier this week.
Trump said the order allows for new regulations so that social media companies "that engage in censoring or any political conduct will not be able to keep their liability shield," but experts say he probably can't do much without congressional approval and any move will be met with legal challenges.
White House deputy press secretary Judd Deere said the president signed the executive order right after reporters left the Oval Office.
"They have had unchecked power to censor, restrict, edit, shape, hide, alter any form of communication between private citizens or large public audiences," Trump claimed. "We are fed up with it."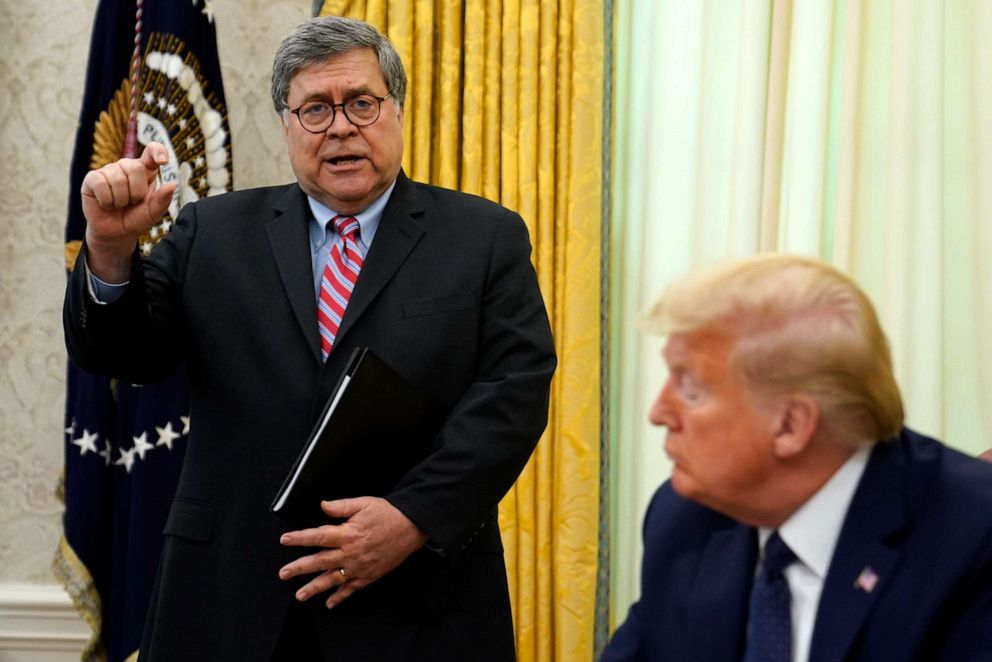 He said what social media giants choose to fact check or ignore are "editorial decisions" and represent "political activism."
"In those moments, Twitter ceases to be a neutral public platform and they become an editor with a viewpoint, and I think we can say that about others also," Trump said, referring to fact-check labels added to two of Trump's tweets on mail-in ballots, as some states make measures for voting amid the pandemic. "And it's inappropriate."
Asked by ABC News Chief White House Correspondent Jonathan Karl if he has considered deleting his own Twitter account, Trump said he would "in a heartbeat" if news wasn't fake -- and then touted his 186 million followers across all social media platforms.
Attorney General Bill Barr, appearing in the Oval Office with Trump, said the order would not repeal Section 320, but would restore "the right balance."
-- ABC News' Ben Gittleson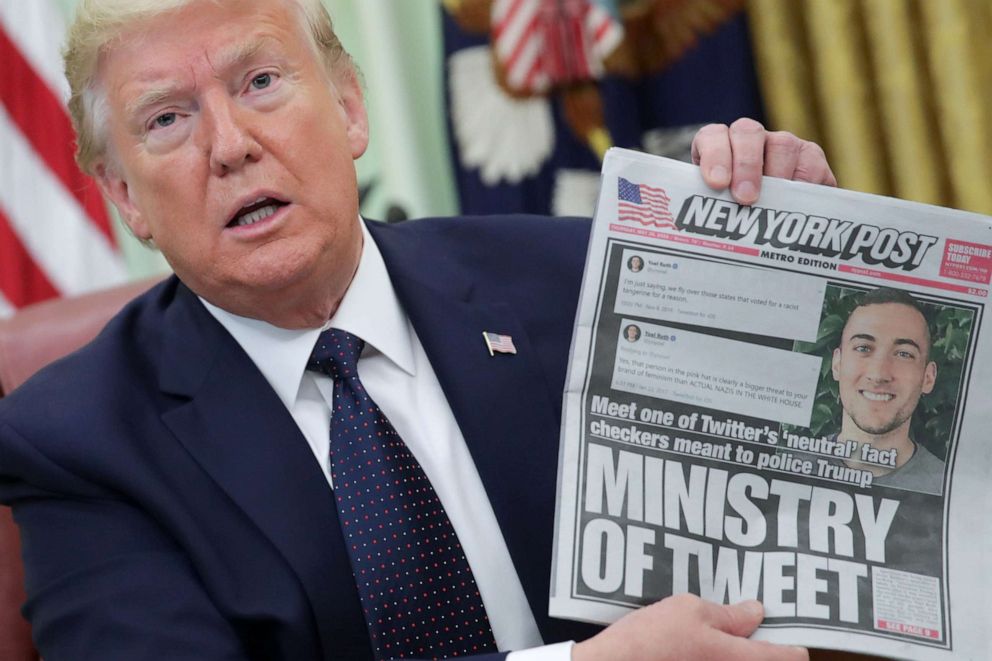 Pelosi calls Trump's expected social media-related executive order 'silly' and 100K death toll a 'scar on the nation'
House Speaker Nancy Pelosi in a news conference on Capitol Hill Thursday called the president's expected social media executive order "silly" and said it was distracting from the coronavirus pandemic.
"What the president is doing is silly. It's silly. But let's say this -- it's a distraction. I opened this meeting talking about testing," Pelosi said. "We're talking about Twitter, so let's get back to saving lives."
She said earlier that social media companies generally "try to hide under freedom of speech" and charged Facebook CEO Mark Zuckerberg of "pandering to the White House."
"Facebook, all of them, they're all about making money, their business model is to make money -- at the expense of the truths and the facts that they know, and they defend that," she said.
"Is there no honor among thieves?" she added. "They've all exploited the truth."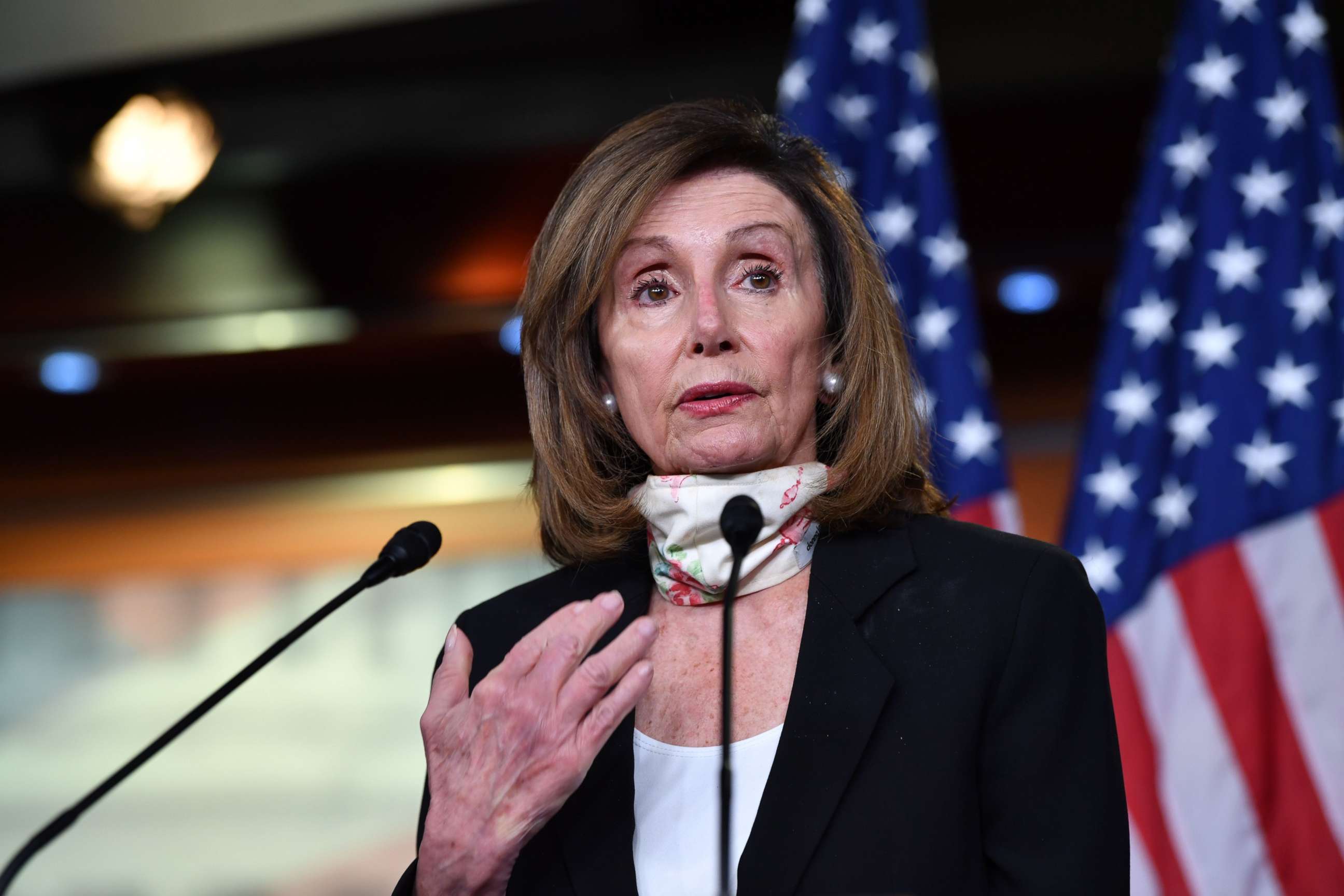 While she said she liked that Twitter fact-checked the president's tweets about mail-in ballots, she suggested more of his tweets should come with disclaimers.
Pelosi opened the news conference by calling the 100,000 death toll reached in the U.S. on Wednesday "a scar on our nation."
"There has to be a stop to this," Pelosi said, before adding, "Testing is the answer."
"Testing to open up our economy, testing to open up our schools, testing to heal. But in order to heal, we have to know the gravity of the problem," Pelosi said. "I'm here today to just say to you: 100,000 – how many more of those could have been saved?"
She said emphasis should be on testing in lieu of a vaccine.
"You notice in countries that have controlled the spread and the deaths from the virus. They don't have a vaccine. They don't have a cure. But they have common sense," Pelosi said.
"And yet, we can't seem to get the executive branch, the president of the United States, to make the decision to show the example of what we can do to stop this," she added.
-- ABC News' Mariam Khan
White House press secretary says Trump 'took action' in advance of 100K deaths by lowering flags to half-staff
Asked about the president's message in an interview with Fox News Thursday morning now that the U.S. has surpassed 100,000 lives lost from the coronavirus, White House press secretary Kayleigh McEnany pointed to the president's earlier tweet and his directive to lower the American flags for three days.
"The president tweeted about this not too long ago, that his heart goes out to those families," she said. "But more than just a statement, the president took action on this. Last week, he lowered to the flag to half staff for several days in anticipation of this number coming up."
The president last Thursday ordered flags to be lowered for three days, from Friday to Sunday, for coronavirus victims, and to remain at half-staff on Monday for Memorial Day.
"Because of this president, we stayed far below that 2.2 million estimate that was initially out there," she added, echoing President Trump in pointing to a model which predicted more death had no measures been put into place.
"The extraordinary effort of the administration, the work of the American people helped to keep this from being much worse than it could have been," she added.
-- ABC News' Ben Gittleson
Trump expected to sign executive order against social media companies
President Donald Trump has tweeted it will be "a big day for social media and fairness" as he's expected to sign an executive order that could expose social media platforms to more regulations and lawsuits, following his tweets alleging widespread fraud will result from states allowing mail-in voting amid the pandemic.
The draft, obtained by ABC News, comes after Twitter earlier this week added fact-checks to two of the president's tweets alleging mail-in ballots will produce fraud, calling the president's content "potentially misleading."
It asks that the scope of Section 230 in a law known as the Communications Decency Act, which provides broad immunity to websites that curate and moderate their own platforms, be clarified by curbing some liability protections.
However, experts warn it could have a major impact on free speech on social media and predict it could land in the courts.
-- ABC News' Katherine Faulders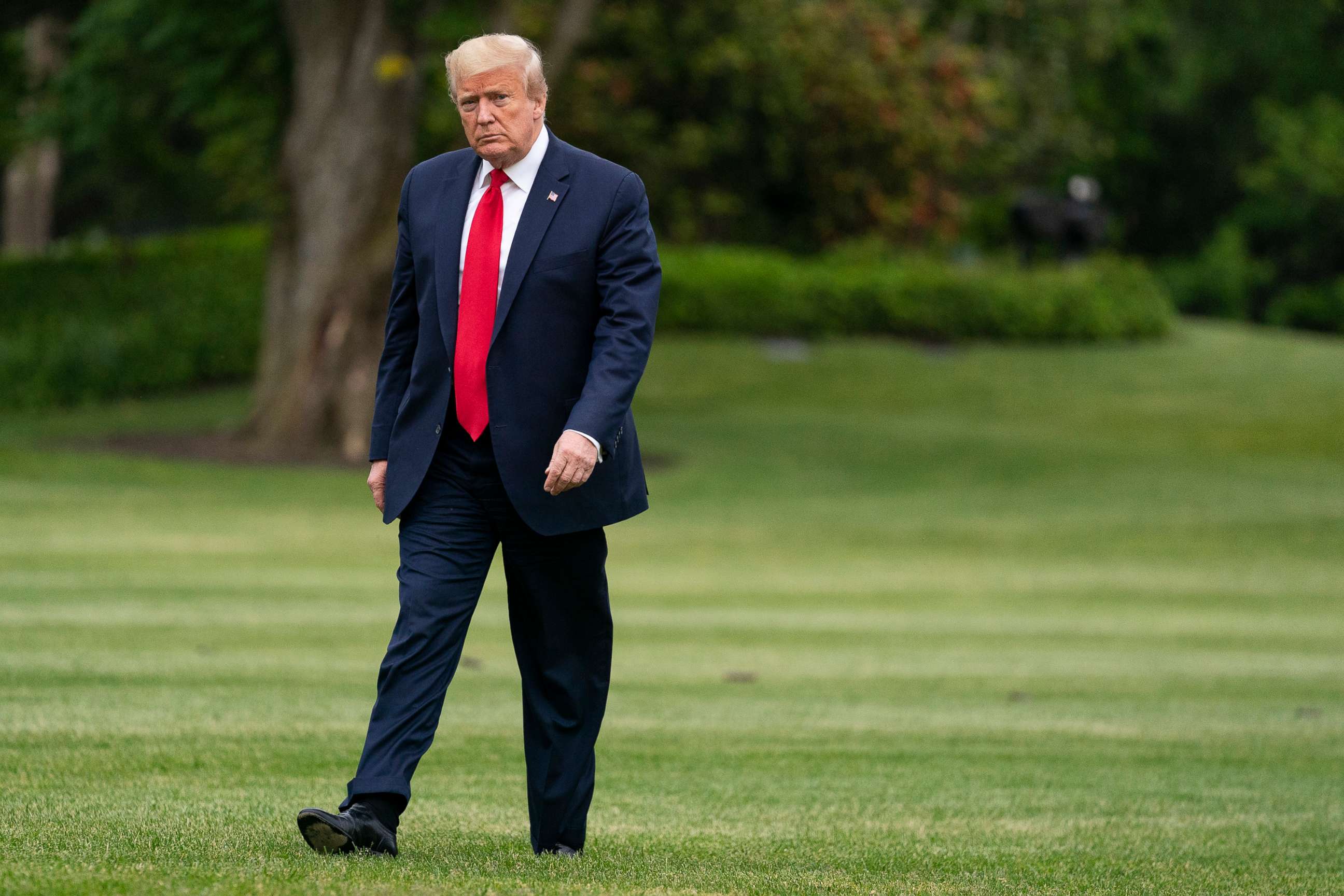 What to know about the coronavirus: