President Donald Trump held a late afternoon news conference Monday to unveil what he and his White House task force said was a plan to help states ramp up the kind of widespread testing experts say is needed in order for the economy to reopen.
Appearing with executives of Abbott, CVS and other retailers and commercial labs involved in increasing testing capacity, Trump faced reporters after backlash for floating the idea on Thursday of injecting disinfectant to treat COVID-19. (On Friday, he tried to claim he was being "sarcastic" and later walked out of that day's briefing without taking questions.)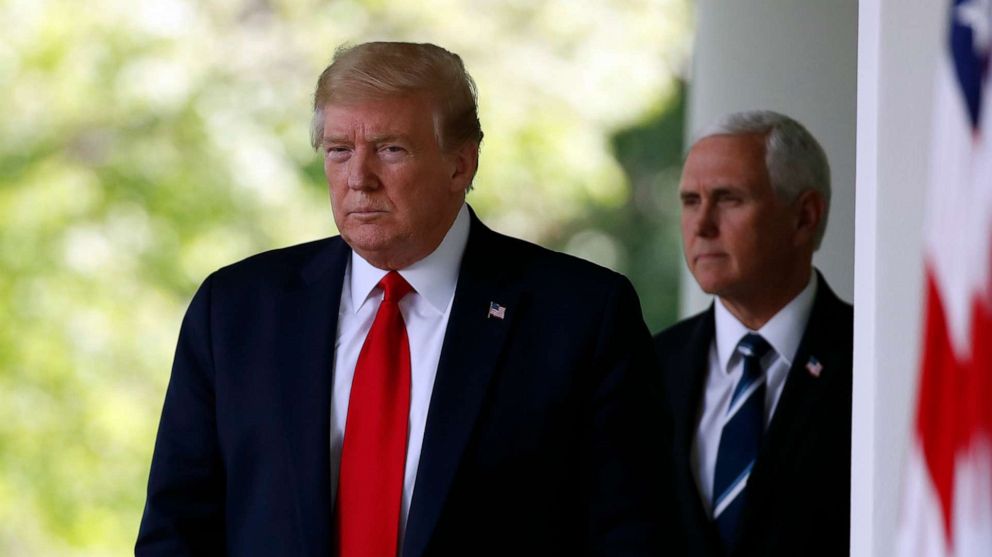 Dr. Deborah Birx and other members of the government response task force outlined how the federal government testing effort would guide the states, many of which have started to reopen, to take advantage of what they claimed was dramatically better testing availability.
Testing is not going to be a problem at all," Trump said confidently as the task force announced the new guidelines.
He also said governors should consider opening up their school systems as well as businesses, saying he thought it would be a "good thing."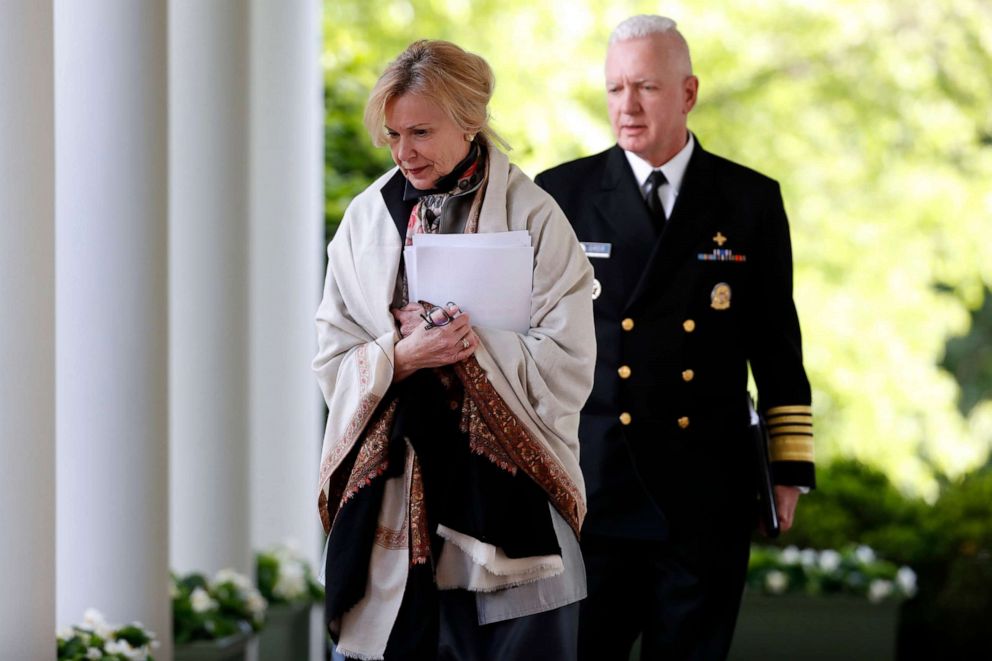 Tune into ABC at 1 p.m. ET and ABC News Live at 4 p.m. ET every weekday for special coverage of the novel coronavirus with the full ABC News team, including the latest news, context and analysis.
Here are Mondays's most significant developments in Washington:
President Trump holds a news conference after the White House announced the daily briefing was canceled
Trump and medical experts unveil plan to assist states in ramped-up testing
Trump participates in a teleconference with governors, saying they should consider reopening schools
Trump meets with industry executives on the COVID-19 response
Birx: Social distancing may last throughout the summer
Here are the latest developments in the government response: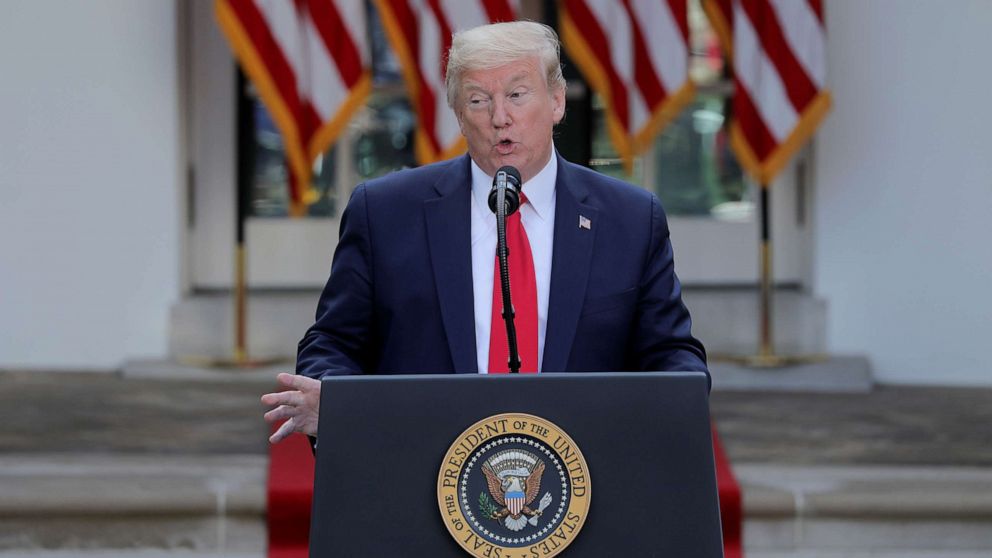 Trump begins news conference by remembering the victims
President Donald Trump opened Monday's news conference in the White House Rose Garden by listing off several large states and cities, saying the task force continues to see "encouraging signs of progress" and that "all parts of the country are in good shape" -- before taking a moment to remember the victims following criticism over the weekend that Trump has spent hours more touting his administration's response than offering empathy to hurting families.
"As we express our gratitude for these hard-fought gains, however, we continue to mourn with thousands of families across the country whose loved ones have been stolen from us by the invisible enemy. We grieve by their side as one family," the president said.
As more states move forward with reopening their economies this week, it didn't take long for the president to get back to his message on the "Opening Up (of) America Again." The president said there's a "hunger" among Americans to get back to work before calling up executives in the private sector to speak to the progress they've made on COVID-19 testing.
"We are doing everything in our power to heal the sick and to gradually reopen our nation and to safely get our people back to work. They want to get back to work. And they want to get back to work soon," the president said. "There is a hunger for getting our country back, and it is happening. It is happening faster than people would think."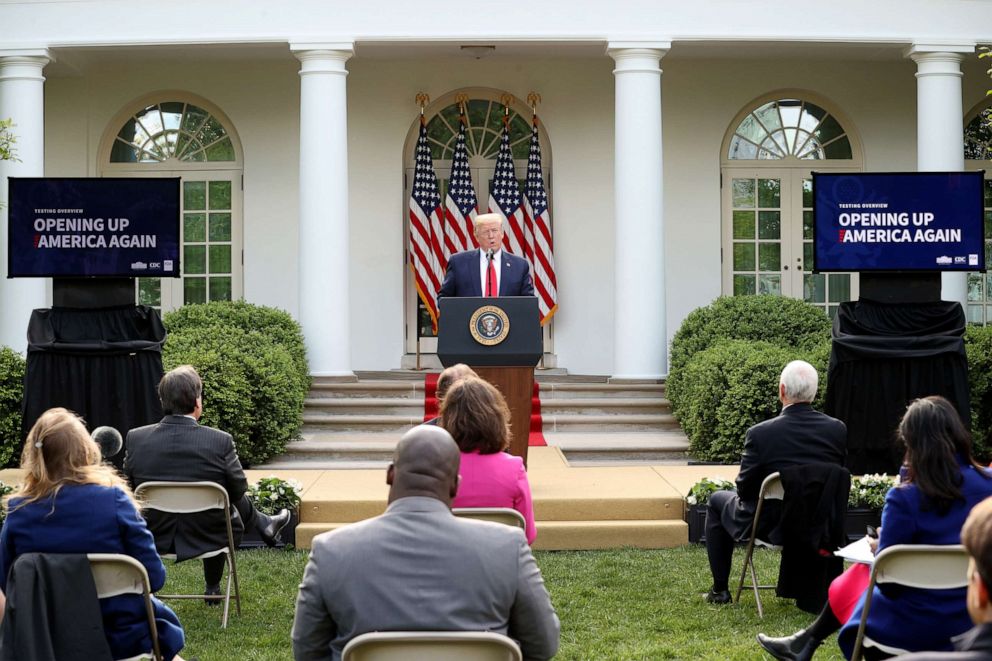 Trump rolls out new guidance on how states should work with federal government to increase testing
After several private industry executives spoke on how they were contributing to increased testing, President Trump officially announced new White House testing guidelines, as more states move forward with reopening their economies and as the number of novel coronavirus cases in the U.S. alone nears one million.
"Today, we are releasing additional guidance on testing to inform the states as they develop their plans for phased and very safe reopening. Our blueprint describes how states should unlock their full capacity and expand the number of testing platforms established, monitoring systems to detect local outbreaks, and conduct contact tracing. We have it all," Trump said.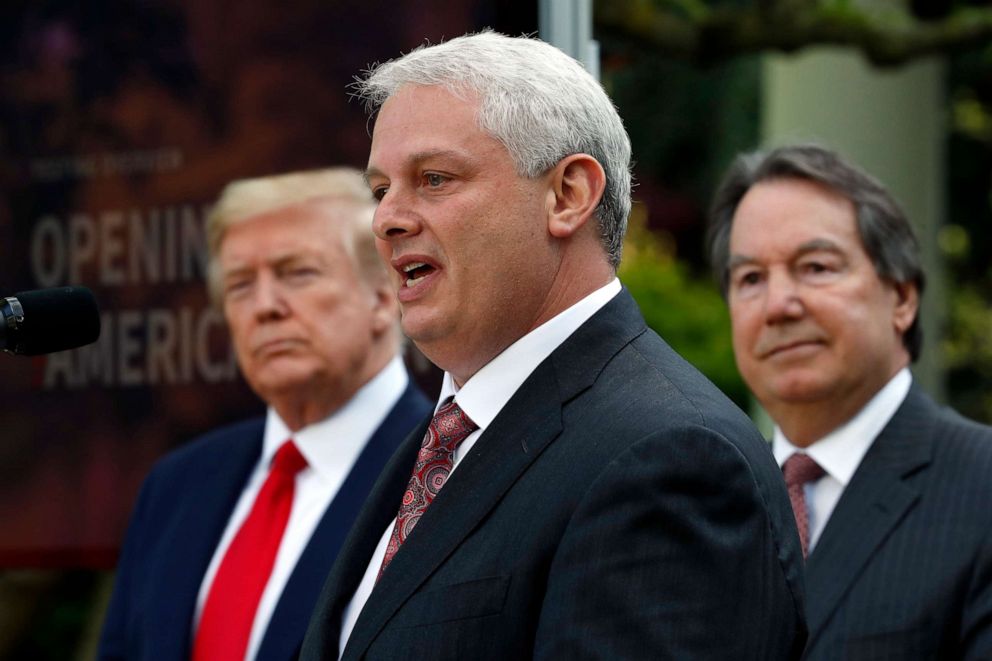 The president also said it will be easier for seniors to get testing under Medicare with the new guidelines and that he's asking governors to do the same in their Medicaid programs within their states -- something the president called "a big deal."
"I directed the Medicare program to make it easier for seniors to get the testing that they need," Trump said. "As you know, we are allowing pharmacies now to do testing. And we have other testing locations that we are going to be allowing also, but having pharmacies get involved in testing is a very big deal. We are also asking governors to do the same in their Medicaid programs."
The new testing plan comes in two documents -- a blueprint and overview -- which have been obtained by ABC News, and lay out a system -- broken into eight bullet points, under three categories: launch, scale and support opening up again.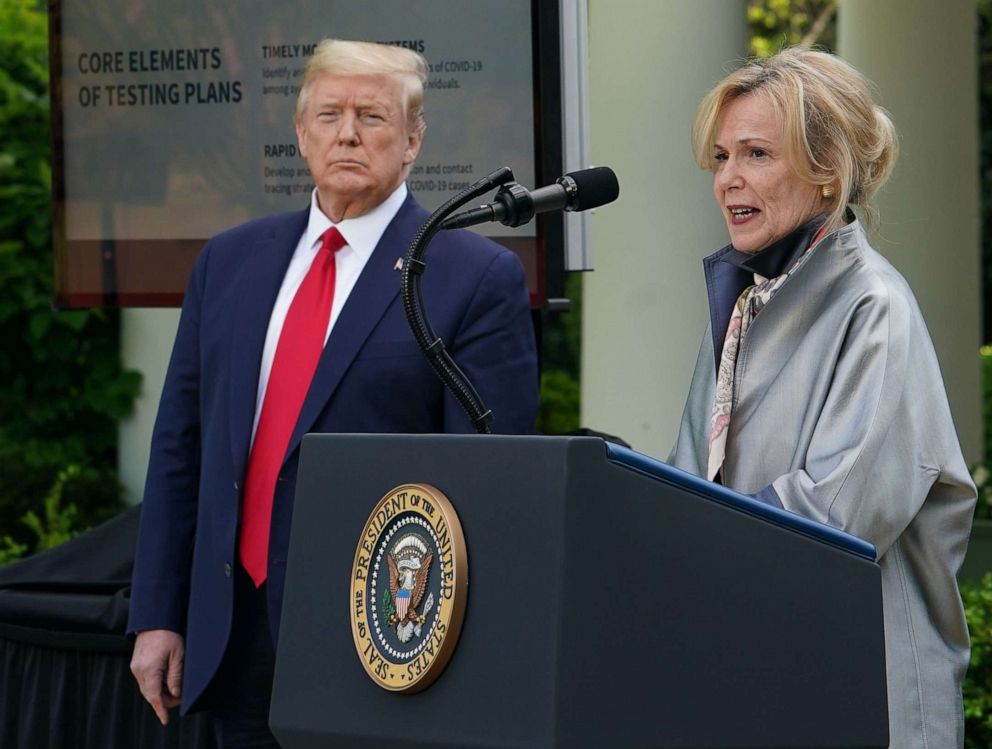 White House government response coordinator Dr. Deborah Birx then took the podium in the Rose Garden to provide an overview of the core elements of the new guidance.
"The blueprint lays out the roles and responsibility is to enhance our partnership between the private sector and the public sector, bringing together state and local governments with the federal government to ensure that we can accomplish and achieve our core principles and objectives," Birx said.
The documents largely summarized steps the administration had already taken, retroactively providing an argument for the White House's decision to push most of the responsibility for scaling up and conducting testing to the states.
Adm. Brett Giroir, overseeing testing for the coronavirus task force, following Birx, said that the the government "will be able to supply every state with the supplies and the tests that they need."
"Testing plans and rapid response programs will be federally supported, State managed, and locally executed," the "blueprint" document reads.
A number of state governors have criticized this approach, saying only the federal government has the ability to accelerate testing capacity and coordinate a national testing strategy.
Giroir also explained that the number of tests distributed to each state depends on the spread of the virus in that state.
"The number of tests that need to be done depends on the state level. You understand that places where there is high virus circulating, we will need many more tests. Places that do not have virus circulating may need less tests," he said.
ABC News Chief White House Correspondent Jonathan Karl asked what lessons the task force has learned in the last month, as the U.S. lagged behind countries like South Korea in testing, which the task force is now insisting the U.S. is well ahead of.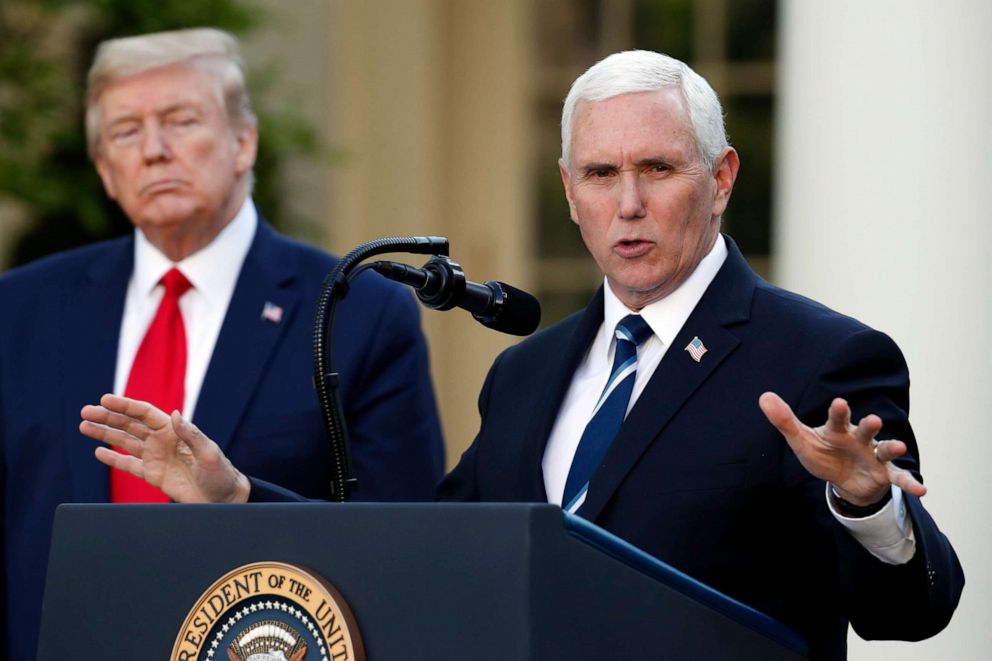 "I appreciate the question," said Vice President Mike Pence, "but it represents a misunderstanding on your part, and frankly, a lot of people in the public's part about the difference between having a test versus the ability to actually process the test."
"As the president said many times, what he understood early on was the old system would never be able to process the tests at the massive volume that we would need in the midst of an epidemic.
And that's why the president brought together these extraordinary commercial labs you heard from today," Pence said, shifting blame to former administrations and the system they inherited, as the president has before.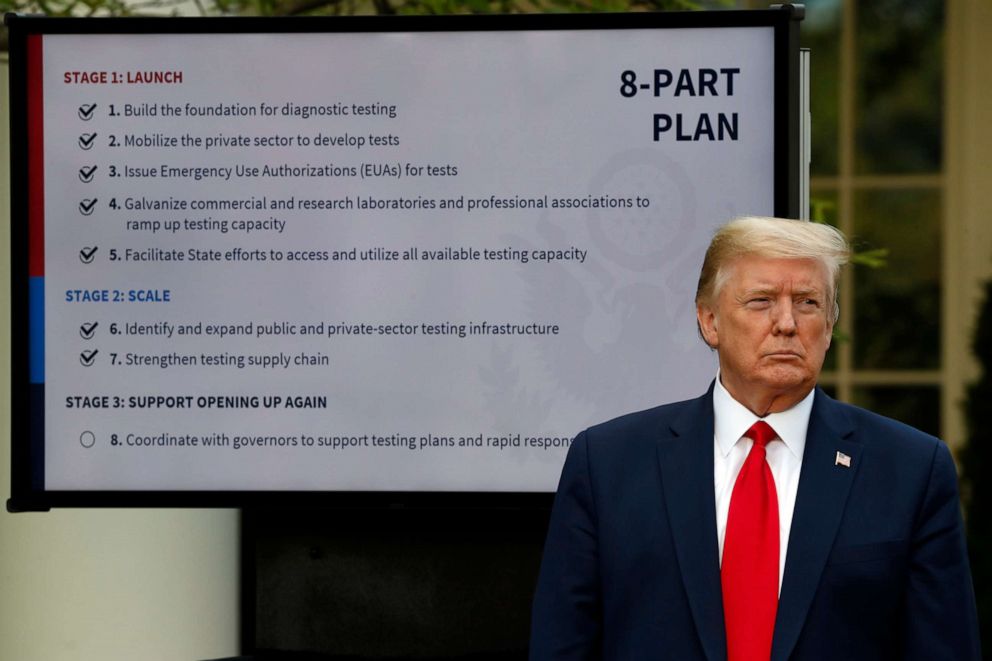 Trump tells governors to 'seriously consider' reopening their schools
Although every U.S. state has ordered schools to close or recommend they be shuttered, most through the end of the current academic year, President Trump told governors during a teleconference earlier Monday they should "seriously consider" reopening their schools and confirmed his suggestion at the evening news conference, noting the virus doesn't impact young people as badly.
"There is not a long way to go in the school system right now for the season, for this year, but I think you will see a lot of schools open up even if it's for a short period of time," Trump predicted. "I think it would be a good thing. Because as you see coming in terms of what this vicious virus goes after, young people seem to do very well. Young people seem to do very well. So, I know that there are some governors that aren't necessarily ready to open up states, but they may be ready to open up school systems."
The president added in the earlier teleconference that governors should "maybe get going on it," according to a recording of the call obtained by ABC News.
"Some of you might start thinking about school openings. Because a lot of people are wanting to have the school openings. It's not a big subject, young children have done very well in this disaster that we've all gone through," Trump told governors. "So a lot of people are thinking about the school openings."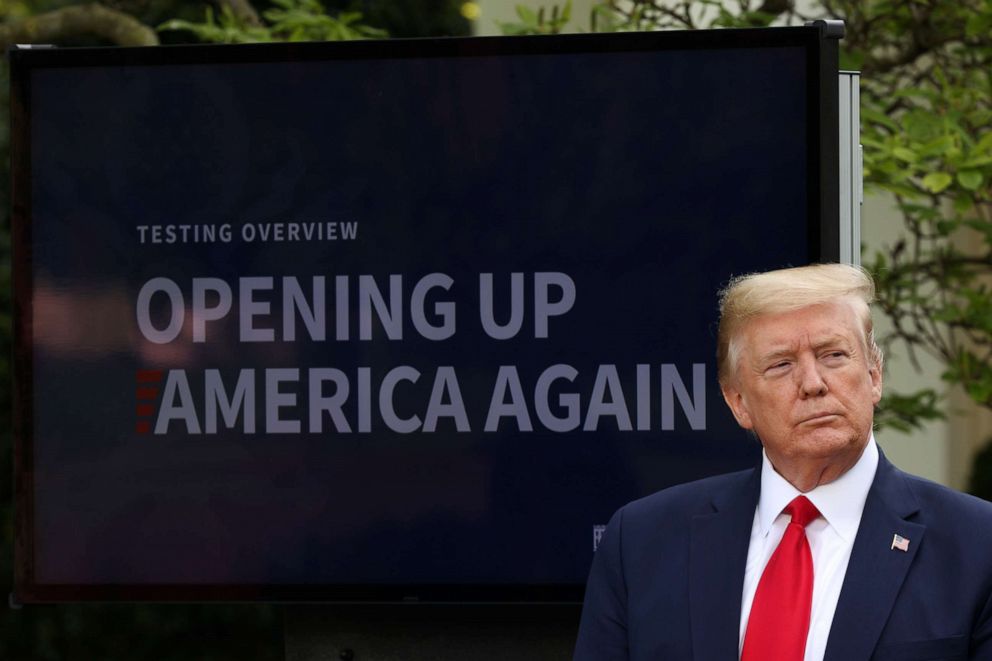 Trump dismisses question on impact of his 'disinfectant' comments
The president responded to a question about the potential for people using disinfectant after he floated the idea of injecting it to treat COVID-19 at Thursday's briefing. He later claimed he was being "sarcastic"-- and then still later walked out of Friday's briefing without taking questions.
Trump was hit with harsh criticism for his comments, but when asked if he takes responsibility for how people might react, he said he doesn't.
"No, I don't," Trump said. "No, I can't imagine. I can't imagine that."
After the president over the weekend held no briefings and even questioned their value, the White House first scheduled a daily briefing to take place this evening -- then canceled it -- then added a Trump "news conference" -- for the same time. In perhaps a new trend, the conference concluded in under an hour, with the president still taking questions but far fewer than normal.
Monday's news conference -- which felt much like a normal task force briefing, besides its shorter time span -- follows six weeks of near-daily press briefings at which the president would tout the administration's response to the public health crisis and battle with reporters raising critiques of the administration's handling of the crisis.
From earlier today:
Press secretary: Trump will brief nation during a "press conference" this evening, after task force briefing for the same time cancelled
White House press secretary Kayleigh McEnany says President Trump will hold a news conference Monday evening at the same time as a coronavirus task force briefing had been scheduled and then canceled.
"The White House has additional testing guidance and other announcements about safely opening up America again. President @realDonaldTrump will brief the nation during a press conference this evening," McEnany said in a tweet, after teasing the expanded guidelines and new focus earlier this morning.
McEnany told White House reporters this morning there will be no briefing today, despite it appearing on the president and vice president's schedules, pointing to an afternoon meeting with industry executives instead.
"We're not tracking a briefing for today because there will be a press avail at 4 p.m. with the president and retail CEOs. There will be some briefings later in the week. They might have a new look to them, a new focus to them," she said.
"I don't want to get ahead of the announcement, but I would not read into that anything that we see them as negative because, in fact, we think that they have been a very positive, helpful opportunity for the president to speak to the American people," McEnany added.
McEnany told Fox News earlier that there was "absolutely not an effort to cut back" on the number of task force briefings -- but rather "an effort to showcase the American people the great entrepreneurship of this president."
"We're looking at different ways to showcase this president leading," McEnany said. "The briefing's a key component of that."
Trump will "absolutely" attend future briefings, although she noted future briefings "may have a different look." She did not elaborate.
"Make no mistake," she said. "The president will be briefing the American people this week."
Her insistence comes after reports that the White House is shifting its focus from health statistic to the economy and that the president will make fewer, shorter appearances at the briefings.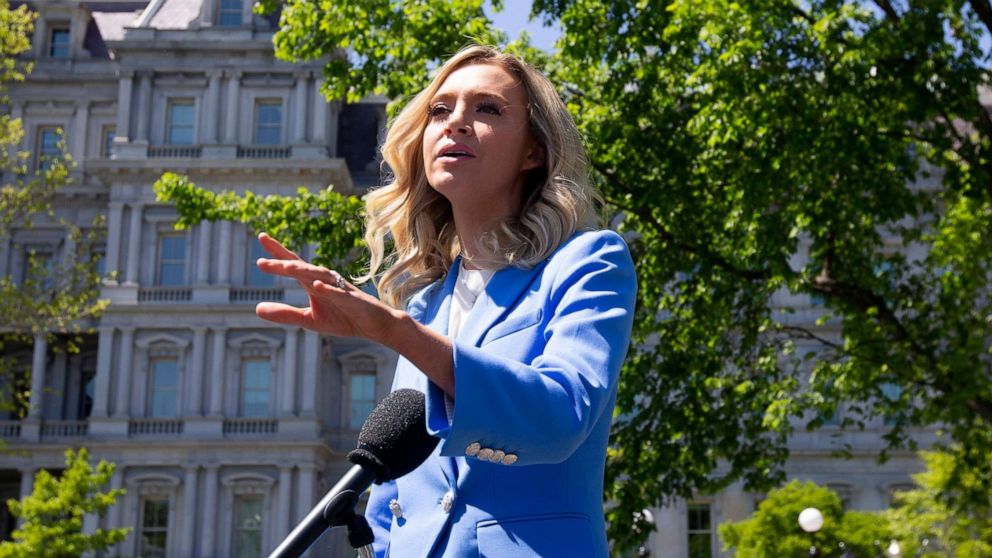 The Washington Post reported earlier Monday that the White House is finalizing expanded guidance for businesses as states look to reopen their economies.
Another White House official confirmed to ABC News that the possibility of issuing expanded guidelines is being discussed within the task force but would not confirm the specific document reported on by the Post.
The official further cautioned that there is an active internal debate about whether the White House should issue additional formal "guidelines." Since it is ultimately up to the states to determine the specifics for reopening, there is talk of doing a less formal release of suggestions for states that businesses can follow.
-- ABC News' Jordyn Phelps and Ben Gittleson
10,000 IRS employees return to offices to deal with backlogs
Roughly 10,000 employees of the Internal Revenue Service are going back to work Monday to handle a growing backlog of work amid the pandemic -- and were asked to bring their own face masks or coverings with them, according to a leaked memo to agency employees sent Friday.
The House Ways and Means Committee, which obtained and published the internal email, explained the IRS is bringing back certain employees for "mission-critical work" they can't complete while teleworking but shamed the agency for not providing the essential protective gear.
"It is understandable that in carrying out its mission during a crisis, the agency would require some employees to report back to work during perilous times. However, it is completely irresponsible and unethical for the IRS to demand those workers obtain their own protective equipment -- this is the responsibility of the federal government to its workers," Reps. Richard Neal, D-Mass, and John Lewis, D-Ga. said in a statement Saturday.
-- ABC News' Matthew Vann
What to know about Coronavirus: