Democratic advantage for '18 might not be what it seems (POLL)
A Democratic advantage in 2018 fades to insignificance among likely voters.
November 6, 2017, 12:00 AM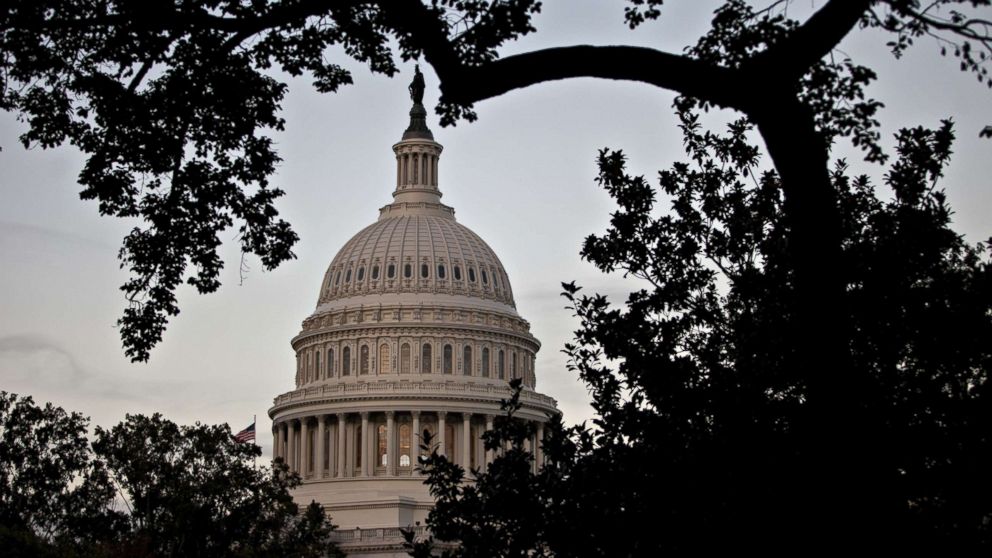 — -- A Democratic advantage in preference for the 2018 midterm elections fades to insignificance among the most likely voters in the latest ABC News/Washington Post poll, signs of the Democrats' enduring challenges in turning out their voters in off-year contests.
In a hypothetical national ballot, Democratic congressional candidates hold a robust 11-point lead over their GOP counterparts, 51-40 percent, among registered voters overall. But winnow down to those who say they voted in the last midterms and are certain to do so again and the contest snaps essentially to a dead heat, 48-46 percent.
See PDF with full results here.
That's in part because the 2014 midterms were so successful for the Republicans, who won the Senate and padded their House majority that year. But past voting is the best predictor of future voting, making it clear that the Democrats will have to change the dynamic to prevail in the next midterms a year off from now.
It may not be easy. For one thing, despite President Donald Trump's historic unpopularity, almost as many Americans say they'll vote in 2018 to show support for Trump as to show opposition to him, 22 versus 26 percent, with half saying he won't be a factor. Indeed 57 percent of Republicans say they'll vote to show support for Trump, while fewer Democrats, 46 percent, intend to send a message against him.
Further, among the results of this poll, produced for ABC News by Langer Research Associates:
Just 27 percent of Americans express confidence in the Democrats in Congress "to make the right decisions for the country's future," matching the low set when the question last was asked January 2014, and a wide 16 points below its peak in 2009. The Democrats' confidence rating is almost as poor as the Republicans' in Congress (21 percent trust) and worse than Trump's (34 percent).
The main change for congressional Democrats from their peak in 2009, moreover, is diminished trust in some of their key support groups -- under 30s (down 27 points in trust), Democrats themselves (down 26 points) and liberals (down 21 points).
The Democratic Party leads the GOP among all Americans as being "more concerned with the needs of people like you" (49-36 percent) and as "better representing your own personal values" (46-37 percent). But the Democrats had advantages that big on these same questions in October 2014, and still got hammered a few weeks later.
Indeed today, the Democratic lead on concern with "the needs of people like you" shrinks from 13 points among all adults to a mere 3 points among those most likely to vote in 2018. And the 9-point Democratic advantage on personal values among all Americans goes to a non-significant 3-point Republican advantage among the likeliest 2018 voters.
Similarly, the Democrats enjoy an 11-point advantage among all adults in the sense that the country would be better off if they took control of Congress in a year's time, 37-26 percent. Among the likeliest voters, though, this shrinks to essentially nothing, 2 points.
The Democrats' counterargument is that 2018 won't be a rerun of 2014, so limiting likely voters to those who reported voting four years ago distorts the results. And it's true that the Democrats do far better (a 13-point lead in the generic ballot) among registered voters who say they're certain to vote in 2018, without requiring a self-reported 2014 vote. But that produces a turnout estimate of 59 percent, much higher than typical for a midterm. Including 2014 vote produces a 49 percent turnout estimate, still high, but less so. (Turnout in 2014 was a record-low 37 percent of the voting-age population, per the website electproject.org. Estimates can run higher in polls because socially and politically engaged people are more apt than others to participate in them.)
Much of the Democratic disadvantage is built in. Some of their strongest supporters are young Americans, but only 68 percent of 18- to 29-year-olds report being registered to vote, compared with 92 percent of those age 50 and up, a better group for the Republicans. Similarly, 72 percent of nonwhites report being registered, versus 88 percent of whites. Partly reflecting these differences, self-reported registration ranges from 79 percent among independents to 86 percent among Democrats, while peaking at 91 percent among Republicans.
These gaps carry over into 2018 voting scenarios. The share of 18- to 29-year-olds goes from 21 percent among all adults to 18 percent among registered voters and 10 percent among those likeliest to vote in 2018. The share of whites in these groups goes from 64 to 68 to 73 percent, respectively. The share of Democrats is essentially level, about 32 percent, while the share of Republicans goes from 23 to 25 to 29 percent.
Trump effect?
While Trump's unpopularity presents an opportunity for the Democrats, it's currently far from crystallized. In July, Americans said they were more likely to show opposition to Trump in 2018 than to show support for him by a 6-point margin; now it's 4 points. The change itself isn't large enough to be meaningful, but July's 6-point gap was statistically significant, while the new 4-point gap isn't.
Further, Trump supporters, while fewer in number, show higher levels of motivation. Among those who approve of his performance in office, 59 percent say they'll vote in 2018 to show support for him; among his 2016 voters, 61 percent say so. But contrast, many fewer Trump critics say they'll cast a ballot in 2018 to show opposition to the president -- 43 percent of his disapprovers, and 49 percent of Hillary Clinton voters.
There is, at the same time, the wildcard of potential anti-incumbency. While it's typically a more potent force in bad economic times, 60 percent of Americans overall say they're inclined to look around for someone new in their congressional district. That's down from a peak of 68 percent in March 2014, and it slips to 55 percent among the likeliest 2018 voters, but still may bear watching in the campaign year ahead.
Methodology
This ABC News/Washington Post poll was conducted by landline and cellular telephone Oct. 29-Nov. 1, 2017, in English and Spanish, among a random national sample of 1,005 adults, including 884 registered voters. Results have a margin of sampling error of 3.5 and 4 percentage points for the full sample and registered voters, respectively, including the design effect. Partisan divisions for the full sample are 31-23-38 percent, Democrats-Republicans-independents.
The survey was produced for ABC News by Langer Research Associates of New York, N.Y., with sampling, data collection and tabulation by Abt Associates of Cambridge, Massachusetts. See details on the survey's methodology here.