— -- Sen. Al Franken is set to make an announcement Thursday, according to his office, as more than a dozen Democratic senators called on him today to resign amid multiple allegations of sexual misconduct.
At least 38 senators have called for Franken's resignation, including Kirsten Gillibrand of New York, Mazie Hirono of Hawaii, Maggie Hassan of New Hampshire, Kamala Harris of California, Patty Murray of Washington, Tammy Baldwin of Wisconsin and Claire McCaskill of Missouri.
Senate Minority Leader Chuck Schumer said the Minnesota Democrat should step down immediately.
"Senator Franken should resign," Schumer said. "I consider Senator Franken a dear friend and greatly respect his accomplishments, but he has a higher obligation to his constituents and the Senate, and he should step down immediately."
A Democratic source on Capitol Hill familiar with the developments told ABC News that some of the female Democratic senators have been in contact for quite some time regarding the path forward for Sen. Franken. Today's action was a result of mounting frustrations over the increasing number of accusations.
Sen. Bob Casey, D-Penn. was the first male senator to join his female colleagues in calling for Franken to step down, and since then, Sen. Joe Donnelly, D-Ind, Sherrod Brown, D-Ohio, Ed Markey, D-Mass., Michael Bennet, D-Colo., Dick Durbin, D-Ill, among others, joined those calls.
Tom Perez, the chairman of the Democratic National Committee, also said Franken should step down.
Franken has denied some of the allegations and apologized for others made against him. During a press conference last week outside his Senate office, Franken said he would be "more careful in these encounters or in these situations" but that he would not resign.
"So, I have spent a lot of time reflecting on Senator Franken's behavior. Enough is enough. The women who have come forward are brave and I believe them," Sen. Gillibrand said in a Facebook post.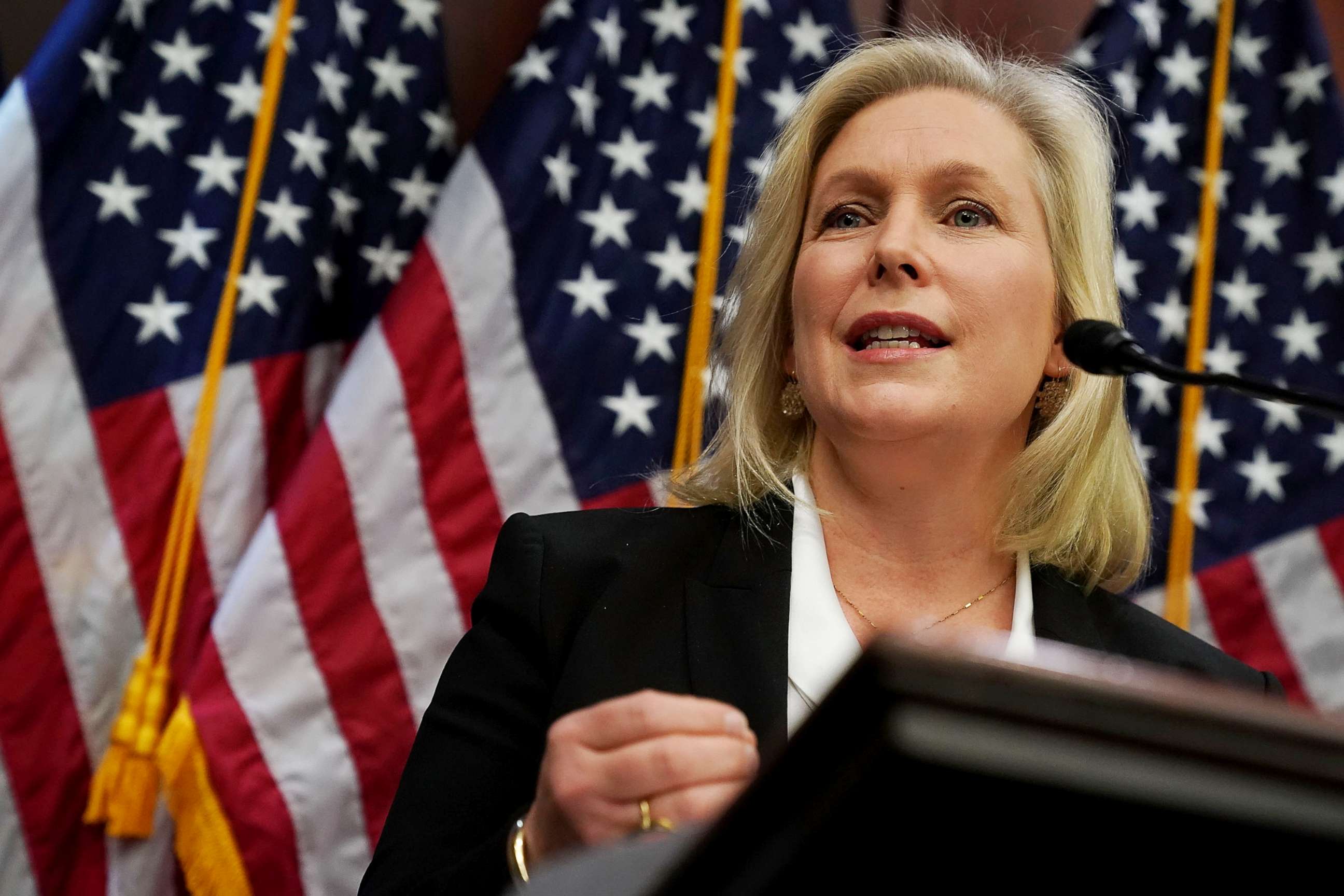 Gillibrand said she also expects there will be more allegations of sexual assault against Congressional members.
"In politics, of course, the problem of sexual harassment and sexual assault is not limited to any one party. There have been Democrats and Republicans accused of misconduct, and I have no doubt that there will be more because Congress is not immune to this scourge," she wrote.
"It is clear that Al Franken has engaged in a pattern of egregious and unacceptable behavior toward women, and he should resign. We are experiencing a sea change in our culture that is long overdue, and we must continue working to empower all women and do everything we can to prevent sexual harassment, misconduct, and assault," Sen. Hassan said in a statement Wednesday.
The push for Franken to resign comes after another anonymous woman told Politico Wednesday that Franken attempted to forcibly kiss her in 2006 after a taping of his radio show and said, "'It's my right as an entertainer.'"
ABC News has not independently verified the anonymous woman's account.
Franken denied the allegation as "categorically not true" and "preposterous."
"This allegation is categorically not true and the idea that I would claim this as my right as an entertainer is preposterous," Franken said in a statement Wednesday.
The Minnesota Democrat, who's served in the Senate since 2009, said he looks forward to "fully cooperating" with the ongoing Senate Ethics Committee investigation into the allegations.
The former Democratic aide's story mirrors that of Los Angeles radio host Leeann Tweeden, who was the first to go public with her allegation in November.
Tweeden accused Franken of forcibly kissing her in 2006, while they were practicing a skit as part of a U.S.O tour to entertain U.S. troops in Afghanistan. During the time of the alleged incident, Franken was a well-known comedian, famous for being a cast member on the comedy sketch show "Saturday Night Live." Tweeden also said Franken groped her without consent while she was sleeping. She released a photograph of Franken appearing to place his hands on her chest while she was sleeping on a military plane on their return trip from the USO tour.
Franken apologized to Tweeden but said that he didn't remember the rehearsal for the skit in the same way.
Since Tweeden, at least six other women have accused Franken of inappropriate behavior. Of the seven women making accusations against Franken, four have asked to remain anonymous.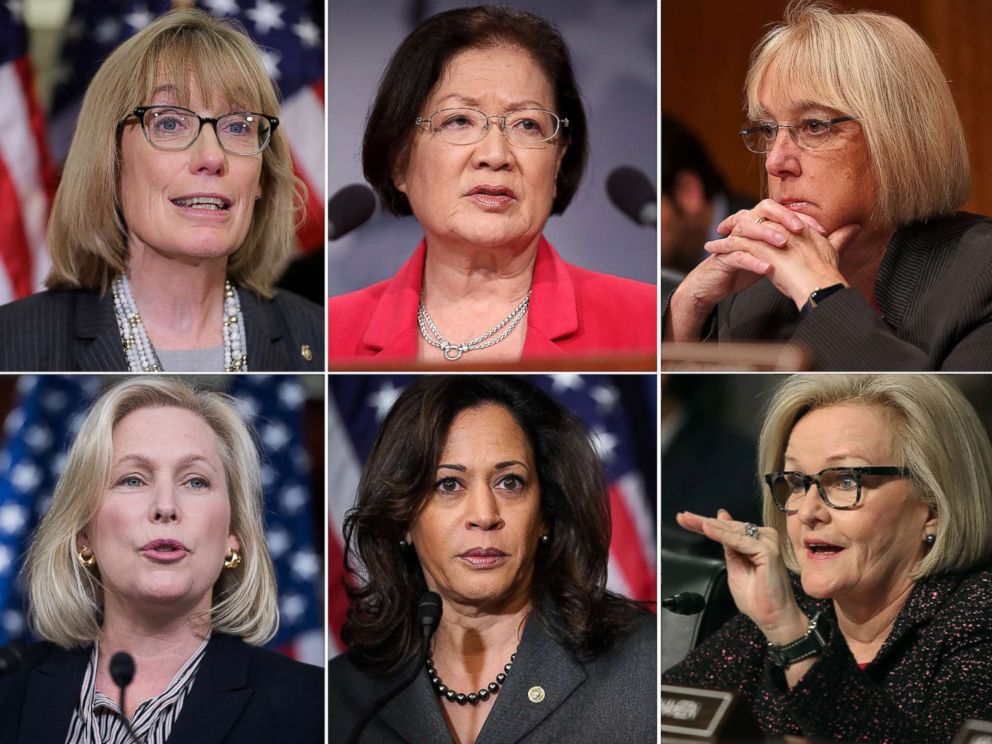 Before the female senators, a few House Democrats, including House Democratic Caucus Chair Joe Crowley, D-N.Y., had already called on Franken to resign.
Another woman, Lindsay Menz, alleged Franken grabbed her backside while taking a photo at the Minnesota state fair in 2010.
"My husband steps away from us to take the photo. I stand next to Sen. Franken and he pulls me into him and then he moves his hand to my butt," Menz, 33 told ABC News last month. "I was shocked."
She added, "I was surprised and kind of wondering, did that really just happen?"
After reports of multiple women recalling similar incidents, Franken released a statement saying, "I've met tens of thousands of people and taken thousands of photographs, often in crowded and chaotic situations. I'm a warm person; I hug people. I've learned from recent stories that in some of those encounters, I crossed a line for some women -- and I know that any number is too many.
The list of senators calling for Franken to resign includes:
Tammy Baldwin, D-Wis.
Michael Bennet, D-Colo.
Sherrod Brown, D-Ohio
Maria Cantwell,D-Wash.
Tom Carper, D-Del.
Bob Casey, D-Penn.
Corey Booker, D-N.J.
Susan Collins, R-Maine
Joe Donnelly, D-Ind.
Tammy Duckworth, D-Ill.
Dick Durbin, D-Ill.
Dianne Feinstein, D-Calif.
Deb Fischer, R-Neb.
Kirsten Gillibrand, D-N.Y.
Kamala Harris, D-Calif.
Maggie Hassan, D-N.H.
Martin Heinrich, D-N.M.
Heidi Heitkamp, D- N.D.
Mazie Hirono, D-Hawaii
Angus King, I-Maine (caucuses with Democrats)
Patrick Leahy, D-Vt.
Ed Markey, D-Mass.
Claire McCaskill, D-Mo.
Jeff Merkley, D-Ore.
Lisa Murkowski, R-Alaska
Chris Murphy, D-Conn.
Patty Murray, D-Wash.
Gary Peters, D-Mich.
Bernie Sanders, I-Vt. (caucuses with Democrats)
Chuck Schumer, D-N.Y.
Debbie Stabenow, D-Mich.
Jon Tester, D-Mo.
Tom Udall, D-N.M.
Elizabeth Warren, D-Mass.
Sheldon Whitehouse, D-R.I.
Ron Wyden, D-Ore.
ABC News' Mary Bruce contributed to this report.