With the wars in Iraq and Afghanistan straining the military, the dismal economy has been a boon for its recruiters.
Military recruiter Sgt. 1st Class Llorito Todd, from Roland Heights, Calif., can attest to that.
"Nowadays everyone is coming to us, asking us about information about joining the Army," he said.
For the first time since the military became an all-volunteer force in 1973, all the services have met their goals for both numbers and quality of recruits in the 12 months ending Sept. 30.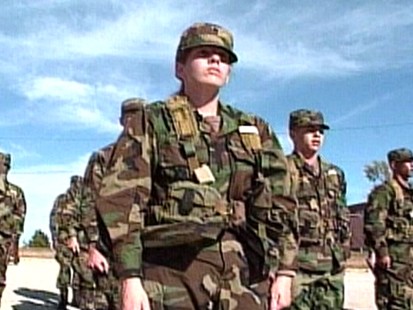 "As unemployment goes up, then each employer who is hiring gains some advantage," said Bill Carr, the deputy undersecretary of defense for military personnel policy.
According to the Bureau of Labor Statistics, national unemployment is at 9.8 percent -- a 26-year high.
But for those in the Pentagon's prime recruiting age, it's much worse. Unemployment for 18- and 19-year-olds is 24.2 percent. For men of that age, it's even higher -- 28.3 percent.
Those might be bad numbers from an economic standpoint, but they translated into big gains for the military.
The Army had 70,045 new recruits, making 108 percent of its 65,000 goal. The Navy surpassed its goal of 35,500 recruits by 27, the Marine Corps beat its goal of 31,400 by 13, and the Air Force just topped its goal of 31,980 by three.
Besides the pure numbers, the recruiting class is also the best in years in terms of test scores. This year 96 percent of the recruits for the active-duty force had a high school diploma, the highest number since 1996.
On the military's math-verbal aptitude test, 73 percent scored above average, the best showing since 2004.
'With the Army, You're Sure of a Paycheck'
Army recruit David Quintero said he tried civilian life after a stint in the Navy. But with few other prospects, he decided to join the Army.
"It's pretty tough -- really tough," he said. "With the Army, you're for sure going to get a paycheck every two weeks. There's a lot of security and stability. ... It's a big deal."
For many high school students, a few years in a uniform is looking better than the alternative -- especially when the alternative is a few years on mom and dad's couch.
"I think mom and dad would prefer them in uniform," joked high school guidance counselor Akon Otoyo.
At West Potomac High School in Alexandria, Va., she said she definitely sees more interest in the military from students.
Military Recruiting Class Best in Years
After lowering standards in recent years to let in more recruits -- including those with low test scores and even criminal records, the Pentagon is finding the young Americans now flocking to local recruiting offices aren't just more numerous -- they're more qualified.
For example, the Army's high school degree graduate number was 94.7 percent, nearly an 11 percentage point improvement over last year.
Last year, 3 percent of the Army recuiting class were so-called Category 4 recruits -- the lowest aptitude scorers who are allowed in. The Defense Department has a limit of 4 percent per recruiting class. This year that number decreased to 1.5 percent.
Of the 32,000 recruits waiting in the Army pipeline, 99 percent have high school degrees and just 0.3 percent are Category 4s.
Army moral conduct waivers were also down 37 percent overall. Last year, the Army allowed in 370 recruits with major misconduct waivers; this year those numbers trended downward to 220.
ABC News' Luis Martinez contributed to this report.