—RADFORD, Va. -- Donald Trump declined to comment on the recent controversy over former Ku Klux Klan leader David Duke during a campaign stop in Virginia today, but he did get into a verbal scuffle with protesters.
The Republican presidential candidate was interrupted about five times, once by a large group of black students and by a young female protester.
"Are you from Mexico?" Trump asked a young woman at Radford University in Virginia.
His supporters were quick to react, booing the woman as she was escorted out.
"Right smack in the middle of my punchline," Trump lamented to the crowd.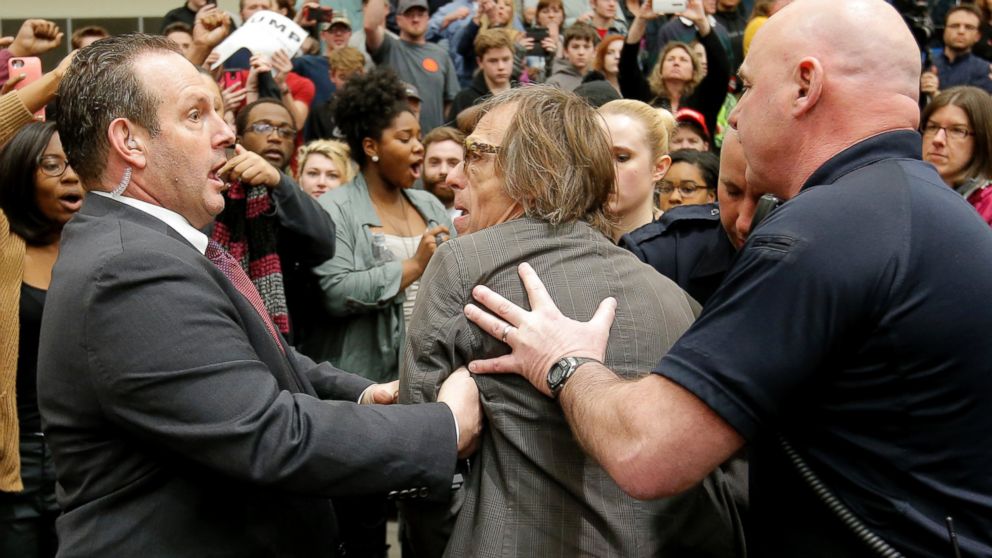 Later, a photographer from Time magazine, Chris Morris, was roughed up by a Secret Service agent as the press rushed to film protesters. Morris was not arrested and told ABC News the agent put his hands on him first.
Despite the interjections from angry protesters, Trump wasted no time in speaking about his big lead in the latest CNN poll. The New York real estate mogul hit 49 percent support in the national poll released today.
"So you know CNN just released a poll an hour ago. And it even surprised me," he quipped, adding, "I'll tell you. Just came out. Trump, 49 percent. Just came out. Oh, it's too bad. Gee, that's too bad. I'm looking at little Marco Rubio, 16 percent. Lying Ted Cruz, 15 percent. Carson, 10 and Kasich, 6 percent."
Trump also took a few more jabs at Florida Sen. Marco Rubio, calling him a "Little Marco," "robot," "lightweight" and a "choke artist."