Donald Trump Launches Verbal Food Fight Over John Kasich's 'Disgusting' Eating Habits
The campaigns exchanged barbs over table manners today.
— -- A verbal food fight is breaking out between Donald Trump and Ohio Gov. John Kasich.
While Trump had coined nicknames and thrown insults at other rivals like Sens. Ted Cruz and Marco Rubio far earlier on the campaign trail, the real estate mogul went low and attacked Kasich's table manners today.
"I have never seen a human being eat in such a disgusting fashion," Trump said of Kasich at an event in Rhode Island. "I'm always telling my young son Barron, I'm saying and I always do it with my kids. ... I would say, 'Children, small little bites.'"
"This guy takes a pancake and he's shoving it in his mouth. It is disgusting. Do you want that for your president? I don't think so, I don't think so. Honestly it's disgusting,"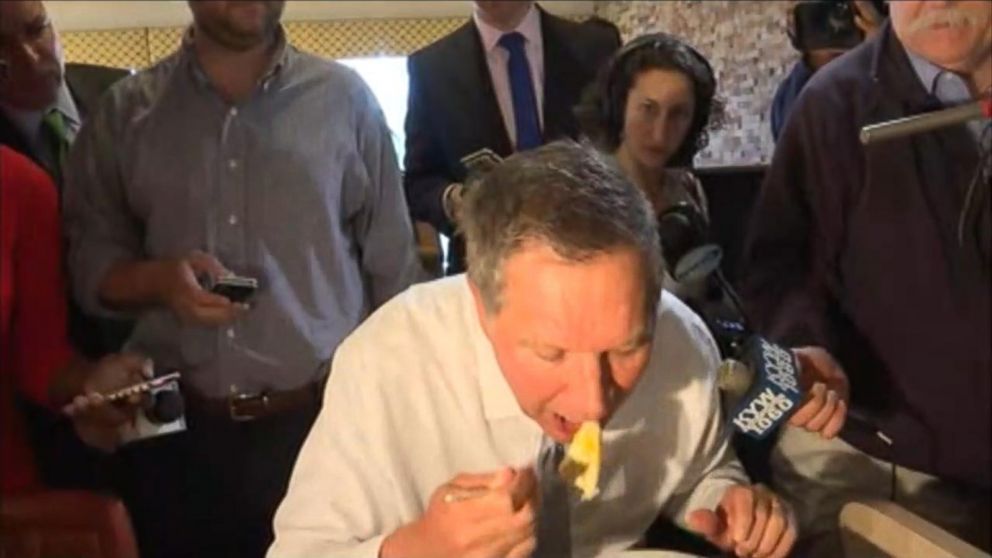 Trump's gripes must be at least a few days old, since Kasich was pictured eating eggs and fruit today at a diner in Pennsylvania.
Kasich's spokesman Chris Schrimpf steered clear of the syrup-slinging in his response.
"Day in and day out Donald Trump demonstrates why he loses to Hillary Clinton in every poll and why he would give Democrats control of the White House, the Senate and the Supreme Court," Schrimpf told ABC News. "John Kasich on the other hand runs 30 points ahead of him in New Hampshire and over 15 points ahead of him in Pennsylvania. He is the only Republican who can defeat Hillary Clinton."
This is not the first time that Kasich's eating habits have been discussed on the campaign trail, but it may be the first time that he wasn't the one to start it.