— -- Donald Trump's comment that Hillary Clinton doesn't have "a presidential look" is seen by some as the Republican presidential nominee's latest knock on a woman's appearance.
During an interview with ABC News in Ohio Monday, Trump said, "I really do believe that" Clinton doesn't look the part.
"I just don't believe she has a presidential look, and you need a presidential look," he told ABC News anchor David Muir.
When pressed for specifics, Trump avoided giving any, saying, "I'm talking about general."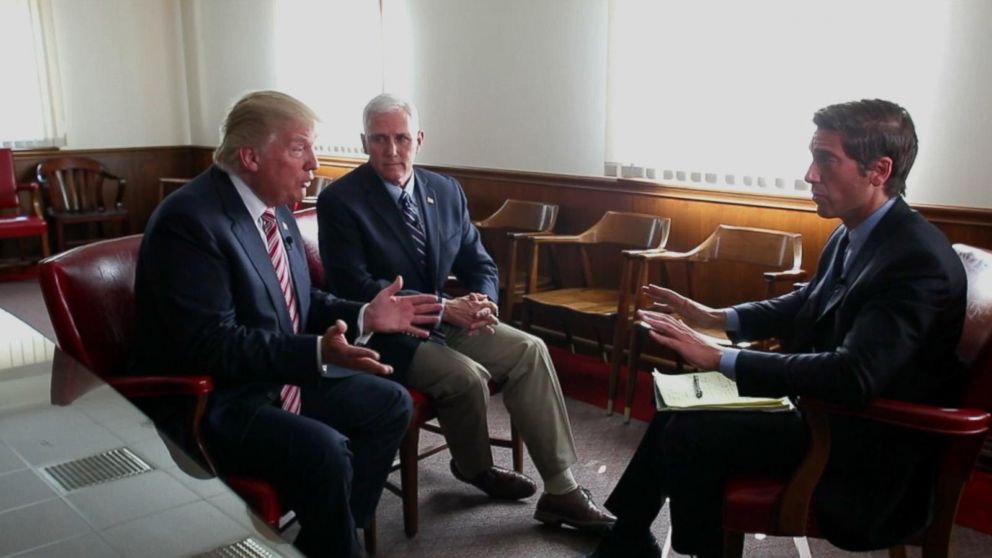 This isn't the only time that Trump has talked about other candidates' appearance during this campaign. In one of the most notable cases, he talked about another female candidate, Carly Fiorina, before she dropped out of the Republican Party primaries.
During an interview last year for a September 2015 Rolling Stone cover story, he said, "Look at that face" when a camera zoomed in on Fiorina, according to the magazine. "Would anyone vote for that? Can you imagine that, the face of our next president?!"
Trump followed up in other interviews, saying he was talking about her persona and not her appearance. But she made it clear at the next Republican prime-time debate that she wasn't buying it.
"Women all over this country heard very clearly what Mr. Trump said," she said.
He has given other candidates one-word nicknames, and while his choice of "li'l" for Sen. Marco Rubio could be interpreted as a reference to his appearance, Trump has not specifically talked about any male candidates' looks.
EMILY's List, a PAC dedicated to supporting pro-abortion-rights Democratic female candidates, sent out an email to supporters today, saying Trump's comments are "'gender card' politics, plain and simple."
"You don't have to look too far to see — Donald Trump has been judging women's looks for years, calling women 'bimbos,' 'fat pigs,' 'slobs,' 'dogs,' 'disgusting animals,' 'flat-chested' and 'no longer a 10,'" the email reads.
Victoria Budson, the founder and executive director of the women and public policy program at the Harvard Kennedy School of Government, said Trump has been using talk about appearances as a distraction.
"Between Carly Fiorina and the women in the press, we have seen a consistency in negative remarks about appearance, and each time, it's drawing attention away from the importance of the issues," Budson told ABC News.
"Historically, discussion of women's appearance, dress, marital status and whether or not they have children have often been used as distractions to try to move voters away from a focus on female candidates' platforms," she added.
"As [former Texas Gov.] Ann Richards often said, people often prefer to discuss 'hair, hemlines and husbands,' and I think when the conversation moves there, the opponent doesn't want the real conversation of the business of the American people to be the focus."