— -- President Donald Trump delivered his first address to a joint session of Congress Tuesday night, addressing a host of familiar themes from his campaign and calling for unity to address a litany of issues that he says are plaguing the country.
Trump's call for an end to the "pure unadulterated division" and "trivial fights" comes in the wake of a bruising campaign and a tumultuous start to his presidency, squaring off against critics as well as waging a pitched battle against the media. The speech also comes amid a flurry of questions about alleged contacts between Trump associates and suspected Russian officials, which the president has derided as "fake news."
"The time for small thinking is over," Trump said. "The time for trivial fights is behind us. We just need the courage to share the dreams that fill our hearts. The bravery to express the hopes that stir our souls. And the confidence to turn those hopes and those dreams into action."
Trump began the address by condemning the recent threats against Jewish centers and a suspected hate crime in Kansas. The president had drawn fire for not immediately addressing the Jewish Community Center incidents and not making public comments about the fatal Kansas shooting until tonight's speech.
"Recent threats targeting Jewish community centers and vandalism of Jewish cemeteries as well as last week's shooting in Kansas City remind us that while we may be a nation divided on policies, we are a country that stands united in condemning hate and evil in all of its very ugly forms," Trump said.
One of the most emotional moments -- and possibly the longest standing ovation of the speech -- came when Trump praised Carryn Owens, the widow of Senior Chief William "Ryan" Owens who died in a raid in Yemen. The moment has been a political hot point since Owens' father Bill Owens and Sen. John McCain criticized the president's choice to execute the mission. but Trump used the speech to call it "a highly successful raid."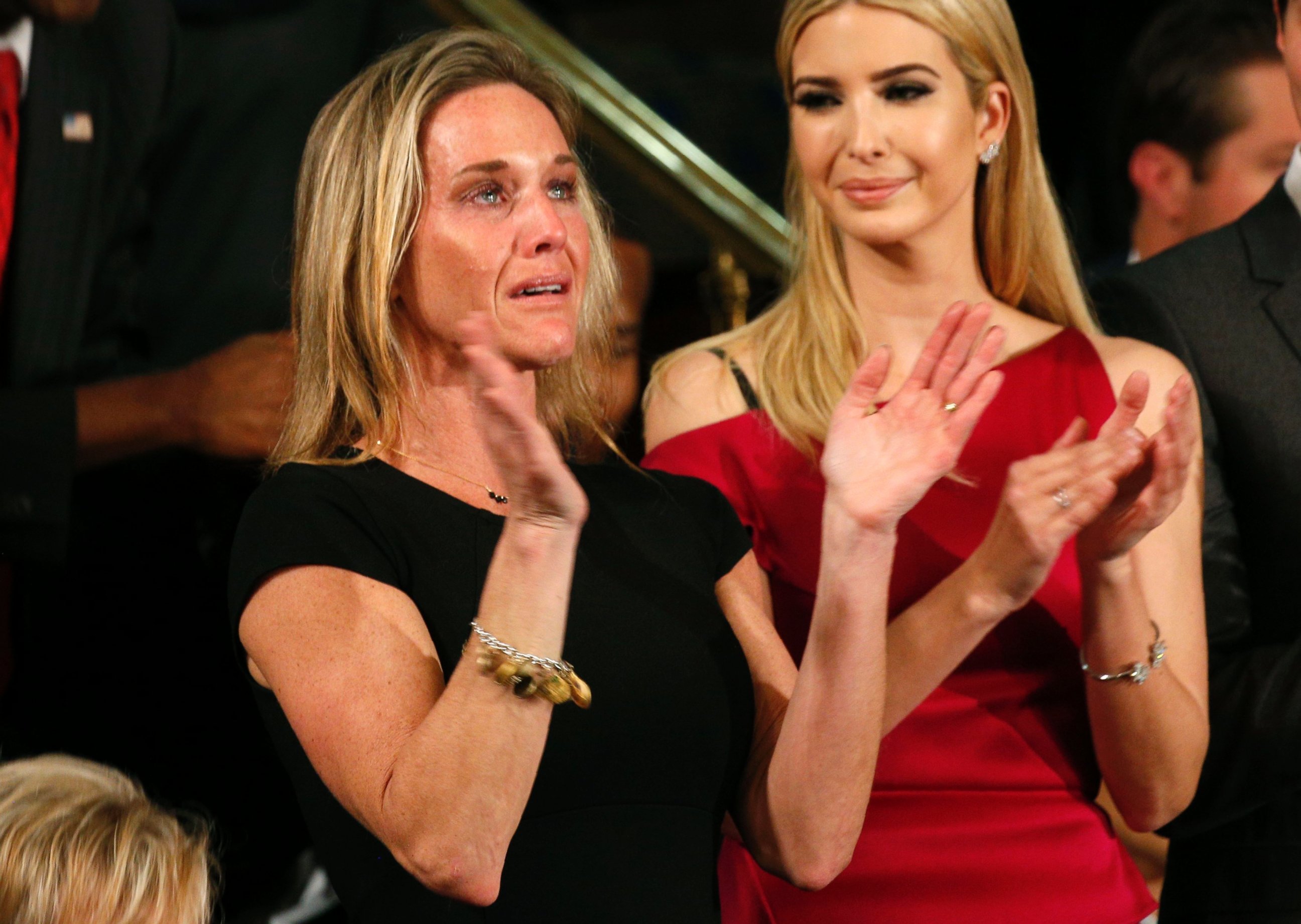 During the speech, Trump revisited what he called the movement that propelled him into the White House.
"In 2016, the earth shifted beneath our feet," he said. "The rebellion started as a quiet protest, spoken by families of all colors and creeds -– families who just wanted a fair shot for their children, and a fair hearing for their concerns. But then the quiet voices became a loud chorus -- as thousands of citizens now spoke out together, from cities small and large, all across our country."
"Above all else, we will keep our promises to the American people," Trump said.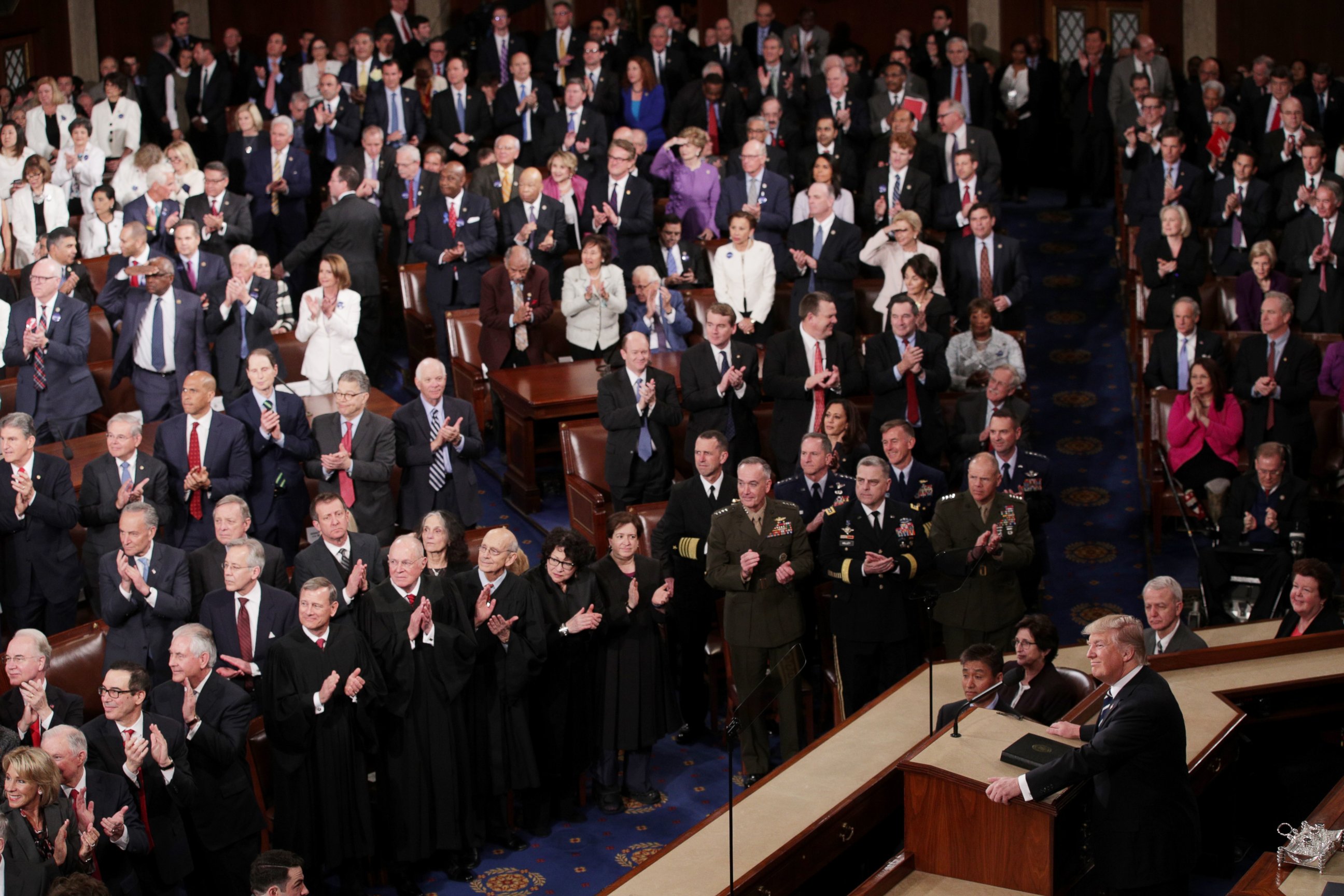 Trump ran through a series of his biggest campaign promises during much of the speech, giving updates on what he and his team plan to do about them. He talked about how "we will soon begin the construction of a great, great wall along our southern border," and later talked about plans for "a new program of national rebuilding."
His call for Congress to repeal and replace Obamacare was met with one of the loudest responses, with Republicans standing while some Democrats were seen giving a thumbs down.
He made a push for unity later in the speech, saying that "everything that is broken in our country can be fixed."
"Every problem can be solved. And every hurting family can find healing, and hope. Our citizens deserve this, and so much more – so why not join forces and finally get the job done? And get it done right. On this and so many other things, Democrats and Republicans should get together and unite for the good of our country, and for the good of the American people," he said.
Trump touched on paid family leave, the need to make childcare more affordable, an effort to promote clean air and water -- all issues that his daughter Ivanka has reportedly championed -- as areas where Republicans and Democrats could work together, along with rebuilding the military and the country's infrastructure.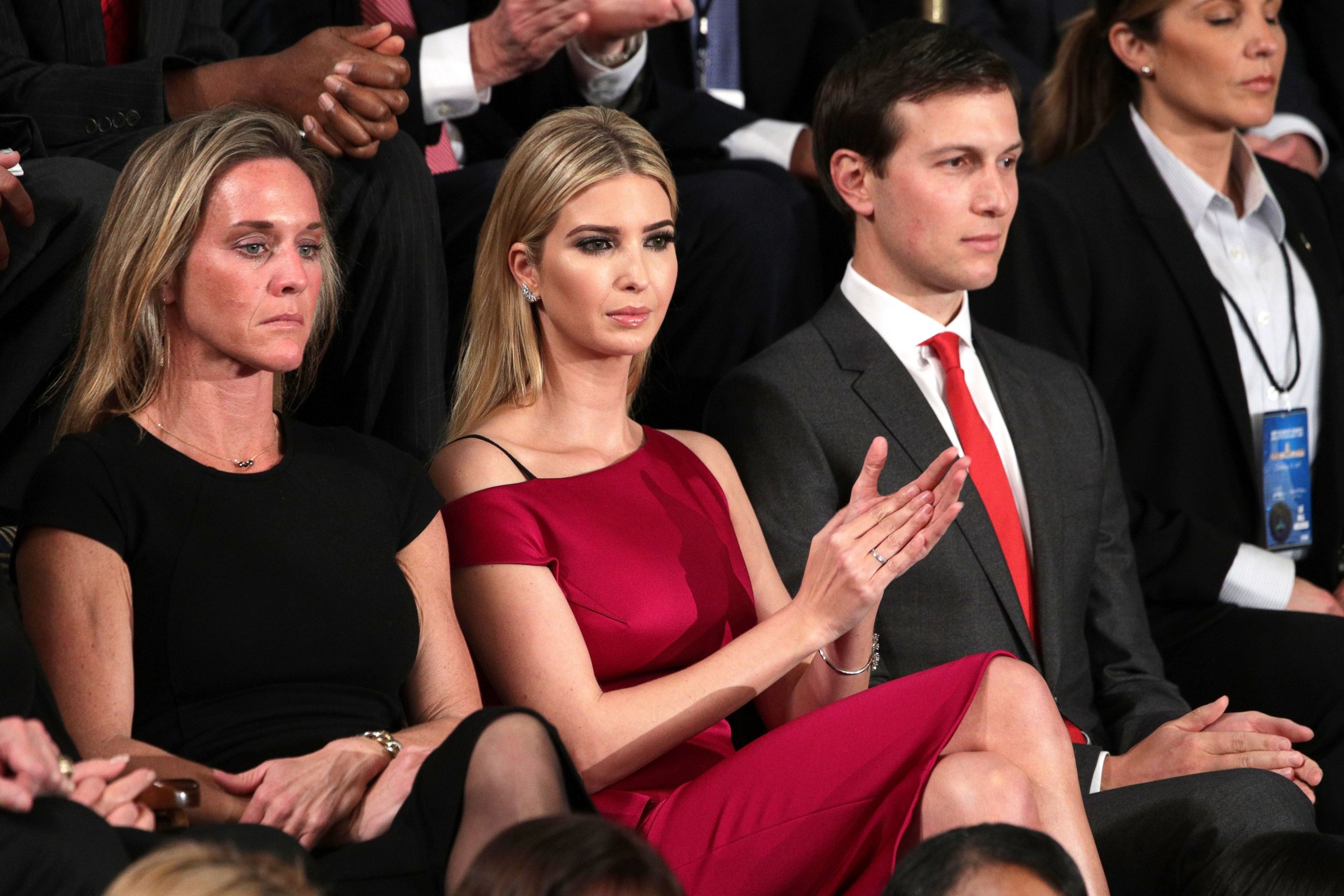 He went on to call education "the civil rights issue of our time" before asking Congress to fund an education bill that allows children school choice.
"Our children will grow up in a nation of miracles. But to achieve this future, we must enrich the mind – and the souls – of every American child," he said.
While Trump did talk about his administration's plans to build a "great, great" wall, a regular theme of his campaign, he did not talk about who would pay for it; he said regularly during the campaign that Mexico would pay for the wall and he has since wavered about when and by whom those payments would be made.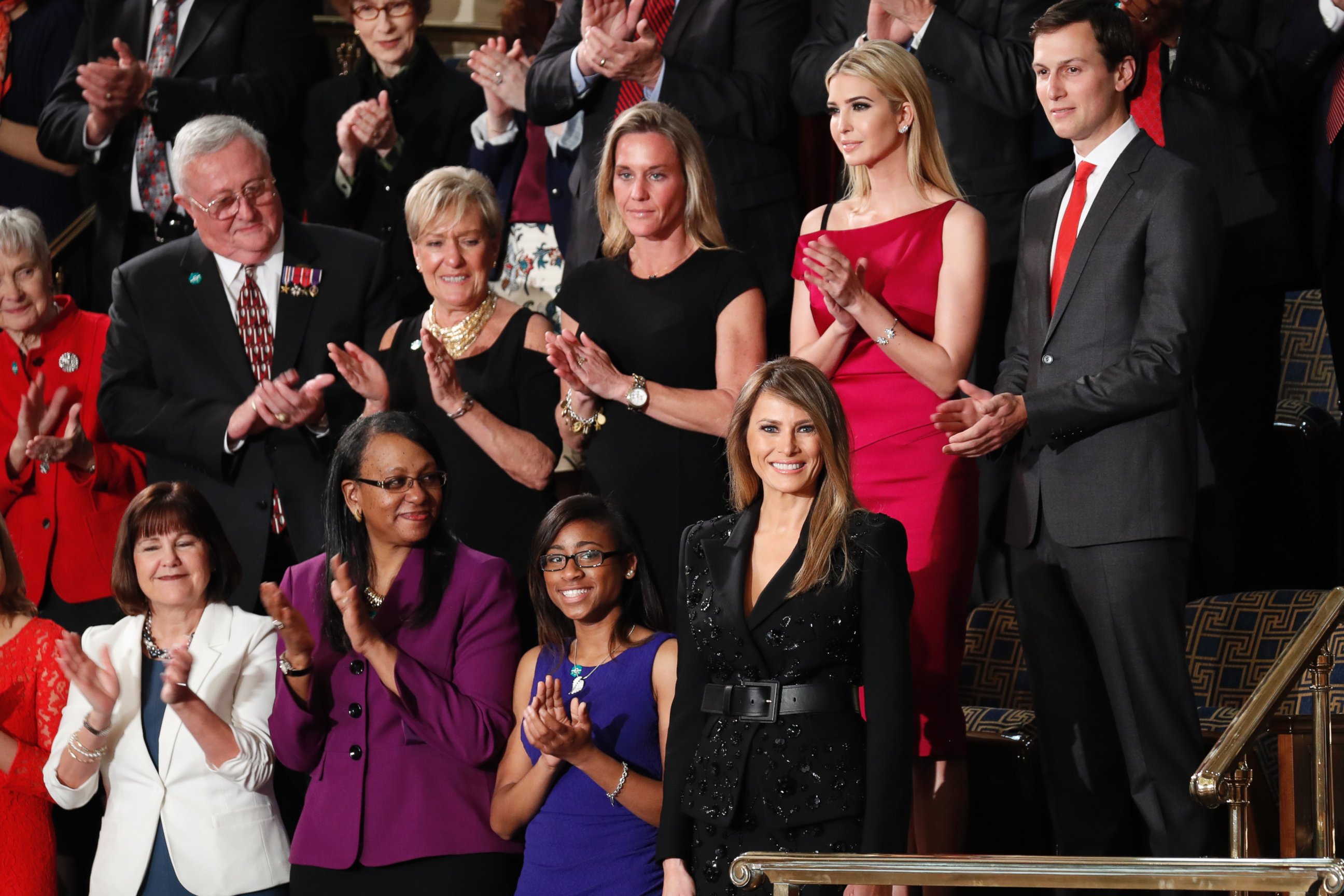 First Lady Melania Trump attended the speech along with hand-picked guests, including Maureen Scalia, the widow of late Supreme Court Justice Antonin Scalia. Trump's eldest daughter, Ivanka, and her husband Jared Kushner, who is a senior advisor to the president, were also seated in the first lady's box.
A group of female House Democrats all chose to wear white in an act of support for women's rights. Their sartorial choice was particularly noticeable because they all sat together in the chamber.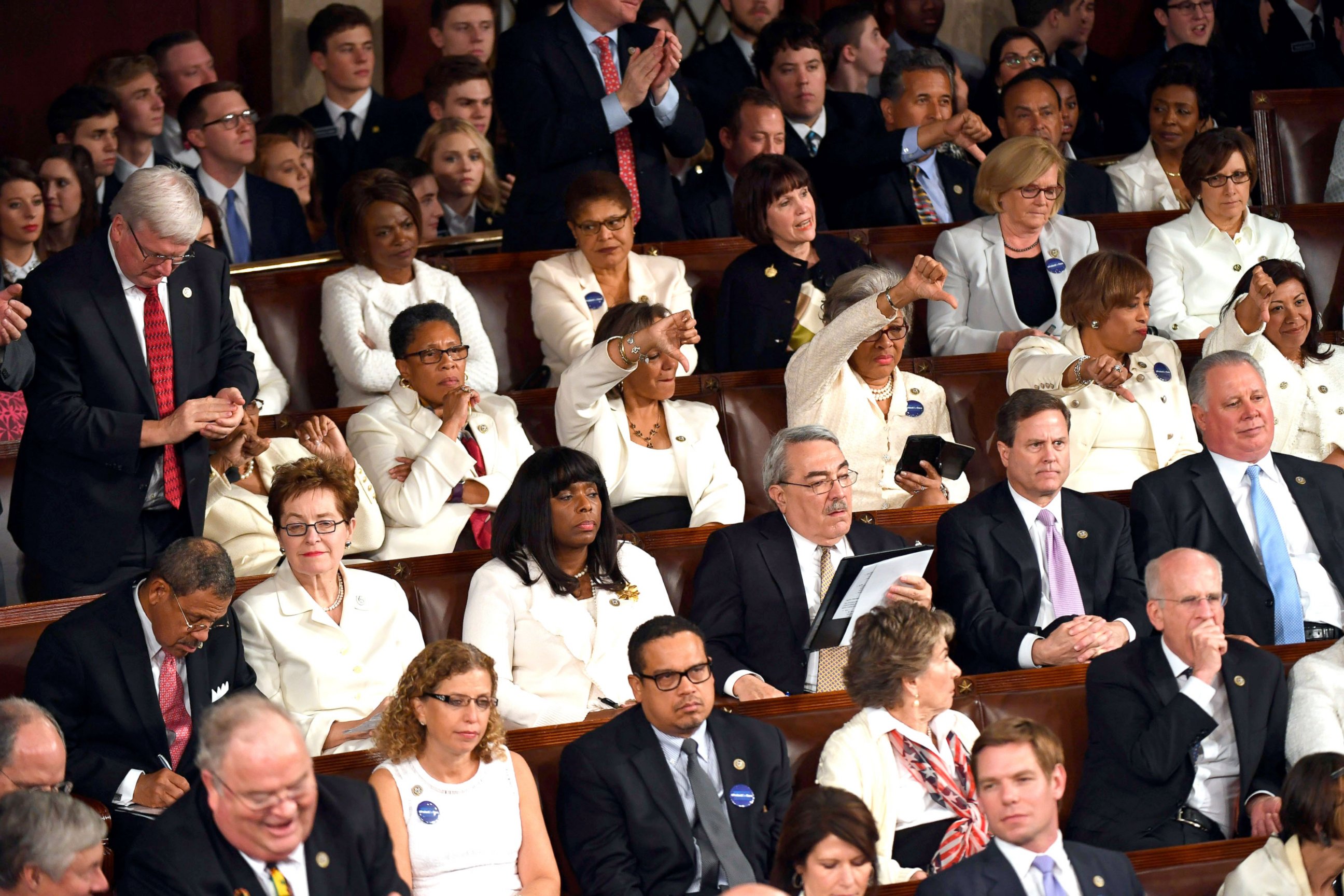 On Monday, Trump's team sent out an email to supporters asking for their "input on the direction of our country" before what they called his State of the Union address.
The email called the speech "his biggest speech to date."
Trump's first 100 days
President Donald Trump wrapped up his first 100 days in office with a campaign rally at the Pennsylvania Farm Show Complex and Expo Center in Harrisburg, Pa., April, 29, 2017. Trump assailed the press as he skipped the White House Correspondents' Dinner, becoming the first president in 36 years to miss the annual dinner since Reagan, who was recovering from being shot. The president also reiterated his campaign promises on healthcare, taxes and the border wall.