— -- President Donald Trump was in a celebratory mood Friday night, attending a trio of balls with his newly-minted first lady, but it wasn't all about champagne toasts and fancy footwork on the dance floor: He addressed his disdain for political polling and the mainstream media, among some of his other ongoing talking points, at the balls.
At the Freedom Ball, the second soiree of the evening, Trump slammed "phony polls" and the "dishonest media."
"Let me ask you, should I keep the Twitter going or not," Trump asked attendees at the ball, which was held at the Walter E. Washington Convention Center. "The enemies keep saying, 'Oh that's terrible,' but it's a way of bypassing dishonest media."
The response? The crowd roared with approval.
The newly sworn-in commander in chief also took a moment to address early election polls that showed him lagging behind Democratic rival Hillary Clinton.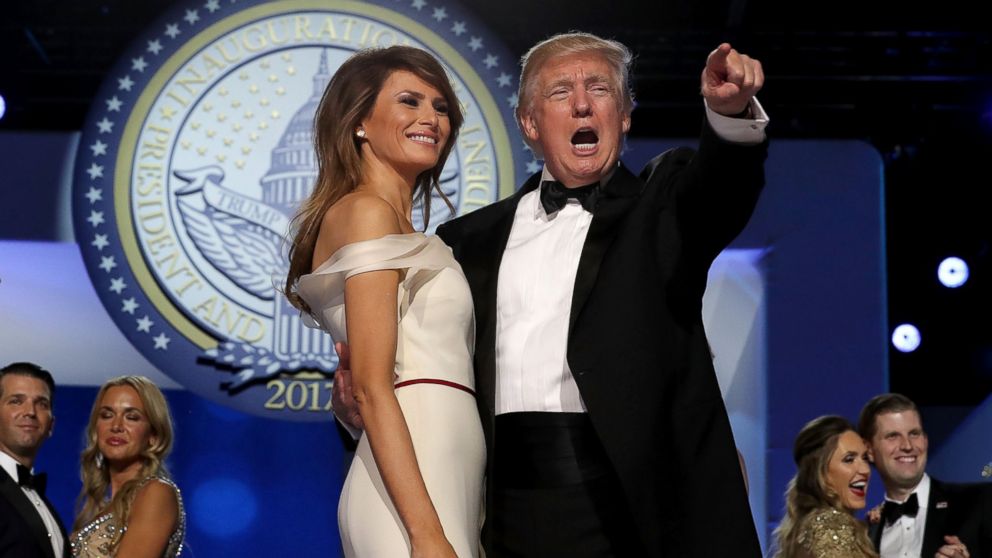 "We weren't given a great chance, but we knew we were going to win," he said. "The first week was composed of the phony polls. We were at number one and we stayed there the entire route during the primaries."
The speech came shortly after Trumps' first dance as president and first lady at the first ball of the night, the Liberty Ball, where he also took aim at his critics.
"People that weren't so nice to me were saying that we did a really good job today," Trump said. "They hated to do it, but they did it. And I respect that."
Following the first dance, the president and first lady were joined by vice president Mike Pence and his wife Karen, along with their children and their spouses, who danced to a live performance of the jazz classic "My Way."
The festivities come after Trump was sworn in as the country's 45th president and on the heels of the Senate confirmations of his picks to lead the Defense Department, James Mattis, and the Department of Homeland Security, John Kelly.
All in all, Trump said his first day as president was great.
"Now the work begins. There's no games, right? No games. We're not playing games. The work begins," he said while speaking at the first ball.
Trump attended three official balls on Friday. The Liberty Ball, as well as the Freedom Ball -- both open to the public -- were held at the Walter E. Washington Convention Center. The third ball, the invitation-only Salute to Our Armed Services Ball, was held at the National Building Museum.
"THANK YOU for another wonderful evening in Washington, D.C. TOGETHER, we will MAKE AMERICA GREAT AGAIN," Trump Tweeted at the end of the evening.