— -- The lawyers who wrote a letter saying President Trump had no significant business ties to Russia work for a law firm that has extensive ties to Russia and received a "Russia Law Firm of the Year" award in 2016.
Sheri Dillon and William Nelson, tax partners at the law firm Morgan, Lewis & Bockius, which has served as tax counsel to Trump and the Trump Organization since 2005, wrote a letter in March released by the White House on Friday stating that a review of the last 10 years of Trump's tax returns "do not reflect" ties to Russia "with a few exceptions."
In 2016, however, Chambers & Partners, a London-based legal research publication, named the firm "Russia Law Firm of the Year" at its annual awards dinner. The firm celebrated the "prestigious honor" in a press release on its website, noting that the award is "the latest honor for the high-profile work performed by the lawyers in Morgan Lewis' Moscow office."
According to the firm's website, its Moscow office includes more than 40 lawyers and staff who are "well known in the Russian market, and have a deep familiarity with the local legislation, practices, and key players." The firm boasts of being "particularly adept" at advising clients on "sanction matters."
Following the release of the letter, Sen. Chris Murphy (D-Conn) noted the firm's connection to Russia, calling it "unreal."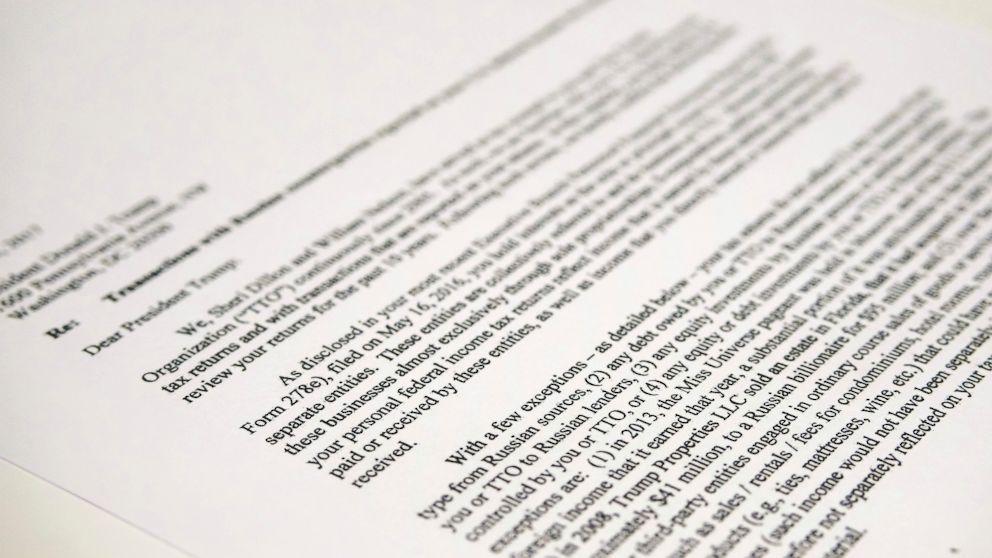 Asked if there could be other business ties between Trump and Russian partners, Sheri Dillon told ABC News that "the letter speaks for itself."
As for the firm's presence in Russia, a firm spokesperson said that no lawyers from Morgan Lewis have handling any business dealings for Mr. Trump in Russia.
Dillon has never been to Russia and does no work there, the spokesperson said.
Jack Blum, a Washington tax lawyer who is an expert on white-collar financial crime and international tax evasion, called the Dillon letter "meaningless."
Blum told ABC News that real estate projects, in particular, can be structured with partners and subsidiaries so that it would be easy to shield the identity of all involved. Trump's tax returns would not show where all the money came from to finance these projects, he said.
"There's no substance to it. The letter is just another puff of smoke," Blum said. "It has no meaning at all. It's just another way to not answer the question."