— -- Alabama senatorial candidate Doug Jones bolstered his campaign with a big endorsement the night before Tuesday's runoff -- literally. Jones brought out 6-foot-6 Basketball Hall of Famer Charles Barkley for the final rally of his campaign on Monday night in Birmingham.
Barkley, a native of Leeds, Alabama, and regular supporter of Democrats, pushed Jones as the smart voter's choice for Senate from the state.
"At some point we have got to stop looking like idiots to the nation," Barkley said.
Barkley slammed Jones' opponent, Roy Moore, as well as former Trump administration official Steve Bannon, who was campaigning with Moore across the state in Midland City, Alabama.
"How can that man be in the lead?" he said, referencing Moore.
The latest polls have Jones and Moore running neck-and-neck for the win. The special election is being held to find a replacement for current Attorney General Jeff Sessions, who served in the Senate from 1997 to 2017.
Moore has been accused of sexual misconduct by eight women when he was in his 30s and, in some cases, when the women were in their teens. Moore has repeatedly denied the allegations. He did so again Monday night, saying, "The fake news began after I [had an] 11-point lead in the general election."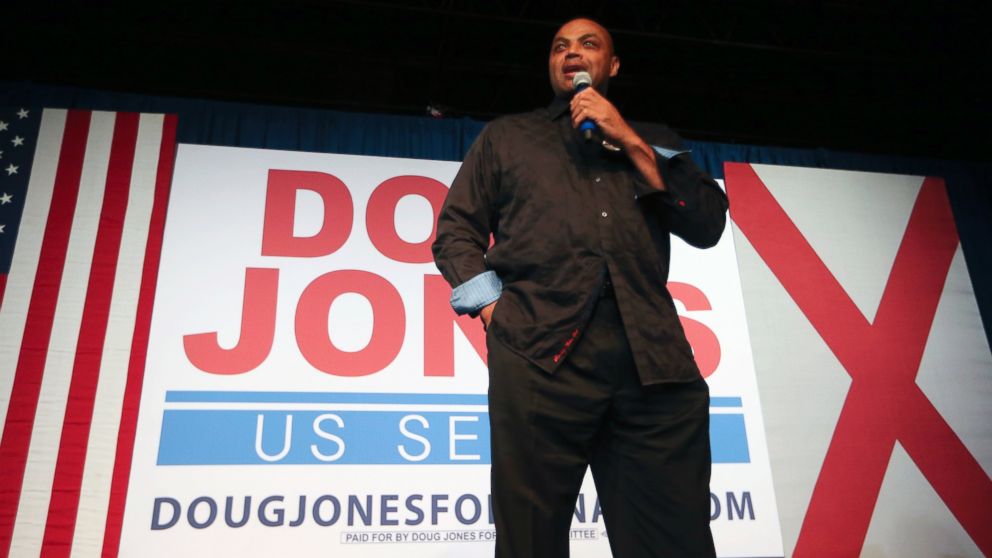 Barkley's harshest words may have actually been for Bannon, who supported Moore throughout the primary -- opposite Donald Trump, who supported Moore's opponent Sen. Luther Strange -- and now during the general election. He's been a regular at rallies.
"Only in Alabama could you send a white nationalist, separatist, who don't believe in race mixing to come to Alabama three times and get cheered at a Roy Moore rally," Barkley said of Bannon. "That is crazy. Look at all these races here ... and this guy wants to stand up and say he don't believe in race mixing. That is crazy."
Barkley is a regular on the political circuit in Alabama, mentioning several times since his retirement from the NBA he would be interested in running for governor. He supported Barack Obama in 2008 and 2012, and was an outspoken opponent of Trump in 2016.
Jones joined Barkley on stage, joking with the Auburn legend over Jones being a University of Alabama graduate.
The candidate reiterated a familiar appeal to putting "decency and our state before political party."
Jones' crescendo moment came about midway through his speech. He said it was time for the state to say, "No more putting people down, no more discrimination. ... It is time we say, no more!" The crowd started chanting, "No Moore!" in a play on Jones' phrase.
Actress Alyssa Milano, who was at the forefront of the #metoo campaign on Twitter to bring attention to victims of sexual abuse, and "Orange is the New Black" star Uzo Aduba both joined Jones on stage as well.
"Generations to come will feel the effects of what is going on in Alabama right now," Milano told ABC News' Stephanie Ramos. "To me this election is more than Democrat and Republican, it is about right vs. wrong."