As the shadows lengthened across Phelps Grove Park and the aroma of barbecued ribs wafted through the trees, Roy Blunt glad-handed his way through the Greene County Republican Party's big pre-primary picnic, just as he has done before every big election since 1972, the year before he won an appointment to his first political office.
That was more than a decade before Lucas Case was born. But the 22-year-old theater manager from nearby Branson is volunteering to help make his longtime congressman Missouri's next senator in what he sees as an epic race between "two political dynasties."
A day later in a St. Louis suburb, Democrat Robin Carnahan climbed atop a pickup to deliver a stump speech — just as her grandfather, both parents and her brother did before her. "This is what we talked about around the kitchen table, politics and public service," former U.S. senator Jean Carnahan, Robin's mother, said about her children's affinity for campaigning. "It's just second nature to them."
Blunt and Robin Carnahan, Missouri's secretary of State, have two of the best-known last names in the state and are heavy favorites today to win their party's nominations for the U.S. Senate. Their much-anticipated November showdown is a battle between two families that represent generations of political power.
It's also proof that political brand names still rule, even in a nation that constitutionally bans inherited power — "no title of nobility shall be granted by the United States," reads Article I, section 9 — and in a year when the "Tea Party" movement is challenging the political establishment.
A 14-year U.S. House veteran and former No. 2 GOP leader, Blunt is the son of a state legislator and father of a former governor. In the 1980s, he twice was elected to the secretary of State's job that Carnahan now holds. Carnahan's grandfather served seven terms in Congress, her father was a two-term governor and her mother was a U.S. senator for about two years. Carnahan's brother, Russ, also is on the ballot, seeking his fourth term representing parts of St. Louis in the U.S. House.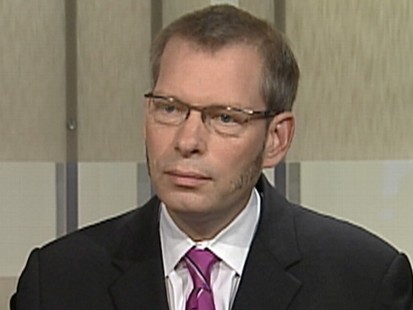 Blunt and Carnahan are not exceptions. A USA TODAY survey of this year's field of candidates finds more than two dozen running for governor and Congress who are related to former or past officeholders. That includes "Tea Party" favorite Rand Paul, Kentucky's Republican Senate nominee and the son of Rep. Ron Paul, R-Texas, a 22-year congressional veteran who has run for president as a Libertarian and as a Republican.
Three sons of former governors, Democrats Andrew Cuomo in New York, Terry Goddard in Arizona and Jerry Brown in California, are running for their fathers' old jobs. The progeny of two prominent Republicans, the late president Richard Nixon and former vice president Dan Quayle, are seeking election to the House.
Voters are attracted to political names they know for the same reasons that "some people buy Ivory soap," says Stephen Hess, a Brookings Institution scholar who wrote America's Political Dynasties. "We used it; we liked it; we think when we use it again, it will be just as good."
The 'Legacy Lawmakers'
Americans have operated on that principle since the republic's earliest days. John Quincy Adams, the nation's sixth president, was the son of the second, John Adams.
Since Congress began meeting in 1789, 400 parent-child duos have served in the House and Senate, along with 190 pairs of siblings, according to data compiled by House and Senate historians. The percentage of "legacy lawmakers" reached its highest point in 1848, when more than 16% of Congress had been preceded in office by a relative, according to Pedro Dal Bo, a Brown University economist who co-authored a paper last year on American political dynasties.
The numbers have declined since, but the kinship caucus in the current Congress is substantial: 22 House members and five senators are children of former members of Congress.
The advantages of family connections are obvious in some of this year's campaigns.
Ben Quayle's $1.1 million in contributions make him the top fundraiser among 10 candidates vying in the Aug. 24 primary for the GOP nomination in a suburban Phoenix congressional district. His donors include prominent associates of his father, Dan. How many other political novices could get former Defense secretary Donald Rumsfeld to write a check for $1,000?
Besides Quayle, so did Chris Nixon Cox, a Republican running for Congress and grandson of the nation's 37th president. "He was a great grandfather," Cox says of Richard Nixon. "He used to take us out for trick or treat."
Cox, whose father, Ed, is New York's GOP chairman, doesn't mind using his middle name in campaign literature but says there's a flip side to the notoriety.
"I have to earn this," he says of his campaign for a Long Island House seat. "There's no such thing as a dynasty."
Carving Out an Identity
A familiar last name can force candidates to work harder to prove themselves, says New York Assemblyman Adam Clayton Powell IV.
"I could make subways and buses run free and there are still some people who would say, 'Oh, that's just Adam Clayton Powell's son.' In that sense, it's hard to carve out your own identity," says Powell, a son of a legendary congressman.
Powell is trying to defeat veteran Rep. Charles Rangel, D-N.Y., in a Sept. 14 primary that has turned into an intergenerational grudge match.
Rangel, who is facing 13 ethics charges in the House for failure to report income and assets, not paying taxes and his use of a rent-subsidized apartment, defeated Powell's father 40 years ago for the Harlem congressional seat.
Both Missouri Senate candidates bristle slightly when asked whether they'll benefit from their families' electoral successes.
"This election is going to be about Rep. Blunt and me," Carnahan says. "I've got a record in my office as secretary of State of standing up for consumers." Blunt notes that he won his first county office several years before his father, Leroy, went to the state Legislature. "I was the first Blunt elected to anything, as far as we know," the congressman says.
The mixed feelings political progeny have about their powerful and, sometimes, polarizing names is reflected in the ways they play out in their campaigns.
"Rory" reads Democratic nominee Rory Reid's campaign posters in the Nevada governor's race, playing down the last name he shares with Senate Majority Leader Harry Reid, who is facing a highly competitive race for re-election. The younger Reid's campaign declined an interview request about how he's handling his family ties.
By contrast, South Carolina Rep. Joe Wilson and his son, Republican attorney general nominee Alan, have hit the campaign trail together. "I am bursting with pride," the elder Wilson says.
Still, at least one of them worried about how voters might react to two Wilsons on the ballot. Alan Wilson says he "got permission" from dad before running.
"I asked him, 'If I run, is it going to have a negative impact on you?' Because if the answer was yes, there's no way I would have done it," the younger Wilson told USA TODAY.
For his part, the congressman worried that he might have hurt his son's chances with his headline-making "You lie!" outburst at President Obama during a health-care speech in September 2009.
There have been some notable flops at the ballot box this year.
Ethan Hastert, son of former House speaker Dennis Hastert, lost an Illinois GOP primary in his father's old district in February. Pete Domenici Jr., namesake son of a former U.S. senator, came in fourth out of five candidates in New Mexico's GOP gubernatorial primary in June.
On the South Carolina coast, two political scions — Carroll Campbell and Paul Thurmond— lost the GOP nomination for the 1st Congressional District to state legislator Tim Scott. Thurmond is the son of the late U.S. senator Strom Thurmond, who represented South Carolina for nearly 50 years in the Senate and was governor for four years.
Campbell, son of a former South Carolina governor with the same name, says his legacy was more of a burden than a benefit in the campaign.
"I tried to embrace the Tea Party crowd," he says. "They didn't want to vote for me because my name was Carroll Campbell."
Other political heirs are staying out of high-profile campaigns: West Virginia Rep. Shelley Moore Capito, daughter of a former governor, passed up a chance to run for the Senate, even after state lawmakers adopted an amendment ensuring that she could run for re-election to Congress and Robert Byrd's old Senate seat at the same time. She said she was concerned about giving up her seniority in the House. Vice President Biden's son, Delaware Attorney General Beau Biden, declined to run for his father's old Senate seat, citing pressing business in his current job.
And for the first time in 64 years, there won't be a Kennedy in Congress next year. Rep. Patrick Kennedy, D-R.I., announced in February that he wouldn't seek a ninth term. His cousin, former congressman Joe Kennedy, opted not to run for the Massachusetts Senate seat that was left vacant by the death of Patrick's father, Edward Kennedy.
'It's Time That We Rise Up'
Some of the hostility to entrenched political power is bubbling up in the Missouri race.
"It's time that we rise up and that we rid Washington of these career politicians," said Kristi Nichols, one of several self-described Tea Party candidates challenging Blunt for the GOP Senate nomination.
On the campaign trail, both candidates are downplaying their high-powered backers and storied pedigrees.
In his first TV ad, Blunt dwelt on his credentials as a schoolteacher and former college president, never mentioning his congressional career. Carnahan's folksy stump speech this weekend poked fun at Blunt's Washington ties and emphasized her role running the family cattle farm in south-central Missouri.
"Both of them are trying to portray themselves as outsiders," says Marvin Overby, a political scientist at the University of Missouri-Columbia. "It's humorous."
Yet it's the familiarity of the Blunt and Carnahan names that makes them attractive to partisans trying to win a key race in a swing state that Obama lost two years ago by fewer than 4,000 votes out of nearly 3 million cast.
Blunt believes his record of winning elections will draw Tea Party voters. "I don't think this is going to be a year when people try to send a message by throwing away their vote on somebody who can't win," he says.
And Tommy Roberts, the Democratic chairman of St. Charles County, thinks Robin Carnahan's late father, Missouri's former governor, will be a powerful asset. "People here loved Mel Carnahan," Roberts says.
The Carnahans are, in some ways, Missouri's version of the star-crossed Kennedys. Robin Carnahan is a breast cancer survivor who lost her father and a brother, Randy, in a 2000 plane crash when Mel Carnahan was campaigning for the Senate. Carnahan won the race anyway, and his wife, Jean, was appointed to serve in his place. She lost an election for the rest of his term.
The Blunts resemble the Bush dynasty: Patriarch Leroy Blunt served as a GOP state legislator from 1978 to 1984. His son, Roy, won three elections as Greene County clerk before becoming Missouri's first GOP secretary of State in more than a half-century and has been in Congress since 1997. The congressman's son, Matt, followed his grandfather into the Missouri House and his father into the secretary of State's office before winning election as Missouri's governor in 2004. He did not seek re-election in 2008.
Both Roy Blunt and Robin Carnahan have almost 100% name identification in the state, according to a Mason-Dixon survey. Both have amassed big war chests: Blunt has raised $8.2 million, compared with $7.3 million for Carnahan, according to campaign-finance records.
Small wonder, then, that GOP leaders, from retiring Missouri Sen. Kit Bond to Rep. Michele Bachmann, a Minnesota lawmaker and Tea Party favorite, are backing Blunt. Or that Obama already has visited to raise money for Carnahan.
An endorsement Blunt got from Missouri state Treasurer Sarah Steelman helped persuade Lucas Case to back the GOP congressman. And so, another political dynasty proved its influence: Steelman is the wife and daughter-in-law of two former Missouri House GOP leaders.
"I have a lot of respect for the Steelman family," Case says.