No-Fly Zone Ordered For Hillary Clinton's New York City Kickoff Rally
Former President Bill Clinton is also expected to attend the event.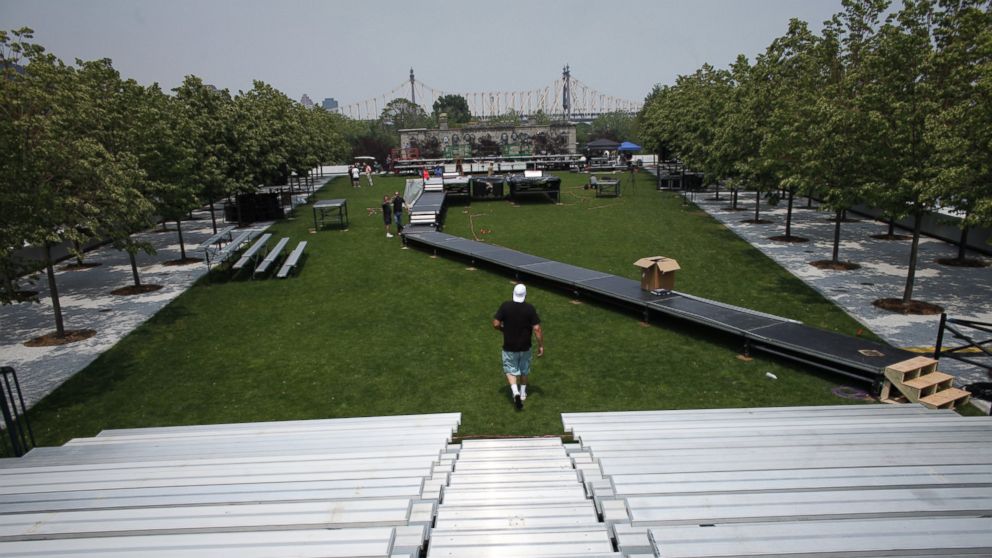 — -- Federal officials today took the rare step of creating a "no-fly zone" around the site of Hillary Clinton's campaign kickoff rally in New York City on Saturday.
The Federal Aviation Administration established the protective zone in the form of a so-called "Notice to Airmen" announcing that a section along Manhattan's East Side will be temporarily transformed into "national defense airspace."
The FAA website lists the reason as "Temporary flight restrictions for VIP Movement" and cites the federal law that the FAA employs to ban flights over events attended by the president, vice president or other key dignitaries.
"The United States government may use deadly force against the airborne aircraft if it is determined that the aircraft poses an imminent security threat," according to the notice.
Clinton's rally -- planned as the largest event of her presidential campaign so far -- will take place on Roosevelt Island, a narrow sliver of land in the East River located between Manhattan and Queens.
As the wife of former President Bill Clinton, Hillary Clinton is still guarded by a Secret Service detail. The former president is expected to attend tomorrow's event.
"This is highly unusual," a spokesman for the Aircraft Owners and Pilots Association, told ABC News. The "no fly zones," also known as "Temporary Flight Restrictions" are issued about 1,000 times a year, according to the association. But they usually are not issued for candidates for president.
In a statement to ABC News, the United State Secret Service said it "establishes temporary flight restrictions in advance of protective visits" but did not elaborate.
The Clinton campaign did not respond to a request for comment nor did a spokesman for New York City Mayor Bill de Blasio.
City officials objected to the restriction because of the effect it is expected to have on popular sightseeing helicopters. The no-fly zone will not have any impact on commercial jets landing and taking off from nearby LaGuardia Airport.
When Clinton was first lady, such a no-fly zone was not established for appearances she made. And even now, the FAA typically does not put such restrictions in place for the current first lady, Michelle Obama, for events she attends unless her husband, the president, is there as well.
Here is the full text of the "Notice to Airmen" on the FAA website:
FDC 5/7937 ZNY PART 1 OF 3 NY..AIRSPACE NEW YORK, NEW YORK..TEMPORARY FLIGHT RESTRICTIONS. JUNE 13, 2015 LOCAL. PURSUANT TO 49 USC 40103(B), THE FEDERAL AVIATION ADMINISTRATION (FAA) CLASSIFIES THE AIRSPACE DEFINED IN THIS NOTAM AS 'NATIONAL DEFENSE AIRSPACE'. PILOTS WHO DO NOT ADHERE TO THE FOLLOWING PROCEDURES MAY BE INTERCEPTED, DETAINED AND INTERVIEWED BY LAW ENFORCEMENT/SECURITY PERSONNEL. ANY OF THE FOLLOWING ADDITIONAL ACTIONS MAY ALSO BE TAKEN AGAINST A PILOT WHO DOES NOT COMPLY WITH THE REQUIREMENTS OR ANY SPECIAL INSTRUCTIONS OR PROCEDURES ANNOUNCED IN THIS NOTAM: A) THE FAA MAY TAKE ADMINISTRATIVE ACTION, INCLUDING IMPOSING CIVIL PENALTIES AND THE SUSPENSION OR REVOCATION OF AIRMEN CERTIFICATES; OR B) THE UNITED STATES GOVERNMENT MAY PURSUE CRIMINAL CHARGES, INCLUDING CHARGES UNDER TITLE 49 OF THE UNITED STATES CODE, SECTION 46307; OR C) THE UNITED STATES GOVERNMENT MAY USE DEADLY FORCE AGAINST THE AIRBORNE AIRCRAFT, IF IT IS DETERMINED THAT THE AIRCRAFT POSES AN IMMINENT SECURITY THREAT. PURSUANT TO TITLE 14, SECTION 91.141 OF THE CODE OF FEDERAL 1506131500-1506131830 END PART 1 OF 3 FDC 5/7937 ZNY PART 2 OF 3 NY..AIRSPACE NEW YORK, NEW YORK..TEMPORARY FLIGHT REGULATIONS, ALL AIRCRAFT FLIGHT OPERATIONS, TO INCLUDE FLIGHT WITHIN THE EAST RIVER SFRA EXCLUSIONARY AREA NORTH AND EAST OF THE EAST 34TH STREET HELIPORT (K6N5) ARE PROHIBITED. WITHIN AN AREA DEFINED AS 1NM RADIUS OF 404520N0735718W (LGA259004.3) SFC-1999FT AGL EFFECTIVE 1506131500 UTC (1100 LOCAL 06/13/15) UNTIL 1506131830 UTC (1430 LOCAL 06/13/15). EXCEPT THE FLIGHT OPERATIONS LISTED BELOW: 1. APPROVED; LAW ENFORCEMENT, FIRE FIGHTING, MILITARY AIRCRAFT DIRECTLY SUPPORTING THE UNITED STATES SECRET SERVICE (USSS), AND MEDEVAC/AIR AMBULANCE FLIGHTS. 2. AIRCRAFT OPERATIONS NECESSITATED FOR SAFETY OF FLIGHT OR EMERGENCY REASONS. 3. AIRCRAFT THAT RECEIVE ATC AUTHORIZATION IN CONSULTATION WITH 1506131500-1506131830 END PART 2 OF 3 FDC 5/7937 ZNY PART 3 OF 3 NY..AIRSPACE NEW YORK, NEW YORK..TEMPORARY FLIGHT THE AIR TRAFFIC SECURITY COORDINATOR (ATSC) VIA THE DOMESTIC EVENTS NETWORK (DEN). MEDIA CONCERNS REGARDING THIS TFR SHOULD BE DIRECTED TO FAA PUBLIC AFFAIRS THROUGH THE WASHINGTON OPERATIONS CENTER AT 202-267-3333. 1506131500-1506131830 END PART 3 OF 3