DES MOINES, Iowa — -- It was billed as the kick-off to the 2016 cycle, a chance for an A-list of presidential contenders -- Gov. Chris Christie and Gov. Scott Walker among them -- to introduce themselves to Iowans a mere 53 weeks before the caucuses.
But Saturday's Iowa Freedom Summit quickly and frequently got sidetracked. There were familiar diversions, even more familiar intra-party battles, brief heckling episodes, and a few famous faces who are only tangentially involved with national politics these days.
The result was that at a showcase moment for an energized Republican Party, with a deep bench of talented presidential aspirants, the fault lines of policy and personality that have defined the GOP during the Obama era made themselves known yet again. The clear signal was that they're unlikely recede amid the most wide-open field in modern history.
It started with Donald Trump, who revived his quadrennial flirtation with presidential ambitions in time to draw an iPhone and media scrum wherever his famous hair went inside the cozy theater venue in Des Moines.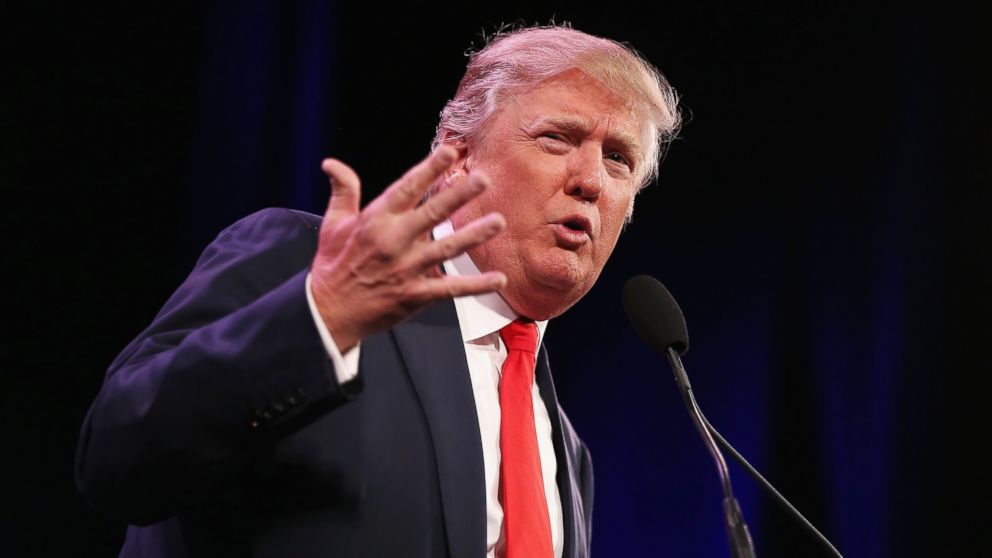 His aides passed out photos of Trump shaking hands with Ronald Reagan as quickly as Trump himself tossed off insults. He said Mitt Romney "choked" in 2012, and that "the last thing the country needs is another Bush."
"You just can't have those two," Trump said to cheers, referencing the men whose last names have adorned all but two GOP presidential tickets since 1980. Both Romney and Bush skipped the gathering in Iowa, which drew a dozen others -- including Trump -- who are considering candidacies.
Sarah Palin made the trip, fresh off of telling ABC News earlier this week that "of course" she's interested in running in 2016, too.
The former Alaska governor weaved through a speech hitting predictable subjects like Hollywood liberals, the mainstream media, and Hillary Clinton to train some fire on "RINOs" -- Republicans in name only -- whom she said want "amnesty" for undocumented immigrants.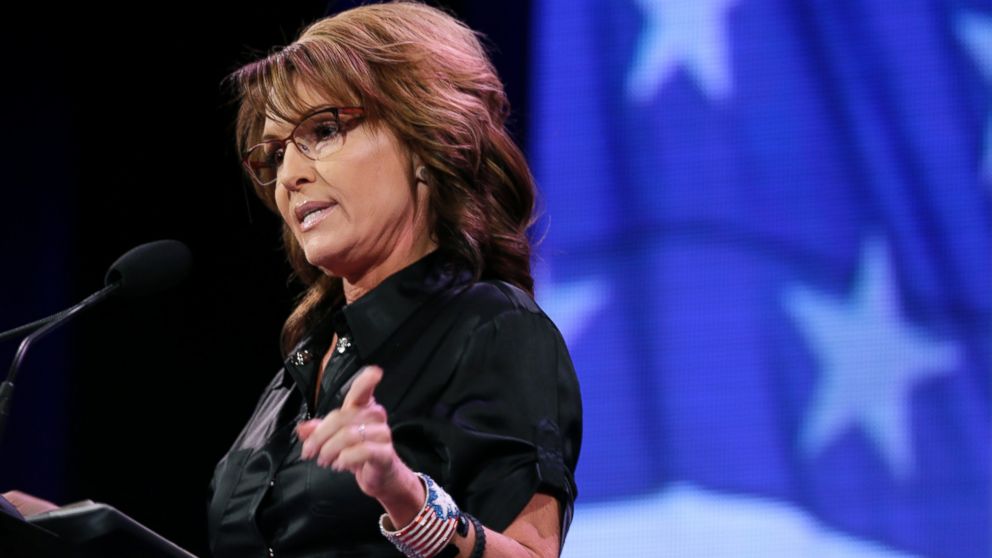 She praised the event's main host, Rep. Steve King, for being "one of the brave, one of the few, to actually pull the lever" and oppose House Speaker John Boehner in an ill-fated and barely planned coup attempt earlier this month.
Talking about the upcoming GOP race, she paraphrased Ronald Reagan, in a line often used by Sen. Ted Cruz as well.
"Now is the time for bold conservative colors, not establishment pale pastels," Palin said. "I am not in the mood to give politicians a pass just because they have a certain party initial next to their name."
Lesser-known speakers echoed the Trump/Palin critique of the party establishment, if not with the same quotability. Most respected the event organizers' wishes that potential candidates not attack each other directly.
Still, Bush's support for immigration reform that includes a path to citizenship and the Common Core education standards were frequent snicker lines. So was Romney's losing campaign against an unpopular -- especially in this crowd -- President Obama.
The noise threatened to overshadow a well-received speech by Walker, who weaved biography and policy into a message he promised to bring back to Iowa often. He included a short story on how he learned to shop on the Kohl's discount rack -- a riff that, it's fair to say, neither Bush nor Romney could threaten to copy.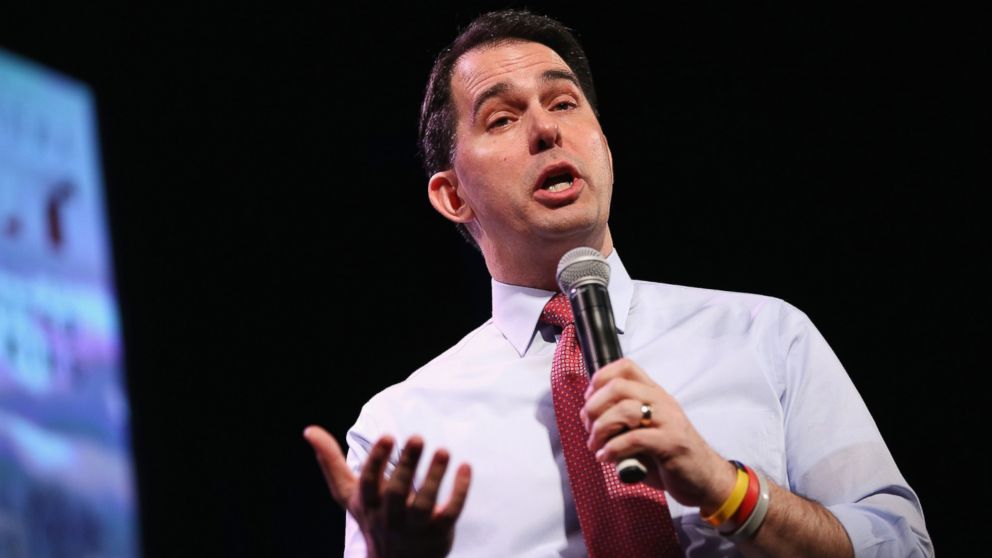 "If you are not afraid to go big and bold," the Wisconsin governor said, "you can actually get results."
Cruz, R-Texas, lampooned what he predicted would be the pitch of his rivals to caucus-goers, portraying himself as the conservative who's taken stands.
"Gosh darnit, who-diddly, I'm conservative," Cruz said. "Don't talk -- show me. If you say you support liberty, show me where you stood up and fought for it. ... If you say you oppose Common Core, show me where you stood up and fought for it."
Christie, meanwhile, cast himself as a conservative who proves the shared message can work in blue parts of the country. He also warned, though, that if Republicans only vote for candidates they agree with on everything, "we'll never win another election, ever."
"What we lack in America today is a national leader who we feel we really know," Christie said. "You need to let people know who you are."
With a few exceptions, the would-be candidates avoided the harsh anti-immigrant rhetoric that Democrats are hoping will define the GOP going into next year. A few speakers joined Palin in heaping praise on event host King, who is perhaps best known for his strong stand against illegal immigration.
Democratic National Committee Chair Debbie Wasserman Schultz led a delegation from her party into Des Moines to highlight the involvement of King, R-Iowa. She called it "an extremist ring-kissing summit."
During the event, a small group of protesters managed to briefly disrupt speeches by former Gov. Rick Perry and Christie, holding signs that read, "DEPORTABLE?" -- a term King used in a Tweet last week.
One non-partisan group dubbed the event the "cantaloupe coronation," a reference to King's infamous statement that undocumented immigrants who work as drug mules have "calves the size of cantaloupes."
Perceptions of a party out-of-step with a changing country are clearly concerning to some prominent Iowa Republicans.
State Party Chairman Jeff Kaufmann pushed back at the idea that Saturday's summit was a "Steve King event" -- notwithstanding the fact that the congressman's name was on the podium, the large video screen on the stage, and in bold print on placards flanking speakers on both sides.
"This is an Iowa event. I think Steve King has provided the opportunity for all these candidates to come together, but I don't know that I would call this a Steve King event or any-particular-person event," Kaufmann told reporters Friday night. "The message that the party's going to send is that we're going to do some tangible, non-patronizing outreach to our Latino communities. Watch us roll this out."
King didn't mention immigration. He did, however, tweak the event's no-shows by saying he believes the next president would be speaking from the stage his name adorned so prominently. The line drew big applause.
It was left to former Gov. Mike Huckabee, the last speaker on a long day, to strike a tone of togetherness for an energized party.
"We don't need to spend the next two years beating each other up in the conservative tent," Huckabee said. "We need to tell America what's right in the country."