Top House Republicans, including Speaker Kevin McCarthy, on Wednesday defended their members for heckling President Joe Biden and calling him a "liar" during Tuesday night's State of the Union address.
While the evening saw GOP outbursts when Biden mentioned the southern border and fentanyl crisis, the shouts of "liar" happened when Biden, referring to the debt ceiling standoff, said "some Republicans" had proposed Social Security and Medicare programs be "sunset" every five years for renewal as part of a cost-cutting plan put out by Florida Sen. Rick Scott last year, but not endorsed by GOP leadership.
"So, folks, as we all apparently agree, Social Security and Medicare off the books now, right?" Biden said as Republicans protested, taking political advantage of the moment. "All right. We got unanimity."
House Majority Leader Steve Scalise dismissed the shouting to ABC News' Gabe Ferris on Wednesday morning, saying that Republicans were justified calling Biden a liar because, he claimed, he was lying.
McCarthy said similar on Fox News, "Well, the president was trying to goad the members, and the members are passionate about it -- but the one thing that the president was saying was something that he knew was not true."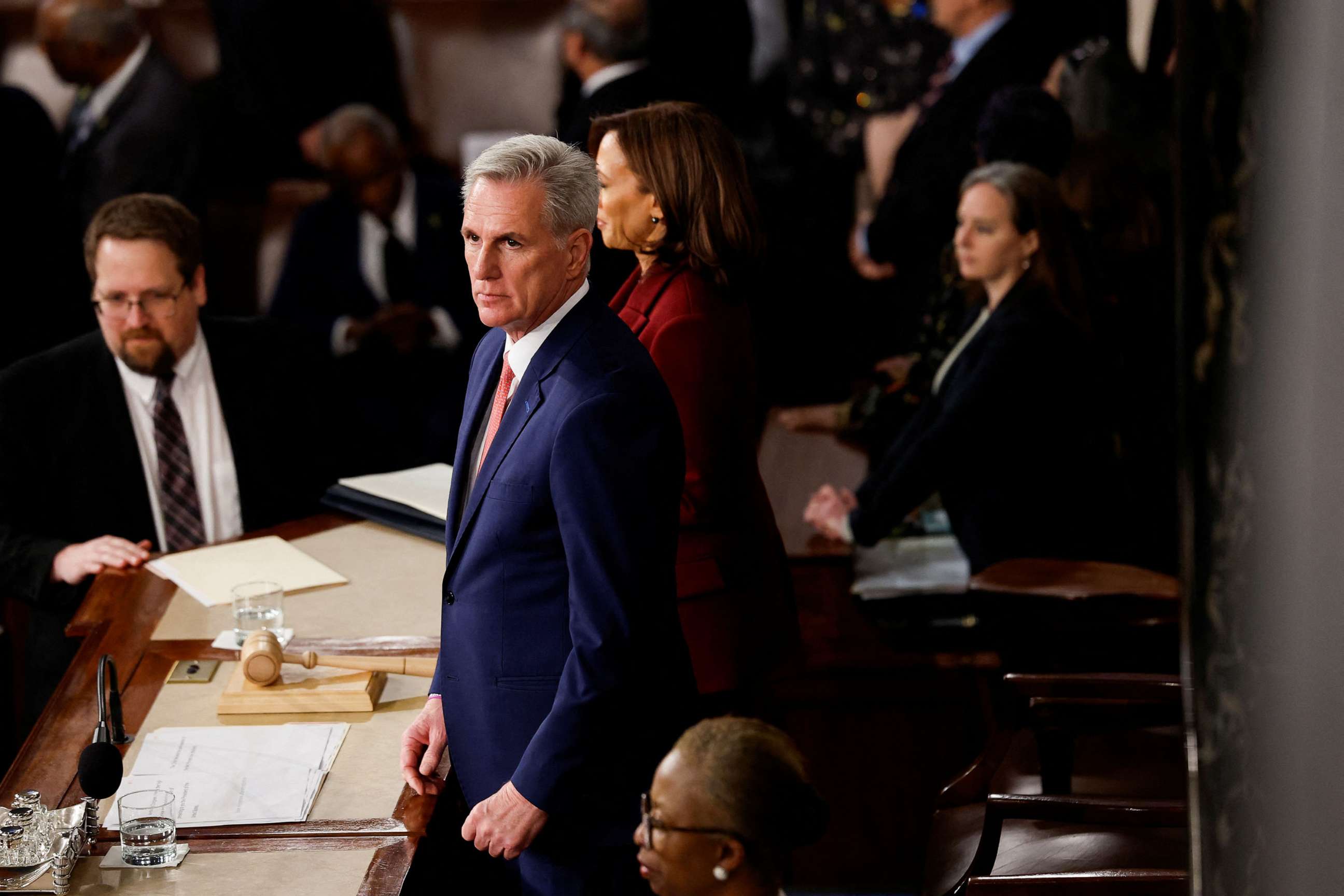 "I've said it many times before: Social Security and Medicare are off the table. He tries to use that for a political ploy," McCarthy said. "We need to be smart. He's trying to play politics with the debt ceiling, by not negotiating, by lying about our position ... We need to be smart. Don't take the bait."
When Biden said that some Republicans considered cutting those programs, Rep. Marjorie Taylor Green, R-Ga., repeatedly yelled, "Liar!" from the back of the chamber. McCarthy shook his head and lightly shushed his members.
Saying, "I am not sorry one bit," Greene told CNN Biden "got exactly what he deserved," and that she didn't think "Speaker McCarthy is upset with any of us."
Greene's outburst came despite McCarthy warning her and other GOP members, before Biden's speech, that the mics were hot and cameras were on. He also said his party follows a "code of ethics" and wouldn't participate in "childish games like tearing up a speech," a reference to former House Speaker Nancy Pelosi ripping up a copy of then-President Donald Trump's prepared remarks after the 2020 State of the Union address.
The moments have become illustrations for how much the political landscape has changed in a decade.
In contrast, in 2009, after South Carolina Republican Rep. Joe Wilson famously shouted, "You lie!" during former President Barack Obama's address on health care, other Republicans pressured him to apologize and the Democratic-controlled House at the time voted to formally rebuke him, saying his comment was a "breach of decorum and degraded the proceedings of the joint session, to the discredit of the House."
White House press secretary Karine Jean-Pierre applauded Biden's performance and seemed happy to discuss the heckling with reporters on Air Force One on Wednesday en route to Wisconsin.
"We talked about the split screen, right? You saw that from the president, and you saw what the Republicans were all about -- jeering and behaving in a way that again, Americans don't want," she said. "They told us very clearly after the midterms what they wanted."
Jean-Pierre defended Biden from GOP outrage over his comment on Social Security and Medicare, saying that the president forced them to go "on defense" on a national stage.
"Members of the Republican caucus, have repeatedly, repeatedly, for many, many years, tried to cut Medicare and Social Security, to privatize it, raise the retirement age," she said. "They've actually voted on that and put it on the chopping block. That's what we've seen them do for years. And they always tried to speak out of both sides of their mouths."
She specifically called out Sen. Mike Lee. R-Utah, for his objection to Biden's remarks, noting there was video circling social media of him saying in 2010 he wanted to tear Medicare and Social Security out by the roots.
"What we saw last night was a president who called out members, right?" Jean-Pierre added. "As we're talking about jeering and how they were responding, he called out members out on live television, in front of millions of Americans and effectively put them on the defense. That's what we did. That's what the president did -- put them on the defense."
Regardless of the raucous response from Republicans, Biden took the night as a win.
Asked what he thought of the rowdiness when leaving the chamber Tuesday night, Biden told ABC News' Will Steakin, "Rowdy? I thought it was a nice reception," he said, with a smile and laugh.
ABC News' Katherine Faulders, Lauren Peller, Will Steakin, Gabe Ferris and Molly Nagle contributed to this report.