President Donald Trump addressed the nation from the Oval Office announcing a broad ban on travel from Europe to the U.S. for the next 30 days and a series of stimulus measures amid continued financial decline and as the number of Americans infected with the novel coronavirus continues to grow exponentially.
Earlier Wednesday, several of the nation's top public health experts were grilled on Capitol Hill about how bad the coronavirus crisis might get and whether the Trump administration is up to the job of dealing with it.
Wednesday afternoon, the two sergeant at arms for the House and Senate were preparing to announce that they will stop public tours of the U.S. Capitol due to the coronavirus, several sources told ABC News. The decision is expected to be announced later Wednesday.
The tough questions came as Trump met with bankers at the White House as his administration tried to cut a deal with congressional Democrats on economic relief measures that could include everything from paid sick leave to a payroll tax cut.
Tune into ABC News Live at noon EDT every weekday for the latest news, context and analysis on the novel coronavirus, with the full ABC News team where we will try to answer your questions about the virus.
Here were Wednesday's most significant developments:
State Department tells Americans to reconsider all travel abroad
Trump addressed the nation from the Oval Office at 9 p.m. EDT Wednesday
The coronavirus task force met at 5:30 p.m.
Fauci warns Congress: 'It's going to get worse'
Administration and congressional Democrats negotiating economic relief measures
Here is how developments in Washington unfolded.
Staffer in Washington State senator's office tests positive for coronavirus
A staff member in Washington state Sen. Maria Cantwell's Washington, D.C. office has tested positive for the coronavirus and has been in isolation since showing symptoms, according to a statement from the lawmaker's office. The staffer is not thought to have had contact with the senator or other lawmakers and Cantwell has requested that staffers showing symptoms be tested.
In the meantime, the senator has closed her Seattle and Washington, D.C. offices this week for deep cleaning and staffers will telework.
State Department tells Americans to reconsider all travel abroad
The State Department has issued a global health advisory urging Americans to "Reconsider Travel" abroad due to the rapid spread of the novel coronavirus outbreak and the quarantines and border restrictions in so many countries. American citizens are advised that, before undertaking any travel, visiting the website of the local U.S. embassy, almost all of which have posted local restrictions and policies.
The announcement follows President Trump's announcement on a travel ban from Europe to the U.S. for roughly the next month.
Trump announces ban on travel from Europe in Oval Office address
President Donald Trump announced a sweeping ban on travel from Europe to the United States for the next 30 days and called for a series of stimulus measures to blunt the economic side effects of the virus.
"We are marshaling the full power of the federal government and the private sector to protect the American people. This is the most aggressive and comprehensive effort to confront a foreign virus in modern history," Trump said in an Oval Office address, emphasizing that the pandemic started off of U.S. shores, and specifically pinpointing China.
The Department of Homeland Security, after Trump's speech, clarified that the ban on travel from Europe "does not apply to legal permanent residents, (generally) immediate family members of U.S. citizens, and other individuals who are identified in the proclamation."
The ban applies to a large bloc of countries known as the Schengen zone-- 26 countries in all. In addition to the UK, it doesn't include Ireland, Croatia, Romania, Bulgaria, Serbia, Bosnia and Herzegovina, Montenegro, Albania, Kosovo, North Macedonia, Moldova, Ukraine, and Belarus.
Asked if their government received a heads up prior to the president's speech, one senior European diplomat in Washington D.C. told ABC News: "No." The White House is referring questions about that to the State Department, which has not yet responded.
Trump also called for a series of dramatic stimulus actions to prop up the American economy from the side effects of the virus, ordered the Treasury Department to defer tax payments without interest or penalties for certain impacted individuals and businesses and called on Congress to provide "immediate" payroll tax relief, in addition to other measures.
Earlier, in a roundtable meeting with bankers, he also addressed the state of the economy.
"The numbers from a week ago were great ... but now we're hitting a patch, and we're going to have to do something in respect to getting rid of this virus as quickly as possible," Trump said. "Our number one priority is the health of the country."
The Dow Jones Industrial Average plunged more than 1,400 points Wednesday -- nearly 6% -- as investor anxiety over coronavirus outbreak continues to affect trading.
Chief Business, Economics and Technology Correspondent Rebecca Jarvis reported from the New York Stock Exchange as trading closed, saying, "Wall Street really paid close attention to the words of the W-H-O today."
"The question is, if there is stimulus, what kind of stimulus will it be," Jarvis said, moments after Trump and banking executives discussed some options.
"I think the payroll tax would be great," Trump said in the meeting, noting that Citi CEO Michael Corbat agreed with the president's suggestion. "Democrats are not in favor, and I'm trying to figure out why."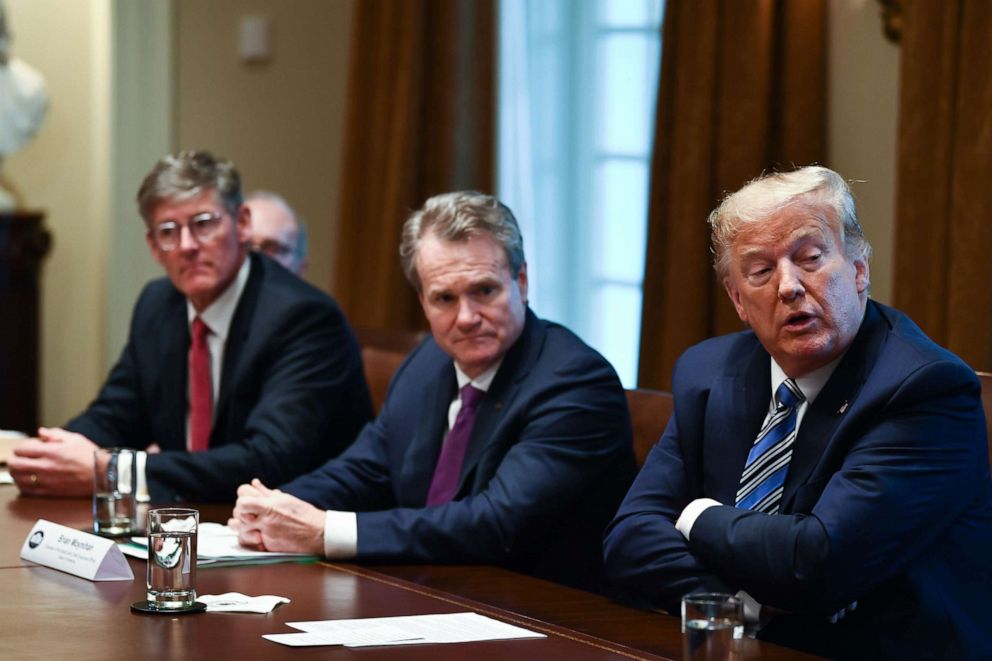 Public tours at US Capitol to be suspended
The two sergeant at arms for the House and Senate were preparing to announce that they will stop public tours of the U.S. Capitol due to the coronavirus, several sources told ABC News on Wednesday afternoon. The decision is expected to be announced later.
Spokespeople for House Speaker Nancy Pelosi and Sen. Mitch McConnell would not comment on the issue.
Trump tweets he's prepared to use 'full power' of government
While the president met with banking executives at the White House, he also took to Twitter to tout his authority over the federal government's response to the "challenge" of the coronavirus, saying he's prepared to use its "full power."
"I am fully prepared to use the full power of the Federal Government to deal with our current challenge of the CoronaVirus!" Trump tweeted.
Moments before, he had another indirect message to congressional Democrats:
"Someone needs to tell the Democrats in Congress that CoronaVirus doesn't care what party you are in. We need to protect ALL Americans!" he tweeted.
"America is the Greatest Country in the world. We have the best scientists, doctors, nurses and health care professionals. They are amazing people who do phenomenal things every day...Together we are putting into policy a plan to prevent, detect, treat and create a vaccine against CoronaVirus to save lives in America and the world. America will get it done!"
The president's tweets come just few hours after Fauci testified that it will take at least a year to develop a vaccine for the new virus.
Democratic leaders crafting economic relief bill
House Speaker Nancy Pelosi and Democratic leaders are working to craft a bill to address the economic consequences of the novel coronavirus virus, with a vote possible as soon as Thursday -- just before lawmakers recess for 10 days.
"We don't want to panic, but on the other hand, nor do we want to give any impression that this is not a major, critical health challenge confronting us that we need to handle responsibly," House Majority Leader Steny Hoyer told reporters in his Capitol Hill office Wednesday morning. "Tomorrow we're going to be addressing -- and I'm sure in the future addressing -- the economic consequences to individuals and trying to assure that they don't fall through the cracks."
The Democrats' bill includes unemployment insurance, paid sick leave, nutrition assistance and ensures that all the costs of tests for COVID-19 are fully covered. Hoyer said he does not anticipate a payroll tax cut to be included in the bill.
The effort to address the economic consequences of the virus comes amid continued financial decline and as the number of infected Americans continues to grows.
The measure comes one week after Congress sent Trump an $8.3 billion package to address the health issues created by the outbreak.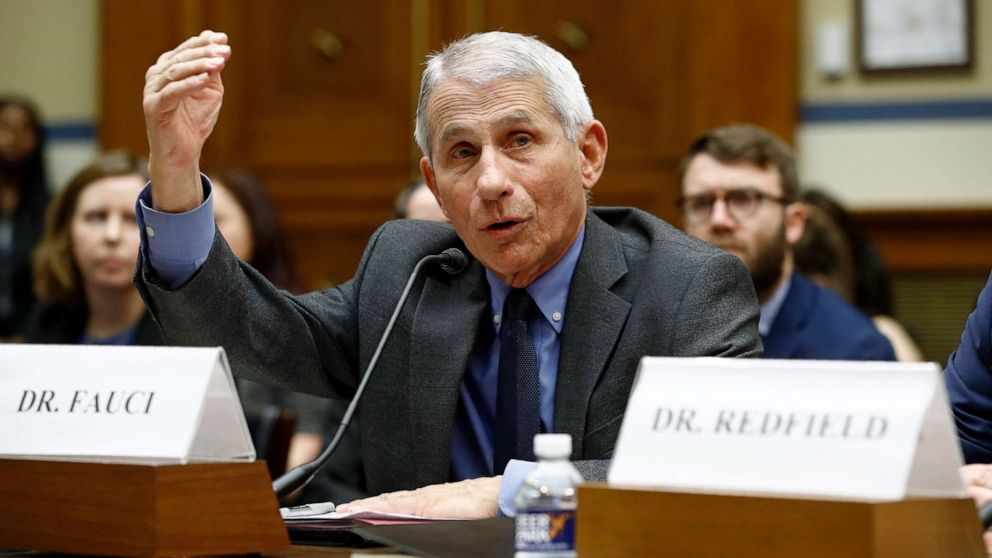 Fauci tells Congress: 'It's going to get worse'
Dr. Anthony Fauci, the widely-respected director the National Institute of Allergy and Infectious Diseases, was asked directly by House Oversight Committee Chairwoman Carolyn Maloney, a New York Democrat, if the worst is yet to come.
"Yes, it is," he answered bluntly. "Bottom line, it's going to get worse," he said, adding that the U.S. will certainly see more cases and how much worse it gets depends on the ability to contain those infected.
Moments before, Centers for Disease Control and Prevention Director Dr. Robert Redfield announced "with sadness" the 31st American death from the coronavirus.
Maloney leveled harsh criticism of the administration's response.
"My question is if the Trump administration is exacerbating the crisis by downplaying it," she said. "My constituents are telling me they can't get tested."
"South Korea can test more people in one day than we have in the last two months," Maloney noted, asking why the U.S. hasn't tested more people.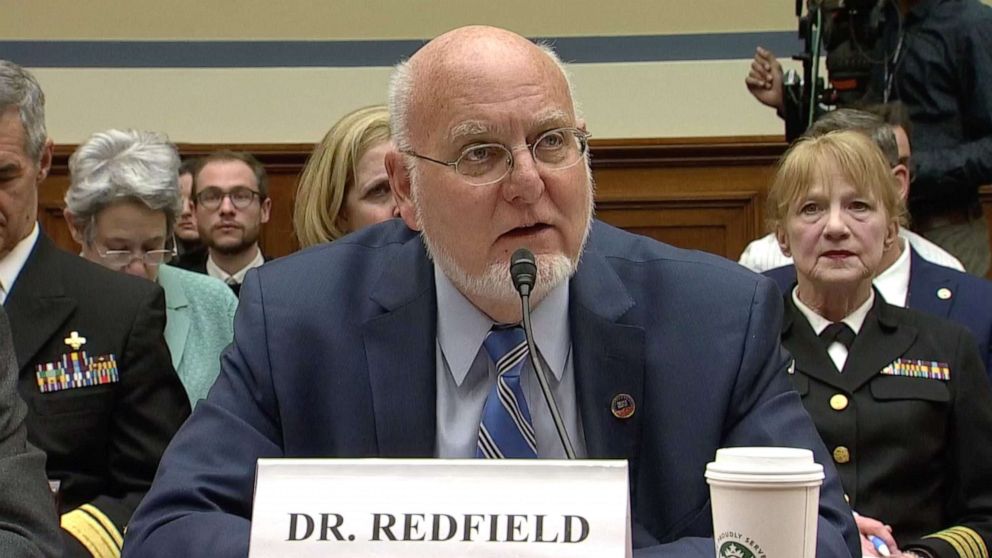 Redfield defended the CDC, saying tests were always available at the CDC in Atlanta suggested some responsibility lay with the private sector.
But he said he's "not confident" that U.S. labs have an adequate stock of supplies used to extract genetic material from a virus in a patient's sample -- a critical step in coronavirus testing.
The hearing turned especially testy when Rep. Stephen Lynch, D-Mass., confronted the witnesses with misleading statements made by President Trump, repeating his claims that the tests were available to anybody who wanted one and are "perfect" and "beautiful."
"The president has made some bizarre statements," Lynch said. "We really need honesty here."
"When the president is making statements like this, we need pushback from the public health officials," he continued. "Standing behind him and nodding silently or an eye roll every once in awhile is not going to get us there."
"I appreciate your comments," Fauci pushed back,sounding offended. "But I can tell you absolutely that I tell the president, the vice president and everyone on the task force what the data is and what the evidence is. I have never held back on exactly what is going on from a public health standpoint."
When asked to give a projection on the number of cases, Fauci said it depends on the government's response.
"I can't get you a realistic number until we put into the factor of how we respond. If we are complacent and don't do really aggressive containment and mitigation, the number could go way up to many, many millions."
In a statement in contrast with what Trump has suggested, Fauci said that there's no guarantee warm weather will stop the spread of the virus.
"We do not know what this virus is going to do. You would hope that when we get to warmer weather it would go done, but we can't operate under that assumption."
When asked to compare coronavirus to the flu, Fauci said the coronavirus has a mortality rate ten times higher.
"This is a really serious problem, and people need to take it seriously," he said.
"We would recommend that there are not large crowds," Fauci said. "If that means not having any people in the audience when the NBA plays, so be it."
"People always say, 'The flu this, the flu that.' The flu has a mortality of 0.1%. This has a mortality of 10 times that," Fauci said, in another statement conflicting with claims Trump has made.
"We've got to change our behavior. We have to essentially assume that we are going to get hit. That's why we talk about making mitigation and containment in a much more vigorous way. People ask, 'why would you want to make any mitigation? We don't have any cases.'" he said. "That's when you do it."
At another House hearing, amid testing delays and supply chain issues, lawmakers continued demanding answers from the Food and Drug Administration.
No one pressed harder than Wisconsin Democrat Mark Pocan, asking why the administration continues to highlight testing capacity without providing clear updates on how quickly labs can see results from those tests.
"This is the problem that I keep hearing from people," Pocan told FDA Commissioner Stephen Hahn. "They feel like they're not being told the total truth."
Independent analysts have said the ability to process COVID-19 tests remains relatively low compared to the number of available tests, which Hahn said was just under a million. On Wednesday, former FDA Commissioner Scott Gottlieb pegged the estimated test processing capacity at 15,500, noting it's expected to hit 20,000 by the end of the week with help from private and public labs.
Asked exactly how many tests could be processed each day, Hahn said he would need to provide a later update to ensure the information was "accurate."
"I can't speak to the absolute numbers," Hahn said.
Pressed further on the availability of treatments and the chemical agents needed to conduct tests, Hanh acknowledged the current strain.
"We're out there with the laboratories providing them alternatives for these reagents," Hahn said. "When we become aware of shortages we are going to let the American people know."
"Honestly, no offense, those are not answers you're giving me," Pocan shot back. Those should be at the tip of your tongue. We really need to know that."
The tests are being distributed through a network of pre-certified private and public labs, Hahn said.
"While capacity isn't evenly distributed around nation, LabCorp and Quest provide important swing capacity," his predecessor Gottlieb tweeted Wednesday.
ABC News' Luke Barr, Conor Finnegan, Anne Flaherty, Quinn Owen and John Parkinson contributed to this report.