— -- Congress has until midnight Friday to strike a deal on a host of thorny issues before government funding is set to run out, but talks appear to be at a standstill and a stopgap spending bill is looking more likely.
At the heart of it: the fate of nearly 800,000 undocumented immigrants.
Democrats insist that if Republicans want their support for a spending deal, it must include a legislative fix to help DACA recipients. Republicans maintain that DACA must be dealt with separately from spending negotiations.
While a bipartisan group of senators claimed to have struck a deal that would shield DACA recipients from deportations and address border security, President Donald Trump roundly rejected their plan at an Oval Office meeting late last week.
Talks got even more complicated after sources said -- and at least one Democratic lawmaker at the meeting publicly claimed -- that Trump had made disparaging remarks about accepting immigrants from African nations.
On Sunday, Trump emphatically denied calling them "s---hole countries," adding that he is the "least racist person" reporters "have ever interviewed."
He went on to blame Democrats for holding up negotiations, telling reporters, "Honestly, I don't think the Democrats want to make a deal. I think they talk about DACA, but they don't want to help the DACA people."
And on Monday Trump tweeted:
With Congress heading towards another government shutdown, all eyes are on negotiators as they scramble to come up with a spending deal that will placate members on both sides of the aisle.
The spending bill
Just two weeks ago, Senate Majority Leader Mitch McConnell, R-Ky., seemed confident Democrats and Republicans could work together on spending.
"I am optimistic that we can begin 2018 with a bipartisan, two-year funding agreement that meets several critically-important objectives," McConnell said at the beginning of the new year.
Congressional leaders are scrambling to negotiate a funding bill that sets spending caps, reauthorizes the Children's Health Insurance Program, and provides supplemental disaster relief for communities ravaged by hurricanes last fall.
Republicans and Democrats both want to lift spending caps, which limit the amount of money the government can spend without adding to the deficit.
While Republicans are calling for a boost in defense spending, Democrats insist that any military spending increase be matched by an equal increase in spending on domestic programs. Republicans have said this notion of "parity" is a non-starter.
House Speaker Paul Ryan said negotiators on both sides of the aisle are "making progress" on establishing spending caps, and downplayed the chances of a government shutdown.
But he acknowledged another short-term spending bill was likely in the cards in order to give lawmakers more time to strike a deal on a long-term spending bill.
"We will have to do something short-term," Ryan admitted last week during remarks at the University of Wisconsin-Milwuakee.
GOP defense hawks say a short-term spending bill cripples the military and the country's national security.
Democrats, for their part, are loathe to support a spending bill that doesn't include a legislative fix to help the so-called Dreamers – the nearly 800,000 undocumented immigrants who were brought to the United States as children.
Fate of the Dreamers
The lone bipartisan plan to address DACA recipients and border security is now on the cutting room floor, but negotiators say they plan to whip up support from their colleagues.
"President Trump called on Congress to solve the DACA challenge. We have been working for four months and have reached an agreement in principle that addresses border security, the diversity visa lottery, chain migration/family reunification, and the Dream Act—the areas outlined by the President. We are now working to build support for that deal in Congress," the bipartisan group of six senators said in a joint statement last week.
The Trump administration has set March 5 as the deadline to end the Deferred Action for Childhood Arrivals program for young undocumented immigrants if Congress fails to come up with its own solution.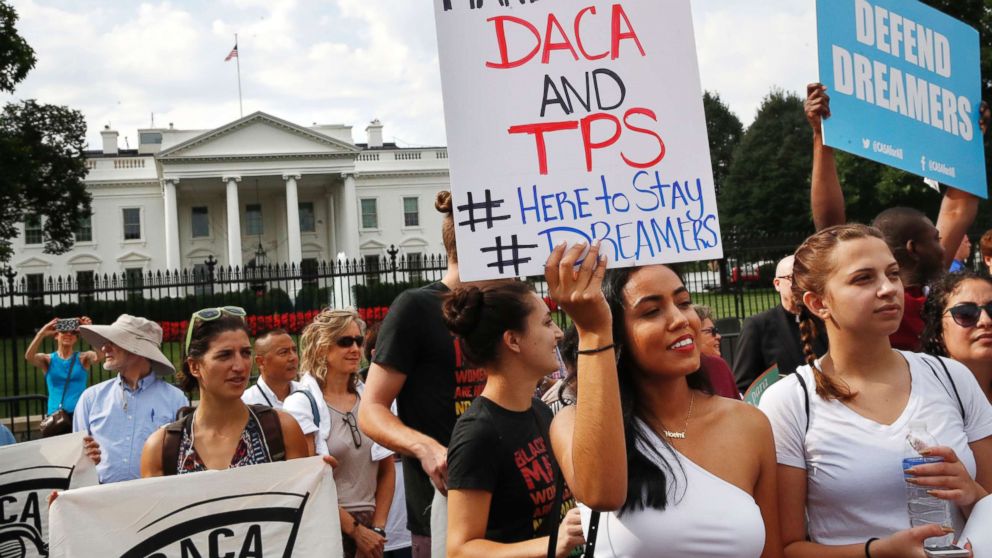 Republicans say Democrats are holding spending negotiations "hostage" and have said the DACA program must be addressed separately and in a standalone bill.
Senate Minority Leader Chuck Schumer, D-NY, and other Democrats are pushing for a DACA fix to be included in a spending agreement this week because they fear if it's delayed any longer than that, Republicans won't put any legislation on the floor for a vote.
Republican leadership have said they intend to bring a vote to the floor in February or March.
"We've heard that before and it never happens," Schumer said last week.
Immigration hardliners in the Senate have already said their colleagues' bipartisan plan "isn't serious."
"There has been no deal reached yet on the future of DACA in the Senate. Some of our colleagues have floated a potential plan that, simply put, isn't serious. It is disingenuous to discuss providing status to, potentially, millions of individuals without taking credible steps to truly protect our borders and secure the interior," Sens. Cotton, Grassley, and Perdue said in a statement last week.