— -- After the drama of rivalry and dissent earlier this week, the DNC's third day was more harmonious overall, but not without a light but steady stream of demonstrators voicing their outrage on the stadium floor while notable headliners spoke, including President Obama.
A protester could be hear shouting "no, TPP!" while other protesters held up anti-TPP signs as Obama highlighted the need for party unity during his convention speech Wednesday evening.
The Trans-Pacific Partnership deal -- a proposed trade pact involving 12 countries on both sides of the Pacific Ocean -- has been a source of contention throughout the campaign and convention.
Obama supports the deal, but it has been denounced by Democratic presidential nominee Hillary Clinton as well as Vermont Senator Bernie Sanders and even Republican presidential nominee Donald Trump.
Democratic Vice Presidential candidate Tim Kaine was also interrupted by Sanders supporters who chanted "Bernie, Bernie!" which forced the Virginia senator to go off script and address the protesters head on.
"We should all be 'feeling the bern' so we don't get burned by the other guy," Kaine said as delegations from California and Nebraska could be seen chanting and waving anti-TPP signs.
While former CIA director and defense secretary Leon Panetta lambasted Donald Trump over his foreign policy, a faction of delegates tried to shout him down throughout his remarks.
Delegates from Oregon briefly interrupted his remarks by chanting "No more war!" while other groups around the arena began chanting "Hillary!"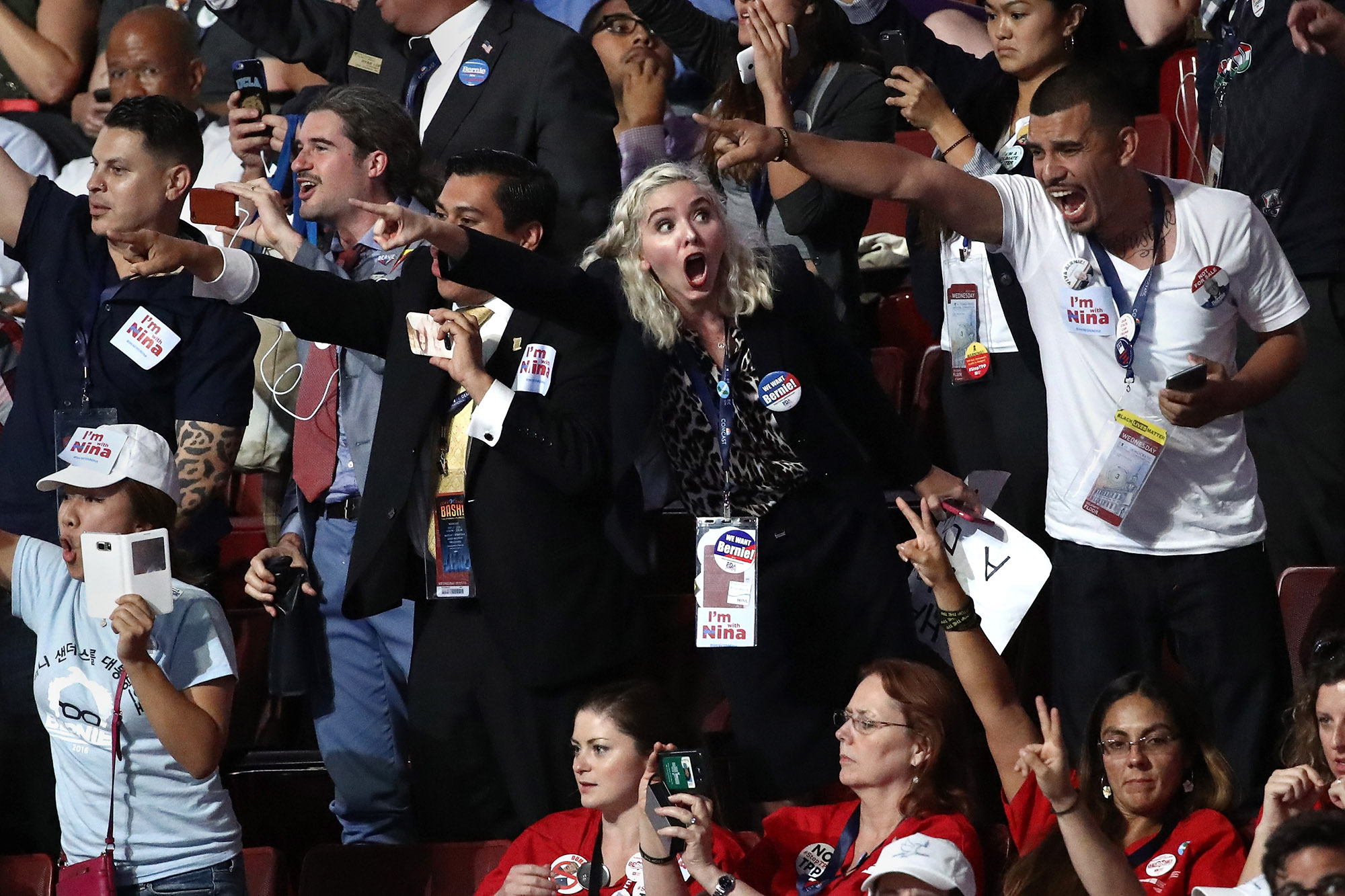 Unfazed, Panetta continued his speech, blasting Trump for what he said was the Republican nominee's lack of experience in global affairs.
ABC News' Shushannah Walshe and MaryAlice Parks contributed to this report.