— -- On the last day of early voting in Nevada, a line of people snaked through Cardenas Market and out into the parking lot of the Latin American grocery store chain in Las Vegas as polling hours were extended to accommodate the massive turnout.
The market, an early voting site, stayed open until 10 p.m. Friday night, with many of the mostly Latino voters there waiting in line two hours to vote. By the time the grocery store closed, over 57,000 people had cast ballots in Clark County, a record-breaking turnout for single-day early voting in the county, according to ABC affiliate KTNV.
The big turnout of early voters in Nevada from communities with large Latino populations could bode well for Democratic presidential candidate Hillary Clinton, whose Republican rival Donald Trump may have alienated many voters of Hispanic origin with his comments about immigrants and plans to build a wall between the United States and Mexico. More than 30 percent of Clark County residents are Hispanic, according to the latest data from the U.S. Census Bureau.
"Looks like Trump got his wall after all. A wall of beautiful voters," Yvanna Cancela, political director of the Culinary Union in Las Vegas, wrote on Twitter.
Trump is scheduled to hold a campaign event in downtown Reno on Saturday night, but KTNV political analyst Jon Ralston said the Republican "almost certainly lost Nevada on Friday." According to Ralston, Clinton has essentially locked up the state thanks to Hispanic voters.
"Trump has almost no path to the presidency without Nevada. He can say whatever he wants in Reno on Saturday and boost rural turnout a lot, but he made his own bed when he announced his candidacy," Ralston wrote in an article on Saturday, referring to remarks Trump made about Mexican immigrants being rapists and criminals when announcing his presidential bid in June last year.
Ralston, citing an "on-the-ground activist," reported that a total of 1,904 people showed up to vote early at Cardenas Market. Sixty-six percent were Democrats, 9 percent Republican and 25 percent had no party affiliation.
"So Cardenas was responsible for adding 1,000 to the Democratic lead," Ralston wrote.
Cardenas Market did not immediately respond to ABC News' request for comment.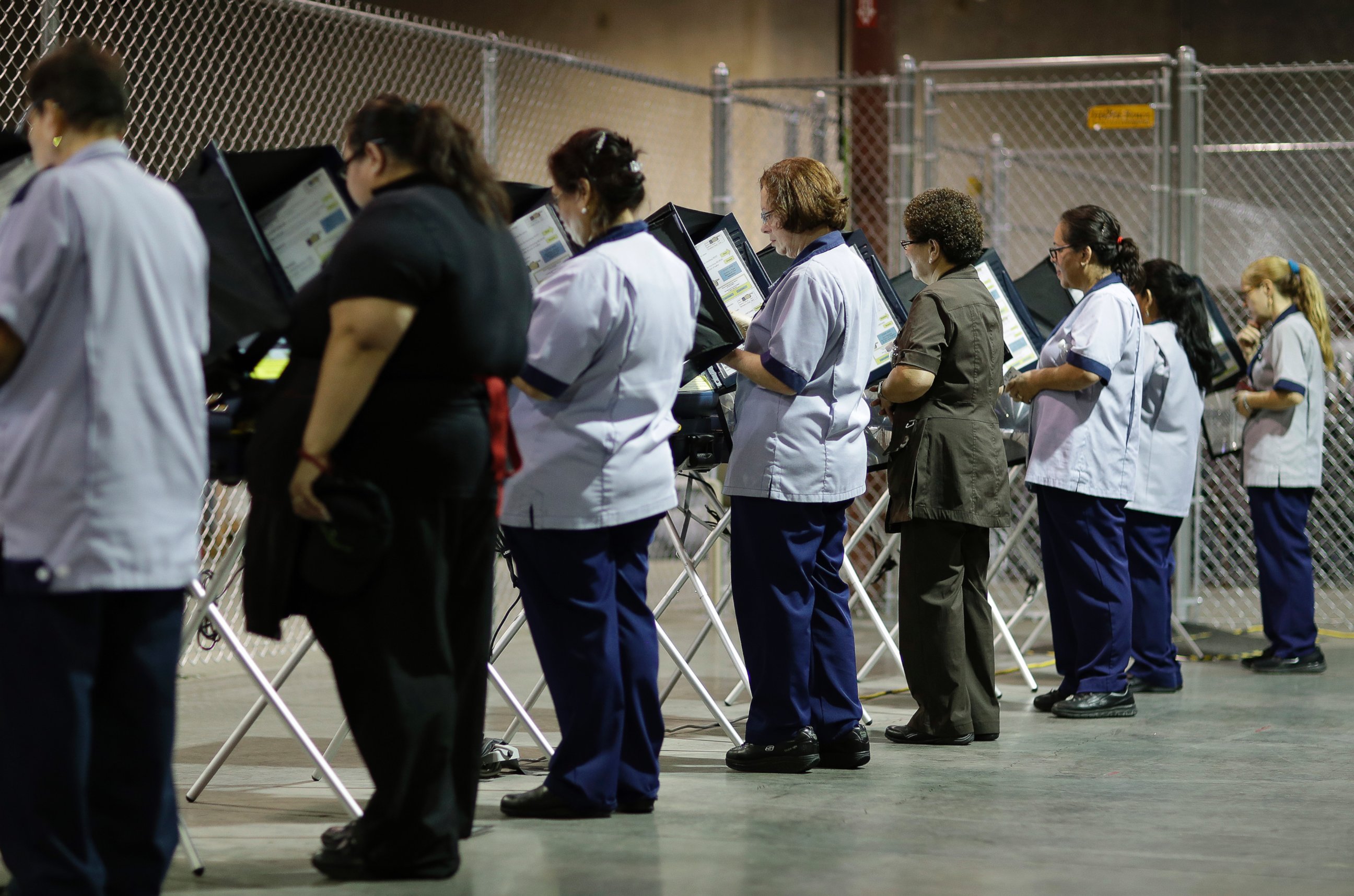 Clinton's Nevada state director Jorge Neri, tweeted that 29,597 Democrats voted early in Clark County on Friday, compared to 15,434 Republicans,
In Nevada's first week of early voting ending Oct. 28, 151,020 Democrats voted, compared to 121,651 Republicans and 66,728 people with no party affiliation, according to data from the Nevada Secretary of State's Office, which was updated on Tuesday.
Clark County alone had 112,708 Democrats vote early in the first week, compared to 73,927 Republicans and 47,004 people who had no party affiliation.
ABC News' Alana Abramson and Ali Rogin contributed to this report.