Two days after a "historic" storm swept across the mid-Atlantic, dumping up to three feet of snow in some areas, the nation's capital remains paralyzed today -- bracing for another storm expected to hit tomorrow.
More than 32 inches of snow fell over two days at Washington Dulles International Airport, setting a new all-time record and beating the total from the locally-famed Blizzard of 1996 by nine inches. At Reagan National Airport, just across the Potomac from the National Mall, 18 inches of snow made for the fourth highest two-day storm total on record, according to the National Weather Service.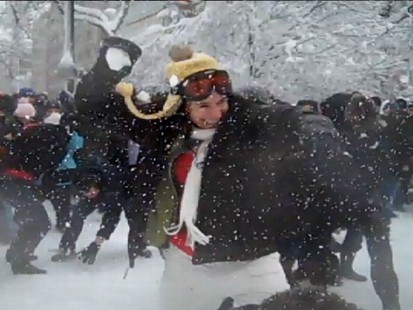 The Service has issued a Winter Storm Warning for the Capital region through Wednesday, with an additional 10 to 20 inches of snow expected.
Meanwhile Monday morning, crews struggled for a third straight day to clear area roadways, train tracks and airport runways. Airlines, which cancelled all service to the capital on Saturday and Sunday, are slowly resuming flights. Amtrak lurched forward on a limited schedule along the northeast corridor.
The Washington Metropolitan Area Transit Authority, which operates Metro commuter trains and buses in the District, said they would offer very limited service Monday, with trains running on underground tracks only. Buses would drive only a handful of cleared routes, though they would carry passengers free of charge.
More than 42,000 residents were still without power Monday morning, according to Pepco, with most expected to be restored by Tuesday.
Federal Government Closed, But Not Local
The persistently treacherous conditions for commuters forced the federal government, which employs roughly 230,000 people in the greater D.C. area, to close today, along with all area schools and most businesses.
The District of Columbia government is open, however, and trying to manage the cleanup effort.
"We're working around the clock to clear main arterial roads, and today hoping to clear neighborhood roads," said city spokesman Jack Pfeiffer. The city has a crew of 750 workers on duty, operating 270 pieces of equipment to clear streets and restore city operations.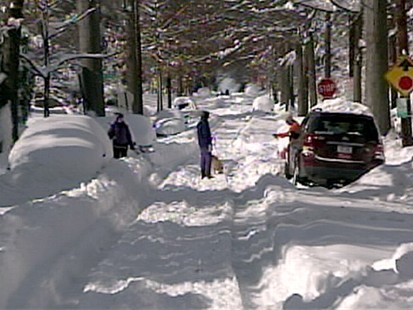 Winter Storms Cost Taxpayers
Pfeiffer said the D.C. government has already blown through its snow-removal budget of $6.2 million for the year.
Today's federal government closure costs federal taxpayers an estimated $100 million in lost productivity, according to Office of Personnel Management chief John Berry. This is the first government shutdown of 2010 and the second for this administration.
But just as the capital is getting back on its feet, the National Weather Service predicts an additional 10 to 20 inches of snow to start falling in the area Tuesday afternoon.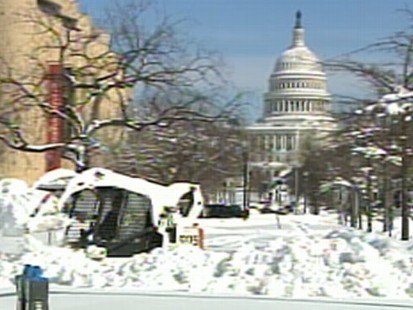 "This is normally a pretty big snow for Washington, though we've already had two more of these in the past week and a half. That will cause more complications," said D.C. Mayor Adrian Fenty.