Former Acting U.S. Secretary of Defense Christopher Miller testified Wednesday that he was concerned in the days before the Jan. 6 insurrection that sending troops to the Capitol would fan fears of a military coup or fuel conspiracies that advisers to the president were advocating martial law.
He said doing so could cause a repeat of the deadly 1970 Kent State University shooting in which Ohio National Guard troops fired at demonstrators and killed four American civilians.
"Historically military responses to domestic protests have resulted in violations of American civil rights, and even in the case of the Kent State protests of the Vietnam War tragic deaths," he said. "I fervently believe the military should not be utilized in such scenarios, other than as a last resort, and only when all other assets had been expended on January 6."
Miller's appearance came as he confronted criticism from members of Congress that it took three hours and 19 minutes to get approval from the Pentagon to send in the DC National Guard to the Capitol on Jan. 6. Miller, however, had refuted that timeline.
According to the written testimony Miller provided on Wednesday, he was aware of the breach by the time D.C. Mayor Muriel Bowser called on Army Secretary Ryan McCarthy at 1:34 p.m. Nearly 90 minutes later, at 3 p.m., he "approved the activation and mobilization of the full D.C. National Guard to assist the Capitol Police and the Metropolitan Police Department."
But in response to questioning from Rep. Alexandria Ocasio-Cortez, D-N.Y., Miller admitted that he did not approve an operational plan to deploy the National Guard to the Capitol until 4:32 p.m., more than three hours after he first learned that demonstrators had breached the Capitol perimeter. The National Guard did not arrive at the Capitol for another hour, at nearly 5:30 p.m.
Miller testified that during the insurrection he did not speak with former President Donald Trump.
"I didn't need to. I had all the authority I needed and I knew what had to happen," he said, adding that he did speak to Vice President Mike Pence.
He said Pence is "not in the chain of command," and said, "He did not direct me to clear the Capitol. I discussed very briefly with him the situation. He provided insights based on his presence there. And I notified him or I informed him that by that point the District of Columbia National Guard was being fully mobilized and in coordination with local and federal law enforcement to assist in clearing the Capitol."
Still, U.S. Rep. Carolyn Maloney, D-N.Y., testified on Wednesday that the "federal government was unprepared" for the Jan. 6 insurrection on the United States Capitol, "even though it was planned in plain sight on social media for the world to see."
She replied to Miller's testimony saying, "I think the evidence is clear. The president refused to lift a finger to send aid after he incited a violent rebellion against our republic. The president, therefore, betrayed his oath of office and betrayed his constitution of duty."
Maloney, who is chair of the U.S. House of Representatives Committee on Oversight and Reform, also said the U.S. Department of Justice and the Federal Bureau of Investigation "have a special duty to warn of domestic terrorist threats, yet it's clear that despite all of this intelligence, the federal government was not prepared."
"It is our duty to understand what went wrong that day, to seek accountability, and to take action to prevent this from ever happening again," Maloney said. "Today -- more than four months later -- we're still in the dark about exactly what went wrong."
The New York Congresswoman, during her remarks, called for a 9/11 style "independent, bipartisan commission, focused on investigating the root causes of this insurrection."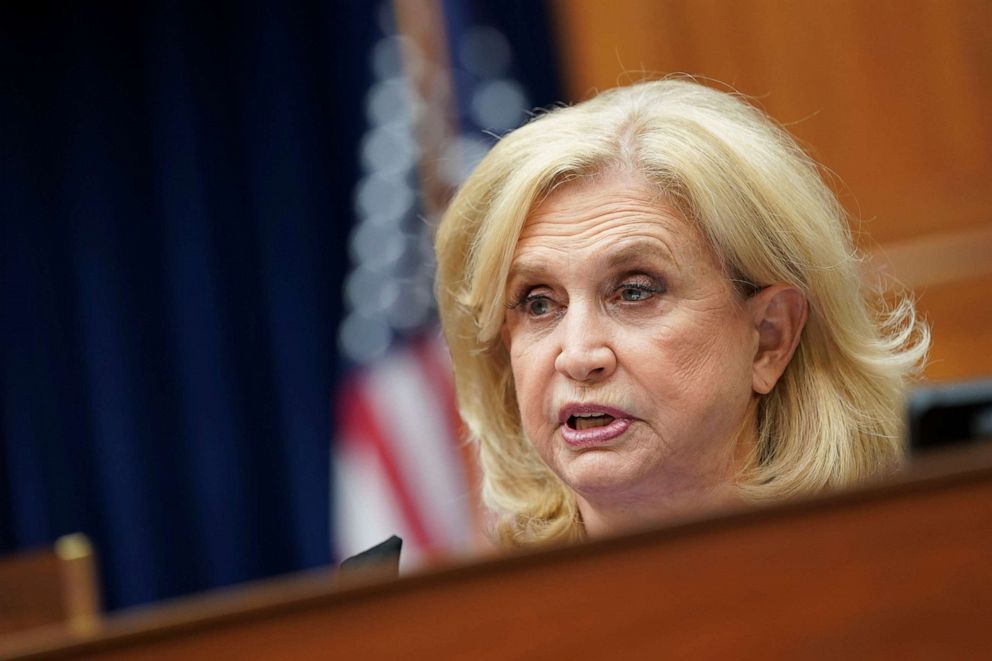 Rep. Stephen Lynch, D-Mass., and Miller had tense exchange as Miller attempted to explain his earlier written testimony to the committee saying he believed Trump's comments on Jan. 6 "encouraged the protestors that day," adding, "I am not in a position to make an official assessment of his responsibility and, regardless, it was not relevant to the decisions I made on 6 January."
When asked by Lynch whether anybody would have "marched on the Capitol and tried to overrun the Capitol without the president's speech," Miller said, "I have reassessed, it's not the unitary factor at all. It seems clear there was an organized conspiracy with assault elements."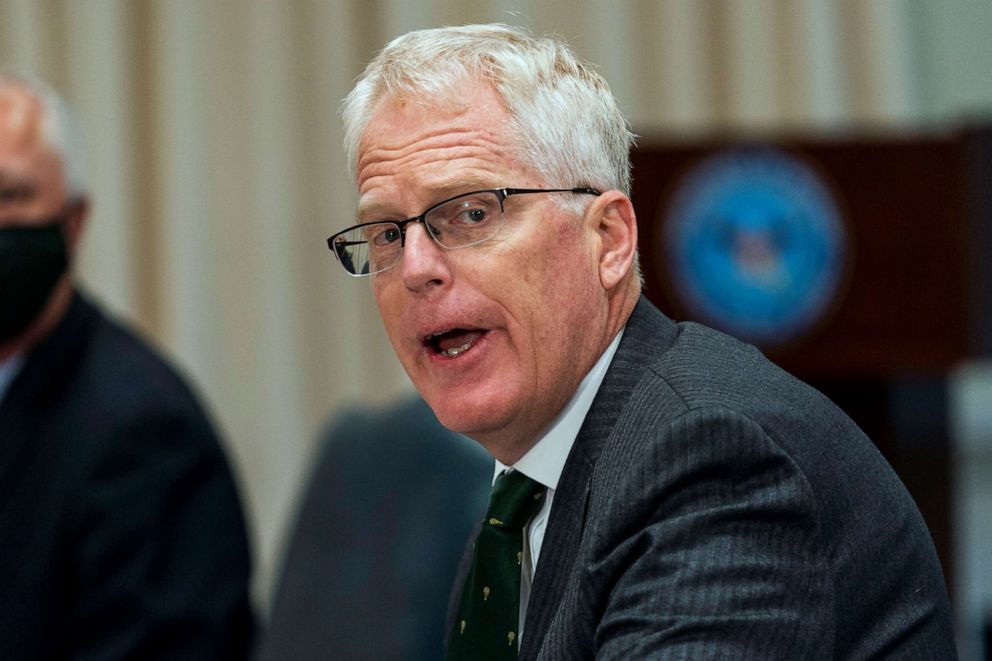 Miller said he did not reverse his position and said Lynch's comments to the contrary were "ridiculous," prompting Lynch to fire back: "You're ridiculous."
Miller would later say "there's a difference between marching the Capitol and assaulting the Capitol."
Metropolitan Police Department Chief Robert Contee and former Acting U.S. Attorney General Jeffrey Rosen both also testified remotely Wednesday, as did Miller.
Rosen placed the blame for the events of Jan. 6 on Capitol Police not requesting additional law enforcement support.
Rep. Peter Welch, D-Vt., contended that Rosen "didn't do anything," and Rosen interrupted.
"How can you say that? [The DOJ] sent over 500 agents and officers on urgent basis on January 6," he said, adding, "I think we should have been applauded, Congressman."
Welch replied that while he applauds the "frontline" Capitol Police "January 5 would have been a better day to send them."
The testimony took place during a hearing held by the House Committee on Oversight and Reform entitled "The Capitol Insurrection: Unexplained Delays and Unanswered Questions" -- the latest in a series of high-profile congressional hearings centered on the Jan. 6 insurrection.
The events of Jan. 6 occurred after Trump and his allies held a rally earlier that day in Washington, D.C., urging Congress not to certify the results of the November presidential election, in which Trump lost to Democratic candidate Joe Biden. Trump vowed to "never concede" and urged his supporters "to fight," as he continued to push baseless claims of election fraud.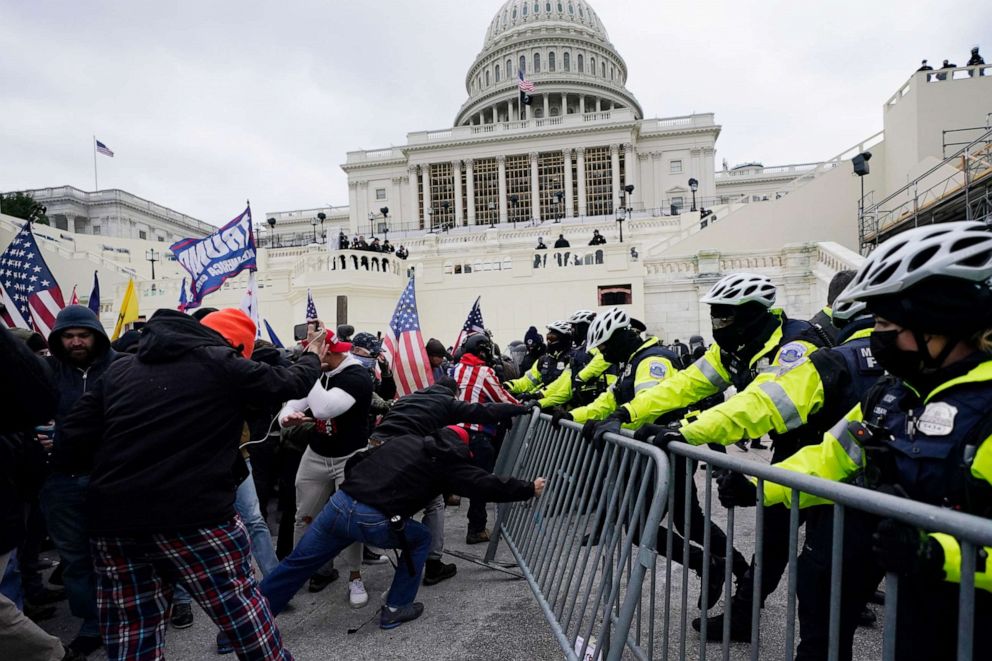 Crowds of people then made their way to the steps of the Capitol, pushing through barricades, officers in riot gear and other security measures that were put in place in anticipation of the protest. An angry mob breached the Capitol building, forcing a lockdown with members of Congress and their staff holed up inside. It took hours for law enforcement to clear the building and establish a perimeter around the area. Five people, including a police officer, died during or in the days after the rampage.
More than 440 people have been arrested in connection with the Jan. 6 insurrection, including at least 52 active or retired military, law enforcement or government service employees, according to an ABC News investigation based on military records, court records, interviews and publicly available news reports.
Prosecutors are currently ramping up efforts to engage in plea discussions with many of the accused.
During the hearing, some Republicans attempted to rewrite the history of what happened on Jan. 6.
Rep. Paul Gosar, R-Ariz., who has consistantly promoted false claims that the election was stolen, said the Department of Justice is "harassing peaceful patriots around the country."
And Rep. Ralph Norman, R-S.C., questioned whether those who stormed the Capitol were Trump supporters at all, claiming he didn't see a poll to suggest those wearing Trump shirts and carrying Trump flags were, in fact, Trump supporters.
"There was no insurrection. To call it an insurrection is a bold-faced lie," said Rep. Andrew Clyde, R-Ga.
Clyde compared the protesters storming through the halls of the U.S. Capitol building and through Statuary Hall to "a normal tourist visit."
"Watching the TV footage of those who entered the Capitol and walked through Statuary Hall showed people in an orderly fashion staying between the stanchions and ropes taking videos and pictures, you know, if you didn't know the TV footage was a video from January the 6th, you would actually think it was a normal tourist visit."
Rep. Clay Higgins, R-La. and Rep. Jim Jordan, R-Ohio tried to change the subject of Wednesday's hearing by focusing on Black Lives Matter and comments made by Rep. Maxine Waters, D-Calif., telling protesters to "get more confrontrational" if Minneapolis police officer Derek Chauvin was not found not guilty in the death of George Floyd. Republicans decried the "partisan approach" to the hearing and said Democrats were "politicizing" the issue. But that didn't stop Democrats from grilling Miller.
Rep. Ro Khanna, D-Calif., went after Miller, saying he was preoccupied with defending his "reputation" and "justifying" his own actions.
He called for Miller to apologize for what happened on Jan 6., while Miller said he stands by "every decision" he made.
"You're here telling us that everything happened perfectly and you're not willing to apologize?" Khanna asked Miller, adding, "It's you who's let them down. I can't believe we have someone like you in that role -- had someone like you."
ABC News' Katherine Faulders and Luis Martinez contribued to this report.